Published Thursday, August 30th, 2018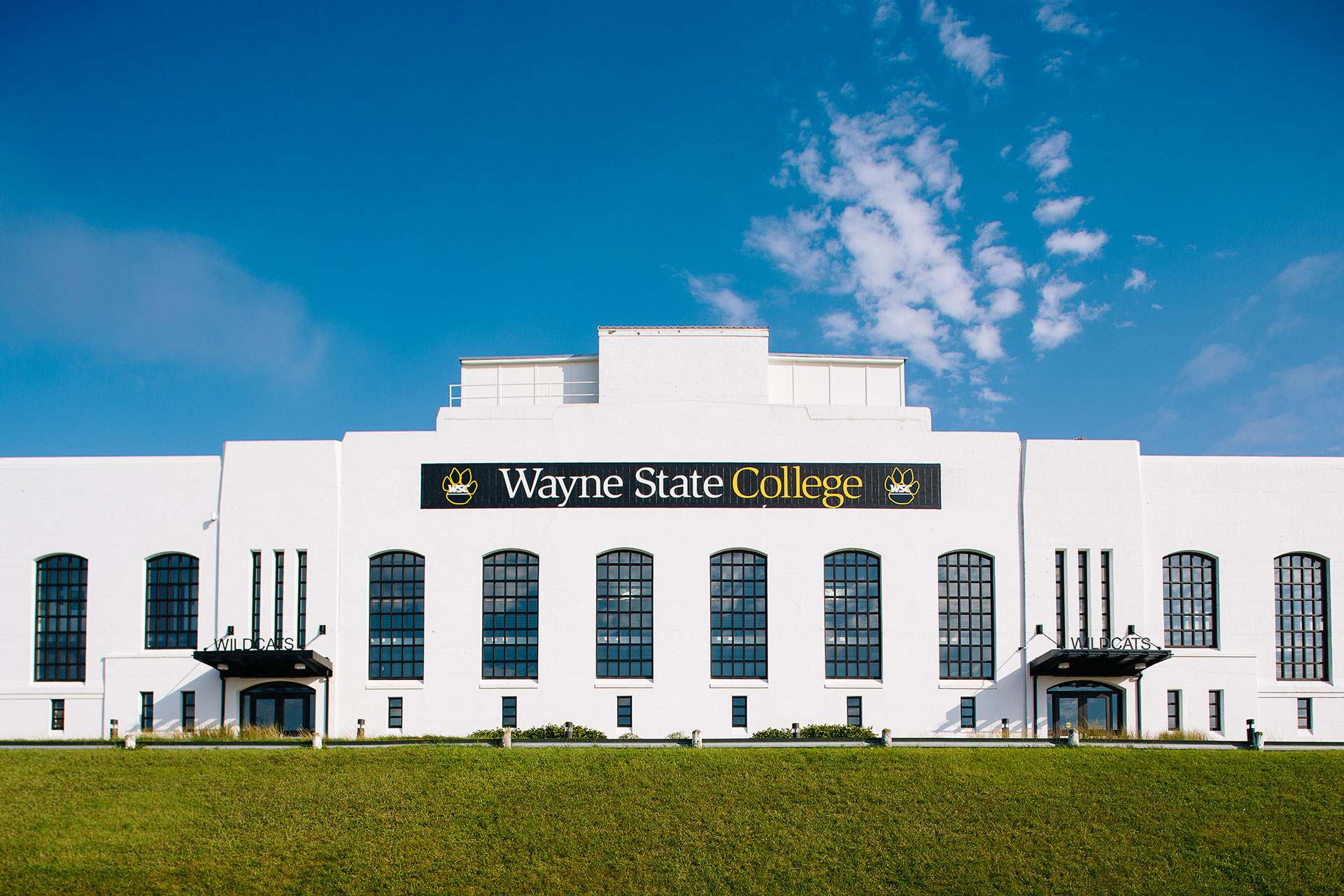 Wayne State College is developing new programs, new partnerships, and new facilities - all contributing to a brighter future and better opportunities.
New Programs and Partnerships Create a Better Future
The addition of new academic programs and partnerships provides Wayne State students with more opportunities to follow their passion and prepare for their desired career field. Recent additions to the college's undergraduate programs of study include agricultural and mechanical engineering in partnership with University of Nebraska-Lincoln, fermentation science, plant biology-ecology and management, agricultural communication and leadership, forensic science, pre-athletic training, pre-public health, and accelerated nursing. Graduate program additions include online special education, an education specialist option for Cross-Curricular Education, and a focus area in the masters of organizational management on Public Administration Management.
Undergraduate Programs
Agricultural Engineering and Mechanical Engineering (2+2 Partnership with University of Nebraska-Lincoln College of Engineering): Agricultural engineers attempt to solve agricultural problems concerning power supplies, the efficiency of machinery, the use of structures and facilities, pollution and environmental issues, and the storage and processing of agricultural products. Agricultural engineering students have the opportunity to study machine components and equipment, test agricultural machinery to ensure safety and performance, and provide leadership on water and environmental concerns. Mechanical engineers design and oversee the manufacture of many products ranging from medical devices to new batteries; design power-producing machines, such as electric generators, internal combustion engines, and steam and gas turbines, as well as power-using machines, such as refrigeration and air-conditioning systems. The exciting field of mechanical engineering also includes nanotechnology, which involves the creation of high-performance materials and components by integrating atoms and molecules. Both of these are joint programs between Wayne State College and University of Nebraska-Lincoln College of Engineering. Students will complete their first years of course work with Wayne State, then transfer all satisfactorily completed credits to UNL to complete the B.S. degree in agricultural or mechanical engineering.
Fermentation Science (concentration in chemistry): Creating a good beer or wine is not just an art – it's a science. At Wayne State College, students learn how to brew the perfect craft in the fermentation science program. Chemistry courses provide the foundation needed to understand the process of fermentation. The program includes practical research and outreach to answer questions facing the growing brewing industries in Nebraska, Iowa, South Dakota, and the nation. Hands-on fermentation in the lab paired with an internship in the industry provide experience needed to become an expert brewer or winemaker.
Plant Biology-Ecology and Management (concentration in life sciences): In the plant biology and ecology program, students study the cellular makeup of plants, discovering uses for them and perhaps even improving their lifespan. Students get a solid foundation in the biological sciences in the first three years at WSC (90 hours), then cap their education with exposure to experts in agronomy at UNL. This program prepares students for future studies at the master's or doctoral level in the areas of plant molecular, cellular, and physiological biology, as well as careers in ecology, botany, rangeland management, and field biology.
Agricultural Communication and Leadership (concentration in mass communication): Wayne State recognizes the growing need for professionals within agriculture with the skill sets needed to advocate for a field that provides approximately 1 in 3 jobs across Nebraska. The newly created Agricultural Communication and Leadership concentration taps a growing profession that brings together agricultural, food, and life sciences with a practical understanding of all forms of marketing and public relations communication.
Forensic Science (double major in chemistry and criminal justice): This program, which sets students up to receive degrees in two fields, combines different aspects of science – natural, lab, and social – to prepare for a career related to crime scenes and investigation. Forensic science is the application of science to the law. Forensic scientists use scientific methodology to collect and analyze evidence. It is an applied discipline that requires an extensive background in the natural sciences, coupled with practical laboratory experience, all which students can gain at Wayne State College with the new Criminal Justice Crime Scene Investigation Facility opening this fall.
Manufacturing Management (concentration in industrial technology): Nebraska is one of the top three states with the fastest growth in technology jobs. For companies to grow and prosper, employees who have the ability to design, deploy, integrate, and manage emerging (advanced manufacturing, robotics, and 3-D printing) and traditional (construction, manufacturing, and planning/design) technologies are needed. The manufacturing management degree program at Wayne State College will prepare students for a career as a production worker, a production supervisor, or an applied engineer. With a degree in manufacturing management, students will be prepared for introductory supervisory roles in business and industry. Combining technical content with business courses, this program was developed with the awareness and assistance of a business, industry, and education advisory council, which means Wayne State provides an education well-suited for the pursuit of a leadership role in manufacturing.
Pre-Athletic Training Program (major in applied human and sport physiology): Athletic trainers are health care professionals that practice in the field of sports medicine. They work with or under a physician to provide services and treatment for injuries. As a part of a health care team, services provided by ATs include injury and illness prevention, wellness promotion and education, emergent care, examination and clinical diagnosis, therapeutic intervention, and rehabilitation of injuries and medical conditions. The pre-athletic training program at Wayne State College prepares students to provide these services. In this program, students earn a bachelor's degree in applied human and sport physiology while taking classes that will best prepare them for the athletic training field. After graduating from WSC, students are ready to pursue graduate work at a professional school and obtain an athletic training degree.
Accelerated Nursing: The accelerated nursing program, a partnership between Wayne State College and the University of Nebraska Medical Center, will prepare students for a variety of nursing careers: educators and faculty, managers and administrators, mental health and counseling. Through this program, students will obtain their bachelor's degree in the field of choice at Wayne State, then complete a year of classes to receive a nursing degree (BSN) through UNMC. Whether a current student at Wayne State, transferring from another school, or even a current employee of a nursing home or hospital, this is a great opportunity to pair current skills and interests with an education in health care, leading to a fulfilling and lasting career.
Graduate Programs
MSE Special Education (online): Wayne State's new fully online master's degree in special education is designed to help professionals and districts meet the needs of students with exceptionalities, and their families. The program offers four unique pathways, including initial certification, additional certification, advanced study, and supervisor. Visit www.wsc.edu/mse-special-education for more details on each pathway.
Cross-Curricular Education (MSE Curriculum and Instruction – Instructional Leadership focus area): This program is designed for those seeking an advanced degree in curriculum and instruction with a cross-curricular education emphasis, which can be designated by the dean of the School of Education and Counseling to meet the needs of administrators, teachers, school districts, educational service units, or a combination of these groups. The cross-curricular emphasis may include courses in Reading and Language Arts, Mathematics, Social Studies, Science, Health, Physical Education, Visual and Performing Arts, Career Education, World Languages, Technology, Leadership, Cultural Diversity and other content areas, threads, or themes. Such an emphasis shall examine the interrelatedness of two or more content/theme areas in the PK-12 classroom.
Public Administration Management (MSOM focus area): This master's degree program is for working professionals who want to serve the public through strong leadership and effective, well-developed policies and services. This convenient, fully online graduate program will help develop the skills and techniques needed for management careers in public service, non-profit organizations, and the private sector. Graduates will gain the knowledge to implement policies, create programs that will help society, develop solutions to public problems, and resolve public affairs issues.
Undergraduate Minors
Art History
Digital Film Production
Graphic Design
Injury Science
Promotion and Media
Web and Mobile App Design and Development
Browse the complete list of our 130+ programs of study.
Partnerships Drive Success
Wayne State partners with area high schools, colleges, and universities to provide the best opportunities for students. For students on the pre-professional track, Wayne State College provides a great foundation before students transfer to finish their degree in specialized fields of health, law, engineering, agriculture, or other fields of study at the master's or doctoral levels at Cleveland College of Chiropractic, Logan College of Chiropractic, Northwestern College of Chiropractic, University of Nebraska-Lincoln (RLOP, engineering, and agriculture), and University of Nebraska Medical Center (Accelerated Nursing, RHOP, PHEAST).
Wayne State partners with Northeast Community College in South Sioux City, Neb., to deliver bachelor's degree programs in business and education, and Metropolitan Community College in Omaha, Neb., for a bachelor's degree in technology. Wayne State also works with several area Educational Service Units to ensure high school students have expanded opportunities to explore career pathways through a broad range of educational options. The college partners with ESU2 to offer a master's degree program to teachers who aim to integrate arts into their content area. A federal grant funds tuition for the teachers taking part in the program.
Wayne State's new partnerships include:
Metropolitan Community College Partnership
Wayne State formed a new partnership with Metropolitan Community College this spring to deliver a bachelor of technology degree program in Omaha. The new program will allow Metro students who earn an associate of arts or applied science degree to combine 40 credit hours of work with Wayne State delivered on the Metro campus for a Wayne State bachelor's degree.
Accelerated Nursing with UNMC
Wayne State College continues to educate and train students in health careers through the popular RHOP Program, but a new program offers a slightly different route to a career in nursing. The accelerated nursing program, a partnership between Wayne State College and the University of Nebraska Medical Center, prepares students for a variety of nursing careers. Upon prospective graduation from WSC, students will apply to the accelerated nursing program at UNMC's Norfolk campus. Candidates will complete one year of courses through UNMC (January through December) and graduate with a BSN.
Rural Law Opportunities Program with UNL
The Rural Law Opportunities Program (RLOP) is a dynamic partnership between Wayne State College and the University of Nebraska College of Law designed to recruit students from rural areas and train them to become lawyers that will return and practice in their communities. Similar to RHOP, RLOP aims to ensure rural areas of Nebraska have access to legal representation while encouraging students from those areas to pursue legal studies in order to return to their communities to meet the demand for attorneys. Participants in the program receive their bachelor's degrees at WSC, then move on to study at Nebraska College of Law. If selected for the program, students in RLOP receive full tuition to Wayne State College and are guaranteed admission to Nebraska College of Law (contingent upon maintaining the conditions of the program).
Campus and Opportunities Grow with New Facilities
Wayne State demonstrates its commitment to its mission of student success, learning excellence, and regional service through the continued addition and renovation of facilities. These continued improvements ensure students, faculty, and staff have a learning and living environment that encourages excellence in academics, athletics, and student life.
The Center for Applied Technology (CAT)
Wayne State College broke ground on the Center for Applied Technology (CAT) in November 2017, which is projected to serve as a gateway of opportunity for students to experience industrial manufacturing in an environment that cultivates interest and excitement in industrial technology. Complemented by top-notch faculty who deliver an industry-based curriculum, the CAT will attract students from high schools as well as community colleges to seek careers in this growing area. The Center will serve as a hub for programs of study such as manufacturing management, safety management, and industrial technology education. The CAT will deliver education for industry, provide a career academy for local school districts, and serve as a regional hub for innovation and workforce development.
The college began construction and site preparation for the new facility in May 2017, with completion set for December 2018. Wayne State offers Nebraska's only Industrial Technology education degree in which teachers can earn certification in these fields. This is critically important with the increased emphasis on high school career academies throughout Nebraska and the need to provide qualified teachers.
Criminal Justice Crime Scene Investigation Facility
The Wayne State College Criminal Justice Program is proud to announce the scheduled opening of a Crime Scene Investigations Facility for the fall 2018 semester. The $350,000 facility will provide a practical training site to augment classroom instruction. Future criminal justice professionals can learn how to enter a structure that may have a crime occurring (hostage situations, active shooters, raid entry procedures, building searches, etc.), and it will provide a site for students to conduct a crime scene investigation by collecting, documenting, and processing criminal evidence (evidence documentation, bloodstain spatter analysis, fingerprint acquisition, firearm trajectories, shoeprint casing, etc.). These types of activities cannot occur in a traditional classroom due to the space requirements and, more importantly, the inability to provide credible simulations. In addition to the educational experiences related to criminal investigations, the lab will allow students to gain courtroom experience associated with cases they investigate. Learning experiences include testifying in court, introducing evidence effectively, interviewing witnesses, and, for students interested in pre-law, conducting a mock trial. Local judges and attorneys have agreed to assist students with these experiential learning activities. Criminal Justice Club members will be able to participate in regional and national crime scene investigation competitions in association with Delta Upsilon, a criminal justice club.
Memorial Stadium Press Box
Construction on the new press box began in the fall of 2017 and is set for completion in the summer of 2018. The old press box has served the college for approximately 40 years. The project includes a new 5,220 square foot press box, including an elevator tower that will be built on the northwest side of Memorial Stadium. The new press box and elevator tower addition will provide space for all of the existing functions of the press box while increasing the size of several spaces to meet current and future needs.
The press box is used by members of the press, coaches, officials, and college students involved in Broadcasting and Health and Human Performance & Sport degree programs. The press box serves as an important laboratory for these students as they prepare for careers in broadcasting, journalism and athletics. The plan for the press box was developed with a vision that considers use by staff, students and alumni during collegiate and community events. Sporting events provide an opportunity to bond and the chance to provide a shared community space to make a notable difference to rural communities through learning excellence, student success and regional service. Stadium and press box facilities are often used by local school districts for football and track events, which played an important role in the planning process for the new facility.
U.S. Conn Library
The renovation of the U.S. Conn Library was completed in 2017. A grand opening and ribbon cutting was held during Homecoming in October 2017. The purpose of the project was to upgrade an older building that had a significant number of code issues, outdated building systems, and energy inefficiencies; enhance and positively facilitate student learning; and design a library for learning excellence. With the constant changes in technology today, the library must continue to meet the challenge of providing state-of-the art technology to support faculty and student success across campus.
The strategic priority for the college's physical plant was the renovation of U.S. Conn Library, originally built in 1956 and expanded in 1970. The new 1,470 gross square foot main entry and elevator tower addition resolves many building problems, including the outmoded elevator, poor flow, and inadequate access for deliveries. The previous building's exterior envelope was improved to meet the current energy code, including the addition of insulation and replacement of the existing windows. The HVAC system was replaced, which includes the removal of the asbestos-formed ductwork in the oldest part of the building. The entire electrical system, all plumbing fixtures, and water piping were replaced, and a dry pipe fire suppression system was installed throughout the entire building. A dry pipe system protects the library collections, material exhibited in the art gallery, technology, and irreplaceable archives.
Bowen Hall
The newly renovated Bowen Hall re-opened in Fall 2017, welcoming back students to brand-new rooms, furniture, and facilities. The hall features new windows, new restrooms, study alcoves, and a fantastic new recreation room. With eight floors, Bowen is the tallest building in Northeast Nebraska and Wayne State's largest residence hall. Situated right next to the Kanter Student Center on the east side of campus, Bowen puts you within easy reach of a variety of campus services and activities. Bowen Hall offers standard and premium rooms at great rates and is available to both freshmen and upperclassmen. Bowen is also accessible to students with disabilities.