Published Tuesday, September 13th, 2022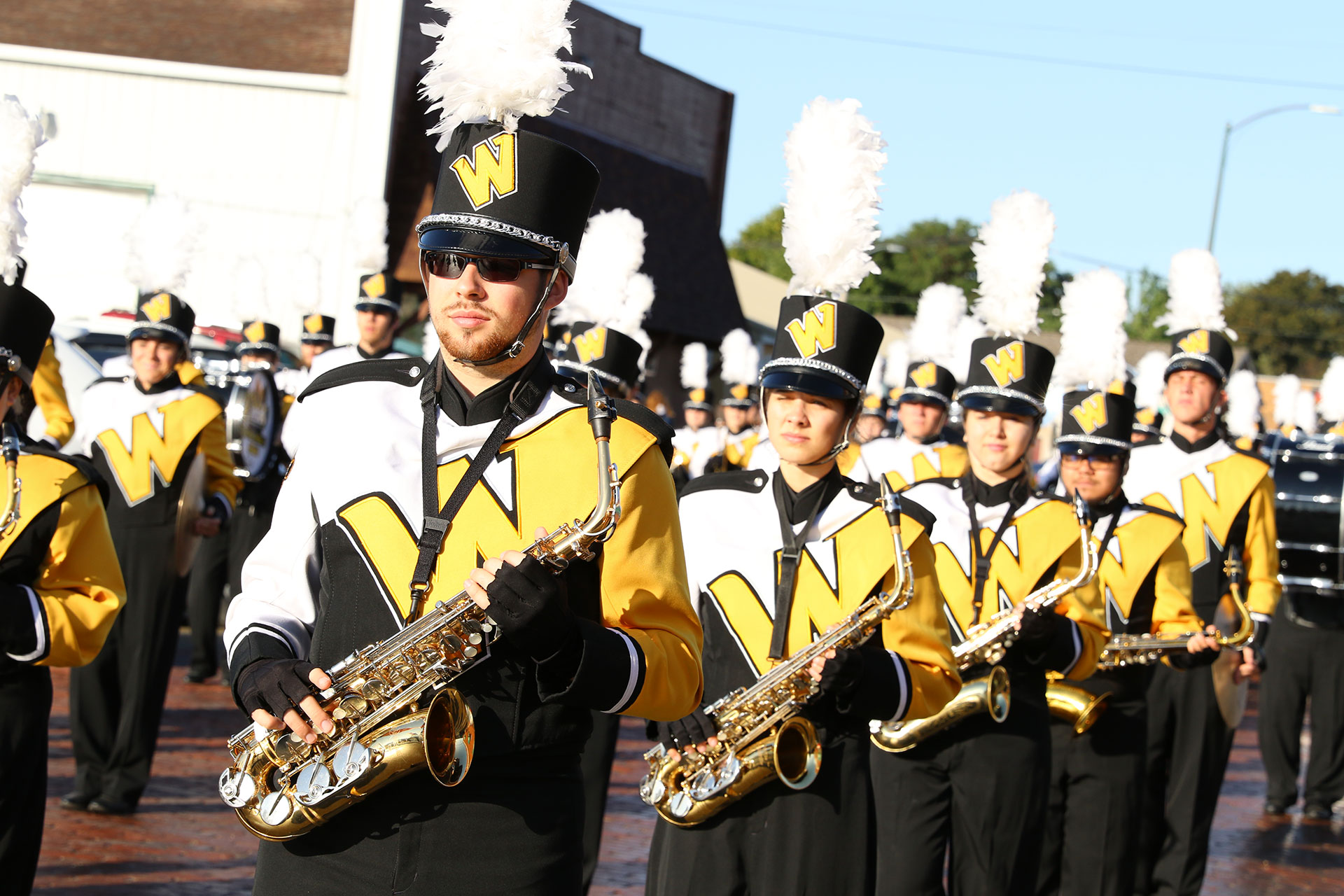 Homecoming 2022 is October 3-8 at Wayne State College, with festivities all week.
Wayne State College will host its 2022 Homecoming festivities Oct. 3-8 on the WSC campus.
Homecoming weekend kicks off at 7 p.m. Thursday, Oct. 6, with royalty coronation, pep rally, and a concert in the Willow Bowl, featuring the Tegan Nissen Band. All community members and students are welcome to attend. Visitors can also enjoy WSC students displaying expressions of music, art, language, and literature during the annual Artswalk on Wednesday and Thursday, Oct. 5-6. Planetarium shows will be featured Friday and Saturday, Oct. 7 and 8.
Reunions and activities scheduled for Oct. 7 include: Carhart Math and Science Alumni Reunion from 3 to 5 p.m., Walking Art Collection Tour starting at 3 p.m. in the Student Center, Opening Reception for WSC Alumni and Faculty Art Exhibit from 3:30 to 5 p.m. at the Nordstrand Visual Arts Gallery in Conn Library, and a concert starting at 7:30 p.m. in Ley Theatre by Chanticleer, a Grammy award-winning a cappella ensemble.
The Homecoming Parade and Band Day will begin at 9:30 a.m. Saturday, Oct. 8. Campus Tours are available from 11 a.m. to 1 p.m., starting in the Student Center. The Presidents Society and Honored Classes Brunch will take place from 10:30 a.m. to 12:30 p.m. in the Frey Conference Suite. Honored classes this year include the Classes of '62, '72 and '82 for their 60-, 50-, and 40-year reunions. The Wildcats will take on Minnesota State at 1 p.m. Saturday during the annual Homecoming football game.
The Outstanding Alumni Awards Banquet will take place Saturday, Oct. 8, honoring an alumnus from each of the four schools at WSC and an Alumni Service Award. Recipients include Dr. Neal Schnoor '90, President at Northern State University in Aberdeen, South Dakota (School of Arts and Humanities); Cheri (McDonald) Polenske '08, Chief Information Officer at the Nebraska State College System in Lincoln (School of Business and Technology); Dr. Johanna Barnes '97, '06 MSE, Professor of Education at Wayne State College (School of Education and Behavioral Sciences); and DaVarryl Williamson '93, 10-time national amateur champion and former professional heavyweight boxer, two-time national Golden Gloves champion, Colorado Sports Hall of Fame inductee, and owner/operator of TOS Boxing gym in Englewood, Colo. (School of Science, Health, and Criminal Justice).
The Alumni Service Award is given to an individual who has enhanced the college through dedicated service, promotion, financial support, and other efforts that have benefited Wayne State College. The 2022 recipient of the Alumni Service Award is Dr. Donald Koeber, a native of Wayne and a 1970 graduate of Wayne State College. He earned his Doctor of Optometry degree from Illinois College of Optometry in 1978. Koeber is involved in the community and serves on many organizations, including service as the President of the Wayne State Foundation, where he has been a board member for 36 years. Koeber and his wife, Claudia, also a 1970 graduate of WSC, reside in Wayne. They have been active with the Wayne State Foundation and have supported many campus projects and initiatives.
Student events throughout the week include a Wildcats Got Talent show, the Nearly Naked Mile and Beach Volleyball Tournament, Willy Olympics, men's basketball Black vs. Gold scrimmage, Silent Disco dance, and Homecoming Coronation and pep rally in the Willow Bowl on the evening of Thursday, Oct. 6.
For more information about Homecoming 2022, to see the detailed schedule of events, and to RSVP to attend, visit www.wsc.edu/homecoming or contact the Alumni Office at 402-375-7370.