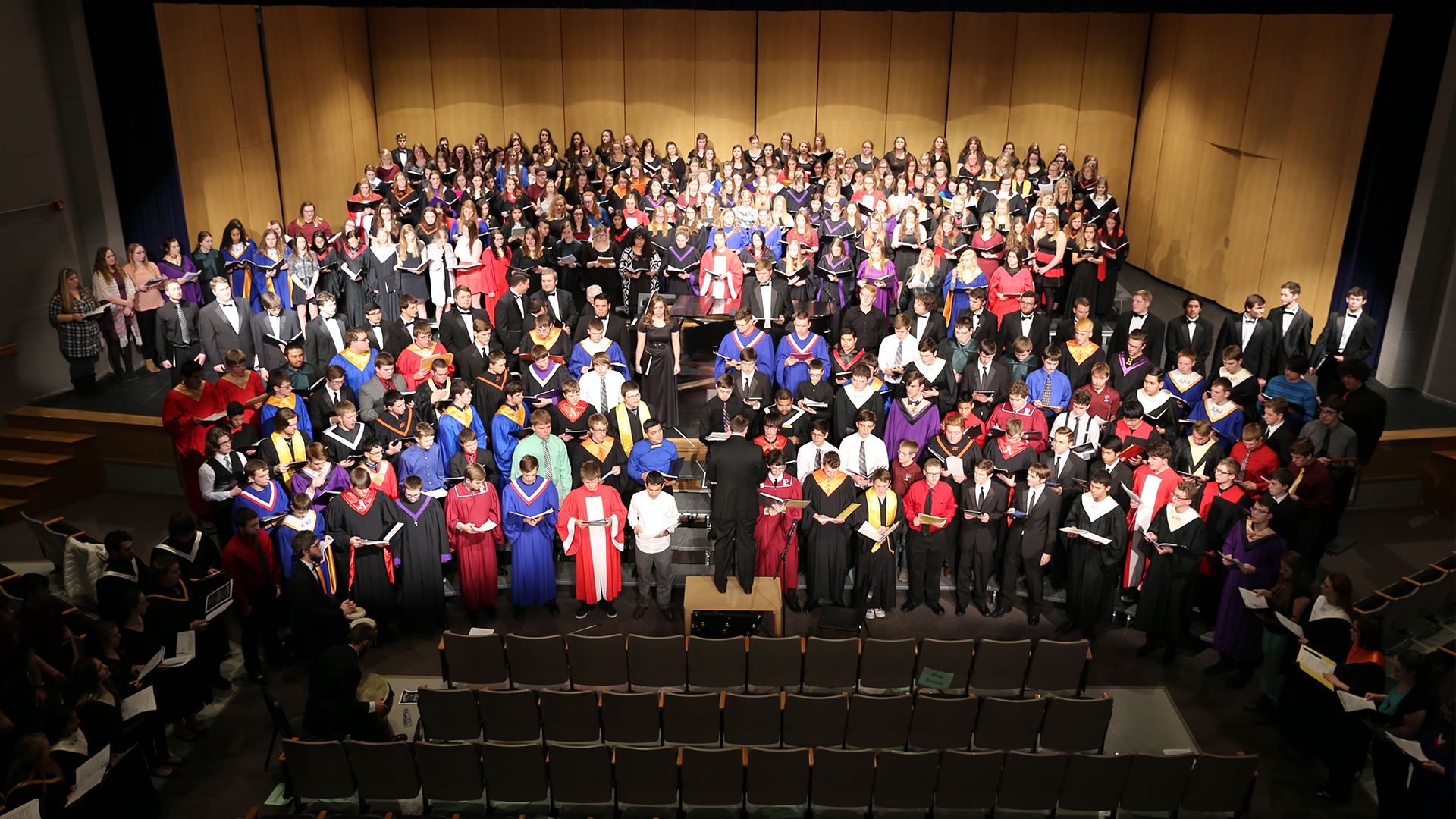 The Festival of Honor Choirs: February 4-5, 2022
About Honor Choir
The Festival of Honor Choirs takes place the first Friday of February each year and consists of multiple honor choirs for high school singers. The choirs are comprised of students from Nebraska, Iowa, and South Dakota, who come together for a full day of rehearsals culminating with festival concerts. In 2022, we will offer two honor choirs on Friday, Feb. 4 (mixed choir and women's choir), and two honor choirs on Saturday, Feb. 5 (music theater choir and men's choir).
For those interested in participating in choirs on Friday and Saturday, rooms can be reserved at the Cobblestone Inn at our group rate. Other hotel accommodations are available in Wayne and nearby in Norfolk, Neb.
Audition Information
Due to limited space during the renovation and the addition of new choir and band rooms to Peterson Fine Arts in 2022, the number of participants in our festival will be limited to students selected on the basis of recorded auditions.
Learn more about the Peterson renovation.
How to Audition
Complete the online WSC Honor Choir Application by Dec. 13.
Record the appropriate audition music as MP3, WAV, or MP4 file. If you are unable to send large files, we are also willing to watch auditions posted on YouTube - just send us the link.
Make each audition a separate file (introduction, scales, and song(s) in same file) and label as follows:
Voice Part-Student Name-School
Email MP3, WAV, or MP4 files or a YouTube video link to Dr. Matthew Armstrong at

[email protected]

.
Audition Requirements
Introduction: Student will announce his or her name and voice part.
Scales: Sing the ascending and descending major scales appropriate to voice part as listed below. Scales should be sung unaccompanied on the syllable "day" at 88 bpm. Only the starting pitch should be played. Modify vowels as needed in extremity of range.

Voice part is listed, followed by starting pitch ascending scale, then starting pitch descending scale.

Soprano I: A above Middle C; C above Middle C
Soprano II: G above Middle C; B flat above Middle C
Alto I: E above Middle C; A above Middle C
Alto II: D above Middle C; G above Middle C
Tenor I: G below Middle C; E above Middle C
Tenor II: F below Middle C; Middle C
Bass I: E flat below Middle C; G below Middle C
Bass II: C below Middle C; E flat below Middle C

Solo (Required): Sing "My Country 'Tis of Thee" a cappella (without accompaniment) in a key that best represents the singer's voice.
Second Solo (Optional): Sing approximately 60 seconds of a folk song, art song, music theater, or jazz selection. When possible, it is preferred that the optional second solo is accompanied, but a cappella submissions will also be accepted.
All recordings will be adjudicated. Results will be announced shortly after submission (via email).
Directors should expect music and further details of the Honor Choir Festival just after the first of the year.
Fees
$5 audition fee. Due Dec. 13.
$20 registration fee per singer upon acceptance to the choir. Due Jan. 14.
Make checks payable to Wayne State College and mail to:
Lauren Rastede
Honor Choir Festival
Wayne State College
1111 Main Street
Wayne, NE 68787

Showcase your musical talent and audition today!
Honor Choir auditions will be due Monday, Dec. 13, 2021.
Mixed Honor Choir
Friday, Feb. 4
Mr. Ariel Merivil
First-Plymouth Church, conductor
Women's Honor Choir
Friday, Feb. 4
Professor Claudia Dvorak
Wayne State College, conductor
Music Theater Honor Choir
Saturday, Feb. 5
Dr. Matthew Armstrong
Wayne State College, conductor
Men's Honor Choir
Saturday, Feb. 5
Mr. Jacob Ritter
Columbus HS, conductor
Contact
Dr. Matthew Armstrong
WSC Director of Choral Studies
402-375-7358
[email protected]
Related Events
Wayne State College is also pleased to host "Sing Around Nebraska" for grades 4-6 on Jan. 22, 2022, with guest clinician (and WSC alum) Tracy Anderson from Wayne High School.
Visit the Nebraska Choral Directors Assocation (NCDA) website for more details.
If you don't teach grades 4-6, please share this information with your 4-6 grade vocal music teachers!