Published Wednesday, May 24th, 2023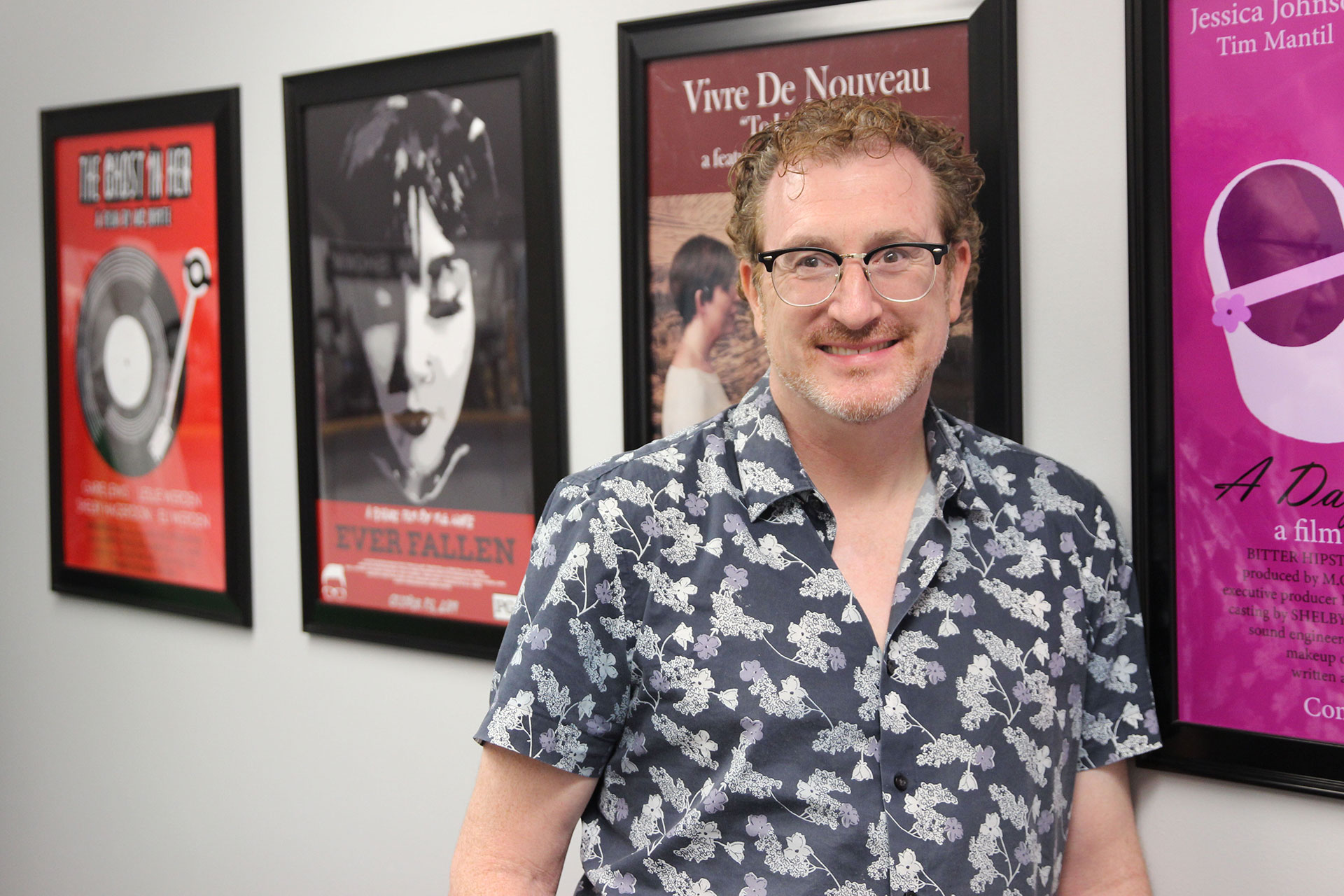 Wayne State film instructor says he is humbled by the award and delighted that Wayne State is the region's destination for film students.
Dr. Michael White, associate professor of communication arts and film advisor at Wayne State College, has received the 2023 Doug Hawley President's Award for Lifetime Achievement in Film from the Iowa Motion Picture Association (IMPA).
White, who has taught at Wayne State since 2017, received the award during the IMPA's 32nd annual awards ceremony at the Boman Fine Arts Center in Forest City, Iowa.
This commemorative award, established in honor of former IMPA president Doug Hawley, is presented periodically to an IMPA member who has gone above and beyond the call of duty to provide outstanding service to the organization and the Iowa Production Community as a whole.
"I am really humbled by the IMPA in choosing me for this honor," said White. "I'm so thankful for my students and alums involved in filmmaking in the Midwest. It's nice to have WSC be the region's destination for film students and to have that acknowledged is wonderful."
Founded in 1992, the IMPA is an educational and networking association designed to promote the film and media production skills of its members, provide networking and professional development opportunities, mentor amateur and professional filmmakers, and work with partner organizations to promote filmmaking in Iowa.
The IMPA works directly with the media producers to provide services to its members. Through these cooperative efforts, the IMPA provides its members information on opportunities, events, and issues affecting the production industry. It helps to create the best conditions for production in Iowa and ensure the prosperity of the industry.
"What impresses me the most about Michael White is the dedication he has for his film students at Wayne State College," said Jim Brockhohn, president of IMPA. "I frequently see Michael and his students attending film festivals and workshops together. This award went to a well-deserved individual as he is a mentor to his students and an established filmmaker in his own right."
White's films have been selected for numerous film festivals and have garnered several awards and accolades. His films are "The Ghost in Her," "Ever Fallen," "To Live Again," "A Day with Lily," "The Queen of Pandora's Box," and "Between the Lines." He codirected "Between the Lines" with Shelby Hagerdon, a Wayne State graduate and graduate of Emerson College in Boston.
White is currently at work on his next film, "The Cross," which is scheduled for completion in November.
White teaches classes in film production, film criticism, and film theory at Wayne State, and oversees the Hot Attic Film School – the student video and short film production studio. He is also the advisor to the Student Media Club and organizer and founder of the Wildcat Spirit Film Festival.
White was the 2015 recipient of the Siouxland Man of Excellence by Sioux City's Women Aware for his service to children and young people. He is a regular keynote speaker at the Mentors in Violence Prevention Program in Sioux City, Iowa.
White earned his bachelor's degree in Broadcasting from Wayne State College, his master's degree in Communication Education from Wayne State College, and his Ed.D. in Education from the University of South Dakota.