Published Monday, May 22nd, 2023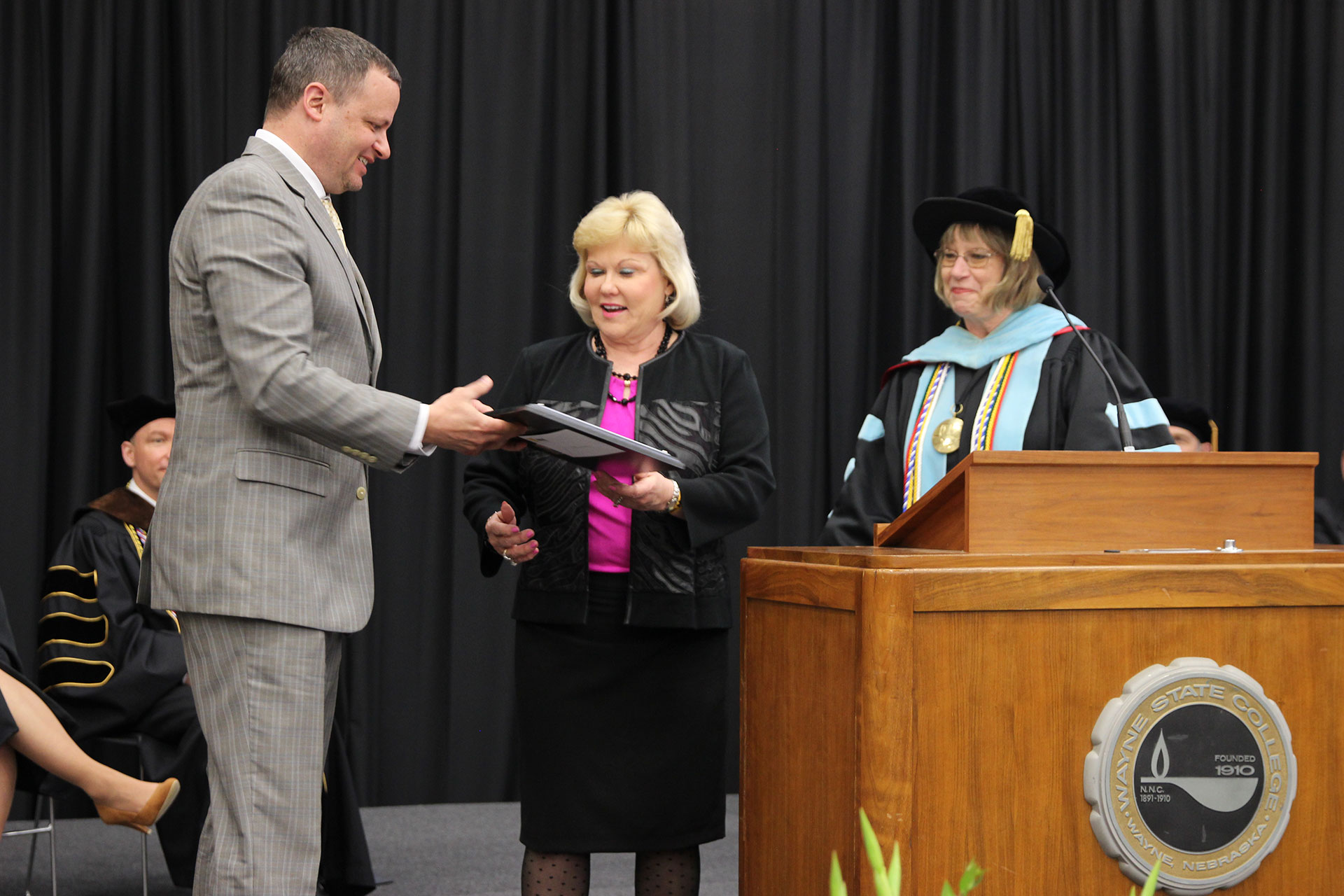 The prestigious award, sponsored by State Nebraska Bank & Trust, was presented at the spring baccalaureate ceremony.
Wayne State College is proud to announce that Dr. Randa Garden, professor of communication arts, was presented the State Nebraska Bank & Trust Teaching Excellence Award at the college's May 6 commencement ceremony. Garden has taught at Wayne State since 1999.
Matthew Ley, chief executive officer and trust officer of State Nebraska Bank & Trust in Wayne, presented the award during the undergraduate ceremony. This prestigious honor recognizes rigorous standards that require a superior level of effective teaching.
David Ley, the bank's chairman of the board, established the award in 1998 as a way of recognizing and strengthening outstanding teaching at Wayne State College. State Nebraska Bank & Trust has served the Wayne community for more than 130 years and supports the college in many ways, including numerous scholarships, capital investments, employment of students, and service on the Wayne State Foundation Board of Trustees.
"I am honored to receive the 2023 Teaching Excellence Award," Garden said. "I have a passion for teaching communication and working with students in research that centers on communication. I especially enjoy sharing the knowledge I have gained through my original research. I also value enhancing student scholarship and guiding students as they present their scholarly work at communication conferences. It is very rewarding to contribute to the success of our students as they progress through college and move to graduate school and their careers."
Garden's courses include Health Communication, Communication Ethics, Organizational Communication, Qualitative Research Design, and Principles of Human Communication. Her research interests focus on qualitative narrative research, particularly in health and illness. She has presented her work on issues related to doctor-patient communication, and financial elder abuse, and has also explored the communication challenges of family caregivers for those with Alzheimer's disease.
Garden has presented her research at several of the annual National Communication Association (NCA) Conferences, and Central State Communication Association (CSCA) Conferences. She recently authored a journal article titled "She Went to Church to Pray and Was Preyed Upon: A Narrative Inquiry of Financial Elder Abuse Via Religious Affinity Fraud," that was published in The Journal of Communication and Religion (Volume 45, Issue 1, Spring 2022), pp. 61-85.
Garden earned her Ph.D. from University of Nebraska-Lincoln in 2009; her master's degree from Wayne State College in 1998; her bachelor's degree from Wayne State College in 1996; and her associate degree from Northeast Community College in 1974. In addition to her work as a professor of communication arts at Wayne State, Garden works with honors students on their honors research projects presented each semester at the Spring and Fall Honor Colloquiums.