Published Friday, October 21st, 2022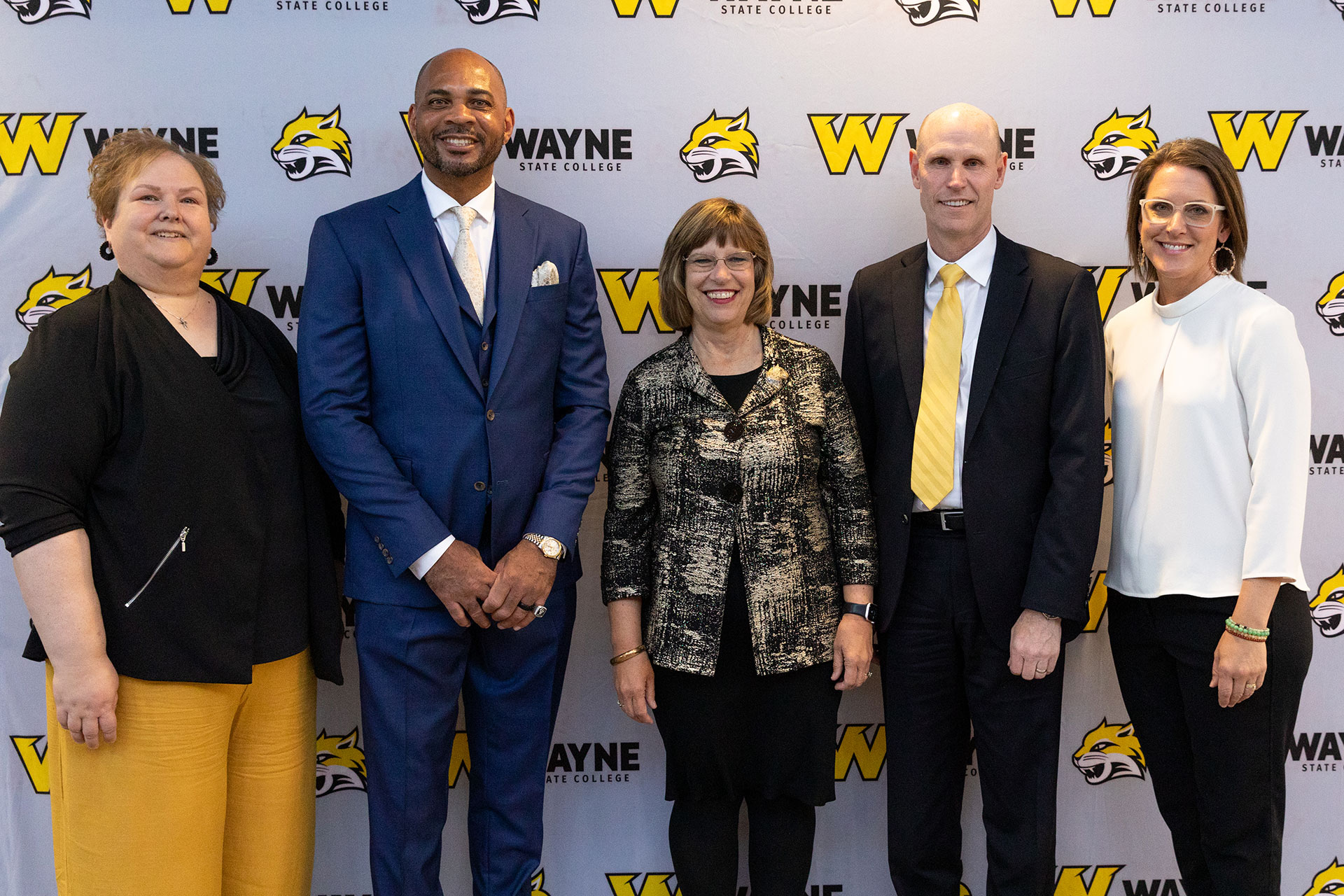 Awards were presented at a banquet Oct. 8 to Neal Schnoor '90, Cheri Polenske '08, Johanna Barnes '97, MSE '06, DaVarryl Williamson '93, and Don Koeber '70.
Wayne State College honored four graduates with the Outstanding Alumni Award and one graduate with the Alumni Service Award during Homecoming on Oct. 8. The alumni award recognizes a graduate from each of the four schools at WSC. The Alumni Service Award is given to an individual who has enhanced the college through dedicated service, promotion, financial support, and other efforts to Wayne State College.
Recipients of the Outstanding Alumni Award include Dr. Neal Schnoor '90, President at Northern State University in Aberdeen, S.D. (School of Arts and Humanities); Cheri (McDonald) Polenske '08, Chief Information Officer at the Nebraska State College System in Lincoln (School of Business and Technology); Dr. Johanna Barnes '97, '06 MSE, Professor of Education at Wayne State College (School of Education and Behavioral Sciences); and DaVarryl Williamson '93, 10-time national amateur champion and former professional heavyweight boxer, two-time national Golden Gloves champion, Colorado Sports Hall of Fame inductee, and owner/operator of TOS Boxing gym in Englewood, Colo. (School of Science, Health, and Criminal Justice). The recipient of the Alumni Service Award is Dr. Donald Koeber '70.
Don Koeber '70, Alumni Service Award
The 2022 recipient of the Alumni Service Award is Dr. Donald Koeber. Koeber is a native of Wayne and is a 1970 graduate of Wayne State College. He later obtained his Doctor of Optometry degree in 1978 from Illinois College of Optometry. Koeber is involved in the community and serves on many organizations. Currently, Koeber serves as the president of the Wayne State Foundation, where he has been a board member for 36 years. Koeber and his wife, Claudia, also a 1970 graduate of WSC, reside in Wayne. They have been very active with the Wayne State Foundation and have supported many campus projects and initiatives.
Neal Schnoor '90, School of Arts and Humanities
Dr.
Neal Schnoor '90 was appointed president at Northern State University in July 2021 where he also serves as a member of the board of directors of the Council for Public Liberal Arts Colleges, Northern Sun Intercollegiate Conference, the Aberdeen Development Corporation, United Way of Northeastern South Dakota, and the Northern State University Foundation.
Schnoor previously served as chief of staff to the president at California State University Long Beach (CSULB) and senior advisor to the chancellor at the University of Nebraska at Kearney (UNK). In both roles, he collaborated with campus and community leaders on strategic and capital planning, academic and student services, institutional and program accreditation, compliance, enrollment management, intercollegiate athletics, communications, marketing, and development.
Schnoor served as dean of the School of Education and Counseling at Wayne State from 2010 to 2012. He led a comprehensive renewal of undergraduate and graduate teacher education programs, initiated an online curriculum and instruction master's degree, led a revision of the undergraduate teacher education program, and implemented one of WSC's first programs at the College Center in South Sioux City, Iowa.
From 1997 to 2010, Schnoor was a member of the faculty at UNK where he held a joint appointment and tenure in the College of Fine Arts and Humanities and the College of Education. He taught an array of graduate and undergraduate courses in music and education. As director of bands, he conducted concert and marching bands that were selected to perform at several state conferences and were the first instrumental groups in the institution's history to perform abroad. Before earning his M.M. and Ph.D. at the University of Nebraska-Lincoln, he began his career serving as director of bands at Wakefield Community Schools, Kearney High School, and Lincoln Northeast High School.
Schnoor is married to Teresa (Travis '87) Schnoor, who taught band in Coleridge, Wisner, and Elm Creek before serving as elementary principal for the last 25 years at Franklin Public Schools and Central Elementary in Kearney.
Cheri (McDonald) Polenske '08, School of Business and Technology
Cheri Polenske '08 is proud to call Wayne her hometown as she was born and raised in Wayne and graduated from Wayne High School in 1990. She started her higher education at Northeast Community College where she earned an associate of applied science in computer programming. Her professional career began at Wayne State College as a computer operator in 1992. As she continued to grow professionally and take on additional responsibilities at WSC, she was promoted to Director of Administrative Systems in 2007. Throughout her career at WSC, she took classes as a non-traditional student and earned her Bachelor of Science in Computer Information Systems in 2008.
Polenske accepted a position with the Nebraska Student Information System (NeSIS) team at the University of Nebraska in 2010, where she continued to provide services to the Nebraska state colleges. The NeSIS team manages the student information system for all the Nebraska universities and Nebraska state colleges. She worked closely with the leadership and administration at WSC to enhance and support the WildcatsOnline system, which provides WSC students the capability to manage all administrative aspects of their academic careers including enrolling in classes, accepting financial aid, and paying their bills. Polenske was promoted to assistant vice president of enterprise services with the University of Nebraska Information Technology Services in 2019, where she managed multiple teams responsible for the student information systems, business information system, data warehouses, travel system, purchasing system, event and course scheduling systems, reporting systems, system integrations, the University of Nebraska website, and additional enterprise-level services for the Nebraska universities and state colleges.
Polenske joined the Nebraska State College System as the Chief Information Officer in April. She is responsible for providing the vision, as well as the strategic, tactical, and operational leadership necessary to ensure that the system office has the resources (infrastructure and services) and technology solutions to optimize its performance and alignment with the strategic and operational goals of the system. Polenske works closely with the state college CIOs, campus leaders, and system office staff to align IT resources and initiatives to support the NSCS strategic goals and the educational needs of Nebraska.
Polenske has a great love for IT, higher education, the state of Nebraska, and Wayne State College. She contributes much of her success to the skills she learned from her coursework at WSC, her professional experiences while a member of the WSC administrative systems team, and the opportunity to be mentored by incredible professionals during her 30 years of working in Nebraska public higher education.
Polenske also knows she would not be where she is today without her strong support system of close family members, friends, and work colleagues. Polenske and her husband, Stan, are most proud of raising three "strong, independent, and beautiful" daughters, McKayleigh, BrookLynn, and RyAnna.
"We have always encouraged our girls to go after what they want in life and give them our utmost support," Cheri said. "One of my favorite quotes is, 'It doesn't matter what's in front of you, as long as you know who's behind you.' I have received so much support over the years and want to ensure I provide support to others to accomplish their goals!"
Johanna Barnes '97, MSE '06, School of Education and Behavioral Sciences
Dr. Johanna Barnes is grateful for every role she has had as an educator, for it has allowed her to be a continuous learner as well. She credits her WSC professors, facilitators, and mentors during her undergraduate and graduate programs for inspiring her journey in education. She has literally followed in their footsteps, starting full time at WSC in 2009, earning her doctorate from the University of South Dakota in 2013, and now serving as a professor of education for the School of Education and Behavioral Sciences.
Barnes's first opportunity in education was as a second-grade teacher in Newman Grove, Neb. She learned much about the profession from the students and mentor teachers in her school and from WSC mentors as she served as a facilitator/adjunct instructor for the MSE in Curriculum and Instruction – Community of Learning program.
As an elementary teacher during the week and adjunct instructor one weekend per month, living in both worlds grew her desire to help make a difference in education by assisting in the journey of pre-service and in-service teachers. One of her favorite things is having a former second grader in her undergraduate courses (elementary math methods) or in graduate courses (either online or in the Community of Learning program that she now oversees).
Barnes additionally educates and learns through local, national, and international presentations and publications related to math education and the Community of Learning program. Overseeing the program allows her the chance to support and grow alongside teachers across Nebraska and in the country of Aruba.
Barnes's family is Wayne State proud. Her husband, Tim '95, MBA '20, manages the Wayne State College bookstore. Their daughter, Claire '20, is a social media specialist for Scheels in Omaha, Neb. Their son-in-law, Jorge Adame '20, is a sales/leasing consultant for Woodhouse Ford. Their daughter, Elle, is a freshman at WSC majoring in business.
DaVarryl Williamson '93, School of Science, Health, and Criminal Justice
A poverty-stricken childhood in Washington, D.C., did not stop WSC alumnus and boxer DaVarryl "Touch of Sleep" Williamson '93 from compiling a long list of impressive achievements and accolades – not only for his powerful punch in the ring, but for his dedication to community service and education. The two-time national Golden Gloves champion, 10-time national amateur champ, and former professional heavyweight was recently among six 2022 inductees into the Colorado Sports Hall of Fame.
"I was in tears and nearly fell out of my chair when I got the call about being selected," said Williamson, who earned a bachelor's degree in 1993 at Wayne State College, majoring in recreation and minoring in coaching, and a master's degree in administrative services from Northern Michigan University in Marquette, Mich., in 1998. "The Hall of Fame is the highest honor you can get in any sport. I'm in the Colorado Golden Gloves Hall of Fame, which is only for boxers. This one is for all athletes, so I'm in there with some big names like John Elway and Peyton Manning (both former Denver Broncos quarterbacks). Only three boxers have been inducted, and I'm the first one since 1988."
Williamson closed out his career at WSC being involved in numerous sports and activities including football, basketball, school mascot Willy the Wildcat, Yell Squad, vice president of the Minority Student Association, intramurals, lip sync contest, creating socials for the entire student body, Eric and Ju Ju dances at the City Auditorium, Riley's Night Club, and theater with lead roles such as the Generous Genie in Aladdin. During summers at WSC, he officiated summer basketball and football camps and worked maintenance, moving beds, couches, furniture – whatever it took to be a part of the school and campus!
A relative late bloomer by the sport's standards, Williamson did not compete in his first boxing match until age 25. He was invited to train at the former U.S. Olympic Education Center at Northern Michigan University, where he became an Olympic alternate earning a spot on the 1996 team, while simultaneously pursuing his graduate degree.
Williamson was honored as the nation's "Best Amateur Boxer" by Boxing USA in 1997. A year later, he was named the U.S. Olympic Committee's Athlete of the Month for October, topping the likes of former cyclist Lance Armstrong. He compiled an impressive amateur bout record of 120 wins (103 of which were knockouts), 17 losses, and one draw. His thunderous right punch and knockout record became so renowned that he earned the nickname "Touch of Sleep" from his opponents and sparring partners.
In 2000, Williamson turned pro and trained in Colorado for his professional debut at the age of 32. He had won 27 bouts (23 by knockout) and lost eight.
Thirteen years after his debut, Ring Magazine called Williamson the "Hardest Puncher in the World." Over his pro career, he earned title shots on four separate occasions, claiming the WBC NABF/WBO Latino Heavyweight Title and the WBC Continental Americas/WBO NABO Heavyweight Title along the way. His final fight as a professional took place in 2014 at the age of 46.
In the years leading up to his retirement as a fighter, Williamson quietly built one of the most successful boxing gyms in Colorado: TOS Boxing, an acronym nod to Touch of Sleep. He still operates the gym in Englewood and has devoted his life to teaching athletes of all types and ages the "sweet science of boxing" while growing the sport he loved in his adopted home state. In 2021, he sent nine boxers to the Colorado Golden Gloves Championships, six of whom won their respective weight classes.
Williamson has also become an integral part of the community, forming Touchstone Youth Program, a non-profit that teaches kids boxing and life skills. Englewood Public Schools partnered with TYP, busing in hundreds of kids to participate in Williamson's program. The effort earned him the honor of Englewood School District Volunteer of the Year in 2017 and 2018. TOS Boxing also became an official partner gym with the National Cancer Charity Haymakers for Hope.
"DaVarryl understands the innate obvious truth that if the community raises up the individual, the individual will lift the community," said Doug Ottewill, Chairman of the Colorado Sports Hall of Fame Selection Committee. "He knows this despite having largely created himself. DaVarryl prides himself on working with people from all walks of life and meeting them on their level. He has truly become a pillar of the community, an impressive role model for its youth, and an inspiration for all of those lucky enough to make his acquaintance."
Williamson and his wife, Jennifer, have five children: Dantel, the oldest, has a career in computer technology and photography; Alayana is a practicing medical esthetician; Donald is a senior at the University of Richmond studying finance; Gabriel is a sophomore at the University of Dallas studying business and has already begun a business that he plans to take public in the next year; and Nina, the youngest of the five, is a senior at Cherry Creek High School and, with any luck after touring the campus here in Wayne, could be the first to follow Williamson to his alma mater.
Other honors Williamson has received include the Martin Luther Legacy Award and a nomination for Englewood's Citizen of the Year. He repaid the latter by representing Englewood as a panelist for the National Civic League's 2021 All American Cities Award, helping it to become a top 20 finalist. He was recognized by the Englewood City Council for his efforts.
Currently Williamson is collaborating with ghost writer Oliver Stokeld on a book about his journey titled "Split Decisions: What It Takes to Become a Champion in Life," which is scheduled to be published soon. Williamson is also entertaining the idea of becoming an adjunct professor to teach the history of boxing.