Published Thursday, September 1st, 2022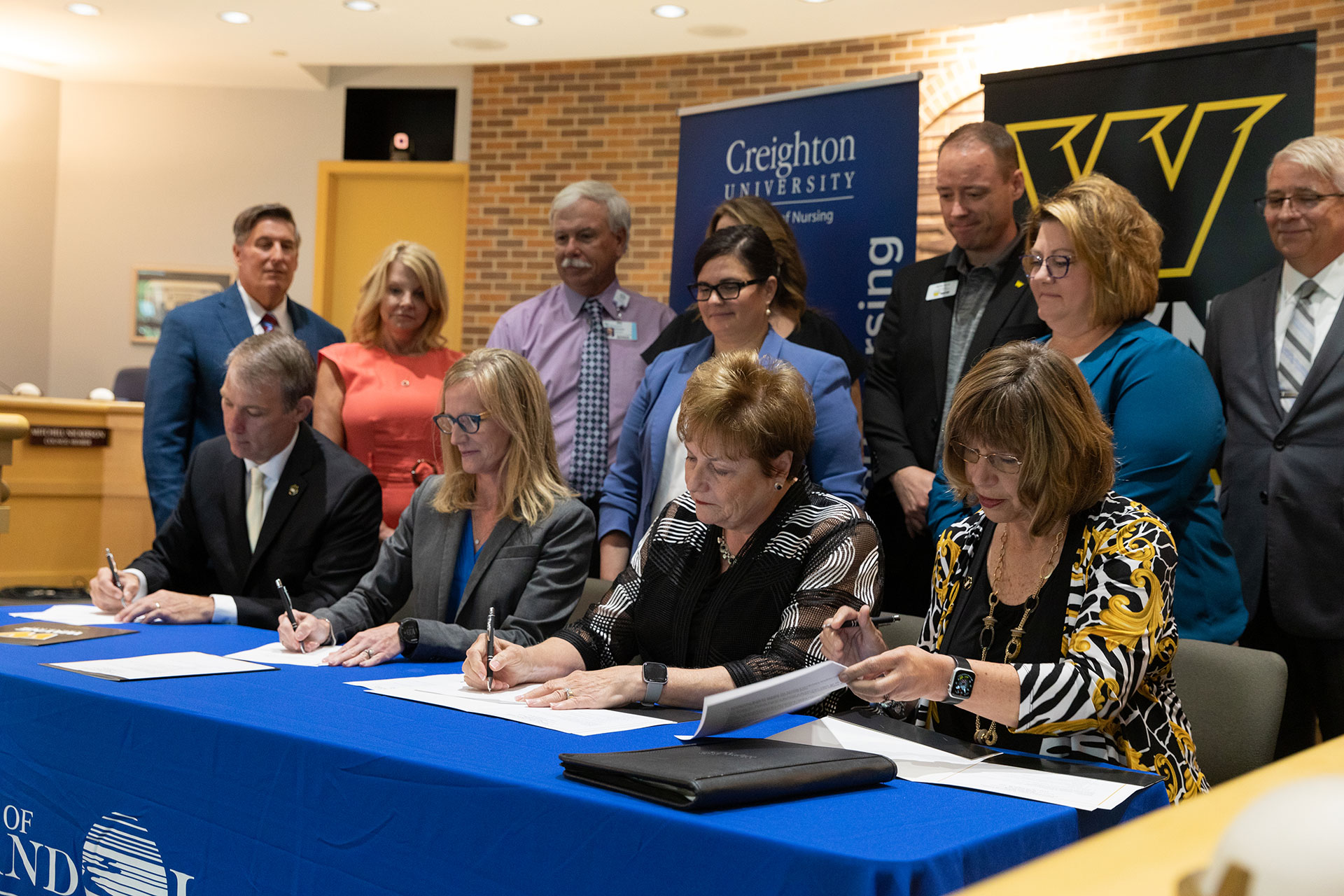 The new 3+1 dual-degree pathway forged between Wayne State College and Creighton University helps students achieve their bachelor's degree in nursing in four years.
Wayne State College and Creighton University held a press conference Aug. 29 at City Hall in Grand Island to discuss the details of a new nursing career pathway partnership. This unique nursing pathway consists of three years at Wayne State, followed by a year with Creighton University in its affiliate program with CHI Health St. Francis in Grand Island.
"This program is a great way to serve Grand Island, which is part of Wayne State's service region," said Dr. Marysz Rames, President of Wayne State College. "Our new partnership will also serve an area of high need by collaborating with an institution with a well-deserved reputation for producing quality professionals in nursing."
In order to be eligible for the WSC/Creighton Nursing (ABSN) Pathway, students must have a high school GPA ≥ 3.75 and must be an undergraduate student enrolled at WSC.
"The partnership between Creighton and Wayne State is the first of its kind between the institutions and will help address the nursing shortage in Nebraska," said Dr. Paul Turman, Chancellor of the Nebraska State College System. "As the partnership begins to thrive, additional opportunities to expand the pathway will be identified for the future."
This innovative dual-degree program guarantees admission to nursing school, serves increased demand, and helps meet Nebraska workforce needs. Benefits of the 3+1 Dual-Degree Pathway include:
Guaranteed admission to Creighton University Accelerated Bachelor of Science in Nursing Program* (ABSN Program) at the Grand Island campus
Nursing education in collaboration with CHI Health St. Francis
Dual advising and co-curricular activities with Creighton and WSC faculty
Rigorous and targeted coursework
"Together, Wayne State and Creighton University are addressing the critical nursing shortage here in Nebraska," said Dr. Ron Loggins, Dean of the School of Science, Health, and Criminal Justice at Wayne State College. "Like we are seeing across the country, Nebraska is facing a shortage of nurses and that shortage is forecast to grow in the future. This dual-degree pathway has been developed to recruit and support students on the pathway to nursing by helping them develop the necessary skills and abilities to be successful in this challenging and rewarding career."
"This agreement is unique because students are able to earn a bachelor's degree from Wayne State and also their bachelor's in nursing from Creighton in four years," Loggins continued. "Earning both degrees is a reflection of the intense study and preparation our students undertake on their journey into healthcare. Also unique is the connection of this program to Grand Island. Students in this program will complete their nursing coursework and training at Creighton's Central Nebraska campus at CHI Health St. Francis in Grand Island. Our hope is that students will find connections here in Grand Island and stay in this exciting and growing community when they graduate."
"This 3+1 partnership with Wayne State College is a wonderful opportunity to pursue a nursing degree through Creighton's long-standing, highly ranked accelerated BSN program while still enjoying all the benefits of the student college experience at WSC," said Dr. Catherine M. Todero, Professor and Dean of the College of Nursing and Vice Provost of Health Sciences Campuses with Creighton University. "Working with colleagues from WSC in the design of this initiative has been a pleasure. They are creative and motivated around how to expand options for WSC students to earn nursing credentials. And increasing the numbers of nurses produced in the Grand Island community ultimately should help reduce the nursing shortage in the area."
"We are delighted to enter into this innovative partnership between Creighton University and Wayne State College," said Dr. Mardell Wilson, Provost of Creighton University. "Such a collaboration, focused in central Nebraska, is an illustration of two institutions recognizing the value of working together to leverage interests and strengths in a way that benefits the students and potentially the citizens of Grand Island and surrounding communities by expanding the nursing workforce."
Learn more about nursing at Wayne State at www.wsc.edu/nursing-programs.
For more information, contact Dr. Ron Loggins, Dean of Wayne State's School of Science, Health, and Criminal Justice, at [email protected] or 402-375-7030.