Published Tuesday, December 14th, 2021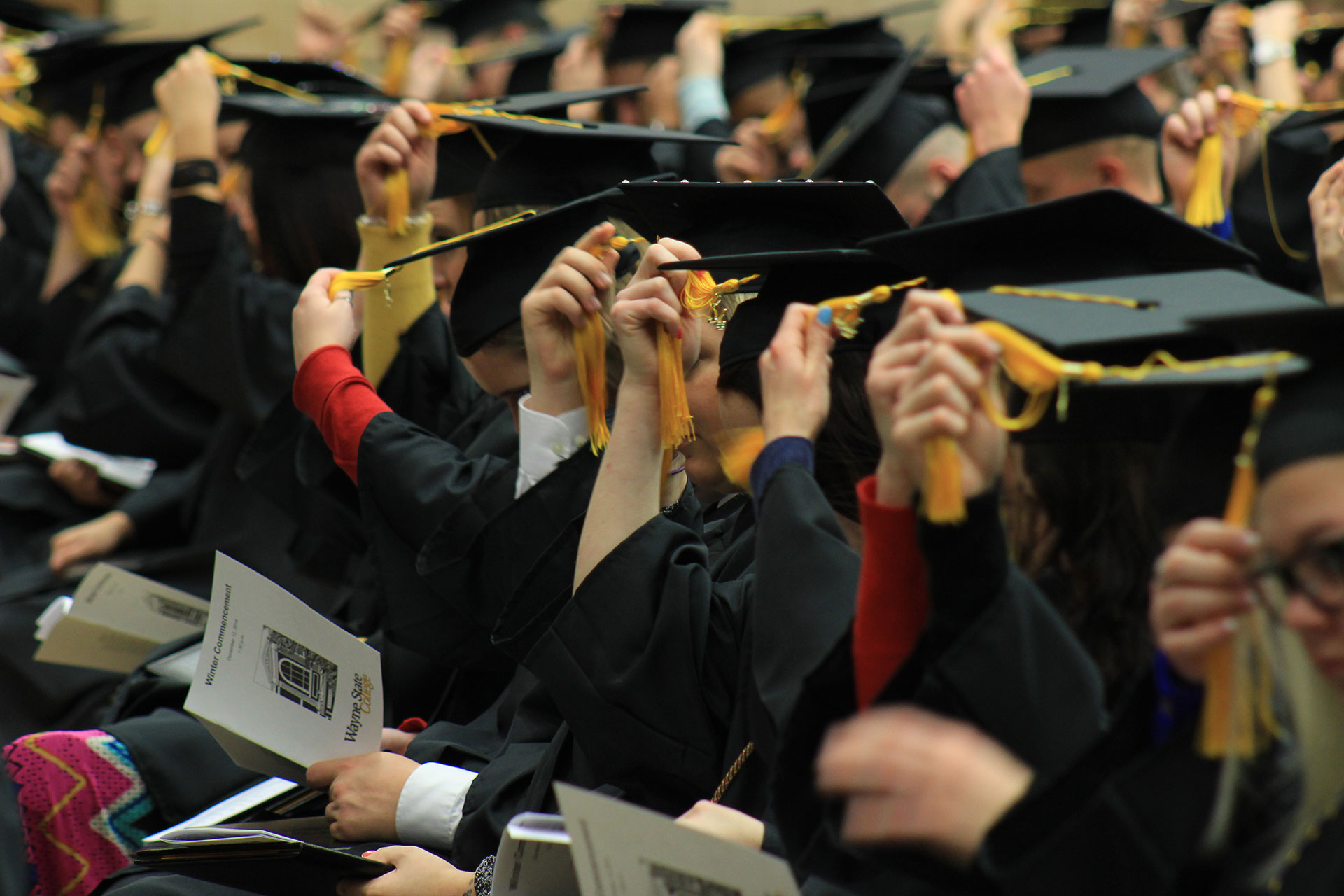 Wayne State will hold the Winter 2021 graduation ceremony Dec. 17.
Wayne State College will host commencement for graduate and undergraduate students at 1:30 Friday, Dec. 17, in Rice Auditorium. A total of 285 degrees will be conferred at the ceremonies by Wayne State College President Marysz Rames. The ceremony will be livestreamed.
Commencement Program
Download the Full Commencement Program (PDF)
(includes list of candidates for degree)
Ceremony Program
Processional: "Pomp and Circumstance" (Edward Elgar)
A Touch of Brass
Welcome
Dr. Marysz Rames, President
"The Star-Spangled Banner" (John Stafford Smith)
Dr. Sarah Farr, Associate Professor of Music
Abigail Robinson, graduating music student
Invocation
Mr. Tanner Johnston, Bachelor of Science in Special Education Generalist K-12
Greetings from the Board
Mr. Carter "Cap" Peterson Trustee, Nebraska State College System
Alumni Achievement Award: Dr. Glenda Gallisath '84
President Rames
Mr. Kevin Armstrong, CEO of the Wayne State Foundation
Remarks
Ms. Sabrina Sack, Bachelor of Science in Elementary Education K-8
Ms. Emma Todd, Master of Science in Education - Counselor Education/Clinical Mental Health Counseling
Musical Selection: "My Spirit Be Joyful" (Johann Sebastian Bach)
A Touch of Brass
Presentation of Candidates for Degree
Mr. Steven Elliott, Vice President for Academic Affairs
Conferring of Degrees
President Rames
Presentation of Baccalaureate Candidates
Dr. Anne Power, Dean of the School of Business and Technology
Presentation of Graduate Candidates
Vice President Elliott
Concluding Remarks
President Rames
"Alma Mater" (Leon Beery)
Dr. Sarah Farr, Associate Professor of Music
Alumni Achievement Award: Dr. Glenda Gallisath '84
Dr. Glenda Gallisath is the recipient of the Alumni Achievement Award, which will be presented by the Wayne State Foundation during the commencement ceremony. The award is presented to a graduate who has attained outstanding achievement in his or her career and/or through community service and has provided support to WSC.
Gallisath graduated from Wayne State College in 1984 with a Bachelor of Science in Business Administration (Management) with honors. She earned an MBA from the University of South Dakota and began her career in higher education in 1985 as a full-time business faculty member at Morningside College (now University) in Sioux City, Iowa. In a few years, Gallisath transitioned to a full-time academic administrative position at Morningside and later served in various leadership roles at Western Iowa Tech Community College through 2000. Gallisath also earned a Ph.D. in Higher Education at Iowa State University and completed the Institute for Educational Management at Harvard University.
For 25 years, Gallisath served as the dean and vice president levels at community and two-year colleges, and at public and private baccalaureate and graduate institutions in rural and urban settings in the Midwest. Her accomplishments often focused on developing new academic programs, academic partnerships with high schools and colleges/universities, and community outreach. She has periodically taught graduate courses in business administration and educational leadership.
Throughout her administrative career, Gallisath has presented at regional and national conferences about assessment of student learning, institutional effectiveness, and student success. She currently serves as the Executive Director of Institutional Effectiveness and Assessment at Walden University, which specializes in providing access for adult students to graduate degree programs. Gallisath is also active with the Higher Learning Commission (HLC) that accredits colleges and universities in the United States. She has been an accreditation liaison officer at several institutions, and since 2013 she has served as a mentor to institutions in the HLC's Persistence and Completion Academy and now the Student Success Academy. She has served on HLC task forces regarding assessment and is a facilitator for the HLC Assessment of General Education seminars. Gallisath has been a presenter at several HLC annual conferences and currently serves on the HLC Annual Conference Advisory Committee.
A Wymore native, she is the daughter of Dorothy Gallisath and the late George F. Gallisath of Beatrice. A resident of Des Moines, Iowa, she has been a trustee of the Wayne State Foundation since 2012 and was appointed to its executive committee this fall.
Commencement Speakers
Tanner Johnston, Invocation Speaker
Tanner Johnston of Wausa, Neb., will deliver the invocation. He is graduating with a bachelor's degree in special education K-12. He is the son of Camille and Kyle Johnston of Lubbock, Texas.
Johnston was a member of Kappa Delta Pi National Honor Society in Education and Alpha Sigma Lambda Honor Society for Nontraditional Students.
He served as a member of the Board of Directors for TeamMates in Wausa and has volunteered as a Youth 5-andunder softball coach.
Johnston plans on teaching special education and coaching in Northeast Nebraska after graduation while continuing his education with the pursuit of a master's degree in educational administration.
He and his wife Carlie have two daughters, Lennon and Baylor.
Sabrina Sack, Undergraduate Speaker
Sabrina Sack of Waverly, Neb., will deliver a commencement address. She is graduating with a bachelor's degree in elementary education with endorsements in English as a second language and reading/writing. She is the daughter of Patricia Sack of San Salvador, El Salvador, and Herbert Sack of Lincoln, Neb.
Sack made the dean's list for four years, the athletic dean's list for two years, was named to the Northern Sun Intercollegiate Conference Fall All-Academic Team in 2018, and was a Gold Star finalist at National FFA for Agriculture Education Proficiency.
She was active with Kappa Delta Pi National Honor Society in Education, Northeast Nebraska Teacher Academy (NENTA), Nebraska State Education Association Aspiring Educators, Active Minds, and two years of cross country and track.
Sack plans to teach elementary education in Omaha after graduation.
Emma Todd, Graduate Speaker
Emma Todd of Neola, Iowa, will deliver a commencement address. She is graduating with a master's degree in clinical mental health counseling. She is the daughter of Davin and Denise Dickerson of Neola, Iowa.
Todd graduated from Wayne State with a bachelor's degree in human service counseling in May 2019. She was a member of the Philomathean Presidential Honors Society and Psi Chi International Honor Society in Psychology as an undergraduate student.
Todd's family has several Wayne State connections. Her husband, Jaden, graduated from WSC in 2019. Her grandfather, Martin Steenbock, is also an alumnus. Her twin brothers, Sam and Noah Dickerson, will graduate from WSC in spring of 2022. Her sister-in-law, Jaden Dickerson, is graduating this December.
Todd plans to establish a family private practice for counseling in a rural community with her father and brother after graduation.