Published Thursday, November 11th, 2021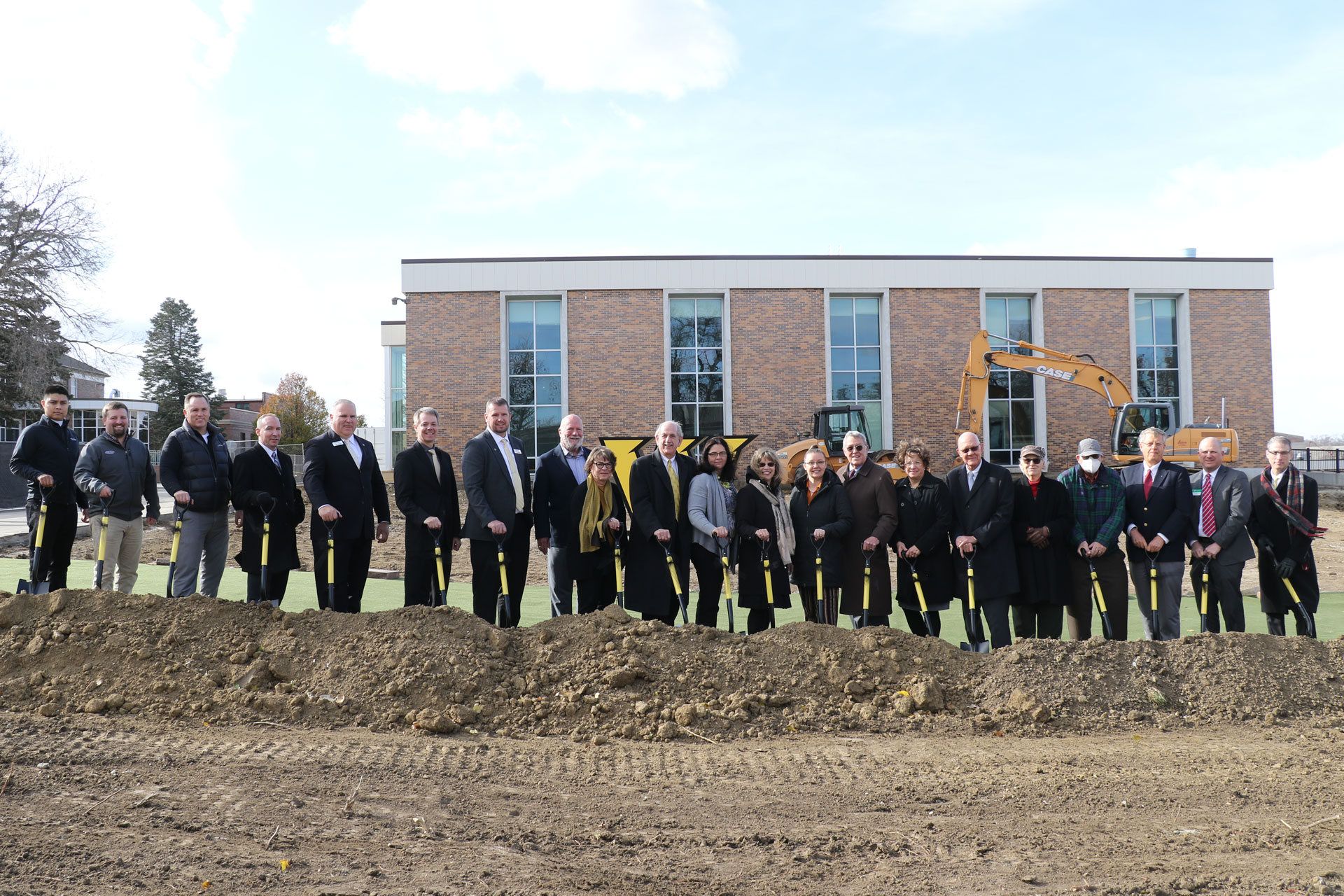 Wayne State College hosted a groundbreaking ceremony Thursday, Nov. 11, to begin the renovation of the Peterson Fine Arts Building.
Wayne State College hosted a groundbreaking ceremony Thursday, Nov. 11, to begin the renovation of the Peterson Fine Arts Building. The ceremony took place in the atrium of Peterson and east of the building where the new addition will be built.
Speakers at the ceremony included Dr. Marysz Rames, President of Wayne State College; Dr. Paul Turman, Nebraska State College System Chancellor; Kevin Armstrong, Wayne State Foundation CEO; Dr. Dave Bohnert, Dean of the School of Arts and Humanities; and two music students, Sarah Wibben of Wayne and Wynter Fulsaas of Oakdale.
Peterson was constructed in 1963 and an additional wing for the theatre program was built in 2001. The infrastructure of the building has remained relatively unchanged to this day, although standards for acoustics and accessibility have changed significantly. The improvements in this renovation and addition will attract high-quality student and professional artists and make it possible for the music and theatre programs to meet current industry standards for acoustics and accessibility.
The renovation project includes:
An addition with new rehearsal spaces for the bands and choirs that will include ample space, professional acoustics, natural light, and will be easily accessible on the main level
Improved acoustics in all practice rooms and teaching studios
Upgrades to Ramsey Theatre to support larger acts and productions
Better accessibility with a new central elevator, a ramp to the Ramsey stage, a family restroom, and increased seating for spectators with mobility limitations
Ample student work, study, and practice space for collaboration and conversation
An expanded atrium for receptions and public gatherings
Wayne State College has fostered the development of musical talent for many years, preparing hundreds of students for careers in the music industry and music education. WSC provides a rich musical experience for all students and contributes to the musical life of the community and state, as well as the college. Students pursuing a music degree or those who just want to take part in music as an extracurricular activity can participate in marching band, wind ensemble, symphonic band, jazz band, and other smaller ensembles, as well as concert choir, Mariachi, Madrigal Singers, and show choir.
For more information about the project, or to contribute to project funding, contact the Wayne State Foundation at 402-375-7534 or email Wayne State Foundation CEO Kevin Armstrong at [email protected].