Published Tuesday, May 11th, 2021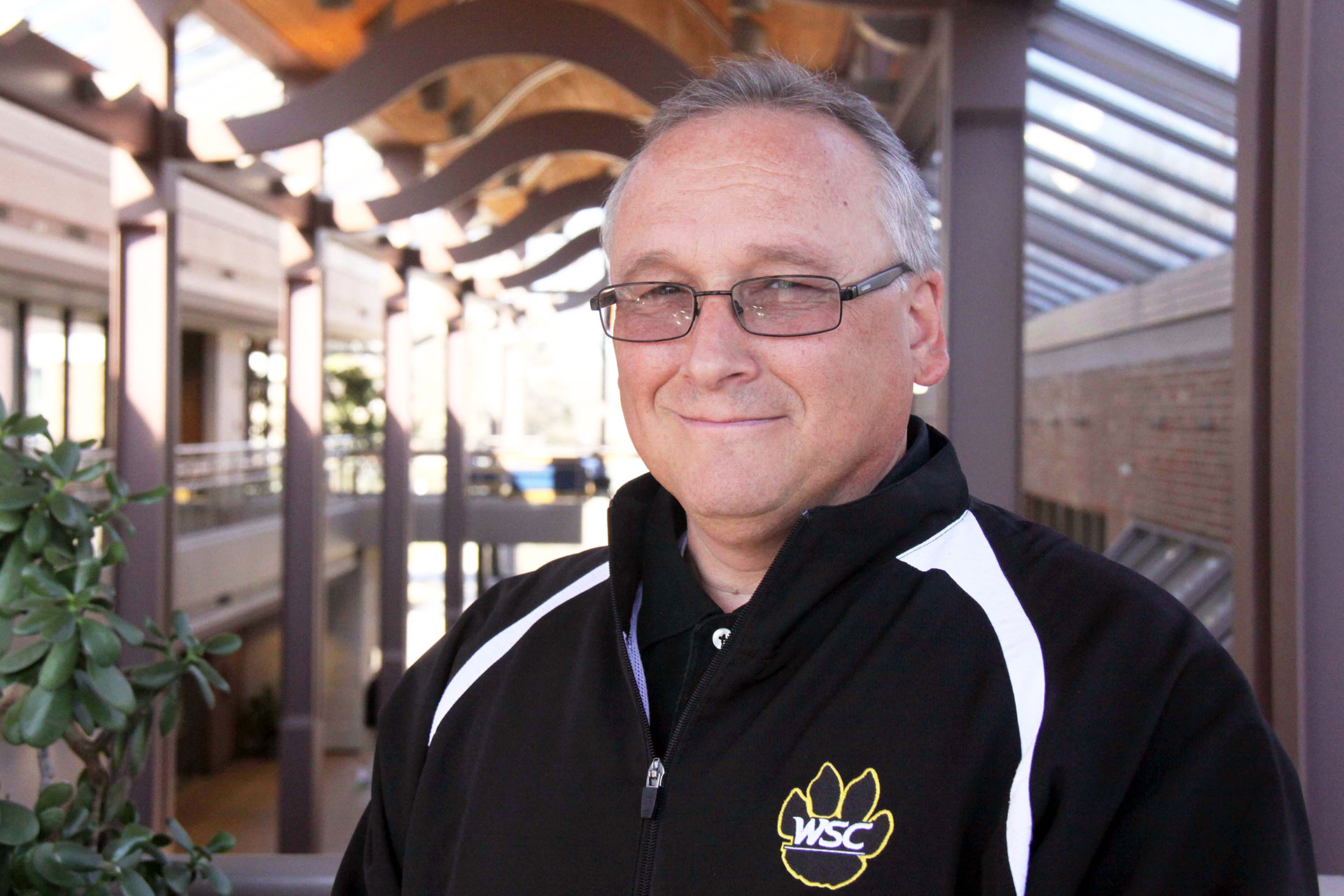 Miller, professor of psychology, was presented the award, sponsored by State Nebraska Bank & Trust, at the spring graduation ceremony.
Wayne State College is proud to announce that Dr. Dan Miller, professor of psychology, was presented the State Nebraska Bank & Trust Teaching Excellence Award at the college's May 8 commencement ceremony. Miller has taught at Wayne State since 1994.
Wayne State President Marysz Rames presented the award on behalf of Matthew Ley, CEO of State Nebraska Bank & Trust in Wayne. This prestigious honor recognizes rigorous standards that require a superior level of effective teaching.
David Ley, the banks' chairman of the board, established the award in 1998 as a way of recognizing and strengthening outstanding teaching at Wayne State College. State Nebraska Bank & Trust has served the Wayne community for more than 125 years and supports the college in many ways, including numerous scholarships, capital investments, employment of students, and service on the Wayne State Foundation Board of Trustees.
Miller earned his Ph.D. and master's degree in experimental psychology at Purdue University. He completed his bachelor's degree at Northern Illinois University. He teaches a variety of psychology courses at Wayne State, including general psychology, lifespan development, social psychology, theories of personality, health psychology, experimental psychology, history and systems, sport psychology, and positive psychology. He also has served the college in a variety of committee roles regarding rank and professional development, academic policies, Service-learning, general education, assessment, and Faculty Senate.
Miller's academic work has been published in a wide range of refereed or peer-reviewed journals, including Journal of Experimental Psychology: Animal Behavior Processes; Quarterly Journal of Experimental Psychology: Comparative and Physiological Psychology; Animal Learning and Behavior; and Learning and Motivation. In addition to his role as a professor, Miller has served as advisor to student clubs and organizations, including Psi Chi International Honor Society in Psychology, Pi Gamma Mu Social Sciences Honor Society, the Honors Program, and Psychology Club.
In materials submitted in support of his nomination for the teaching award, Miller noted the ways he has supported the college's mission of teaching and learning excellence, student success, and regional service. He used his course in experimental psychology as an example of his goals for student learning in his classes.
"My focus is on developing students' ability to distinguish between science versus pseudoscience, evidence-based claims versus unsubstantiated claims, and reliable information versus misinformation and disinformation," he said. "Finally, it is important to get students to understand that complex enduring issues and problems within and outside of psychology (e.g., wicked problems such as mental health challenges and issues of race) are multifaceted and require diverse, interdisciplinary evidence-based approaches to solutions. Through learning excellence, students can become part of the solutions rather than the problems."
Regarding student success, Miller drew a line from successful outcomes to student growth, teaching in the classroom and developing new courses, and advising.
"I care for my students, and I believe it comes through in my teaching and other interactions with them," he said. "Students view me as a professor who cares, which I embrace."
Miller noted that student engagement in the college's efforts to provide regional service provides an important bridge between student knowledge and skills meeting community needs.
"My students and I provide service to others through our Psi Chi Honor Society efforts," he said. "We established a dating abuse and sexual assault support group for students in partnership with a family services center, sponsored presentations on various psychology topics, served lunch at a soup kitchen, read books to children at the public library, worked at the college food pantry, participated in tornado cleanup, provided trick-or-treat for kids, and much more."