Published Wednesday, March 11th, 2020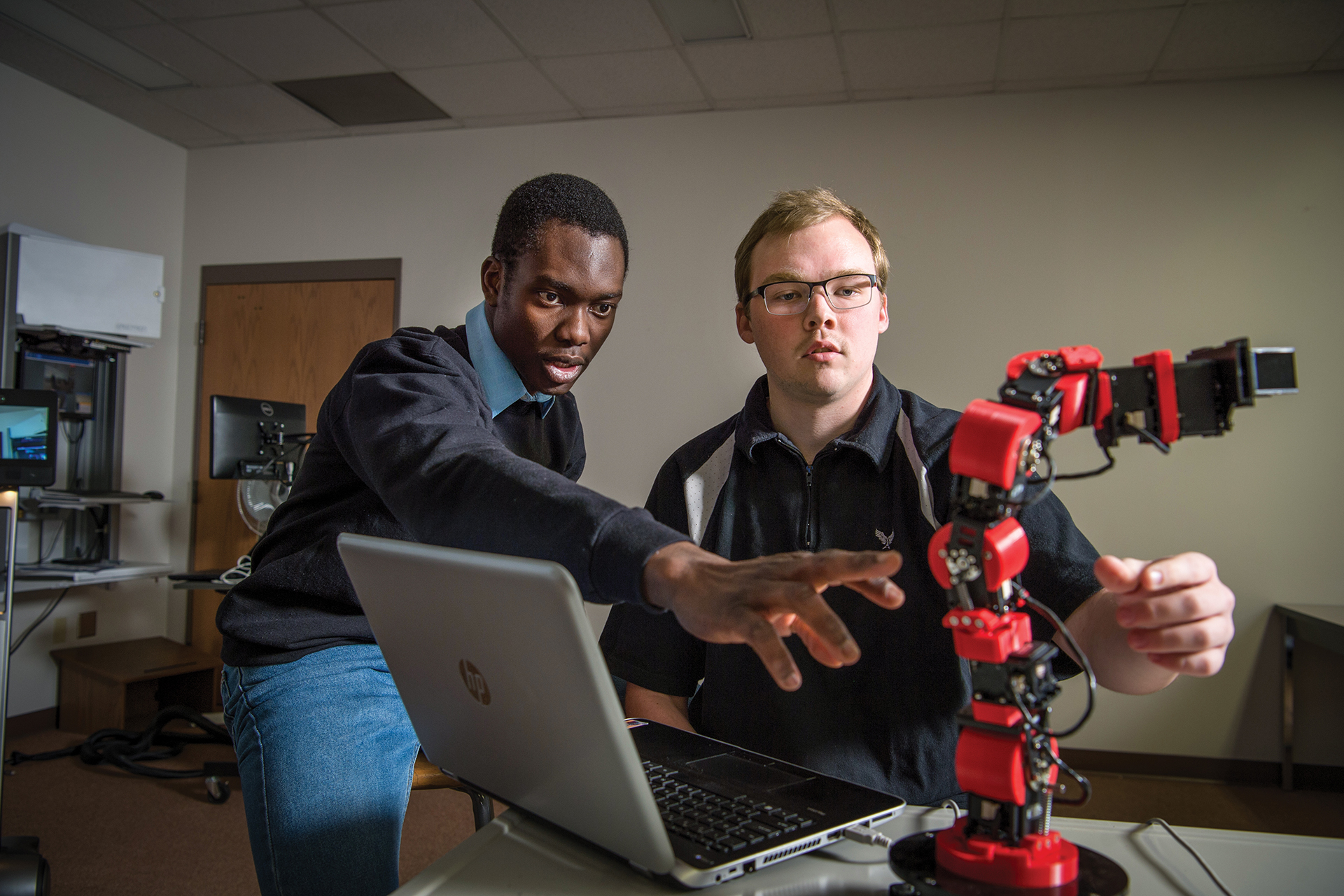 Students share why they are studying for information technology degrees at Wayne State College, including the computer science degree and networking and cyber security degree programs.
By Morgan Sudbeck, College Relations intern
Ben Sadler
The internet is a major part of our daily lives. For some, spending a good portion of the day on the web makes them want to turn that passion into an information technology degree.
"When I was little, I was always fascinated by the latest up-and-coming computing technology," said Ben Sadler of Mapleton, Iowa. "As a result, I studied it, kept up-to-date on it, and just craved more knowledge about it in general. That is what led me to the networking and cyber security degree program here at Wayne State."
Not everyone knows their passion right away. Jessie Wallerstedt, a senior from Oakland, Neb., pursuing a computer science degree, found his path differently.
"I'm not quite sure what made me decide on a computer science degree, but I am glad I did," he said. "I had very little exposure to the subject in my high school, but I knew I liked computers, and I just decided that is what I am doing."
Wayne State sets up information technology degree students for success by providing them with practical skills that allow them to work independently and in groups across a range of diverse situations.
"I have learned so much about computer networking," Sadler said. "Here at Wayne State College we are a Cisco Networking Academy, an industry leader in the networking field. We discuss a wide range of topics such as Cisco routers, Cisco switches, protocols, and things of that nature. All of the stuff we learn in our department is very applicable in the job market and will help you succeed in the workforce."
Wallerstedt echoed his classmate's comments about the rigor of the information technology degree programs at the college.
"I have learned coding in many different languages, now to navigate mainframes, how to hack and defend against hacking, how to set up servers, and I learned how to be successful in my field," he said.
Jesse Wallerstedt (right)
Oswald Adohinzin, an international student from Republic of Benin, West Africa, in the networking and cyber security degree program, found his way to Wayne State after a relative pointed him toward the college.
"I did not know about WSC until my uncle talked to me about it," Adohinzin said. "Then, I went on to do more research about the school, and I realized how affordable the program was. It was a determining factor for me as an international student. Studying at Wayne, I am learning some networking skills through the use of specific software: Packet, Tracer, Wireshark, and SolarWinds Network Performance Monitor."
Brock Hegarty, a junior from Fremont, Neb., pursuing a computer science degree, followed in family footsteps coming to Wayne State. He pointed to the different program languages he is using such as C++, Java, and Python, along with learning the functionality of operating systems including Windows and Linux as hallmarks of the computer science degree at the college.
The four Wayne State students all have an idea of what they would like to pursue after graduating with information technology degrees. Careers are available as network and security administrator/experts, web developers, network administrators or network technicians, to programmers in software development.
"We have the facilities and professors to give us the knowledge to help keep us competitive in the ever changing field of IT," Sadler said.
Adohinzin has learned a lot about networking protocols and their importance, but it doesn't stop there.
Brock Hegarty
"NATS is a pretty good opportunity for students in my major to get more hands-on experiences," he said, referring to Wayne State's Network and Technology Services department that provides the opportunity for students to work on campus getting experience in their area of study. Adohinzin also has furthered his education through an internship.
"I had an internship last summer with Wayne Community Schools," he said. "I worked with Chromebook devices and assigned them to the domain of the school. I also upgraded the machines in the computer labs to Windows 10 using Software Center."
Hegarty also talked about his internship playing a role in his computer science degree education.
"I had an internship at Travel and Transport in Omaha with their development team," he said. "My main project with them was developing an internal company webpage for simplified viewing and editing of a specific database table. I also learned many things outside of that project just by being in a real-world work environment."