Published Thursday, December 5th, 2019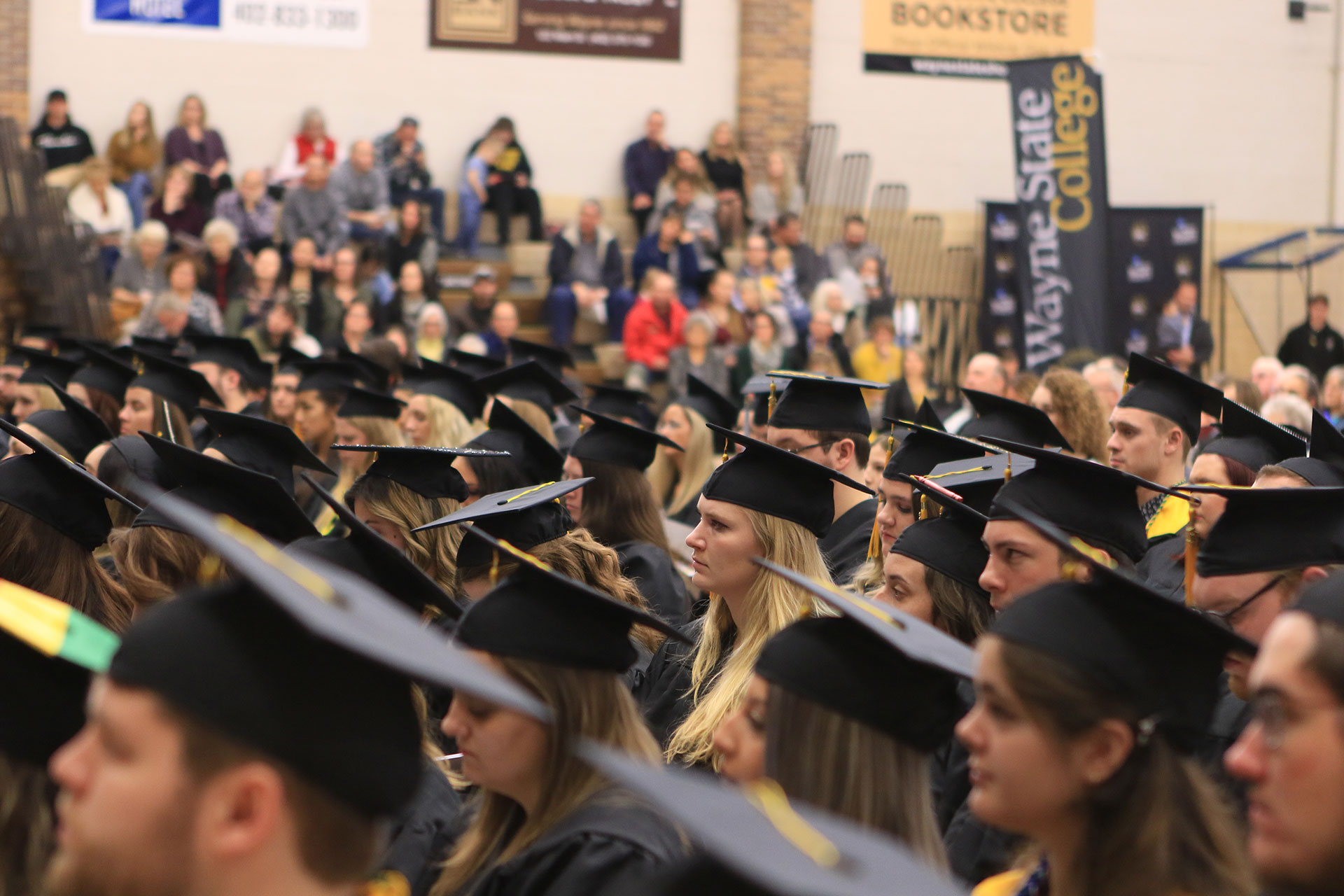 The Winter 2019 commencement ceremony will be held at 1:30 p.m. Friday, Dec. 13, in Rice Auditorium.
Wayne State College will hold a commencement ceremony for graduate and undergraduate students at 1:30 p.m. Dec. 13 in Rice Auditorium. A total of 239 degrees will be conferred. Those students receiving their degrees include 168 undergraduates and 71 graduate students of the college's Master of Science in Education, Master of Organizational Management, Master of Business Administration, and Education Specialist programs.
To see the full list of graduates, download the commencement program (PDF).
For more details about the ceremony or to livestream the event, please visit www.wsc.edu/graduation.
Invocation Speaker: Haley Jo Guenther
Haley Jo Guenther of West Point, Neb., will deliver the invocation. She is graduating with a bachelor's degree with majors in Business, Information Technology Education, Marketing (Secondary Education) and World Language – Spanish (Secondary Education). She is the daughter of Allen and Kelli Guenther of West Point.
Guenther was named to the Deans List and was a member of Sigma Delta Pi Spanish Honor Society and Pi Omega Pi Business Education Honor Society as secretary and treasurer.
She was active in Wayne Student Education Association of Nebraska (WSEAN), Wayne State College Navigators, secretary, and served as a Confraternity of Christian Doctrine (CCD) 4th and 5th grade teacher at St. Mary's Catholic Church in Wayne.
Her mother, Kelli, graduated from Wayne State in 1987 with a bachelor of arts degree in Secondary Math Education. Her brother, Anthony, graduated from Wayne State in 2015 with a bachelor of science degree in Business Administration with a concentration in Finance.
Guenther plans to pursue a teaching position in business or Spanish education after graduation.
Commencement Address: Elishia Nichole Coffin
Elley Coffin of Norfolk, Neb., will deliver a commencement address. She is graduating with a bachelor's degree in K-12 Art Education. She is the daughter of Randall Coffin of Tulsa, Oklahoma, and Lori Coffin of Norfolk, Neb.
Coffin exhibited her artwork while a student at Wayne State in the Kansas State University Art Show in 2015, the Wayne State College Juried Show in 2015 and 2018, Nebraska By Heart 2016-2017, and the Vantage Exhibition in 2019.
Her mother, Lori, is a 1995 graduate of Wayne State.
Commencement Speaker: Kolbie Jerrett Foster
Kolbie Foster of Omaha, Neb., will deliver a commencement address. Foster is graduating with a bachelor's degree in Fashion Merchandising. He is the son of Jimmie Foster of Tulsa, Okla., and Shannon Foster of Owasso, Okla.
Foster played on the defensive line for the Wayne State College football team for four years. He was selected for the All-America Google Cloud Academic Football Second Team in 2018, Northern Sun Intercollegiate Conference (NSIC) All-Conference Honorable Mention Team in 2018, and NSIC Fall All-Academic Team in 2017.
Foster was named to the Deans List each semester from 2014 to 2019.
Foster plans to start his career designing leather coats for Andreas Tsagas in Denver, Colo., after graduation.
Alumni Achievement Award: Tim Gesell '04
Tim Gesell will receive the Alumni Achievement Award from the Wayne State Foundation during the ceremony. He was born and raised in South Sioux City, Neb. He graduated from South Sioux City High School and earned his Bachelor of Science Degree in Business Administration with concentrations in Business Management and Human Resource Management from Wayne State College in 2004. Gesell currently lives in Seward, Neb., with his wife, Michelle (Wiltse) '03, and their three children, Ryan (9), Rose (6), and Ruby (4).
While at Wayne State College, Gesell was a member of the men's basketball team and received Academic All-Conference and team captain honors. Their 1999-2000 team has been inducted in the Wayne State College Athletics Hall of Fame. He also was a member of the Blue Key National Honor Society, as vice president and president his last two years.
Professionally, Gesell has worked in the manufacturing industry in various leadership roles since graduating from Wayne State College. He currently works for Timpte, Inc. in David City, Neb., as the director of manufacturing. He has a passion for developing people and seeing teams succeed. Timpte recently made a donation to Wayne State's new Center for Applied Technology with Gesell's support.
Gesell also likes to give back to the community. In Seward, he is a member of the St. John education board. He is also a member of the Wayne State Foundation Scholarship Campaign Steering Committee. Back in his hometown, he is an active member of the We Got Next Foundation. This foundation was formed to support less fortunate kids in the Siouxland area through a mission of providing a positive impact through sports and uplifting experiences to motivate them to succeed.
Gesell is still active in athletics by playing basketball and coaching youth sports in his community.