Published Wednesday, October 30th, 2019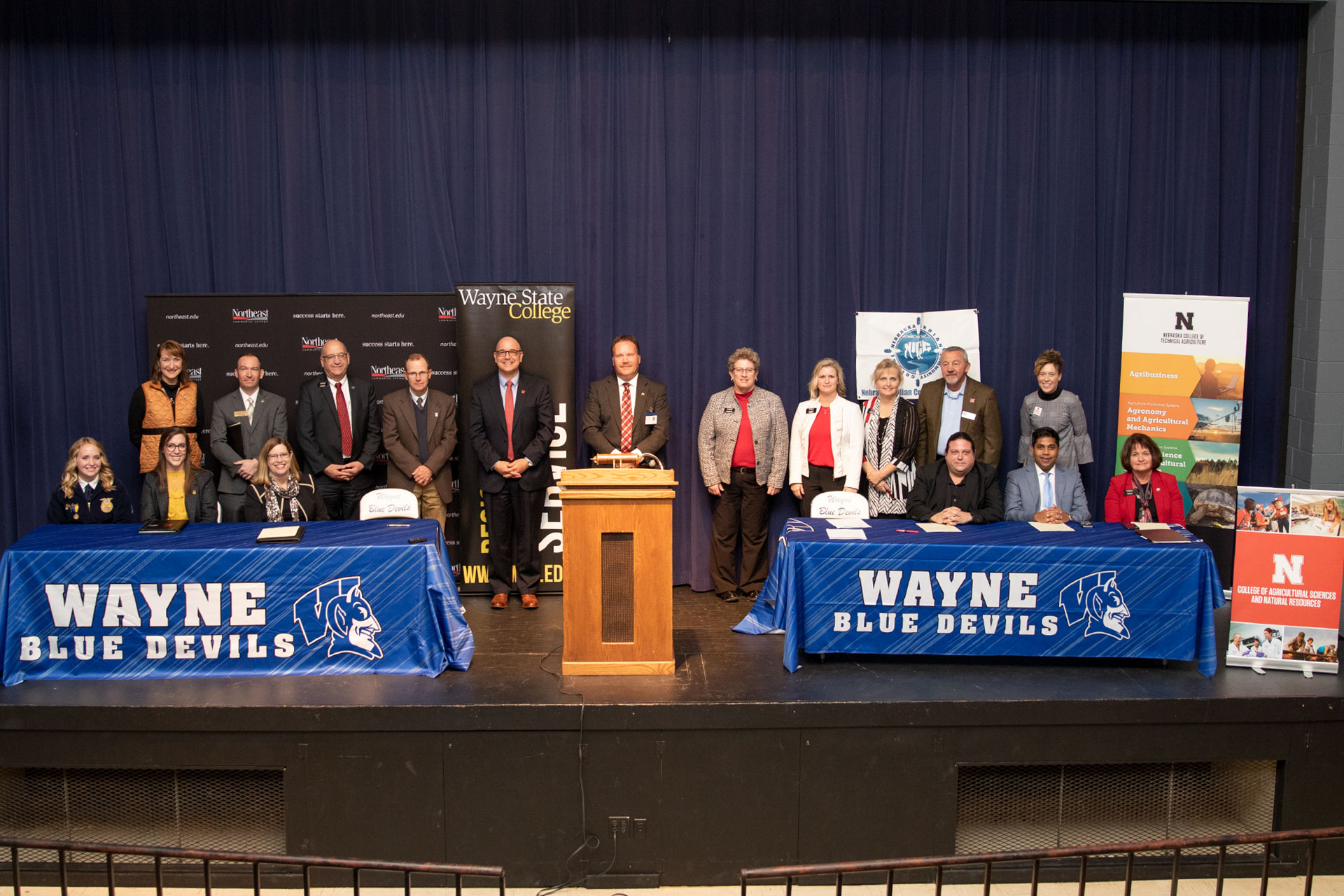 Seven schools pledged to prioritize ag education for youth and lifelong learners in Northeast Nebraska and contribute to workforce development to support economic growth strategies in the industry.
Seven education partners signed the Northeast Nebraska Agriculture and Natural Resources Education Compact on Oct. 29 at Wayne Junior-Senior High School in Wayne, Neb. The partners include Wayne State College, University of Nebraska-Lincoln College of Agricultural Sciences and Natural Resources, Little Priest Tribal College, Nebraska Indian Community College, Northeast Community College, Nebraska College of Technical Agriculture, and Wayne Community Schools.
The event included remarks by Mark Lenihan, Superintendent of Wayne Community Schools; Toni Rasmussen, Agriculture Education teacher at Wayne Junior-Senior High; Faith Junck, Wayne High School senior; and Dr. Mike Boehm, Vice President and Vice Chancellor of Agriculture and Natural Resources, University of Nebraska. The speakers emphasized the importance of agriculture for Nebraska and the role educators have to play in ensuring students have access to quality educational opportunities to sustain the workforce.
The purpose of the compact is to collectively serve the education needs of youth and lifelong learners in Northeast Nebraska and contribute to workforce and talent development to support economic growth strategies in agriculture and natural resources, according to the framework established by the participants. The compact's stated goals are to improve college and career readiness, educational attainment, and community and economic vitality and growth.
"Wayne State faculty and administrators worked with a steering committee for more than a year to arrive at a framework that emphasizes measurable goals and strategies directed at the future of agriculture in our state," said Steven Elliott, Vice President for Academic Affairs at Wayne State. "We are understandably proud to partner with University of Nebraska as the land-grant leader in agriculture, our two-year partners, and K-12 educators. We look forward to seeing great results from this partnership."
The compact will draw on the strength of the partners to achieve a set of goals backed by strategies designed to capitalize on the region's rich expertise in education and workforce solutions. The strategies reflect a blending of efforts from a variety of educational and business partners that will serve students, industry, and the state of Nebraska.
"The compact we signed today was a powerful example of the strategic importance of partnerships in higher education," said Dr. Marysz Rames, President of Wayne State College. "This compact provides a great opportunity to use the strengths of our schools to provide students with clear pathways to successful careers in agriculture. The Nebraska workforce relies on collaborative, forward-thinking institutions to guarantee resilience and growth. Wayne State College is proud to provide leadership for this valuable sector of the state economy."
The goals of the partnership: provide education platforms for a range of learners in resilient food, energy, water, and societal systems in alignment with career opportunities; prepare teachers and curriculum and professional development programs for pre- and in-service educators that respond to the increased need for highly qualified K-12 agricultural science and STEM educators; provide seamless career education pathways for the next generation of professionals, problem-solvers, innovators, entrepreneurs, and leaders in resilient food, energy, water, and societal systems; and encourage workforce development solutions for the agriculture and natural resources industries in the region.