Published Friday, October 25th, 2019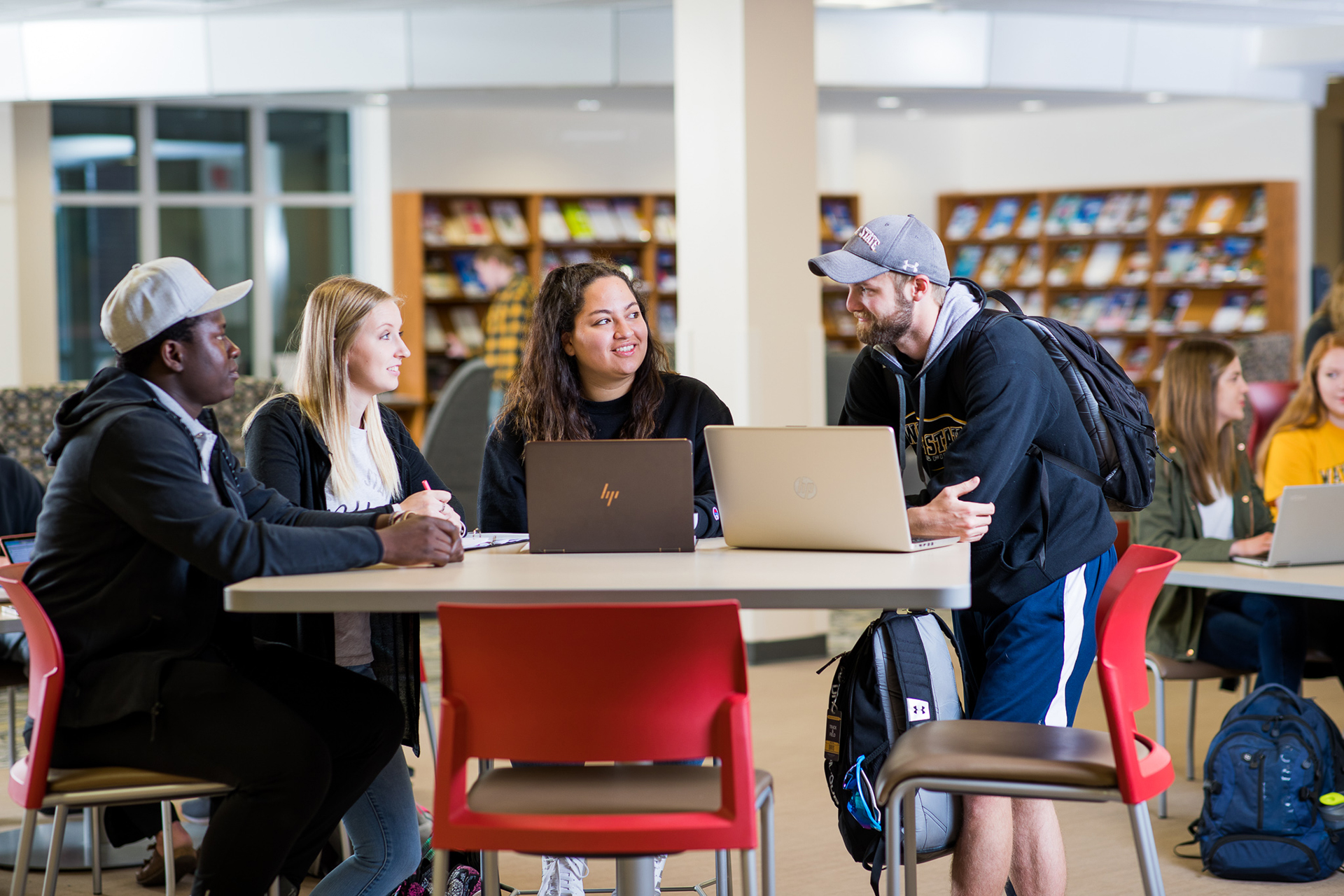 Five students relate their positive experiences in transferring to WSC.
Oct. 21-25 was National Transfer Student Week, a national event that recognizes transfer students and the professionals who support them on their journey. Students transfer to Wayne State College for many reasons: after completing a two-year degree, a change in academic interest, or simply a change of heart. Whatever the reason, our transfer students find a home at Wayne State. Wayne State works hard to ensure the process is easy, clear, and gets students quickly on track to finish their education, including working with two-year colleges in creating pathways to a four-year degree.
Learn more about transferring to Wayne State College at www.wsc.edu/transfer.
But don't just take it from us. Let Wayne State transfer students do the talking on why they decided to make Wayne their new home.
Sarah Kudrna
Sarah Kudrna is a sophomore majoring in graphic design at Wayne State. She transferred from Northeast Community College.
"I wanted to transfer to Wayne State because of the friendly atmosphere, interest in the graphic design major, and the professor," she said. "I chose Wayne State because of the active campus, plus I got involved with Residence Life to become an RA.
"Transferring was fun. I got the chance to meet a lot of new people through clubs on campus. Welcome Week also helped me interact with people around campus that I might not have met otherwise."
"If any student is looking to transfer from a two-year college to a four-year college, I would recommend Wayne State, because talking to my advisor made the transfer easy. They made time for me out of their schedule just to make sure the transfer process went smoothly."
Prince Chukwuma
Prince Chukwuma attended Western Iowa Tech Community College in Sioux City, Iowa, before transferring to Wayne State College, but he is originally from Zaria, Imo State, Nigeria.
He is majoring in computer information systems (networking concentration).
"I transferred to Wayne State College because they offered the program that I wanted to study," he said. "One of my favorite things about Wayne State is the small campus size, which has almost everything I need as a student. I can walk around campus without needing to drive.
"The classes at Wayne State are small, which fits my need because I get closer interaction with my professors. With smaller class sizes, I also get to know almost every student and become friends with them. My professors are always willing to help when I have a question or need assistance. They also relate my class experiences to the world so I have a better idea of what to expect before I graduate."
Morgan Keating
Morgan Keating of Wayne, Neb., is a junior majoring in business management. Keating transferred to Wayne State College from the University of Nebraska-Kearney.
"Since I am originally from Wayne, Wayne State College was never on my list of options, because I wanted to experience a different place from where I grew up," Keating said. "After some life events, I decided it was time to come back to Wayne to be closer to my family. I chose Wayne State because of the location, but also because of the many professors and staff that I knew worked at the college.
"There have been many great things that have come out of transferring to Wayne. My professors don't make me feel like just a number. They make me feel like they care about me, and this encourages me to come to classes every day and excel in them as well. I truly believe that our campus is full of some of the nicest and most genuine people. Transferring to Wayne State was right for me because of the leadership opportunities. There are many organizations around campus that have allowed me to grow my leadership skills and make me feel like I have a part on campus.
"I was very nervous about the transfer process. I did not know how my classes were going to transfer, how the other students were going to treat me, or how the professors would feel about new transfer students. My classes transferred smoothly, and I felt like I fit in since the day I stepped onto campus. I would definitely recommend transferring to others. I had multiple thoughts running through my mind when thinking about transferring to Wayne. If you do not feel content at the college you are attending, do not feel stuck there. I have gotten to experience two different colleges. The clubs, atmosphere, appearance, and staff are completely different at Kearney and Wayne. These are some of the experiences that I will get and any transfer students get from attending two different colleges that no other student will get to experience. Do not be scared to do what makes you happy. Thank you, Wayne State College, for making my transfer process so easy."
Alex Schuetz
Alex Schuetz is a senior at Wayne State College majoring in exercise science. He is from Yuma, Colo., but transferred from a school in Kansas.
"I was in the process of transferring and was visiting many colleges to get a feel for whether I'd like the professors and campus," he said. "I wanted a more personalized experience. I have really great professors that have encouraged me to grow, and I'm thankful for that. Wayne State College is really a hidden gem in terms of cost versus opportunity. There are a lot of chances to do things here, and talking for an hour about how happy I am at Wayne State wouldn't even scratch the surface.
"I grew a passion for health and fitness in high school. I was a track and cross country athlete and became very excited when I was able to train myself into shape and get better by myself in the off-season. My original plan was to be an athletic trainer. While here at Wayne, I discovered public health and started to shift my focus from treatment of exercise-related injuries to promotion of healthy lifestyles in general.
"I really enjoy the people and community at Wayne. I also like the personalization of my education and ease of networking with others to continue growing and learning. I have wonderful professors that encourage growth in me also, which I am thankful for. I've found my passion! I came here having no idea what I wanted to do, and I was wonderfully advised to who I am now. I've enjoyed seeing myself grow and get excited about my future."
Christina Coffman
Christina Coffman of Santee, Neb., is a senior majoring in English writing and literature, with a minor in editing and publishing. Coffman transferred from Nebraska Indian Community College.
"I transferred to Wayne State College because I wanted to earn my bachelor's degree," she said. "I toured several four-year institutions, but when I took my tour of Wayne State, I was sold. My tour guide made me feel super welcome and was very personable.
"The best part about transferring to Wayne State has been the professors and my peers. I've met my forever friends here, and for that I am so thankful."
Transferring can be an overwhelming process for some. But Coffman shared how she adjusted to the process.
"I have adjusted very well, and one thing that helped was I got a job in the cafeteria before the semester began. This allowed me to socialize with people and get a feel for what people were like on campus."