Published Thursday, May 25th, 2017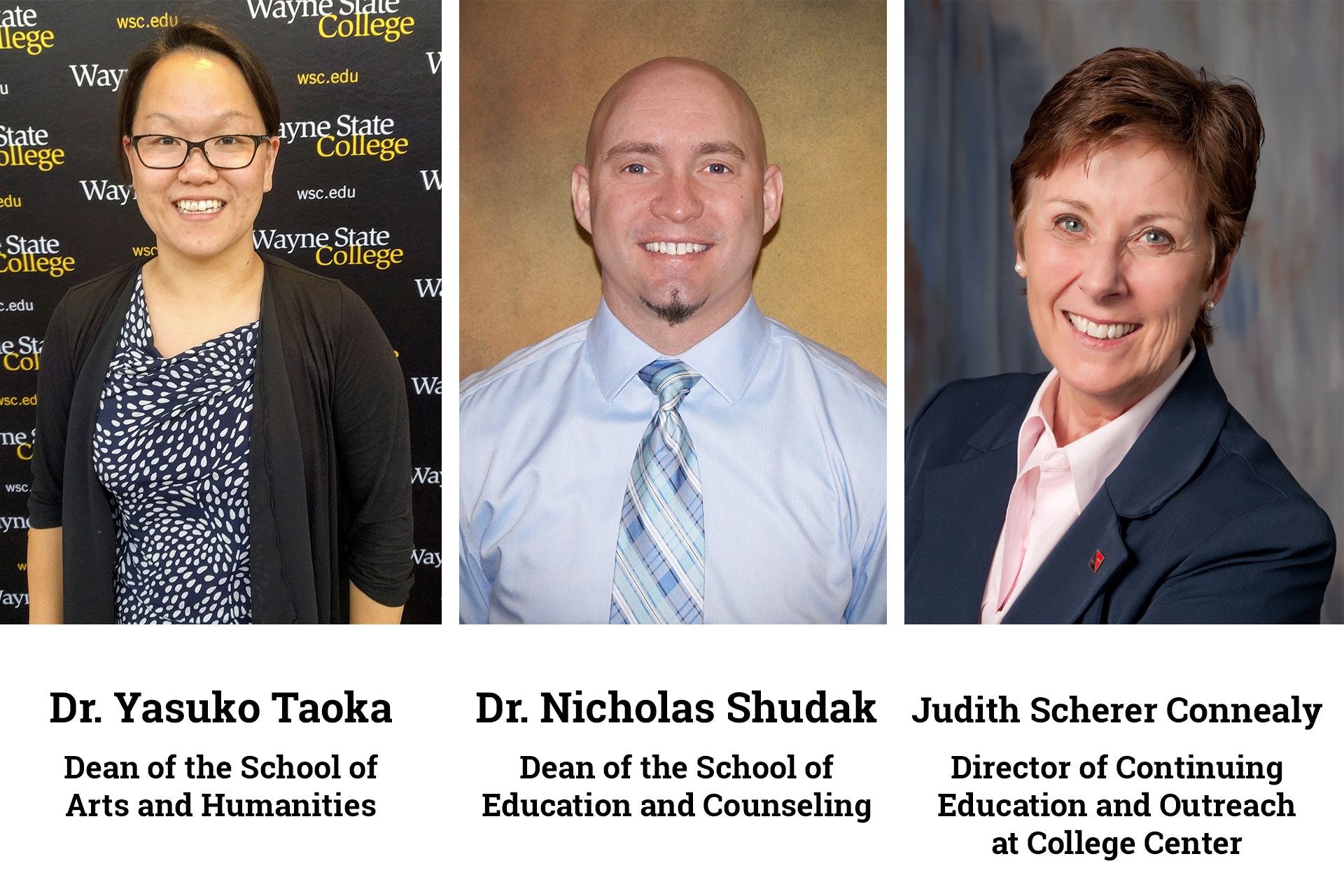 Wayne State College welcomes Dr. Yasuko Taoka, Dr. Nicholas Shudak, and Judith Scherer Connealy to three leadership positions.
Wayne State College is excited to announce the filling of three leadership positions – the Dean of the School of Arts and Humanities, the Dean of the School of Education and Counseling, and the Director of Continuing Education and Outreach at College Center.
Dr. Yasuko Taoka will serve as the Dean of the School of Arts and Humanities, Dr. Nicholas Shudak as the Dean of the School of Education and Counseling, and Judith Scherer Connealy as the Director of Continuing Education and Outreach at College Center in South Sioux City, Neb.
Taoka is an associate professor of classics and serves as the chair of the Department of Languages, Cultures, and International Trade at Southern Illinois University in Carbondale, Ill., where she has taught since 2007.
She earned her B.A. in classics from Grinnell College in 2001. She earned her M.A. in classics in 2003 and her Ph.D. in classics in 2007, both from Ohio State University. She is originally from Nebraska and looks forward to returning to her home state.
"I'm most excited to be in a position to foster and support students, faculty, and staff who are passionate and consummate practitioners of the arts and humanities," Taoka said. "It's an amazing opportunity to be able to do that as my job. I'm a humanist by training and a huge fan of the arts, so I couldn't ask for a better set of disciplines to serve.
"I'm eager to get to know the many different communities at Wayne, both at the college and in town. The School of Arts and Humanities is very active in outreach activities, and I'm excited to attend and facilitate such activities. When I visited Wayne State, I was impressed by the deep collaboration between students and faculty. I caught a performance by the Mariachi Negro y Oro, and at the show I learned that the group was started by two students and nurtured by a faculty member, and that both students and faculty members from all over WSC have been integral to the growth of the group over the past few years. I'm also very interested in learning more about Wayne and the surrounding communities – I'm more familiar with southeast Nebraska, so it will be a treat to explore the northeast Nebraska region!"
Shudak is an associate professor and chair of the Division of Curriculum and Instruction in the School of Education at the University of South Dakota in Vermillion, S.D. He also served for four years as the chair of the Division of Education and the director of the Department of Teacher Education at Mount Marty College in Yankton, S.D. While there, he directed the Master of Education in Curriculum and Instruction program.
Shudak earned his B.S.Ed. in elementary education in 1999 and his M.S.Ed. in foundations of education in 2003, both from Northern Illinois University. He earned his Ph.D. in culture, curriculum, and change from the University of North Carolina-Chapel Hill in 2009.
"There are quite a few things that I'm excited about in terms of the position," said Shudak. "I think Wayne State College as a whole is positioned nicely to do amazing work in our respective fields. The recent accolades for WSC are indicative of this. I also like the idea of being in a mission-driven and student-centered environment, and one that prides itself on service.
"Regarding the School of Education and Counseling, I'm excited to be a part of a school that can serve schools and communities in comprehensive ways in terms of the programs and the degree levels we offer, to help improve the lives of those we serve. The School of Education and Counseling is nationally accredited in key areas, which is a very powerful assurance for our communities and stakeholders. And perhaps most importantly, the people I've met and the leadership at WSC are wonderful and are intent on accomplishing greatness. I am excited to be a part of something great."
Scherer Connealy is the assistant vice president of adult and international student enrollment, as well as the designated school official for student and exchange visitor information system (SEVIS) at Briar Cliff University. Prior to that, she was the office manager and recruitment services coordinator at Dana College, the director of financial aid at the College of Saint Mary in Omaha, and the director of continuing education at Briar Cliff.
She earned her B.S. in secondary education in 1973 and her master's degree in public administration in 1990 from the University of Nebraska. She is married to Matt Connealy and lives near Decatur, Neb. Scherer Connealy and her husband are lifelong Nebraskans with records of public service.
College Center is a joint partnership between Wayne State College and Northeast Community College offering a seamless post-secondary education that's affordable and accessible.
"Since the very early discussions about the building of the College Center, I have believed in Wayne State College's key role in serving the unmet higher education needs of Siouxland," said Scherer Connealy. "So it is very much an honor for me to join the team that leads and grows Wayne State's partnerships in Greater Siouxland.
"Wayne State's sincere commitment to regional service is driving it to reach its full potential in serving Siouxland's workforce and economic development. That is both inspiring and challenging to me, so I know I'm in a good place."
WSC looks forward to these three leaders beginning their duties.
"Wayne State is fortunate to have these three individuals as part of our community of scholars," said Dr. Marysz Rames, president of Wayne State College. "They are outstanding leaders that will join a strong team dedicated to supporting our mission of learning excellence, student success, and regional service. Welcome to the Wildcat family."
Wayne State College, a leading, public four-year college in northeast Nebraska, is a proud member of the Nebraska State College System.