Published Monday, March 6th, 2023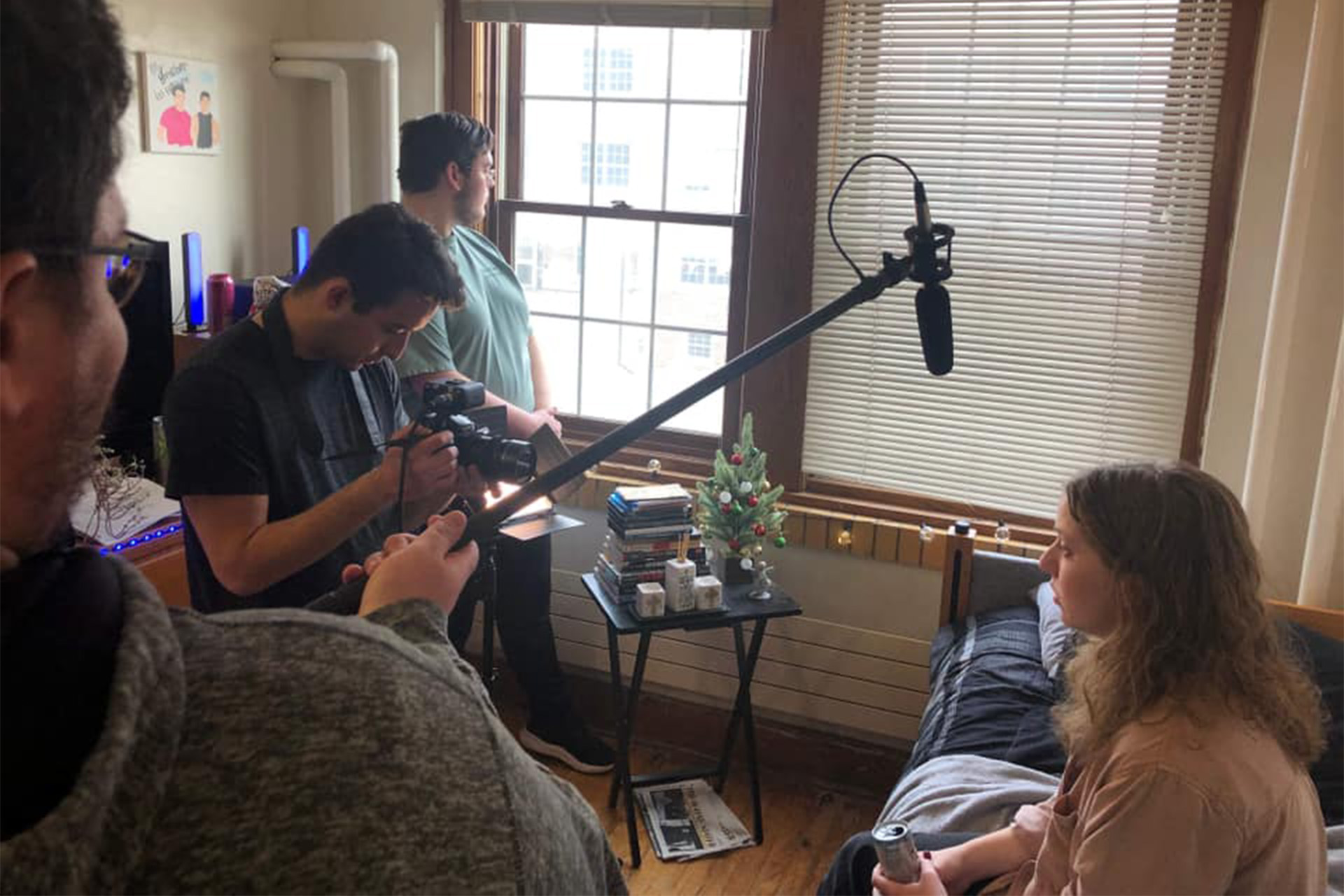 Five student films, along with a professor/alumna film collaboration, were recently chosen for national film festivals.
Wayne State's Digital Film Production degree program continues to make its mark in national film festivals. Five student films were recently selected into the Bison Bison Collegiate Film Festival, topping last year's effort in which the program had four films accepted. A student film and a professor/alumna collaboration also were accepted into the Cedar Rapids Film Festival and, for the first time, a WSC student made it into Southeast Missouri State University's Fault Line Collegiate National Film Festival.
The WSC films chosen for Bison Bison are "Gills" by Griffin Presnell, "Girl" by Emma Franco, "Exodus" by Nathan Blizzard, "The King of Berry" by Nathan Gusman, and "It's the Journey" by Joe Merkel. There are three $1,000 prizes for the winners of the festival. Bison Bison is open to filmmakers enrolled in accredited colleges, universities, and technical schools in the mid-America Arts Region: Oklahoma, Kansas, Missouri, Nebraska, Arkansas and Texas. Only 14 films from five schools were selected. The schools were Wichita State University, University of Missouri, Wayne State College, University of Tulsa, and University of Oklahoma.
Nathan Blizzard's film "Exodus" has been chosen as an official selection in the Cedar Rapids Film Festival and the Fault Line Collegiate National Film Festival. The feature "Between the Lines", which was co-directed by Dr. Mike White, associate professor in the WSC Communication Arts Department, with Shelby Hagerdon, a 2021 graduate of Wayne State, and White's feature "To Live Again" have also been selected for the Cedar Rapids Film Festival.
"I think the success of our students comes from the amount of time they spend collaborating with each other on set," White said. "Our structure has students producing films every semester, which is rare for most colleges. There is a positive competitiveness that pushes the students to make better films. I'm always surprised by them. Our ability to compete at this level is really due to the passion they have for the work."
Wayne State hosted the premiere of "Between the Lines" on Feb. 21, at the Majestic Theatre in Wayne. The first feature-length film written and produced by Hagerdon, "Between the Lines" chronicles a young woman's quest for a new life while caring for her traumatically brain-injured mother and coping with the past. Ally Boyd '22, of Papillion served as director of photography. Hagerdon graduates in May with an MFA in film from Emerson College in Boston. She is also an animation producer at Made by Things in Columbus, Ohio.
Learn more about Wayne State's Digital Film Production program at www.wsc.edu/film-production.