Published Tuesday, December 8th, 2020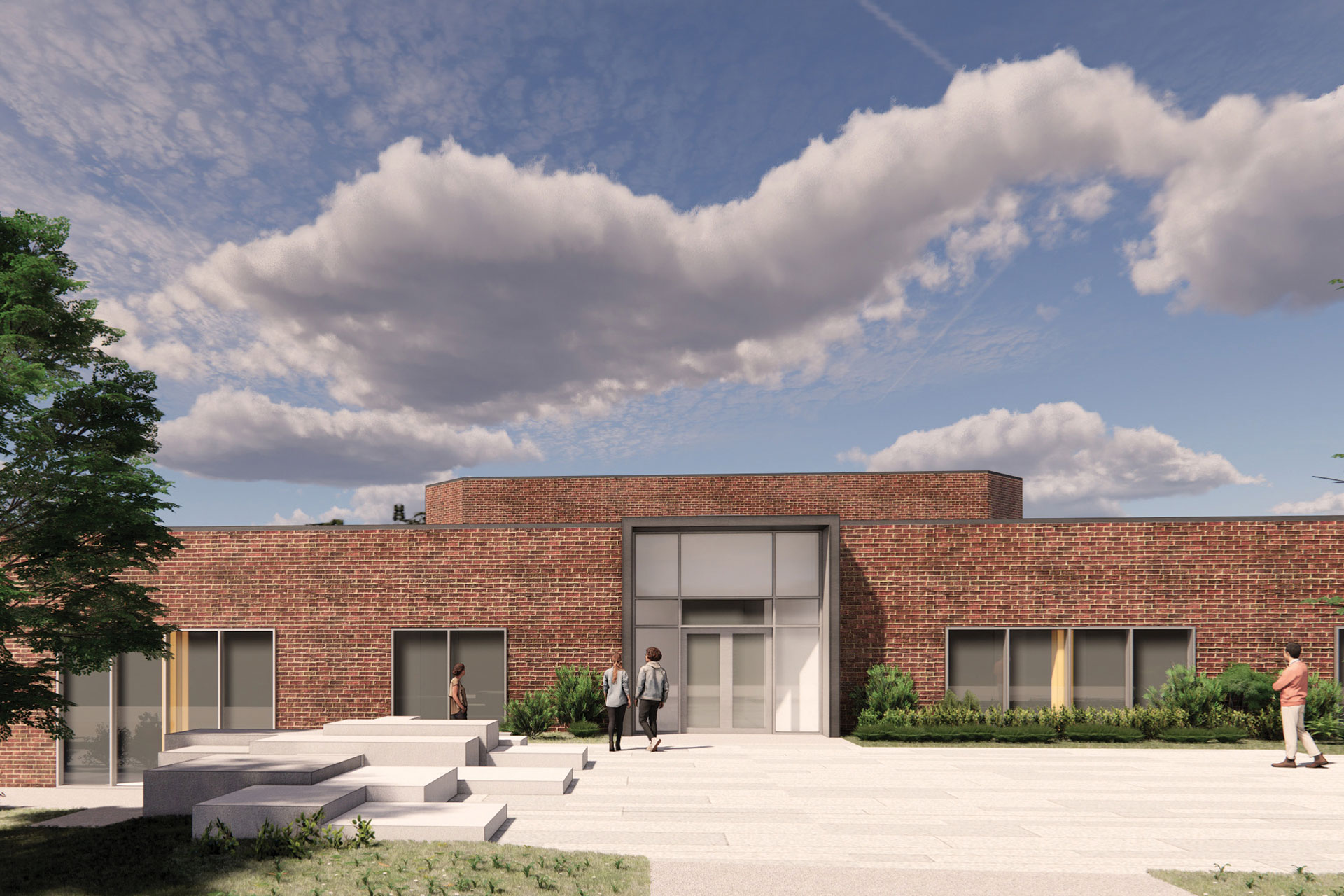 Renovated facility will offer space to train students in human service and counseling, while also providing mental health care for the surrounding community.
Wayne State College's current renovation of Benthack Hall, home of counseling, education, and the family and consumer sciences programs, aims to make an immediate impact on the region's shortage of mental health practitioners. The newly renovated facility will provide students with a dynamic learning environment that encourages their passionate approach to mental health care.
The renovation, which will be complete in the summer of 2021, includes a state-of-the-art counseling training clinic for students to perfect their psychotherapeutic practices with clients. This clinic aims to serve the surrounding communities' needs regarding behavioral and mental health. The full-service training clinic will be supervised by licensed professional counselors serving people of all ages, families, and individuals experiencing a variety of diagnoses and treatment needs. The Counseling Department strives to become a leader in producing highly trained clinical providers to serve our rural community starting with the capabilities and functioning of this training facility.
"Though our graduate-level counseling department consists of three programs, the clinic space in Benthack has been specifically and uniquely designed with behavioral and mental health in mind," said Dr. Nicholas Shudak, dean of the School of Education and Behavioral Sciences. "This renovation is an intentional effort on the part of WSC to better position our programs, faculty, and students to serve the needs of our immediate communities, and those within our service region."
Within the service region of the Northeast Nebraska Behavioral Health Network, eight of the 24 counties served have zero behavioral health providers, and nine counties have three or fewer providers. Spanning the spectrum of behavioral health providers (psychiatrists, advanced practice registered nurse, physician assistants, psychologists, licensed independent mental health providers, licensed mental health providers, and licensed alcohol and drug counselors), Northeast Nebraska has seen a 23% decrease in the overall number of providers. The U.S. Bureau of Labor Statistics projects a 25% increase in the number of mental health counselors will be needed in the next 10 years.
"It's incredibly meaningful to see our WSC and local communities investing in our behavioral science students with the renovation of Benthack," said Dr. Alison Boughn, assistant professor in the School of Education and Behavioral Sciences. "Our goal is to continue to help increase the quality and expansion of behavioral health and mental health services across rural Nebraska and that starts with the physical spaces for educational training."
Wayne State's human service degree program for undergraduates is housed in the college's Counseling Department. Human services education provides an introduction to the helping fields and provides students with the foundational skills necessary to step into the workforce as a professional support staff. Wayne State's programs require experiential learning in the form of an internship at a local agency to gain field experience and earn credit toward the degree. Possible careers include mental health aide, substance abuse professional, child and family support worker, case worker, family services worker, social worker, school aide, and rehabilitation support staff.
"Our hope is to utilize the Benthack facility to train new human service professionals and graduate counselors to enhance their professional identities in their respective fields," Boughn said. "In the future, we hope to be a fully functioning clinic that will serve our community members in rural Nebraska. We recognize that there is a shortage of providers in the field, specifically to clinical mental health, and are confident that we can work toward implementing the training clinic as a sustainable point of contact to serve the needs of our rural communities."
Wayne State's clinical mental health counseling master's degree program prepares working professionals to earn their license to provide counseling services in public or private counseling agencies or in a private practice. Candidates learn to collaborate with others for the benefit of self, school, community, and the profession through counseling, social justice, and advocacy.
The college's mental health counseling master's program paves the way toward applying for a professional license in Nebraska, Iowa, or another state. Getting licensed often requires several hours of coursework and internships. Candidates will need to check with each state's individual licensing requirements in order to successfully obtain their license.
Behavioral Health Education Center of Nebraska (BHECN) outlined the following as expected client concerns to be addressed by Wayne State's future trained providers:
One in 5 Nebraskans reported mental illness in the past year.
One in 5 high school students (24.1%) reported feeling depressed in the past year and 15% of high school students considered attempting suicide.
About 40% of young adults (18-25 years) in Nebraska have a binge drinking experience in the past month, but only 27% of young adults in Nebraska perceive heavy drinking as dangerous.
The drug-related death rate for Nebraska has been lower than the national average, but there has been a steady increase between 2005 and 2013.
One in 3 Native Americans in Nebraska have anxiety or depression; the percentage of persons reporting serious psychological distress was highest among Hispanics.
Alcohol-related death rates in Nebraska have been particularly high among Native Americans.
Suicide has disproportionately affected Native American communities in Nebraska for some time, especially among males.
About half of Nebraska adults reported at least one adverse childhood experience.
The most common adverse childhood experiences in Nebraska included parents divorced or separated (24.9%); lived with a problem drinker (24.6%); lived with somebody who was depressed, mentally ill, or suicidal (18.0%).
These estimates of the number of Nebraskans who could require mental health care are a stark reminder of the importance of educating the next generation of professionals who can make a difference in the state. Wayne State is proud to do this work in an education environment that focuses on excellence, accessibility, and affordability while providing faculty and students with the physical environment they need to pursue their passions.
"The counseling faculty at Wayne State are incredibly excited to be in a shared space with each other and with the training clinic," Boughn said. "We have pockets of collaborative space with each other right now, but our current set up minimizes our collaborations and I believe that will be enhanced by this space along with ready access support for our students serving clients in the clinic."
"Learning environments matter," Shudak said. "As a dean, I am extremely excited to be a part of a process that provides our faculty and students with environments that help them thrive."
Learn more about the School of Education and Behavioral Sciences.