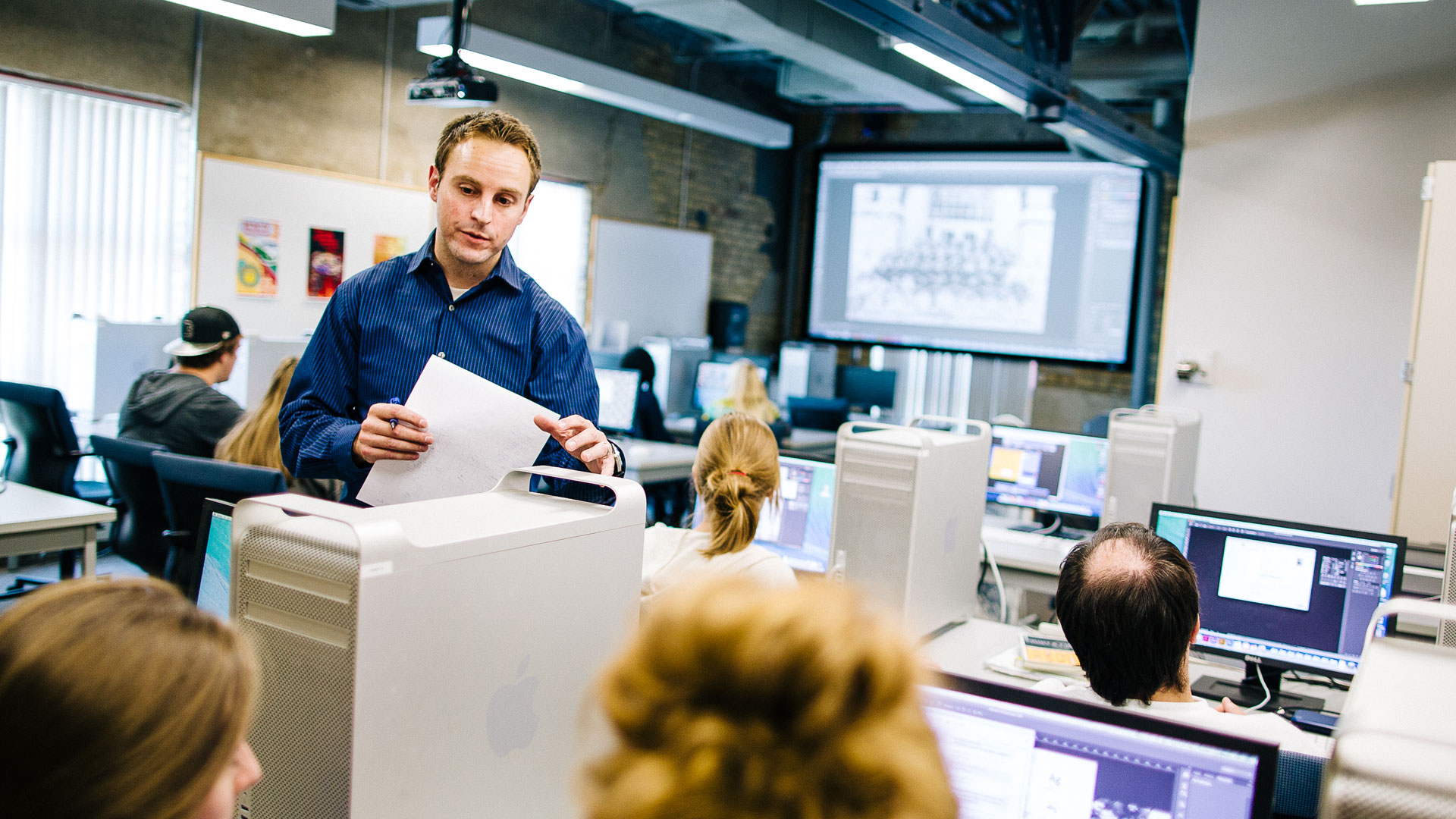 Wayne State College Art and Design Department
Develop your passion and career with our college art programs in graphic design, studio art, or art education.
Department of Art and Design
The Department of Art and Design is housed in the Studio Arts Building, located just north of the library, and includes a state-of-the-art Mac lab for the graphic design degree program. Other spacious studios for painting, drawing, printmaking, sculpture, pottery, and ceramics serve students in the studio art degree program and art education degree program.
As a student here, you'll learn traditional and new technologies, materials, and techniques. You'll combine design and drawing fundamentals with a broad range of studio experiences, art history, exhibitions, and visiting artists, while acquiring the skills, problem-solving ability, self-awareness, and growth necessary to pursue careers or advanced study in your field.
The rich visual experiences we create contribute to the college and our communities. Our goals are to prepare you for life after Wayne State, whether that be teaching in the classroom or pursuing a career in the creative field.
We are accredited by the National Association of Schools of Art and Design (NASAD).
Nationally Ranked Programs
Wayne State is nationally ranked and recognized for academic excellence, incredible value, successful graduates, and innovative learning.
"Academically, the art program is strong with the professors that we have. They're the backbone to how much we learn. We have some great professors that have had so much experience. The best part of this program is the social interaction that we have in the studio. We just all come together, and we have fun. We visit from room to room, help critique each other's work, so it's so social and you get to make a lot of friends. I got it pretty good here!"
Bibiana Luevano
Major - Graphic Design
Hometown - Grand Island, Neb.
Art and Design Degree Programs
Choose from our art and design programs, or enhance your education by adding on a second major or minor from the Department of Art and Design. Explore your options here.
Program Name
Bachelor's
Pre-Professional or Affiliate
Master's
Minor
Education Field Endorsement
Education Subject Endorsement
Supplemental Endorsement
Animation and Motion Graphics
 
 
 

Explore

 
 
 
 
Art (Studio Art)

Explore

 
 
 

Explore

 
 
 
 
Art Education (K-12)

Explore

 
 
 
 

 

 
 
Art History
 
 
 

Explore

 
 
 
 
Art: Advanced Studio
 
 
 

Explore

 
 
 
 
Graphic Design

Explore

 
 
 

Explore

 
 
 
 
Interdisciplinary Studies

Explore

 
 

Explore

 

Explore

 
 
 
 
Photography
 
 
 

Explore

 
 
 
 
Web and Mobile App Design and Development
 
 
 

Explore

 
 
 
 
Outside the Classroom
At Wayne State College, you'll have opportunities to enhance your education by participating in clubs, organizations, art shows, and more.
Learn From the Best
Our faculty are accomplished professionals that have been recognized as experts in their fields. With a low student-to-faculty ratio, you'll be sure to receive an excellent education in art and design degree programs.