Adobe Creative Cloud Install - macOS
1. Go to the Adobe CC Install to begin the install process.
2. Your default internet browser will open and download the Adobe Creative Cloud Installer.
3. Click Save File to save this file in the Downloads folder.
4. Open the Creative Cloud Installer in the downloads window of your internet browser and double-click the Creative Cloud Installer red folder to begin the install process.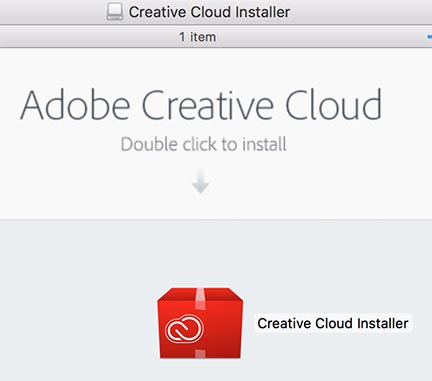 5. Click the Open button to accept the security alert.
6. If prompted, type your Computer Password to approve the installion of CC.
7. Once the Adobe CC has installed, click the Sign In with an Enterprise ID (if prompted).
8. Type your WSC email address in the text box and hit tab on your keyboard. You will be directed to select your account type. You do not need to type your WSC password at this point.
9. Select Enterprise ID as your account type (if prompted).
10. Type your WSC username and password in the login window to sign in.
11. Find the Adobe CC icon in the menubar. Click to open it.
12. Install the apps you need from the CC window. You can install multiple apps at once and the CC window doesn't need to be open for them to be installing (it takes place in the background).
13. Your apps will be available to open and use individually from either your system applications or the CC app.
Note: a red dot in on the Adobe CC menu bar icon denotes a notification; likely an update or finished install.

Please contact the Campus Service Center at 402-375-7107 or visit us in the library if you need further assistance.
Last Updated: 11/6/2019