Student Account Payments and Outstanding Balances on WildcatsOnline
1. Go to the WSC home page, click on myWSC at the top, and log in.
2. Select WildcatsOnline from the Top Applications section.
3. Select the Student Account tab.

Pay Bill Online
Click on the Pay Bill button to pay any outstanding account balance (Under the What I Owe at the top of the page).

Check Outstanding Balances
Click on the invoice to view monthly charges (Under the Monthly Invoices on the left hand side of the page).
Account Activity by Term
Review a breakdown of charges for a particular term including tuition and fees (Under the Account Activity on the left hand side of the page).

Note: Click on a specific description to view more detailed information including when it was billed and when payment is due.

View your 1098-T tax form
Click on View 1098-T (Under My Resources on the right hand side of the page)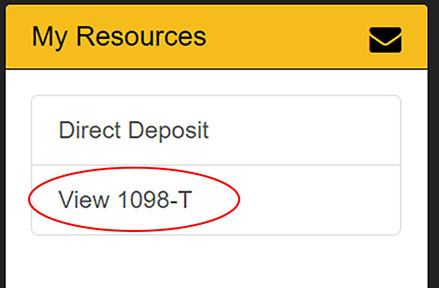 View Balance at Other Institutions
Review any outstanding account balance(s) with other institutions (Under Balances at Other Institutions on the left hand side of the page).
Last Updated: 11/25/2019