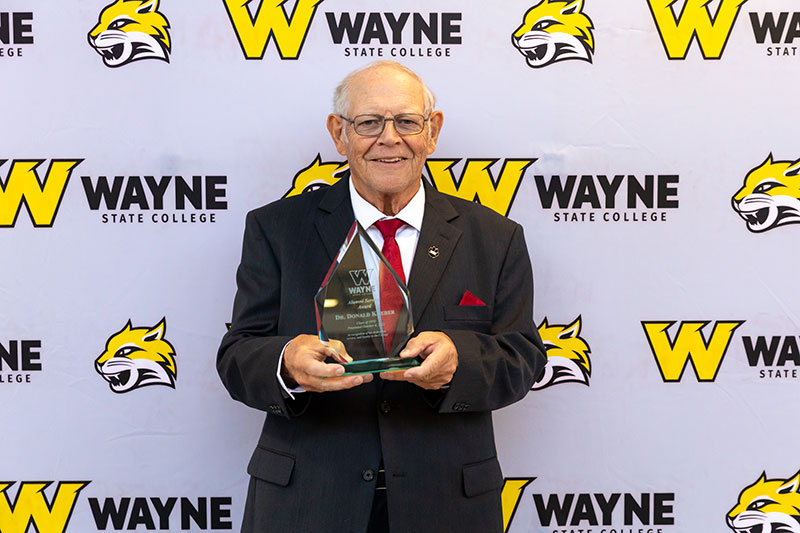 The Foundation Service Award (formerly the Alumni Service Award) is given to a person who has enhanced the college through dedicated service, promotion, financial support, and other efforts. The Foundation Service Award is given at Homecoming.
Wayne State College faculty, staff, and alumni can nominate those alumni who display the qualities needed to receive the Service Award. The staff of the Foundation/Alumni Office will review the information submitted on each nominee to determine who shall receive the award.
October 2023 - George Burcum and Susan Boust, M.D.
George Burcum and Susan Boust, M.D., are the recipients for the 2023 Foundation Service Award.
George Burcum graduated from UNL in 1969 and spent the next 35 years working as an actuary for Mutual of Omaha Insurance Company, assembling financial statements for health and life insurance. During his career in Omaha, he spent significant time in Wayne visiting his sister, Carolyn Linster, and brother-in-law, Denny Linster. The Linsters are also very supportive of WSC, which had a major influence on Burcum and Boust's support of the college. Three Linster family members have already graduated from WSC, and more graduates are to come. Burcum and Boust want to support the school that this family has chosen.
Burcum is married to Susan Boust, M.D. Boust graduated from Iowa State University in 1972, UNO in 1979, UNMC College of Medicine in 1985, and UNMC/Creighton residency training in 1989. Her career was focused on teaching psychiatry to medical students and residents in the state. She had a special interest in teaching teamwork to health care professionals. Upon retiring to Wayne, she focused on supporting all things behavioral health on the WSC campus.
Burcum and Boust serve as trustees of the Wayne State Foundation, have been members of the Cat Club since 2018, share the support of several scholarships through the Foundation, and attend as many campus events as possible. Their goal is to help make Wayne State the best, most affordable college for Nebraska and Midwestern youth.
Alumni Service Award Winners
October 2022 - Don Koeber '70
Dr. Donald Koeber '70, a native of Wayne, graduated from Wayne High School in 1966. He enrolled at Wayne State College and earned a Bachelor of Science in Education in Chemistry in 1970. For the next four years, he was employed as an assistant cashier with State National Bank in Wayne. In 1974, he enrolled in Illinois College of Optometry, obtaining a Doctor of Optometry in 1978. Koeber then joined his father, the late William A. Koeber, at his family practice, Wayne Vision Center, where he spent 40 years serving the Wayne community with their eye care needs. Koeber retired from his practice in 2018 and is a lifetime member of the Nebraska Optometric Association. Koeber stays very involved in the community and serves on several organizations. Currently Koeber serves as the president of the Wayne State Foundation where he has been a board member for 36 years. He is the current Master of Wayne Corinthian Lodge No. 83 and is a member of Wayne Kiwanis Club, Wayne Area Chamber of Commerce, Wayne Ambassadors, Wayne State Cat Club, Wayne Country Club, Abu Bekr Shriner Association, and the Wayne First United Methodist Church. Koeber and his wife, Claudia '70, reside in Wayne. The Koebers have been very active with the Wayne State Foundation and have supported many campus projects and initiatives. They are currently trustees and President's Society members of the Foundation. They recently established the Donald E. and Claudia E. Koeber Endowed Scholarship and supported the Peterson Fine Arts renovation project, along with his three brothers, Charles, Bill, and Phil Koeber, by naming the Koeber Family Music Practice Room. The Koebers have two children, Todd '99 and Kayla '02, along with four grandchildren, Alayna, Jonathan, Miles, and Madelyn.
October 2020/21 - Kirk Gardner
Kirk Gardner competed in football at Wayne State College from 1975 to 1977 as a starting fullback for three seasons. Gardner, a graduate of Wakefield High School, was a two-time state wrestling champion in high school. He earned three letters in football at Wayne State and was named team co-captain. Gardner went on to earn a spot on the Nebraska College Conference All Star Team All-NAIA District 11 during his junior season and Central States Intercollegiate Conference honorable mention honors during his senior season. Gardner was inducted into the Wayne State Athletics Hall of Fame on September 30, 1995.
Gardner currently serves as a Trustee for the Gardner Foundation and is a member of the Wayne State Foundation Board of Trustees. Gardner has been a major supporter for many campus projects, athletics, and scholarships. He is a lifetime member of the Presidents Society and a member of the Heritage Society.
Gardner spent most of his career helping manage the family's egg business in Wakefield, Neb., the Milton G. Waldbaum Company. After retiring from the family business, Gardner started business ventures in the sporting goods, bar and restaurant, and health club industries. Gardner retired from Bob's Fitness Center in Bellevue, Neb. and is enjoying retirement in Elkhorn, Neb. where he enjoys spending time with his seven grandchildren. Gardner has three children, Ross, Kyle (2009 graduate of WSC), and Carly (2013 and 2019 graduate of WSC).
October 2019 - Terry McClain '70
Terry McClain retired from Valmont Industries, Inc., after a 41-year career with the company. As Senior Vice President and Chief Financial Officer for the last 20 years, he oversaw global expansion and diversification of the Fortune 1000 company. During his career at Valmont, earnings grew from $1.8 million to $234 million, and the company was listed on the New York Stock Exchange.
McClain received a Bachelor of Science degree in business administration from Wayne State College in 1970. From there, he attended the University of South Dakota, obtaining a master's degree in business administration in 1971 with the goal of beginning a career in teaching. Prior to joining Valmont in 1973, McClain served for two years as an associate professor of business administration at WSC.
McClain and his wife, Linda, currently reside in Fremont. He stays very involved in the community. Currently, McClain serves on the advisory committee for the Creighton University Heider College of Business, the Fremont Area Community Foundation Board of Directors, the Fremont YMCA Foundation Board, the Lutheran Family Services Foundation as board president, and the Rupert Dunklau Foundation as a trustee. He has served as a trustee for the Wayne State Foundation since 1985 and is on the Executive Committee for the Foundation.
Previously, McClain served on the Executive Committee for the Boy Scouts of America Mid-America Council and the Economic Advisory Council for the Federal Reserve Bank of Kansas City. He was a board member and campaign chair for Fremont Area United Way, and a member of the Fremont Chamber of Commerce, Fremont YMCA Board of Directors, Fremont Kiwanis Club, and Lutheran Family Services.
McClain has been recognized for his service, starting with becoming an Eagle Scout in 1964 for Boy Scouts of America. In 2017, he received the Spirit of Impact Award from Fremont Area United Way and the Faith in Action Immanuel Award from Lutheran Family Services of Nebraska. In 2009, he received the Douglas E. Parrott Faith in Action Award from Lutheran Family Services of Nebraska. In 1996, he received the Alumni Achievement Award from Wayne State College.
McClain has been very active with the Wayne State Foundation and has supported many campus projects and initiatives. He is a lifetime member of the Presidents Society and a member of the Heritage Society. He has funded three scholarships at WSC: the Evelyn Thomsen McClain Community Scholarship, the James C. McClain and W.S. Davis Community Scholarship, and the Rebecca McClain Memorial Scholarship.
In 2012, Wayne State College, the Wayne State Foundation, and Valmont Industries worked together to name the WSC Department of Business and Economics in honor of McClain for his retirement. Valmont also made a gift to establish the Terry J. McClain Department of Business and Economics Endowment in his honor, a program endowment to support the department.
September 2018 - Brenda M. Carhart '93, MBA '96
Brenda M. (Kuhlman) Carhart graduated from Creighton High School in 1990 and from Wayne State College in 1993, earning a bachelor's degree in business with an emphasis in accounting and a minor in speech communications.
After graduation, Carhart moved to Norfolk, Neb., and worked with Norfolk Iron & Metal as a staff accountant. She also started working on her master's degree in business administration from Wayne State. She graduated with her MBA in December 1996.
In 2002, Carhart became the CFO at MP Global Products, LLC, in Norfolk. In 2013, she started working with her husband, Scott Carhart, at Carhart Lumber Co. in Wayne and is currently vice president of the company. Giving back to the communities in which there are Carhart Lumber locations is important to her. Carhart Lumber awards a Wayne State College scholarship to high school seniors in each community.
Carhart serves on the Wayne State Foundation Executive Committee as secretary/treasurer. She and Scott have been Wayne State Foundation Trustees since 2000. She is also a member of the Norfolk Public Schools Foundation Board, vice president of the Norfolk Public Schools Music Boosters, and a member of the Norfolk Public Schools Athletic Boosters. She also helps Faith Regional Health Services with their fundraising events.
The Carharts live in Norfolk, Neb., with their four children.
October 2017 - Kam Reeves '79
Kam Reeves has served as the department head and superintendent for the Ottumwa, Iowa, Water Pollution Control Facility since 2013. Prior to that, he worked as the operations supervisor for 14 years and as a shift operator for three and a half years. He has a Grade IV Wastewater License, issued by the Iowa Department of Natural Resources (IDNR). This work in protecting the environment has led Reeves to his involvement in the Iowa Water Environment Association (IAWEA), which represents more than 2,000 wastewater operators, maintenance techs, lab techs, industrial pre-treatment coordinators, professional engineers, manufacturing reps, vendors, and municipal officials. IAWEA is committed to the education and advancement of water quality and associated technology, and provides conferences to further this education for members and non-members. Reeves served as the IAWEA Region 6 Director for a year before being nominated for vice president in 2014. He served as president in the past year. He has worked with the 14-member executive board in providing recommendations to IDNR on issues such as water quality standards for copper, as well as setting criteria for wet weather design standards. Reeves was instrumental in getting the IAWEA 2017 Annual Conference to Ottumwa for the first time ever in June. In 2013, Kam was presented the William D. Hatfield Award by the Water Environment Federation vice president, for Outstanding Performance and Professionalism in the Operation of a Wastewater Treatment Facility. In October 2014, Reeves and his staff were featured in the trade journal "TPO, Treatment Plant Operator," in the article "Still A Teacher."
In 2015, Reeves designed a commemorative coin for the IAWEA Annual Conference in Ames, Iowa, to mark the 100th anniversary of the first formal wastewater training in the United States, which was held at Iowa State College in Ames, Iowa, in 1915.
Reeves is a native Ottumwan and became part of the Wayne State family when he transferred from Ottumwa Heights College in 1975. He graduated in 1979 with a bachelor of arts in secondary education with a major in physical education and a minor in traffic safety. He took off during the spring semester of 1977 to attend the Bill Kinnamon School for Professional Umpiring in St. Petersburg, Fla. (This came with a promise to his parents, that even if he received an umpiring assignment in professional baseball, he would still go back to WSC to finish his degree.) Though not receiving an assignment in professional baseball, he did continue to officiate baseball at the high school and college levels for a total of 37 years. He also officiated basketball and football for more than 25 years.
Reeves was invited to become a trustee of the Wayne State Foundation in 2012, and continues to encourage graduates to give back to the college. He established the J. Kevin Reeves Memorial Theater Arts Endowed Scholarship in 2016, in honor of his older brother.
Reeves is active in his community and serves as chairman of the Muni Credit Union. He also emcees a "Shrimp & Bingo" Scholarship Fundraiser (as Red Green) for students in the Water Environmental Technology Program at Des Moines Area Community College. In five years, the fundraiser has raised more than $85,000 for scholarships. He speaks to local groups and also at IAWEA conferences. Reeves is also a supporter of Samaritan's Purse Worldwide Ministry, which was founded by Franklin Graham.
October 2016 - Bruce O'Neel '96
Bruce O'Neel is an HR Vice President at CSG International in Omaha, Neb., a market-leading global business support solutions and services-company with 3,500 employees around the world. As an executive leader with 20 years' comprehensive experience developing and driving strategic business initiatives, he enjoys challenging the status quo. Prior to joining CSG International in 2013, the majority of career experiences were developed from HR leadership roles with T-Mobile USA in Seattle, Wash., and Verizon Communications in Basking Ridge, N.J., New York and Dallas.
O'Neel graduated from Wayne State College with a Bachelor of Science in Health and Wellness in 1996. He earned a master's degree in business from Dallas Baptist University. O'Neel has continued his relationship with WSC through the foundation, becoming a trustee in 2010. In 2012, he and his wife, Sheri, established the Bruce and Sheri Memorial Scholarship.
Both O'Neel and his wife are native Nebraskans and have been married for 21 years. In 2013, they moved back to Nebraska to raise their two children, Grace and Carter, and to be closer to family. They now call Elkhorn, Neb., home. O'Neel was born in North Platte, Neb., but grew up in Lincoln, Neb., and graduated from Lincoln High School. Sheri was born and raised in Bruning, Neb., and graduated from Bruning High School.
Bruce and Sheri are active in their community and church. Both went through the Omaha Chamber of Commerce – Leadership Omaha Program (2014-2015) and have been involved in and supported several mission based community programs: Habitat for Humanity (Texas and Nebraska), Hearts and Hammers (Texas), Seattle Union Gospel Mission, Hope Place (Women & Children Shelter – affiliated with Seattle Union Gospel Mission) and Sammamish Hills Lutheran Church "Day of Service," which coordinated several volunteers to mobilize in support of various local nonprofit organizations. Sheri is on the board for Little Leaf Learning Center, whose mission is to improve the lives of individuals with disabilities through education and advocacy. She is active in Bible Study Fellowship as a children's leader, and she volunteers at our children's elementary and middle schools on various committees. She is active in church serving on several committees as well as working in the nursery on Fridays throughout the school year. During the summer, Sheri works with the youth during Vacation Bible School.
October 2015 - Adrian (Johnson) Minks '68
The 2015 Alumni Service Award was given to Adrian Minks. Minks is a native of Little Sioux, Iowa, and graduated from West Harrison High School, in Mondamin, Iowa. She is a '68 alumna of Wayne State College and has since lived and worked in Omaha.
Her management positions with Northern Natural Gas/InterNorth/Enron for nearly 20 years provided her with unique experience in her field until she transferred to Omaha Public Power District. She worked in several positions, ending as Vice President of Essential Services, where she was a member of the senior management team of the billion dollar public utility. She oversaw information technology, human resources, and other functions. Minks retired in 2011, with a solid record as a valued voice on the leadership team and a role model and mentor for many employees.
Minks has been active in community organizations for many years, including serving on and chairing the Women's Center for Advancement board of directors. She was interim CEO for a six-month period and received the group's Tribute to Women award in 2011. She is a strong supporter of the center's mission benefiting women and families. She served as a board member for the Greater Omaha Alliance for Business Ethics and the Institute for Career Advancement, serving as honorary chair for the 2010 ICAN Women's Leadership Conference. She is especially proud of her service to the Wayne State Foundation, serving on the Board of Trustees, the Executive Committee and chair for two years. She received the Wayne State College Alumni Achievement award in 2004. She and her husband of 40 years, Jon, support Wayne State College's mission of educational opportunities for first-generation college students. They continue to reside in Omaha and enjoy extensive travel in their retirement years.
October 2014 - William "Bill" Reeg '64
The 2014 Alumni Service Award was presented to William "Bill" Reeg at the Hall of Fame Banquet on Oct. 4 during Homecoming.
Reeg graduated from WSC in 1964. He served in the United States Marine Corps from 1965 to 1967. After his Marine Corps duty, he worked with his father at Arnie's Supermarket in Wayne. Arnie's Ford-Mercury was established in 1978.
Reeg is a past chairman of the Nebraska New Car and Truck Dealers Association. He continues to serve on its executive board and on the Carriage House Foundation, the charitable wing of the Association.
He was recently reappointed by Gov. Dave Heineman for a second term on the Nebraska Motor Vehicle Licensing Board. Arnie's Ford was honored as the "Large Business of the Year'' at the 2014 Wayne Area Economic Development Banquet.
Reeg was the winner of TIME magazine's 2014 Dealer of the Year for Nebraska, the award is one of the automobile industry's most prestigious and coveted honors. As an award winner, Reeg is counted among the nation's most successful auto dealers who also demonstrate a long-standing commitment to community service.
As secretary-treasurer for the executive board of the Wayne State College Foundation, he and his wife, Betty, support various building projects and other campus improvements and have established the Bill and Betty Reeg Annual Scholarship. They have three children and five grandchildren. The Reegs reside in Wayne.
September 2013 - Charles "Chuck" Sass '61
The 2013 Alumni Service Award was presented to Charles "Chuck" Sass at the Homecoming/Hall of Fame Banquet Sept. 28.
Chuck graduated from WSC in 1961. After a 12-year teaching career in Nebraska and Iowa schools, Chuck and his wife, Sharon, purchased a sporting goods business in Boone, Iowa. They sold their business in 1977 and moved to Lincoln where Chuck accepted an instructor position with the University of Nebraska-Lincoln Division of Continuing Studies and served as an editor in the curriculum development department. While he was employed at University of Nebraska-Lincoln, Chuck earned a master's in education degree.
The couple moved to Washington, DC, in 1987, where Chuck took a position in the publications department of the Close Up Foundation, the nation's largest civic education organization. As the managing editor of academic publications, he edited and/or wrote more than 300 student and teacher publications including Current Issues—one of the most popular textbooks in social studies classrooms. Chuck retired in 2006 after 18 years with Close Up and is now engaged in an in-depth study of leisure.
Chuck and Sharon established the Kathryn Reimers Sass scholarship in 2005. The Sasses became trustees of the Wayne State Foundation in 2007 and are members of the Cornerstone Society and Heritage Society. The couple resides in Wellington, Fla.
September 2012 - Don and Diane (Massman) Soukup '71
The 2012 Alumni Service Award was presented to Don and Diane (Massman) Soukup at the Homecoming/Hall of Fame Banquet Sept. 29. The award recognizes alumni who have enhanced the college through dedicated service, promotion, and financial support. They graduated from WSC in 1971. Both started their insurance careers as claims adjustors, moved to an insurance regional office where Don earned Insurance Institute of America and Fellowship of Life Management Institute designations and became a Life Company Underwriting Superintendent and Diane was a subrogation officer. They left the internal operations of the company to pursue careers in sales where Don was an agent/broker and Diane a customer service representative/instructor. Concurrently, they served in the US Army Reserves. Don retired after 23 years as a Sergeant Major and Diane at 20 years as a Master Sergeant. Their brokerage was sold; however, they still own a percentage in an insurance company and continue to maintain insurance licenses in California and Nevada by completing continuing education courses. The Soukups became Trustees of the Wayne State Foundation in 1986 and are members of the Presidents Society and the Heritage Society.
October 2011 - Larry Moser '06
The 2011 Alumni Service Award was presented to Larry Moser at the Homecoming/Hall of Fame Banquet Oct. 8. The award recognizes alumni who have enhanced the college through dedicated service, promotion, and financial support.
He graduated from WSC in 2006 earning a degree in Business Administration with an emphasis in finance and agriculture. After graduation he moved to Sioux City, Iowa where he attained employment as a producer at Arthur J. Gallagher Risk Management. As a producer, he is responsible for selling and servicing insurance coverage for commercial and personal clients. Moser has served as a member of the Siouxland Chamber Ambassadors, the United Wayne of Siouxland and is actively involved with the Big Brothers Big Sisters program currently serving as Chair of the Board of Directors. While attending classes at WSC, Moser was employed at Conn Library, served on the Student Activities Board and was actively involved with the WSC Phonathon Annual Fund Drive, serving as a student caller (1 year) and a student manager (3 years). He interned at Nebraska Life Magazine, Christensen Associates and Arthur J. Gallagher. He currently is the 2006 class representative for the campaign to restore the WSC Willow Bowl. Larry and his wife, Amanda, reside in Sioux City.