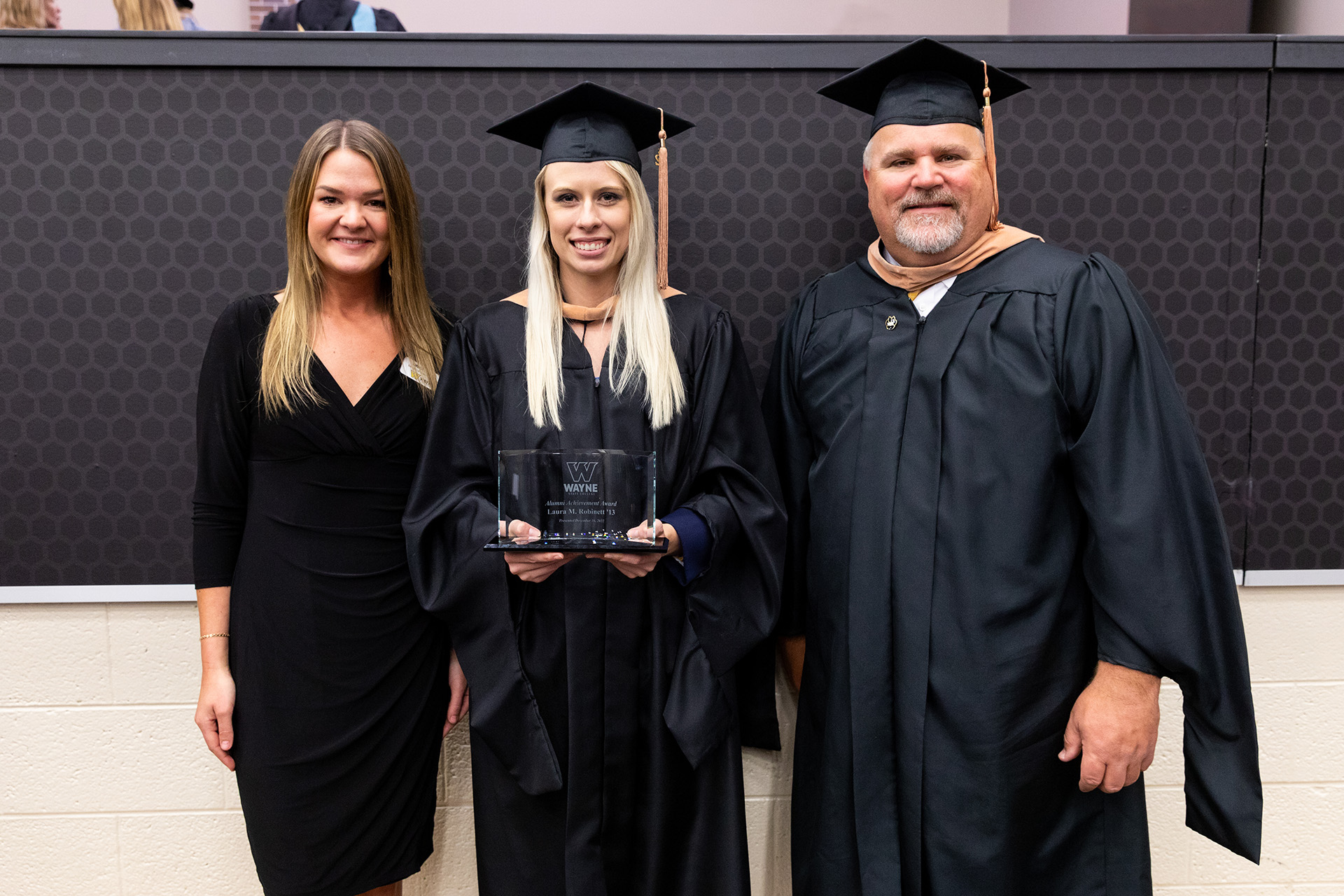 The Alumni Achievement Award is given to an alumnus/alumna who has attained outstanding achievement in his or her career and/or through community service and has provided support to WSC. The Alumni Achievement Award is given at the May and December commencement exercises.
December 2022 - Laura Robinett '13
Laura Robinett received the Alumni Achievement Award from the Wayne State Foundation during the December commencement ceremony. Robinett earned her first degree from Wayne State in 2013, receiving her bachelor's degree in mass communications, with a journalism concentration and a double minor in art and online media.
After earning her bachelor's degree, she started a portrait and event photography business in Wayne, LMB Visual Creations, and at the same time returned to Wayne State to work in the Departments of Art & Design and Music as an office assistant. She was hired as the director of alumni relations with the Wayne State Foundation in 2016, where she developed her passion for philanthropy in higher education. She served in that position for four years before being promoted in 2020 to director of major gifts within the foundation.
After five and a half years at the Wayne State Foundation, she was hired as the vice president for institutional advancement for Midland University in September 2021, a private liberal arts college in Fremont, Neb. In this role, Robinett sits on Midland's senior leadership team and leads the development of the strategic plan for advancement, alumni relations, and annual giving initiatives, and executes fundraising for a comprehensive capital campaign. She also earned the designation of certified fund-raising executive this year
Robinett is an advocate for volunteerism and giving back to the community. While in Wayne, she served as the secretary for the Wayne Area Economic Development Board of Directors, and was a member of the Wayne Kiwanis Club, Wayne Young Professionals, and member of two committees within the Wayne Chamber of Commerce. She currently serves as a board member for the Greater Fremont Development Council, and a member of the planning committee for the ELCA College & Seminary Advancement Vice Presidents Annual Conference.
Originally from rural central Nebraska and a graduate of Chambers High School, Robinett is the daughter of Jim and Jennifer Burtwistle. She and her partner, Ryan Jensen, live north of Lincoln.
May 2022 - Roger Steele '79
Roger Steele received the Alumni Achievement Award from the Wayne State Foundation during the Spring 2022 undergraduate commencement ceremony. He graduated from Wayne State with a bachelor's degree in pre-law studies in 1979.
Steele was born in Bassett, Neb., and graduated from high school in Pierce, Neb. He attended Creighton University School of Law from 1981 until 1984, when he received his J.D. degree. Steele's areas of practice of law include representing insurance companies, businesses, private individuals, and school districts.
Steele was elected to the Grand Island City Council in 2014. He was elected mayor of Grand Island, a city of 53,135 residents, in November 2018. As mayor, Steele has directed an historic amount of public works for his growing city. Additionally, he has worked with Wayne State to develop a cooperative education program, which will allow WSC students to take paid internships in Grand Island businesses during the students' senior year. This program has enthusiastic support from Grand Island businesses because they want the opportunity to hire hard-working Wayne State students.
Steele and his wife, Liana, practice law at Steele Law Office in Grand Island. They have twin daughters, Leslie and Laura.
December 2021 - Glenda Gallisath '84
Dr. Glenda Gallisath received the Alumni Achievement Award from the Wayne State Foundation during the December commencement ceremony.
Gallisath graduated from Wayne State College in 1984 with a Bachelor of Science in Business Administration (Management) with honors. She earned an MBA from the University of South Dakota and began her career in higher education in 1985 as a full-time business faculty member at Morningside College (now University) in Sioux City, Iowa. In a few years, Gallisath transitioned to a full-time academic administrative position at Morningside and later served in various leadership roles at Western Iowa Tech Community College through 2000. Gallisath also earned a Ph.D. in Higher Education at Iowa State University and completed the Institute for Educational Management at Harvard University.
For 25 years, Gallisath served as the dean and vice president levels at community and two-year colleges, and at public and private baccalaureate and graduate institutions in rural and urban settings in the Midwest. Her accomplishments often focused on developing new academic programs, academic partnerships with high schools and colleges/universities, and community outreach. She has periodically taught graduate courses in business administration and educational leadership.
Throughout her administrative career, Gallisath has presented at regional and national conferences about assessment of student learning, institutional effectiveness, and student success. She currently serves as the Executive Director of Institutional Effectiveness and Assessment at Walden University, which specializes in providing access for adult students to graduate degree programs. Gallisath is also active with the Higher Learning Commission (HLC) that accredits colleges and universities in the United States. She has been an accreditation liaison officer at several institutions, and since 2013 she has served as a mentor to institutions in the HLC's Persistence and Completion Academy and now the Student Success Academy. She has served on HLC task forces regarding assessment and is a facilitator for the HLC Assessment of General Education seminars.
Gallisath has been a presenter at several HLC annual conferences and currently serves on the HLC Annual Conference Advisory Committee.
A Wymore native, she is the daughter of Dorothy Gallisath and the late George F. Gallisath of Beatrice. A resident of Des Moines, Iowa, she has been a trustee of the Wayne State Foundation since 2012 and was appointed to its executive committee this fall.
November 2020 - Byron Schafersman '04
Byron Schafersman received the Alumni Achievement Award from the Wayne State Foundation during the Winter 2020 graduation ceremony in November.
Schafersman graduated from Wayne State College in 2004 with a bachelor's degree in speech communication. He is an entrepreneur who has created a business portfolio with a footprint spanning the upper Midwest that includes real estate development, beverage distribution, technology, software, finance, and aviation.
A Hooper, Neb., native, Schafersman is the son of Mark and Jean Schafersman. He lives in Dell Rapids, S.D., with his wife of 11 years, Amber, also a 2004 graduate of WSC. Byron and Amber have been trustees of the Wayne State Foundation since 2018. Together they have two children, Kadyn (9) and Cameron (5).
December 2019 - Tim Gesell '04
Tim Gesell received the Alumni Achievement Award from the Wayne State Foundation during the Winter 2019 graduation ceremony. He was born and raised in South Sioux City, Neb. He graduated from South Sioux City High School and earned his Bachelor of Science Degree in Business Administration with concentrations in Business Management and Human Resource Management from Wayne State College in 2004. Gesell currently lives in Seward, Neb., with his wife, Michelle (Wiltse) '03, and their three children, Ryan (9), Rose (6), and Ruby (4).
While at Wayne State College, Gesell was a member of the men's basketball team and received Academic All-Conference and team captain honors. Their 1999-2000 team has been inducted in the Wayne State College Athletics Hall of Fame. He also was a member of the Blue Key National Honor Society, as vice president and president his last two years.
Professionally, Gesell has worked in the manufacturing industry in various leadership roles since graduating from Wayne State College. He currently works for Timpte, Inc. in David City, Neb., as the director of manufacturing. He has a passion for developing people and seeing teams succeed. Timpte recently made a donation to Wayne State's new Center for Applied Technology with Gesell's support.
Gesell also likes to give back to the community. In Seward, he is a member of the St. John education board. He is also a member of the Wayne State Foundation Scholarship Campaign Steering Committee. Back in his hometown, he is an active member of the We Got Next Foundation. This foundation was formed to support less fortunate kids in the Siouxland area through a mission of providing a positive impact through sports and uplifting experiences to motivate them to succeed.
Gesell is still active in athletics by playing basketball and coaching youth sports in his community.
December 2018 - Deb Bodenstedt '78
Debra Bodenstedt received the Alumni Achievement Award during the Winter 2018 graduation ceremony. Bodenstedt was born and raised in Wayne County. Her education began in the same one-room rural school her father had attended. She graduated from Wayne High School and earned her Bachelor of Arts in education from Wayne State in 1978. While at Wayne State, she participated in varsity volleyball and softball, German Club, Panhellenic Council, Student Council, Chi Omega sorority, and myriad intramural sports. She taught high school for three years before joining the United States Navy, earning her commission as an Ensign at Officer Candidate School in March 1983.
Bodenstedt's 27 years in the military was marked by distinguished service. She was the first woman to qualify as a Submarine Rescue Chamber operator while assigned temporarily onboard USS Kittiwake. She participated as a diver in the Space Shuttle Challenger salvage. She served as Commanding Officer Consolidated Divers Unit in San Diego, Calif., from March 1998 to May 2000, where her divers completed the first double in-water aircraft carrier propeller change on USS John C. Stennis, and maintained the Navy's only certified underwater welding team. She participated as a diver in the historic salvage of the Civil War vessel USS Monitor and oversaw the ordnance salvage efforts for USS Cole after the suicide bombing in Yemen.
She was inducted into the Women Divers Hall of Fame in 2002, the Women in Military Service Memorial in 2008, and was recognized as a Hometown Hero by Modern Woodmen of America in 2017.
Her personal military service awards are the Legion of Merit, Defense Meritorious Service Medal with oak leaf cluster, Meritorious Service Medal with gold star, Navy Commendation Medal (three gold stars), Joint Service Achievement Medal, and Navy & Marine Corps Achievement Medal.
Her United States Navy service included Basic Diving, Salvage courses at Naval Diving, and Salvage Training Center and Surface Warfare Officer's School; USS Yellowstone as a Division and Diving Officer; Operations Officer and Director of the Naval Surface Force Atlantic Second Class Diving School from 1986 to 1988; Operations Officer in USS Grasp from 1988 to 1991; Executive Officer in USS Safeguard from 1992 to 1994; Officer in charge of Naval Ordnance Center Detachment in Rock Island, Ill., from 1995 to 1998; Commanding Officer Consolidated Divers Unit in San Diego, Calif., from 1998 to 2000; Executive Officer of Atlantic Ordnance Command in Yorktown, Va., from 2000 to 2002; Naval War College in Newport, R.I., where she received a Master's Degree in National Security and Strategic Studies in 2003; Deputy Logistics Support Division and Munitions Branch Chief, U.S. Pacific Command in Hawaii from 2003 to 2006 as Logistics Response Cell Supervisor for the Tsunami recovery/relief operations in Southeast Asia via Operation Unified Assistance in 2004; and command of Navy Munitions Command East Asia Division, the Navy's ordnance provider for Operation Enduring Freedom and the entire Pacific, with a workforce of over 700 personnel in eight locations throughout the Pacific and Indian Ocean, and an ordnance inventory valued at over $4 billion, in 2006. Captain Bodenstedt retired from active duty in August 2010.
After military retirement, Bodenstedt immersed herself in her new home town of Yankton, S.D. She has served as director of the Red Cross and volunteered as a disaster responder. She is an active member of Habitat for Humanity, an officer with the VFW, American Legion, and the regional director for IRS/AARP volunteer tax preparation at the local Senior Center. She has served as vice chair for the county Republican Party for six years and as a delegate to the 2012 National Republican Convention. She is nearing completion of her first four-year term as a Yankton County Commissioner. She currently is vice chair of the commission.
Bodenstedt was selected by the governor of South Dakota in 2015 to chair the commissioning committee of the USS South Dakota. The purpose of this committee is to organize, fund, and execute all events surrounding the commissioning of the first ship in over 70 years to bear the name South Dakota. The Virginia-class nuclear submarine is nearing completion and is scheduled for commissioning in early 2019.
Bodenstedt participates in Senior Games, qualifying and attending four national contests, winning a bronze and silver medal in badminton and softball. She was selected as 2017 South Dakota Senior Games female athlete of the year.
May 2018 - Lukas G. Rix '10
Lukas Rix grew up in Lyons, a small community in Northeast Nebraska. From an early age, Lukas has enjoyed the philosophies of doing business in rural communities. In the fall of 2006, Lukas attended Wayne State College and received a degree in Business Administration with an emphasis in Marketing and Management. Upon graduation in 2010, Lukas worked as the Customer Research Manager for Sand Creek Post & Beam in Wayne until 2014.
Lukas and his husband, Mark Kanitz, own and operate four store fronts in downtown Wayne: Rustic Treasures, 1912 Emporium, Thrift Warehouse, and The Coffee Shoppe. An aggressive vision to make downtown Wayne a regional tourist hot spot for retail is what keeps Lukas hungry for more growth in their company. Lukas served on the Wayne Area Economic Development (WAED) board for six years, including four years as secretary to the board. Lukas and Mark have also served as trustees of the Wayne State Foundation since 2017.
As an advocate for rural communities to evolve in a positive way, Lukas was selected by The Sherwood Foundation in 2014 to receive a community catalyst grant to further his knowledge and vision for Wayne. He continues to enjoy challenging rural citizens and business owners to tell their stories about why rural is important.
December 2017 - Keith Knudsen '81
Keith Knudsen graduated from Wayne State College with a degree in Business Administration/Finance in 1981. He graduated from the Graduate School of Banking in Boulder, Colo., in 1991. He serves as a trustee of the school and was chairman of the school in 2015-16.
Knudsen began working at Security National Bank in February of 1981 and serves as president/CEO and director of Security Bank (Laurel, Osmond, Allen, Hartington, Coleridge). Security Bank was named Extraordinary Bank of the Year in 2017 by the Institute for Extraordinary Banking in Minneapolis.
Knudsen has been an active member of the Nebraska Bankers Association (NBA). He was a member of the first Nebraska Bankers Association Leadership Program class. Knudsen served as an NBA board member from 2002-05 and is a past chairman of the Operations, Lending, and Government Relations Committees. He continues to share his knowledge of the banking industry by presenting at area, state, and national events and conventions.
As a proponent for education and the youth of his community, Knudsen served on the Laurel-Concord Schools Board of Education from 1993-2004. He has also served the Laurel community and surrounding area as a member/president of the Laurel Chamber of Commerce; member/chairman of the Hillcrest Care Center Board; member of the Laurel Development Company; member of the Providence Medical Center Board; and Laurel Rescue Unit volunteer.
Knudsen was elected to the Laurel City Council in 2010 and serves a member and president of the council. He also serves as chairman of the Fund Advisory Committee of the Laurel Area Community Foundation; a member of the Laurel Economic Development Advisory Council; and a Nebraska Ambassador for the Department of Economic Development.
Keith and his wife, Karen, are members of the Wayne State Foundation Trustees.
May 2017 - Randy Pedersen '71
Randall "Randy" A. Pedersen will receive the Alumni Achievement Award from the Wayne State Foundation during the undergraduate commencement ceremony. He graduated from Wayne State College with a bachelor of science degree in business administration in 1971. He paid for his education by working construction during the summers and in his grandfather's meat locker during the school year, while also helping on the family farm.
Pedersen worked as a financial planner immediately after graduation. He accepted a position as assistant store manager for Zales Jewelers in Omaha in 1972 and was selected as store manager to open a Zales store in a new mall in Grand Island. He purchased an existing jewelry store in Wayne in 1978, and changed the name to The Diamond Center. He expanded his business to a new location by remodeling an existing building on Main Street, and opened the new store in 2002, which included new jewelry lines and a full service florist shop, wine shop, gourmet foods, and other gifts. This new part of the business was named Flowers and Wine.
Since returning to his hometown of Wayne, Pedersen has been active in the community. He has served on the City Council and Planning Commission, served two terms as president of the Wayne Area Chamber of Commerce, was chair for the Business Improvement District on the reconstruction of Main Street, and is a member of Wayne Area Economic Development. He was Chamber Person of the Year in 2015 and also Small Business of the Year. Pedersen has served on the Providence Medical Center governing board, Little Red Hen Theatre Board, and is a member of Wayne Rotary Club.
He is active in the jewelry industry, serving several terms on the board and as president of the Nebraska, South Dakota Jewelers Association. He is a member of Retail Jewelers Organization, a jewelry buying group of more than 900 independent jewelers across the country, and served 30 years on the Merchandise Review Committee. He also has traveled to South Africa and Israel selecting diamonds for his customers.
Pedersen has committed his time, talents, and treasures to Wayne State College as a trustee and executive committee member of the Wayne State Foundation and past president of the Wayne State Foundation Executive Board. He is also a member of Cat Club, and is a great supporter of Wayne State College and the Wayne State Foundation. He received the Wayne State College Alumni Service Award in 2007 and was inducted into the Hall of Fame as a contributor in 2015.
Randy and his wife, Rozan, have a son, Joel, who is a wildlife biologist for the National Wild Turkey Federation in South Carolina. They also have two granddaughters; Bailey, a freshman at Clemson—because it's too cold in Nebraska—and Emma, a freshman at Strom Thurmond High School.
December 2016 - Jeanette Snyder '90
Jeanette (Schmeits) Snyder will receive the Alumni Achievement Award from the Wayne State Foundation at the graduation ceremony. She graduated with honors from Wayne State College in 1990 with a Bachelor of Science degree in business administration with accounting and finance concentrations. As a WSC student, she served as a Wayne State ambassador, was a member of Phi Beta Lambda, and was elected to the Cardinal Key Club.
Snyder works as Region Credit Manager for Crop Production Services, a subsidiary of publicly-traded Agrium, a global, leading provider of agriculture products and services. Recently named to the position, she manages the trade credit risk within a $4-billion sales portfolio generated from the Central U.S., providing oversight to 10 credit offices. She began her credit management career in the ag distribution industry in 2001 with United Agri Products, a division of ConAgra. Immediately after her 1990 graduation, she was employed by United Bank of Iowa specializing in compliance, advancing to loan officer vice president.
She serves on the Board of Directors of the National Credit Management Association Heartland Unit, Kansas City; is a regular participant in the BMO Harris Executive Women in Food, Consumer, and Agribusiness Forum; and is a graduate of the Iowa School of Banking and the Agriculture School of Credit. She is passionate about her time spent with the ladies of the American Legion Auxiliary of Odebolt, of which she holds the position of vice president.
Snyder's husband, Grant, farms near Odebolt, Iowa, where they reside on the family farm. Their children include: Adam and his wife, Jodi, with sons, Jackson and Jordan, also of Odebolt; Megan Snyder of Sioux Falls, S.D.; Brandi Snyder of Omaha; Taylor Snyder of Iowa City, Iowa; and Riley Snyder, a high school senior. Jeanette graduated from Spalding High School in Spalding, Neb., and was raised on a farm near Primrose, Neb.
May 2016 - Bart Gotch '82
Bart Gotch is the recipient of this year's Alumni Achievement Award and will deliver the baccalaureate address at spring commencement. Gotch graduated from Wayne State College in three and a half years in December 1982 as an honors–honorable mention graduate with a bachelor of science degree in business administration with a finance concentration.
Gotch has served as president of Siouxland National Bank of South Sioux City, Neb., for 25 years. He was hired as president at the age of 30. Siouxland National Bank, chartered in 1980, is a locally owned community bank.
Gotch graduated from Allen High School in 1979. He started his banking career at Citizens National Bank of Wisner in 1983. He received advancements until accepting the president position at Siouxland National Bank in 1991. Gotch enjoys his career in banking, helping his customers achieve their goals and successes along with aiding and providing leadership roles within the community.
In addition to being involved in numerous professional organizations, Gotch has been active in his community through participation and leadership roles in several foundations, including the Wayne State College Foundation, Chamber of Commerce, economic development organizations, capital campaigns including Wayne State's College Center in South Sioux City, youth sports, and Legion baseball coaching, and other worthwhile organizations.
Gotch's wife, Terri, also a Wayne State graduate, continues her teaching career in Sergeant Bluff, Iowa. They have two grown children: a daughter, Dr. Jennifer Smith, DDS, with her husband, Haiden, and their daughter, Kate; and son, Brett Gotch, with his wife, Kyna, both Wayne State graduates.
December 2015 - Greg Allen '74
Greg Allen, a 1974 graduate of Wayne State, received the Alumni Achievement Award during the December 2015 commencement ceremony. He has served as senior vice president of real estate management with Farmers Mutual of Nebraska since 2013.
Allen's first job out of college was with Farmers Mutual of Nebraska. He started his career in the claims department, where he held numerous positions before being promoted to vice president of claims in 1994. He was promoted to senior vice president of operations in 2001. He was elected to the company's Board of Directors in 1998 and continues to serve on the board.
He celebrated his 40th year with the company in 2015. Allen also serves on the Downtown Lincoln Association executive board and is a trustee of the Wayne State Foundation and a member of the Executive Committee.
Allen grew up in the north-central Iowa town of Algona. He and his wife, Susan, reside in Lincoln.
May 2015 - Jim Ricketts '74
Jim Ricketts, a 1974 graduate of Wayne State, received the Alumni Achievement Award during the undergraduate commencement ceremony May 9 at the college. Ricketts serves as president and chief operations officer of Omaha-based Opportunity Education Foundation (www.opportunityeducation.org).
The foundation serves 1,688 schools in 11 developing countries in Africa and Asia with curriculum, technology, and educational materials along with teacher development. The Foundation has contributed $60 million of support since 2006 to make quality education accessible to children in the poorest of poor areas so they can improve their standard of living.
Ricketts joined Opportunity Education as an experienced businessman, securities attorney, arbitrator, and instructor. He previously served as vice president of TD Ameritrade for 20 years with assignments that included acquisition, legal, compliance and brokerage firm management. He serves the Financial Industry Regulatory Authority (FINRA) as an arbitrator and is a past founding member of the National Association of Security Dealers (NASD) e-Brokerage Committee. He serves on Nebraska's Department of Education Council of International Education. He taught business law and real estate law as adjunct professor at Colorado College.
Ricketts earned his juris doctorate from Thomas Jefferson School of Law in San Diego in 1979. He holds Bar Admission in California. Ricketts was ordained a permanent Deacon in the Roman Catholic Church Archdiocese of Omaha after a four year theology program. He serves Jesus Christ in various ministries in the Church. Louisiana College honored Ricketts' service to students and teachers in Africa and Asia as 2013 recipient of the Trustee's Distinguished Service Award.
December 2014 - Lennie Adams '78
Lennie Adams, group president of the Global Irrigation Division for Valmont Industries, Inc., in Omaha, received the Alumni Achievement Award during the winter graduation ceremony. Adams, a lifelong Nebraska resident, earned his Bachelor of Science degree in accounting from Wayne State College in 1978. He obtained his CPA designation in 1991 and completed the Stanford University executive MBA program in 1996.
His responsibilities with Valmont include the Global Irrigation Division, Industrial Fasteners, Inc. (IFI, a distributor of fastener products in the U.S.), and Cascade Earth Sciences (CES, a water reuse company located in Oregon).
Adams began his career at Valmont upon graduation from college. He has held numerous accounting and controllership positions in the Poles and Tubing divisions of Valmont. He accepted the role of vice president of operations in the Poles Division in 1995. This was followed by the roles of vice president and general manager of the Industrial Products Division and subsequently the position of president for the Coatings and Tubing Division. Adams became the president of North American Irrigation and Tubing Divisions in 2005. He accepted the role of group president for the Global Irrigation Division in January 2009.
Adams served two terms on the Fremont Area United Way Board, with one term as president. He has also served for six years on the Fremont Area Community Foundation Board. He currently serves on the Board of Directors for the College World Series of Omaha, Inc. In addition to his community ties, Adams serves on the Board of Trustees for the Wayne State Foundation.
Adams and his wife, Daun, reside outside of Omaha. Their son, Todd, and his wife, Brittainy, have two daughters, Olivia and Sydney.
May 2014 - Mike Beacom '90
Mike Beacom was the recipient of the Alumni Achievement Award. Beacom graduated as an honors-honorable mention graduate from Wayne State College in 1990 with a bachelor of science degree in business administration with an accounting concentration.
Beacom, a Certified Public Accountant, has been with McGladrey LLP for 20 years, with the past 10 years as an assurance partner. McGladrey is considered one of the nation's largest assurance, tax and consulting firms, with more than 6,700 professionals and associates located in 75 cities across the United States and more than $1 billion in annual revenues.
Beacom started with McGladrey in its Cedar Rapids, Iowa, office, transferred to Las Vegas, Nev., in 1996, and has worked for McGladrey's Dallas office since 2001. After holding various leadership positions within the firm, Beacom was chosen to lead McGladrey's Central Region's Real Estate and Construction Industry Group in 2013. The Central Region's footprint encompasses the states of Arkansas, Colorado, Iowa, Kansas, Louisiana, Minnesota, Missouri, Nebraska, North Dakota, Oklahoma, South Dakota and Texas.
In addition to being involved with numerous professional, fraternal and charitable organizations, Beacom is a member of the American Institute of Certified Public Accountants and Texas State Society of Certified Public Accountants.
Upon graduating from Emerson-Hubbard High School in Emerson, Neb., Beacom received a Cooperating Schools Scholarship to attend Wayne State College. In appreciation of this scholarship and in the spirit of giving back to Wayne State College, he and his wife, Liz, have started The Beacom Demke Family Scholarship in honor of Mike's parents, James and Mary Ann (Demke) Beacom, who still reside in Hubbard, Neb.
Mike and Liz reside in Frisco, Texas.
December 2013 - Dr. David Johnson '60
Dr. David Johnson was the recipient of the Alumni Achievement Award during the Wayne State College commencement ceremony Dec. 13. Dr. Johnson, originally from Osmond, Neb., graduated from Wayne State in 1960 with a bachelor of arts degree and married Lelia Leggat the same year.
Johnson graduated from University of Nebraska Medical Center with a medical degree in family practice in 1965 and interned at Nebraska Methodist Hospital in Omaha in 1966. He served with the U.S. Army as commanding medical officer at the Armed Forces Examining and Entrance Station in Minneapolis. He received the Army Commendation Medal for Meritorious Service at the end of his tour.
He became a member of Osmond General Hospital Medical Staff in 1968 and by 1969 was employed in his own clinic, where he worked until retiring in 2013. He served as hospital chief of staff multiple times in rotation with other local physicians and served on the Osmond Hospital Board for 20 years. He was a member of the American Academy of Family Practice and the American Medical Association. He was a member of the Osmond Community Club and served as American Legion Post 326 Commander.
Johnson and Lelia, who died in 2003, have five children and 14 grandchildren.
May 2013 - Dr. Bonnie Hubby Bass '54
Dr. Bonnie Bass was the recipient of the Wayne State Foundation Alumni Achievement Award at spring commencement. She is the founder and president of Expertise, a consulting and executive advisory firm headquartered in the San Francisco Bay Area, with eight associate offices in the U.S. and Canada. She also serves as Vice President of Research and Development for Professional DynaMetric Programs, Inc., a Colorado behavioral research, program development, and international training company. She serves as Director of the DynaPro Consulting Division of PDP Inc.
Bass graduated with a bachelor's degree in education from Wayne State College in 1954. After teaching at Wayne High School and Technical High School in Omaha, she enjoyed a number of years as a homemaker, parenting two children (Jefferson Bass and Jane Bass Page) and serving her community in cities in California, Iowa and Utah. Her love of learning and a desire to assist people to become successful in life inspired her to enroll in a master's degree program at University of San Francisco in psychology. After a two-year internship (1978), she was granted a license as a family counselor and opened an office practice.
During 1978 her brother, Bruce Hubby, a businessman in Colorado Springs, Colo., was funding and leading a new research project that incorporated technology with the vision of assisting businesses and organizations to achieve success through understanding people. The two siblings joined in this venture, later known as PDP Inc. Bruce Hubby, now deceased, graduated from WSC in 1957, along with his wife, Jan Hubby. Bruce Hubby's son, Brent Hubby, is now President of PDP Inc. To assist in the new research and expand her knowledge of business application of psychology, Bass returned to the University of San Francisco, earning the doctor of education degree in 1983. She is a member of the Institute of Management Consultants USA and the National Speakers Association. Bass is honored to have been the first woman president and chairman of the board of the San Francisco Kiwanis Club (1990).
December 2012 - Dr. Ron Holt '89
Dr. Holt was the recipient of the Wayne State Foundation Alumni Achievement Award at winter commencement. He earned his bachelor of science degree in chemistry and pre-professional biology from WSC in 1989, and his doctorate degree in Osteopathic Medicine in 1993 from Kansas City University of Medicine and Biosciences in Kansas City, Mo. He attended his fist two years of psychiatry residency training at Baylor College of Medicine in House, Texas, before finishing his training in 1997 at California Pacific Medical Center in San Francisco, Calif. Holt earned his Master of Public Administration degree with a concentration in health services from eh University of San Francisco in 2002.
Holt joined The Permanente Medical Group in 1997 and continues to serve as a staff psychiatrist at the Kaiser South San Francisco Medical Center in South San Francisco. For the past 13 years he has volunteered his vacation and travel costs to come back to WSC each homecoming to educate student on the consequences of homophobia in the classroom, the biology of gay sexuality, and bullying and suicide prevents – especially in the lesbian, gay, bisexual, and transgender (LGBT) communities.
He developed a website, audacityofprice.com, in 2009 an expanded his community service education on LGBT issues to other colleges and universities across the country. Holt was awarded the David Lawrence Community Service Award in 2009 for his community service work in LGBT education. Since 2010, in addition to his clinical work, he expanded his education to audiences of physicians and clinicians on how to provide more culturally competent care to the LGBT community. Holt was awarded the 2010 R. J. Erickson Diversity Achievement Award while expanding his LGBT medical education to physicians and clinicians. To date he has presented to more than 1,100 physicians.
Holt expanded his LGBT medical education to other physicians through regional, national, and international medical conferences, including at the World Congress of Psychiatry conference in Buenos Aires, Argentina, in 2011.
He was invited to and attended, The White House screening of the documentary "Bully" in April 2012. In August he was invited to and participated in the Federal Partners in Bullying Prevention Summit in Washington, D.C.
In addition to being a trustee of the Wayne State Foundation, Holt has created numerous endowed and annual scholarships at WSC. He began his first annual scholarship in 1989 while a senior at Wayne State. He earned the Wayne State Foundation Alumni Service Award in 2004.
Holt, and his husband, Dr. William Huggett, a 1986 WSC Alumnus, currently reside in San Francisco.
May 2011 - Dr. Brad Bigelow '57
Brad was presented the Alumni Achievement Award during the May 7 commencement ceremonies. A graduate of Lyons High Schools, he earned his bachelor of arts in education degree from WSC in 1957. He went on to earn his master's in education/clinical psychology in 1958 and doctorate in 1964, both from the University of Nebraska-Lincoln.
Bigelow served as the guidance counselor at Lincoln-Northeast from 1959-1960. He became the first psychologist for the Nebraska Penal and Correctional complex in 1960 and served as the chief psychologist until 1968. He co-hosted a one-hour monthly TV series, The Prisoner Speaks, and originated Project Youth, a panel of inmates that spoke to various schools, civic and religious groups around the state.
He later served as psychologist/program director at Kearney Youth Rehabilitation and Treatment Center from 1968 until retirement in 1998. He created the State of Nebraska Evaluation program for pre-adjudicated adolescent male offenders. Bigelow still maintains a private practice, serving as psychological consultant to school districts, rehabilitation services, the courts, and the Department of Health and Human Services.
Brad's professional memberships include the American Psychological Association, American Association of Professional Psychologists, National Rehabilitation Association, Nebraska ELCA Prison Ministry Steering Committee and former member of the ELCA Church Vocations Committee and Examining Board. A current member of the Buffalo County Mental Health Board, Brad also completed a four-year term on Lutheran Family Services Board of Directors and served a five-year term on the Governor's Behavioral Health Oversight Commission.
Bigelow was the co-founder of Kearney Friends Program (Big Brothers, Big Sisters); co-founder and board member of Campus House Group Home for Girls; co-founder and former president of Nebraska Juvenile Justice Association (recipient of association's Service to Youth Award in 1986 and 1998); and co-founder, former president and current member of South Central Behavioral Service.
Brad's wife, Karen, attended WSC from 1953 to 1955, graduated from UN-L and worked as an elementary teacher. Brad and Karen's family includes a daughter and son-in-law, Lisa and Jeffrey Kurtz; daughter Leann Welsh; and several grandchildren.
December 2010 - Dr. Dwain '55 and Carole Petersen '54
Carole and Dwain Petersen are the recipients of the Wayne State Foundation Alumni Achievement Award. Dwain received a Wayne State Service Award and graduated cum laude with one of the college's first bachelor of music education degrees in 1955. Carole completed her teaching credential at Wayne State in 1954 and started her teaching career in nearby Pierce. Dwain and Carole were married in 1955. They accepted teaching positions in Tilden, Neb., where Carole was first-grade teacher and Dwain was band director and led the boys' glee club.
Dwain joined the Naval Reserve in 1952. Upon receiving his draft notice in 1956, he and Carole moved to Newport, R.I., where Dwain was commissioned an ensign in the Navy. After aviation training at Jacksonville, Florida Naval Air Station (NAS) and electronics education at Glenview, Illinois NAS, they transferred to Barbers Point, Territory of Hawaii NAS in 1957. Dwain served for two and a half years on the Distant Early Warning barrier, flying 100 14-hour missions between Midway Island and Adak, Alaska NAS. Upon release from active duty he remained in the Naval Reserve as an air intelligence officer, serving 28 years and attaining the rank of commander.
Dwain earned a doctorate at the University of Nebraska in educational psychology. The family of five moved to Mankato, Minn., in 1964, where he became an assistant professor at Mankato State University. He served as director of institutional research, director of the Center for Cultural and Behavioral Education, professor and president of the faculty, retiring in 1997. Carole completed her bachelor's degree in 1974 and master's degree in 1979 in sociology at Mankato. She served as assistant director of the International Student Office at Mankato for 20 years.
Dwain and Carole have provided leadership and service to the Boy Scouts of America as den mother, den leader coach, Cubmaster, Scoutmaster and president of the Twin Valley Council. Carole also worked with 4-H. Twenty-three Eagle Scouts were nurtured by their devotion.
Carole and Dwain have been active in Kiwanis International for 42 and 20 years respectively at the local, regional and international level. They have served as presidents, lieutenant governor and administrators of Aktion Clubs for developmentally delayed adults. They spearheaded acceptance of women as full members of Kiwanis International.
Carole and Dwain have served the United Methodist Church at state, regional and world levels. They have been on three mission trips in the Caribbean assisting in repairing damage from hurricanes. They have assisted Dr. Ron Holt, a 1989 WSC graduate, with his work on Gay, Lesbian, Bisexual and Transgender issues at WSC. They have funded endowed scholarships at WSC for music education students and at MSU. The Petersens have been trustees of the Wayne State Foundation since 2005.
May 2010 - George L. Shuck '76
George graduated summa cum laude from WSC in 1976 with a bachelor of science degree in business administration, with a concentration in accounting and a minor in economics. He received a master of science degree in accounting in 1977 from the University of Kansas.
George began his career in public accounting with Arthur Andersen & Co. as a staff accountant in the auditing division of the company's Kansas City office in 1980. He changed his career path from public accounting to private industry in 1985 when he became chief financial officer for a computer hardware/software retailer. An opportunity presented itself a year later and he became a shareholder and president of a T.J. Cinnamons franchise in Memphis, Tenn. He temporarily relocated to Memphis and was actively involved in the entire business operations of the franchise.
After spending two years away from Kansas City, George returned and joined Ferrellgas, Inc. as a manager of financial accounting and reporting. He was promoted to director of administration services in 1992.
In 1995 George became president and sole stockholder of a custom metal fabricating company in Kansas City; he sold this business in 2004. He assumed the position of vice president and chief financial officer of Clearwater Natural Resources in 2005 where he continues his employment.
George and his wife, Deb, make their home in Kansas City, Mo. George has been a proud supporter of WSC and since 1993 has served as a Trustee of the Wayne State Foundation.