Published Thursday, August 24th, 2023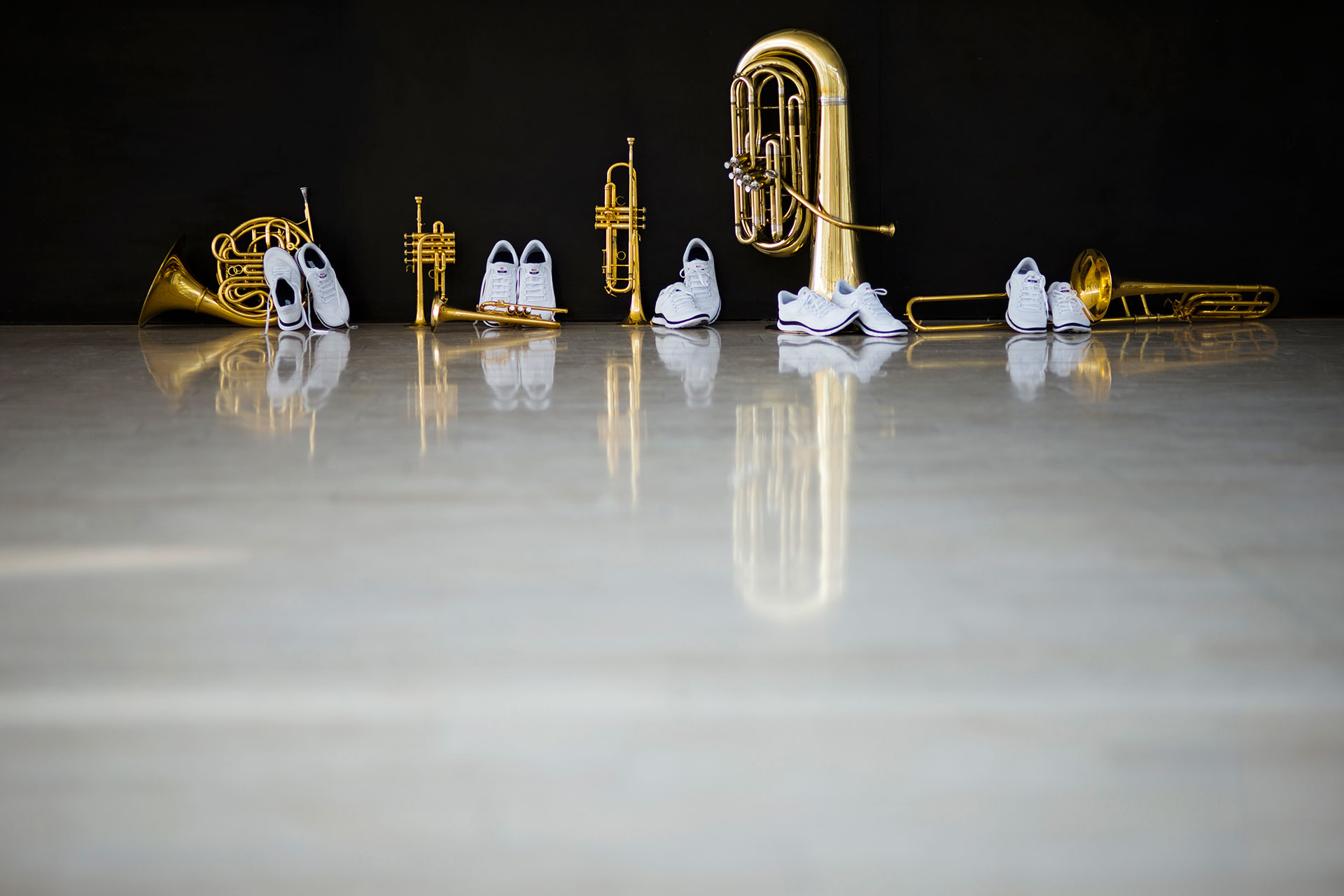 The all-brass ensemble will perform at 7:30 p.m. Thursday, Sept. 28, in Ramsey Theatre. Come early for a tour of the newly renovated Peterson Fine Arts Building!
Heralded by The Washington Post as "the men who put brass music on the map," Canadian Brass kicks off Wayne State College's 2023-24 Black & Gold Performing Arts Series with a 7:30 p.m. performance on Thursday, Sept. 28, in the Peterson Fine Arts Building's Ramsey Theatre.
The performance is presented with the support of the Nebraska Arts Council and the Nebraska Cultural Endowment.
Reserved tickets for the public, $10 per person, are required and must be purchased online. Visit www.wsc.edu/performing-arts, click "Purchase Event Tickets," then click "Get Tickets." A Ramsey Theatre seating chart allows patrons to view and select available seats. Wheelchair seating and ADA companion seating options are also available.
Admission is free for Wayne State students, faculty, and staff; however, a ticket is still required. Visit www.wsc.edu/performing-arts, click "Purchase Event Tickets," then click "Get Tickets." Click on the "Have a passcode?" link and enter your NUID number.
Prior to the performance, the public is invited to take a student-led tour of the newly renovated Peterson Fine Arts Building. The tour will begin at 6:30 p.m. in the lobby.
"Canadian Brass continues to be one of the most sought-after groups in North America and Europe, and we're thrilled to have them begin this season's Black & Gold Series," said Dr. David Bohnert, Dean of Wayne State's School of Arts and Humanities. "It also provides another opportunity for us to showcase our newly remodeled Ramsey Theatre."
Varied repertoire, mixed with mastery and humor, inspire the uplifting performance. Selections feature Renaissance, Baroque, and classical works, ragtime, jazz, big band, and brass standards. Ensemble members include Joe Burgstaller and Ashley Hall-Tighe, trumpets; Jeff Nelsen, horn; Achilles Liarmakopoulos, trombone; and Chuck Daellenbach, tuba.
"We've created ballets, played Carnegie Hall, toured China during its 1977 reopening, and performed in front of five prime ministers," explains Daellenbach, founding member of the group, "but most importantly, performed for more than 10 million friends, family and audiences worldwide."
Canadian Brass originated in 1970 to elevate the art of an all-brass chamber group and excite new audiences with their sound. Over the past 50-plus years, the group has earned 24 Grammy and Juno Award nominations, won the German Echo Award, sold more than 2 million albums worldwide, and garnered numerous Billboard chart positions.
With 138 recordings, Canadian Brass plays to packed houses throughout the United States, Canada, Japan, and Europe. Tours also include Australia, the Middle East, Russia, South America, and China. Television appearances, film soundtracks, educational materials, and original arrangements permeate their consummate contribution to music.
For more information, contact the Wayne State Department of Music at 402-375-7359.