Published Thursday, October 5th, 2023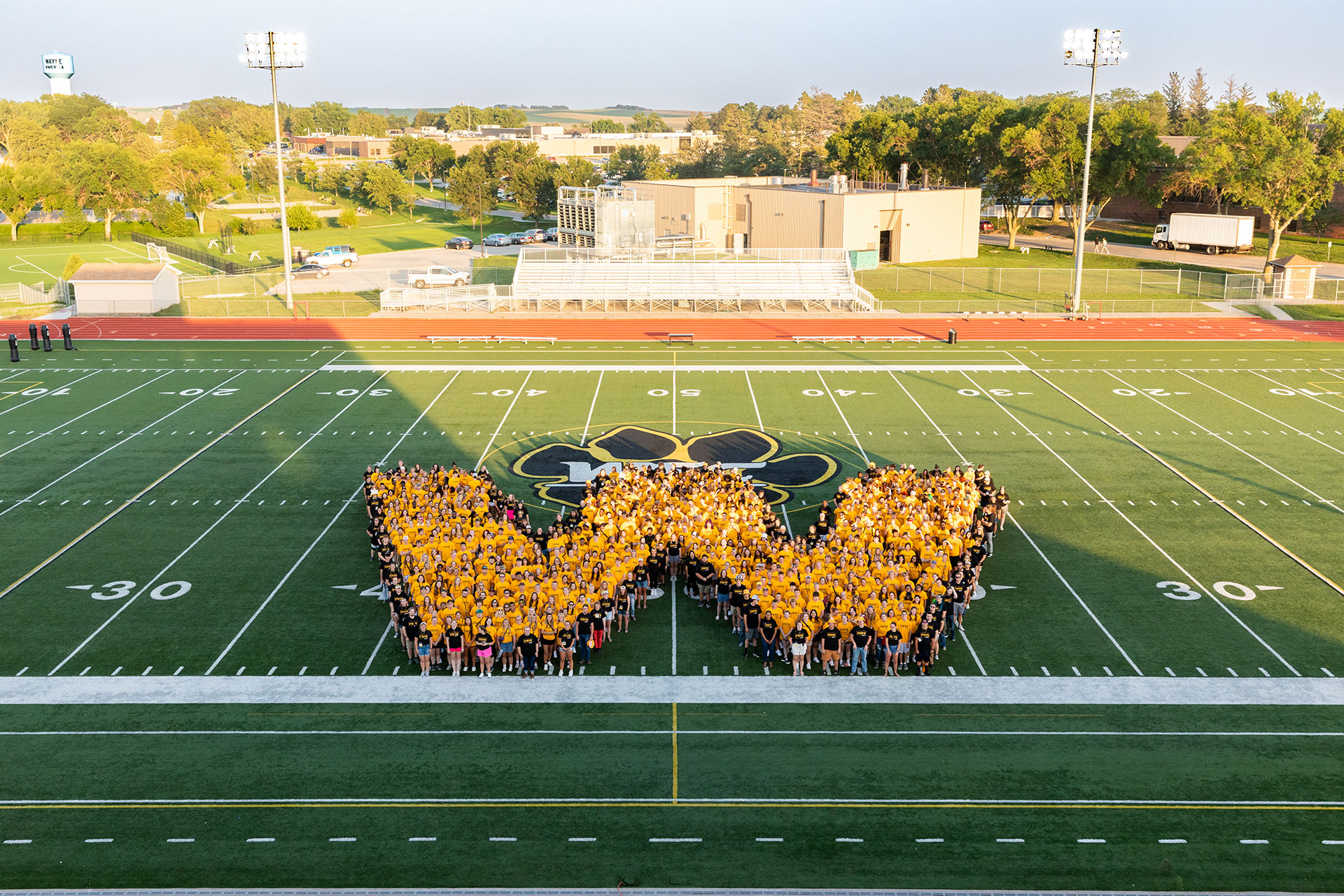 The total headcount stands at 4,595 students for Fall 2023, showcasing a remarkable 4.6% increase compared to the previous year.
Wayne State College proudly announces continued growth in enrollment, marking the seventh consecutive year of expansion. The total headcount stands at 4,595 students for Fall 2023, showcasing a remarkable 4.6% increase compared to the previous year.
Wayne State remains steadfast in defying national trends of declining undergraduate enrollments. The College had a remarkable surge of 6.6% in its undergraduate student population. This growth underlines WSC's unwavering commitment to providing exceptional educational opportunities while ensuring affordability for its students. Furthermore, 84% of Wayne State's student body is composed of Nebraska residents, reinforcing the College's dedication to serving and nurturing local talent.
While Wayne State continues to expand its footprint across the state, the College experienced a slight decrease of 3.4% in its graduate student population. Despite the dip associated with a challenging market for graduate students, Wayne State remains committed to providing advanced education and research excellence at the graduate level.
"We are proud to have held our own as college enrollments have dramatically declined elsewhere, but we also know there is always more work to do to demonstrate the value of a Wayne State degree against the current headwinds of doubt about the cost and value of a four-year degree," said Dr. Marysz Rames, president of Wayne State. "We look forward to visiting with prospective students this year to make the case for a high quality, affordable degree from Wayne State."
Enrollment at Wayne State hinges on several factors. Affordability, academic innovation, a wide range of programs and partnerships, and a commitment to continuously improving facilities to provide the best possible learning experience for our students drive many students to make Wayne State their first choice when applying for college.
Wayne State remains the lowest cost bachelor's degree in our region despite a 3.2% increase in tuition for the 2023-24 academic year. Wayne State's tuition was held flat for two years prior. Wayne State's graduate program tuition is also among the most affordable in our region.
Wayne State continues to employ innovative strategies to not just attract but retain students through the completion of their degree. The College piloted First Year Experience (FYE) courses for a limited number of new freshmen in 2022. This year, Wayne State's FYE has grown to 36 sections with nearly all of the College's first-time freshmen enrolled in a course that aims to build community and ease students' transition to college.
Small classes make it easy to meet other students that could become lifelong friends. Another factor at play in the development of the FYE courses is that studies have shown that students who participate in an FYE course maintain a higher GPA and are more likely to graduate in four years, which helps keep students on a relatively swift and affordable path to their degree.
One of the more innovative academic programs at Wayne State is the Career Scholars Cooperative Education program. The first cohort of students arrived in Norfolk for their final year of the program working for an employer this fall. Additionally, ground was broken Aug. 28 for the second housing development, Phillip Avenue Apartments, to be used by the Career Scholars program.
The housing units will support Wayne State's career scholars, who will live in downtown Norfolk their senior year as they perform two semesters of cooperative education with an employer. The new units will house the second cohort of seniors, who will move to Norfolk in Fall 2024.
Cooperative education combines classroom education with hands-on work experience for college credit. Wayne State's Career Scholars Cooperative Education Program supports workforce and economic development in Northeast Nebraska. To participate, students must be passionate about earning a degree in one of the eligible fields and must be committed to work in Northeast Nebraska. The Norfolk living experience aims to help students connect with the community and gain an appreciation for the many exciting social and cultural opportunities available in the city of Norfolk. Upon graduation, the goal is for students to be hired into full-time positions in Northeast Nebraska.
Wayne State's newest partnership is with Behavioral Health Education Center of Nebraska (BHECN). Wayne State College was named as the third rural site for BHECN. The Northeast Site joins the BHECN Central Site launched in 2015, and the BHECN Panhandle Site, which started at Chadron State in 2019. The rural sites help ensure BHECN's efforts to strengthen the state's workforce are tailored to meet the unique training, recruitment and retention needs of various regions in the state.
Wayne State signed a transfer agreement with Little Priest Tribal College (LPTC) this past fall that will allow LPTC students studying biology, chemistry, and elementary education to complete their bachelor's degree at WSC.
Students transferring into the biology and chemistry programs will bring 60 credit hours with them from their A.S. degree and will need only 60 credit hours to complete Wayne State's Bachelor of Science in biology or chemistry degree. Students transferring into the elementary education program will bring 66 credit hours from their LPTC Associate of Arts teacher education program, leaving just 54 credit hours needed to complete the Bachelor of Science in elementary education degree at WSC.
One of the products of continued growth at WSC is record graduating classes. Wayne State has seen record graduating classes with 603 (429 undergraduates and 174 graduate students) in Spring 2023, and 618 (419 undergraduates and 199 graduate students) in Spring 2022.
Facilities are at the core of the Wayne State student experience. Peterson Fine Arts building reopened for classes this fall after an extensive renovation and the addition of a new wing to provide spacious rehearsal areas with professional acoustics for the Wayne State bands and choirs.
The project also included improved acoustics in all practice rooms and teaching studios, making them safer for performers; upgrades to Ramsey Theatre to support larger acts and productions; improved accessibility with a new central elevator, a ramp to the Ramsey stage, a family restroom, and additional seating for spectators with mobility limitations; ample student work, study, and practice space for collaborations and conversations; and, an expanded atrium for receptions and public gatherings.
Work continues on the college's Athletic and Recreation Complex renovation and addition. The $30-million project is a transformational, multi-phased construction project that will be incredibly impactful on Wayne State's intercollegiate athletics, student recreation, student-wide wellness programs, and overall community and regional use. The project will include a new air-supported structure with an indoor track and turf field and renovations to Rice Auditorium and the Recreation Center. The athletic project's historic improvements will be critical in Wayne State's ability to continue to recruit and retain students by providing an exceptional overall student engagement experience.
Wayne State's newest recruiting cycle has begun and the College invites students and their families to set up a campus visit or apply today at www.wsc.edu/apply. You can learn more about Wayne State by visiting www.explorewaynestatecollege.com where you can hear directly from Wayne State students.