Published Friday, September 9th, 2022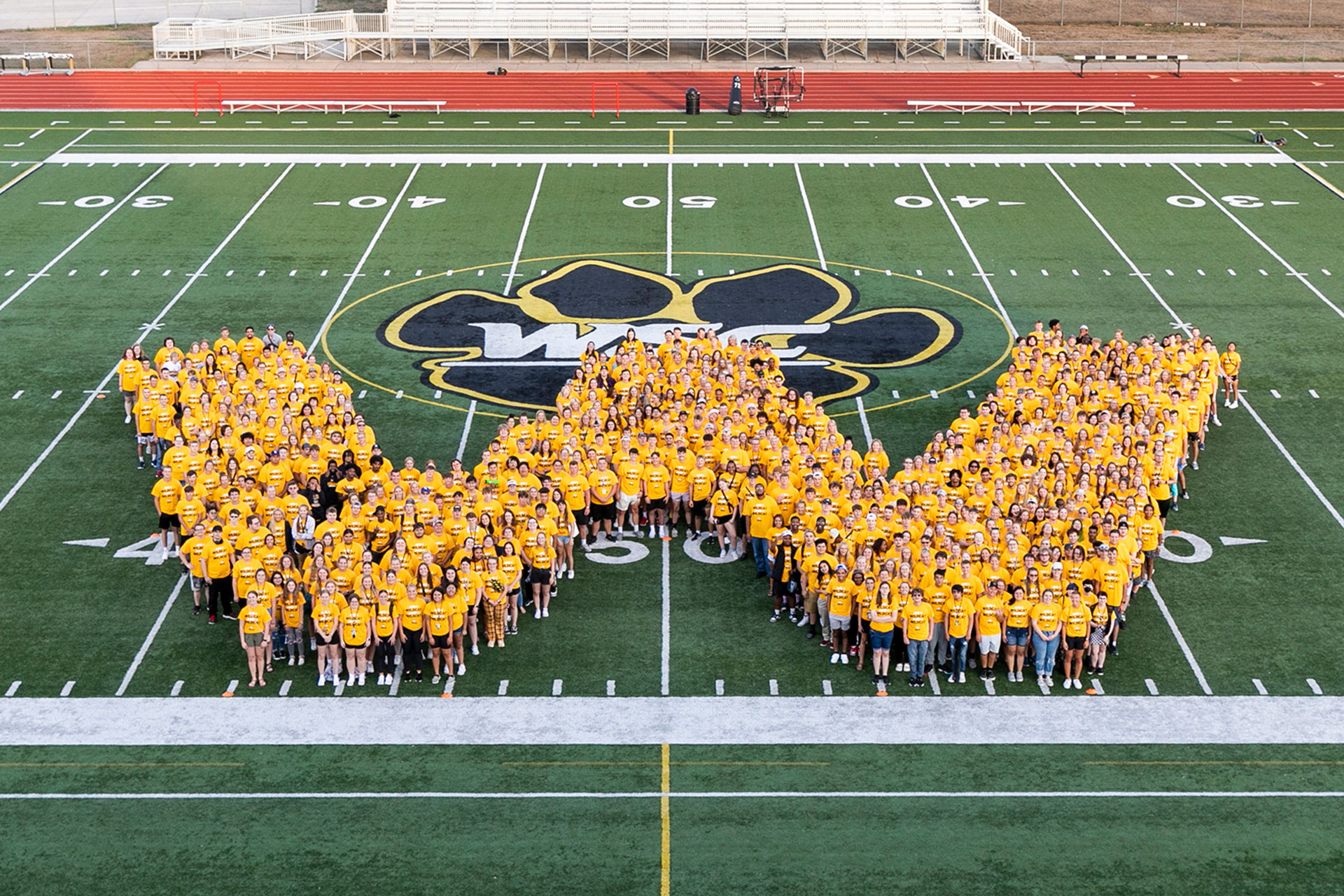 Wayne State has grown 26 percent since 2017 and has worked hard to ensure students have access to an affordable education in a premium learning environment.
Wayne State College enrollment has grown for the sixth straight year, with a 3.4 percent increase over fall 2021 and a 26 percent increase since 2017. The College's graduate programs enrollment continues to grow, with a 7.1 percent increase over last year and a nearly 60 percent increase in the past six years.
Wayne State's total headcount increased by 145 students over 2021, with a 3.6 percent increase in new transfer students. The Class of 2026 is one of the largest freshman classes in the College's history at 790 students.
In addition to maintaining consistent enrollment, Wayne State has kept its retention rate for students moving from their first to second year of studies at nearly 74 percent. The average retention rate for open enrollment public four-year institutions like Wayne State is 61 percent, according to the National Center for Education Statistics.
"We take great pride in the confidence students and their families place in the College for their education year after year," said Marysz Rames, Ed.D., president of Wayne State. "We know that to maintain our momentum and continue to serve the greatest number of students, we must keep a Wayne State degree affordable, accessible, and relevant to students and the workforce. As we move into year one of the new strategic plan that was launched in the spring, we have dedicated ourselves to continuing the work we have done each year to ensure our students have access to a high-quality education."
Wayne State College also works hard each year ensure students have access to an affordable education in a premium learning environment. During the past year, these efforts included freezing tuition and increasing financial aid benefits, renovating and expanding campus buildings, and securing partnerships and academic opportunities to provide excellent pathways to degrees.
Tuition Frozen, Tuition Guarantee Extended to Non-residents
For the second straight year, the Board of Trustees of the Nebraska State College System froze tuition at Chadron, Peru, and Wayne State College for the 2022-23 academic year. The tuition freeze applies to undergraduate and graduate; resident and non-resident students; and online rates. Wayne State also expanded its Tuition Guarantee Program to include new freshmen and transfer students from outside Nebraska. The program recognizes the need for a quality, affordable education pathway for out-of-state students.
WSC Athletics Announces $26.5M Expansion and Renovation Project
Wayne State College athletics plans to build a $26.5-million athletic and recreation facility renovation project, which includes the addition of an air-supported indoor structure and major renovations to the Recreation Center, Rice Auditorium, and the Kirk Gardner Indoor Athletic Complex.
This will be a three-phase project beginning with the new indoor facility. Construction on the project is set to begin in spring of 2023 with a tentative completion date set of fall 2025. The project is intended to raise the recruiting and competitive profile of WSC's NCAA Division II athletic programs.
WSC Completely Renovating Music and Theater Facility
Wayne State College began the renovation of the Peterson Fine Arts Building last fall. The project, which will be complete by spring 2023, includes new rehearsal spaces for the bands and choirs; improved acoustics in all practice rooms and teaching studios; upgrades to Ramsey Theatre to support larger acts and productions; better accessibility for performers and spectators with limited mobility; and ample student space for collaboration and conversation
Cooperative Education Expands into Grand Island, Breaks Ground for Norfolk
This fall, the Career Scholars cooperative education model is expanding into Grand Island, as a pilot cohort of freshman students will begin their journey toward living and working in Grand Island in fall 2026. Like Norfolk, students will spend their first three years of study on campus, and their senior year in the community working with a co-op employer partner.
Students in the program receive up to $24,000 in scholarships for housing and tuition, as they engage in campus, community and employer led activities. Grand Island leadership, employers, and Nebraska state legislators have been overwhelmingly supportive of the new initiative. Recently, the Nebraska Career Scholarship Act was passed into legislation, providing initial career scholarship funding to pilot a co-op program in Grand Island.
The College broke ground this past spring for the Norfolk Student Housing development for the Growing Together Career Scholars program in Norfolk. The housing units will support WSC's career scholars, who will live in downtown Norfolk their senior year as they perform two semesters of cooperative education with a partner employer. The first Norfolk cohort will begin working in their cooperative education positions in fall 2023.
Learn more about Career Scholars at www.wsc.edu/career-scholars.
WSC Strengthens Community College Partnerships
Wayne State signed new agreements with Northeast Community College and Central Community College that provide expanded educational opportunities for working adults and strengthen the region's industrial technology workforce.
The new degree partnership allows graduates who complete their associate of applied science degrees at NECC and CCC to transfer all of their completed academic credits to Wayne State to earn a bachelor's degree in technology. The agreement allows WSC to accept up to 80 credit hours for the 120-credit hour program.
Learn more about the AAS to B.S. program at https://www.wsc.edu/homepage/444/technology_degree_transfer_program.
Nursing Pathways Expanded
Wayne State and University of Nebraska Medical Center signed an affiliation agreement for an early admission pathway for WSC students who wish to pursue a Bachelor of Science in Nursing (BSN) at the UNMC College of Nursing Northern Division in Norfolk. The Early Admission Pathway agreement will make the path to a BSN seamless for students enrolled in the pre-nursing undergraduate program at WSC and provide guaranteed early admission for qualified students.
Students complete the first two years of the BSN at WSC and then finish their nursing degree at UNMC's Northern Division. The new BSN program includes joint advising, rigorous coursework, and co-curricular activities with UNMC faculty while at WSC.
In addition to longstanding partnerships with UNMC, Wayne State and Creighton University held a press conference Aug. 29 at City Hall in Grand Island to discuss the details of a new nursing career pathway partnership. This unique nursing pathway consists of three years at Wayne State, followed by a year with Creighton University in its affiliate program with CHI Health St. Francis in Grand Island.
This innovative dual-degree program guarantees admission to nursing school, serves increased demand, and helps meet Nebraska workforce needs. Benefits of the 3+1 Dual-Degree Pathway include guaranteed admission to Creighton University Accelerated Bachelor of Science in Nursing Program* (ABSN Program) at the Grand Island campus; nursing education in collaboration with CHI Health St. Francis; dual advising and co-curricular activities with Creighton and WSC faculty; and rigorous and targeted coursework.
Learn more about all of WSC's nursing pathways at www.wsc.edu/nursing-programs.
"As higher education wrestles with decreasing enrollment and escalating costs across the nation, we take comfort in our continued ability to serve students from Nebraska and neighboring states," President Rames said. "Our affordable pathways combined with a campus committed to the success of our students helps ensure the vitality of our workforce and meet the needs of hard-working families."