Published Wednesday, March 11th, 2020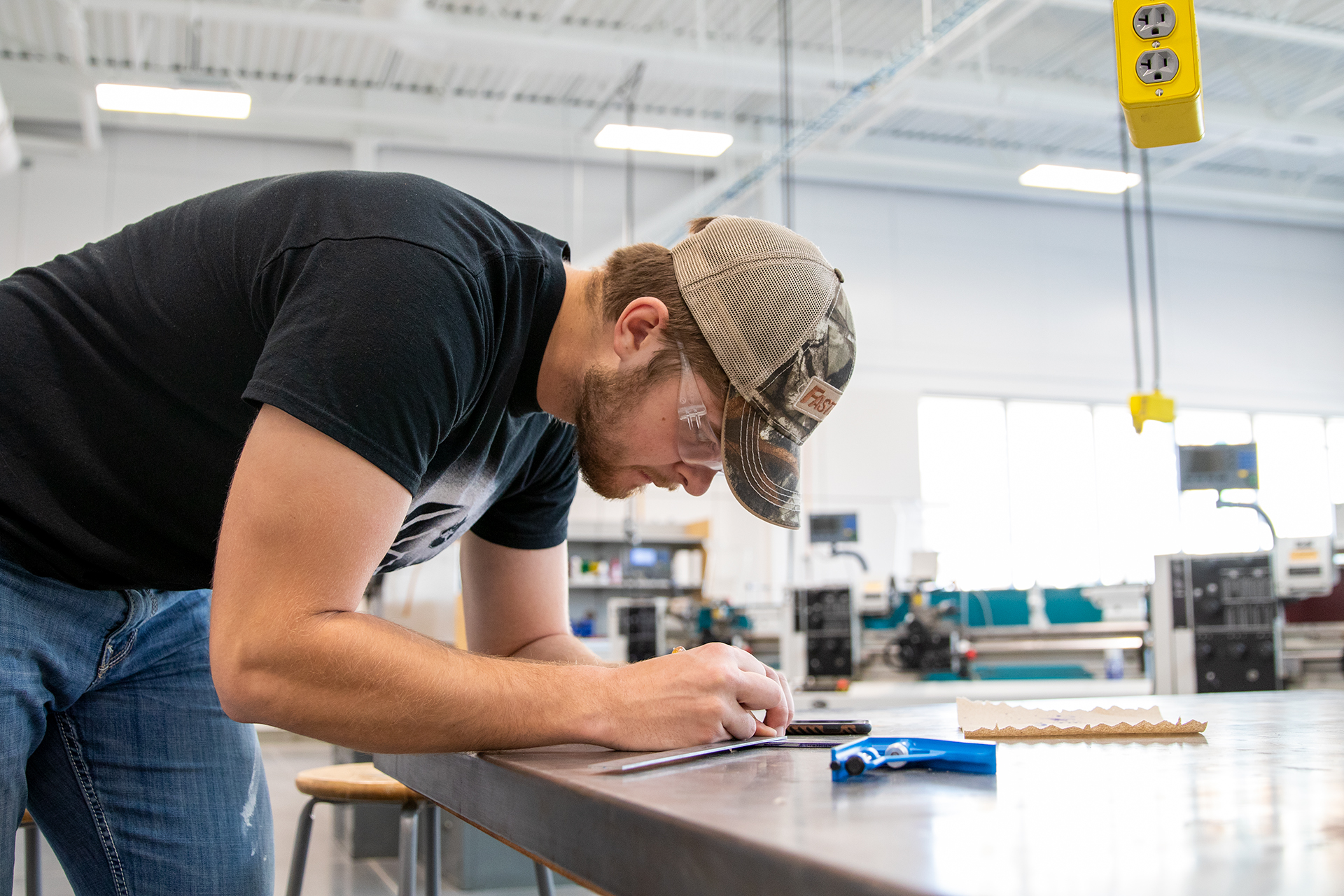 Students share why they are in the industrial technology degree program at Wayne State College.
By Joel Johnson, College Relations intern
Brad Galles
As new companies start each year and businesses expand their operations, they will need leaders with industrial technology degrees. Wayne State students learn what it takes to manage new construction projects or ensure workplace safety with concentrations in the industrial technology degree program.
WSC provides opportunities, hands-on experience, and the latest equipment in the industrial technology degree. The industrial technology degree program recently received a solid boost from the completion of the Center of Applied Technology, a $15.8-million center that prepares students for careers in industrial technology education, manufacturing, construction and safety management, drafting, engineering, and computer sciences. The center features new tech-savvy classrooms and state-of-the-art instructional labs for drafting and design, manufacturing, welding, power and energy, construction and woodworking, robotics, computing and networking, and mechatronics (technology combining electronics and mechanical engineering). These labs provide real hands-on learning experience with equipment and technology that directly transfer to jobs in the industry.
"Professors do a really good job of going through computer-aided design (CAD)," said senior Holden Scott from Adams, Neb., in the industrial technology degree's construction management concentration. "We got pretty in-depth with that and learned how to use the drawings from top to bottom. We draw a whole house and all the details and everything like that."
Wayne State industrial technology degree professors educate current students on the basics of construction by going to the actual construction sites or classroom, using the tools first-hand. The importance of safety also plays a role.
"They hammer safely using the tools being used around construction sites," Scott said. "The management section of the program is equally important. When we got further into the program, we focused on managing projects. Whether that be estimating, or knowing how to read drawings and looking at drawings."
WSC also provides leadership opportunities in the classroom for students pursuing an industrial technology degree.
"We had a class where we had to manage a project that involved working with laborers, learning how to lead them in the right direction and lead them well," explained Scott. "That is one thing I have taken from our program is to look at a situation and break it down and go from there."
High demands associated with business growth and the expansion of technology translate to growth in demand for safety managers in private, industry, and government sectors.
Brad Galles, a junior from Dodge Center, Minn., cited the need for safety managers as part of the reason he chose his major. Galles is in the industrial technology degree's safety management concentration.
Antoni Adame
"You can work for the state, manufacturers, or pretty much anywhere," he said. "People told me that the job outlook is really high in the next couple years, so I made it my major."
The industrial technology degree professors take the time to teach you how to make a workplace free from health, chemical and physical hazards, said Galles, and they "teach you about how to teach people about work safety."
WSC also gives you the opportunity to be taught by an instructor who is actually a safety manager for a company.
"He has actually been out in the workforce doing that job and telling you what it is and what to expect," Galles said.
Industrial technology degree students also get the chance to do internships, go on site visits, and join organizations. The American Society of Safety Professionals (ASSP) is a chapter on campus. The chapter points students in the right direction to help them land a job after graduating from WSC.
"Networking with ASSP gives you the chance to talk to actual safety professionals on what they do," explained Antoni Adame, a senior from Crete, Neb., in the industrial technology degree's construction management concentration.