Published Friday, April 27th, 2018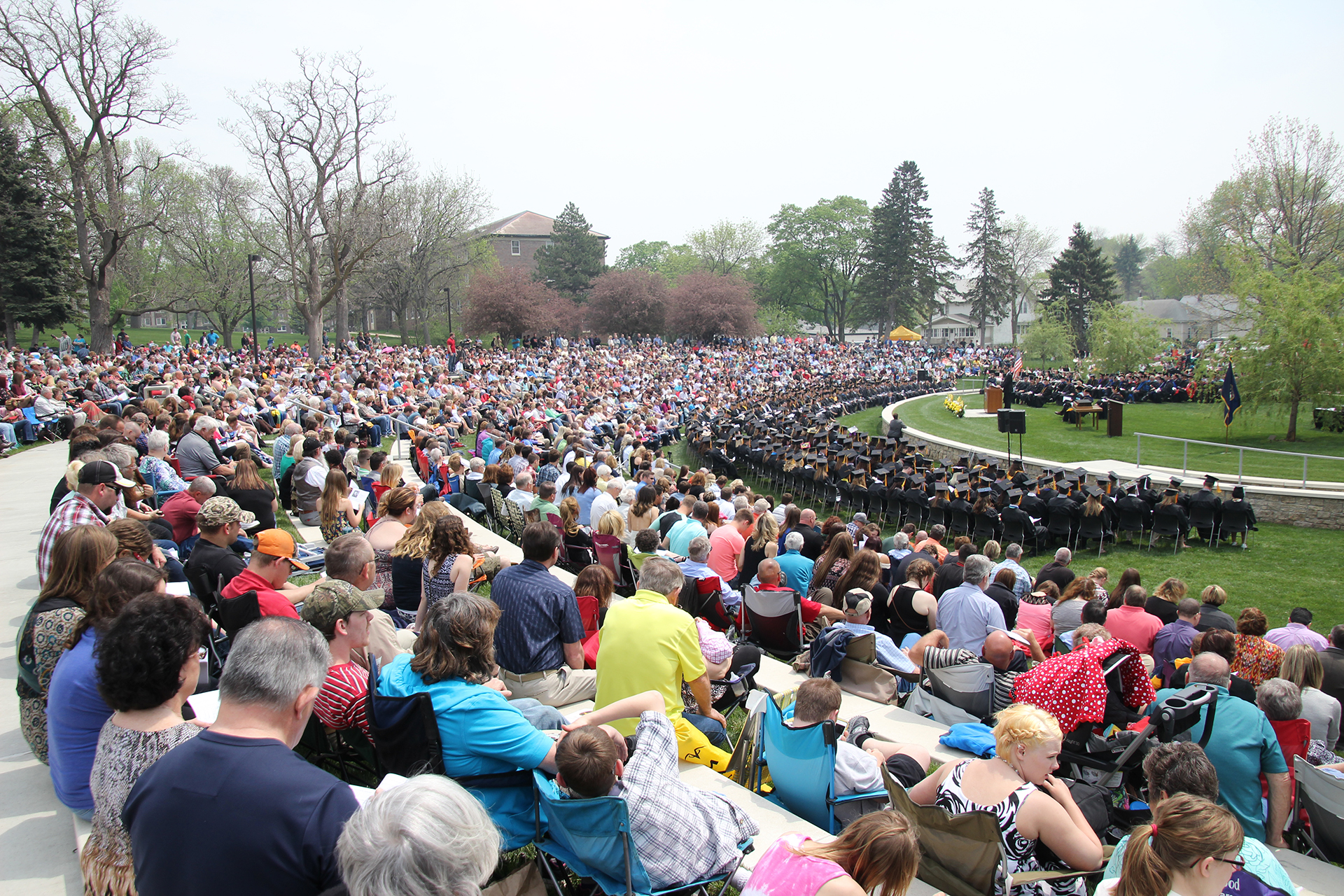 Wayne State College will award 150 master's degrees and close to 400 bachelor's degrees at commencement ceremonies May 5.
Wayne State College will hold commencement for graduate and undergraduate students on Saturday, May 5. The graduate ceremony will be at 9:30 a.m. in Ramsey Theatre, and the undergraduate ceremony will be at 1 p.m. in the Willow Bowl, Wayne State's historic outdoor amphitheater. President Marysz Rames will lead both ceremonies.
The graduate ceremony at 9:30 a.m. in Ramsey Theatre will confer degrees on 150 students, awarding master's degrees in education, business administration, organizational management, curriculum and instruction-instructional leadership, and educational specialist degrees.
The undergraduate ceremony will feature multiple awards honoring excellence among the college's faculty, alumni, and students. There are nearly 400 students graduating with bachelor's degrees.
Graduate Invocation: Taralyn Brown
Taralyn Denise Brown of Omaha will deliver the graduate invocation. She is graduating with a master's degree in school counseling.
Brown, a counselor at Franklin Elementary in Omaha, has been named an Omaha Education Association (OEA) Who's Who Teacher of the Year, and has served as an elected OEA board member, and OEA delegate and representative. She also received a teaching award from the Concerned and Caring Educators Foundation in Omaha.
Brown is an active volunteer at Northstar, an afterschool program for elementary and high school boys, and assists in coaching boys basketball and girls volleyball.
She is married to Robert T. Brown. She said she plans to use her newly acquired skills and second master's degree to be a professional elementary school counselor and proudly represent Wayne State College.
Graduate Speakers: Samantha Ludacka and Jon Pickinpaugh
Samantha Brooke Ludacka of Omaha will deliver one of two graduate student addresses. She is graduating with a master's degree in school counseling.
Ludacka worked at R.M. Marrs Middle School in Omaha in special education as an alternate curriculum program teacher for nine years. She left work in 2016 after the birth of her second child in order to stay home with her kids and complete her master's degree. She has been married for nine years to Jake Ludacka. They have two children, Hayden and Jude.
Ludacka plans to return to work in the public schools as a school counselor at Omaha South High School in August.
Jon Timothy Pickinpaugh will also deliver one of two graduate student addresses. He is graduating with a master's degree in school administration, which is his second degree from Wayne State. He earned a bachelor's degree in business administration in 2005 and an endorsement in elementary education in 2010.
Pickinpaugh works as an eighth-grade science teacher, seventh- and eighth-grade wrestling coach, and seventh-grade football coach at South Sioux City Middle School. He earned the distinguished Milken Educator Award this past year, which is the premiere national teacher recognition and award program. He also received the Golden Apple Award from South Sioux City schools in 2015.
His mother, Jill Pickinpaugh, a longtime Wayne educator, and both of his sisters, Stephanie Pickinpaugh and Leah Gomez, are Wayne State graduates.
Pickinpaugh said he plans to change the world of education after graduation.
Undergraduate Ceremony Invocation: Derek Lahm
Derek Wayne Lahm of Columbus, will deliver the invocation at the undergraduate ceremony. He majored in chemistry/health sciences.
Lahm was a standout member of the Wayne State Track and Field team, earning Academic All-American status twice. He also served on the Student-Athlete Advisory Committee as vice president. He was a Neihardt Scholar at the college, which offers special classes, colloquia, and advisement in addition to a four-year scholarship. Lahm also was a member of Phi Kappa Phi Honor Society and the Catholic Newman Center.
Lahm plans to study medicine at the University of Nebraska Medical Center in the fall.
Lahm's father, Merlin, graduated from Wayne State in 1981. Merlin majored in math education and was a member of the track and field team.
Baccalaureate Address: Diane Wolfe
Diane Wolfe 'MSE '99 will deliver the commencement address. She earned her master's degree from Wayne State in curriculum and instruction in 1999. A former special education classroom teacher, Wolfe has worked for the past several years as director of special projects for Educational Service Unit 2 in Fremont. Wolfe's dedication to delivering quality and expanded opportunities to schools has led her to write and manage several state, regional, and federal grant programs through the years. Her most recent federal project is a partnership with Wayne State to support classroom teachers as they integrate the arts into the teaching of history, science, math, and language arts.
When asked what she does for a living, she responds: "I match needs with opportunities in an effort to make learning interesting and joyful."
Wolfe has been married to her husband, LeRoy, for 32 years. They are the parents of two adult children and a spoiled golden retriever, Maggie Mae. She is grandmother to Brooklynn and Chase and said she believes that being a grandma is the best job she's ever held.
Alumni Achievement Award: Lukas Rix
Lukas Rix, a 2010 graduate of Wayne State College, will receive the Alumni Achievement Award from the Wayne State Foundation. Rix grew up in Lyons, a small community in Northeast Nebraska.
From an early age, Rix said he has enjoyed the philosophies of doing business in rural communities. He earned a degree in business administration with an emphasis in marketing and management. Rix worked as the customer research manager for Sand Creek Post & Beam in Wayne upon graduation in 2010 until 2014.
Rix and his husband, Mark Kanitz, own and operate four store fronts in downtown Wayne: Rustic Treasures, 1912 Emporium, Thrift Warehouse, and The Coffee Shoppe. An aggressive vision to make downtown Wayne a regional tourist hot spot for retail is what keeps Rix hungry for more growth in their company. He served on the Wayne Area Economic Development (WAED) board for six years, including four years as secretary to the board. Rix and Kanitz have served as trustees of the Wayne State Foundation since 2017.
As an advocate for rural communities to evolve in a positive way, Rix was selected by The Sherwood Foundation in 2014 to receive a community catalyst grant to further his knowledge and vision for Wayne. He continues to enjoy challenging rural citizens and business owners to tell their stories about the importance of rural communities.
Honored Retiring Faculty
Dr. Barbara Black, Professor of Education
Dr. Barb Black began her career at Wayne State as a graduate student for the English department in 1984, teaching English composition and speech. After earning her M.A.E. at WSC, she continued teaching composition as an adjunct instructor. Black was hired as an assistant professor in Wayne State's School of Education and Counseling in 1994 after completing her doctorate of education in curriculum and instruction at the University of South Dakota.
"I laugh when I consider that I actually typed my undergraduate and graduate papers on an electric typewriter," Black said. "It has been fascinating to experience the changes in technology that have taken place. No more card catalogs in the library! No more blue books for handwritten tests. I never thought I would enjoy teaching on-line courses, but I do!"
Black has served as Chair of Curriculum and Instruction, Director of Continuing Education, Director of Teacher Certification, and as an Interim Dean for the School of Education and Counseling at Wayne State College. She has served on numerous committees within the School of Education and Counseling and across the Wayne State campus. She and her husband, Jim, are trustees for the Wayne State Foundation and Barb served on the Executive Committee of the Foundation.
"I have enjoyed working with undergraduate and graduate students, as well as colleagues, faculty, and staff across campus," Black said. "I appreciate the opportunities Wayne State College has provided me, as both a graduate student and member of the faculty."
Looking back on her time at Wayne State, Black noted the support that she and fellow faculty members provided for future teachers.
"I would like to mention the Teachers World Scholarship that was started when Dr. Paul Theobald was the Dean of the School of Education and Counseling," Black said. "This scholarship was started with money left over from a summer camp for future teachers and donations from faculty. Today, this scholarship continues to grow and provides financial assistance to future teachers.
Black also pointed to a trip to Greece with faculty, led by Dr. Tony Koysis, former Dean of the School of Education and Counseling, whose efforts she credited with leading to future international travel experiences in Greece for WSC students. She also recalled working with Jerry Meyer, a former teacher, graduate student, and soldier. Wayne State students and faculty purchased and gathered paper, pens, pencils, books, and materials to send to children and teachers in Afghanistan and Iraq.
Ms. J. Marlene Mueller, Professor of Art
Marlene Mueller began her career at Wayne State College in 1975. She earned her master of fine arts degree in painting with a supporting area in drawing from Miami University in Oxford, Ohio, in 1974, her master of arts degree in painting with a supporting area in ceramics from Miami University in 1972, and her bachelor's degree in studio art and education at Limestone College in Gaffney, S. Car., in 1970.
"Looking back, the way the computer has impacted teaching visual art is significant,'' Mueller said. "Instead of leafing through art books to find examples to show students, now with a Google search I can find multiple examples of an artist's work with one click of a button. Other major changes that affected our Art and Design program were the construction of the Studio Arts Building and achieving national accreditation.''
Mueller served as coordinator for new and returning student Special Abilities Art Scholarship competitions from 1987 to 2011; student showcase gallery coordinator, 2000-2017; 22 committees including Academic Policies, Faculty Senate, General Education, and Rank, Tenure and Promotion; and professional memberships in national art organizations.
Mueller's paintings and drawings grace numerous private and public permanent collections, most recently The Museum of Nebraska Art in Kearney. Her paintings and drawings have been shown in national, regional, and local art juried and solo exhibitions, which most recently included Mona Selects: Recently Acquired Work at the Museum of Nebraska Art in Kearney; 10th Norfolk Arts Center Juried Show; and the 2017 Nebraska Artist Biennial, Omaha. Her charcoal drawing, "Frenzy" was published with text by co-authors Wayne Enstice and Melody Peters in the college textbook, Drawing/Space, Form and Expression, 4th edition, published by Prentice-Hall/Pearson Education, 2012.
Mueller has served as a juror for local and regional art competitions and made numerous presentations at regional universities and artist residency programs, including the Bemis Center for Contemporary Art. She traveled to China with Wayne State's International Study Tour, and organized a workshop program for the Nebraska Art Teachers Association annual conference at Wayne State College in 2015.
"In terms of teaching, bringing a sense of wonder to students through visual art is one reason I have enjoyed being in the classroom for many years," Mueller said. "Showing students the beauty and power of painting and drawing and watching student growth from beginning to end of semester is a source of my inspiration. To that end, I am grateful to the college for supporting my endeavors as an artist to better model my artistic practice to students."