Published Monday, June 12th, 2023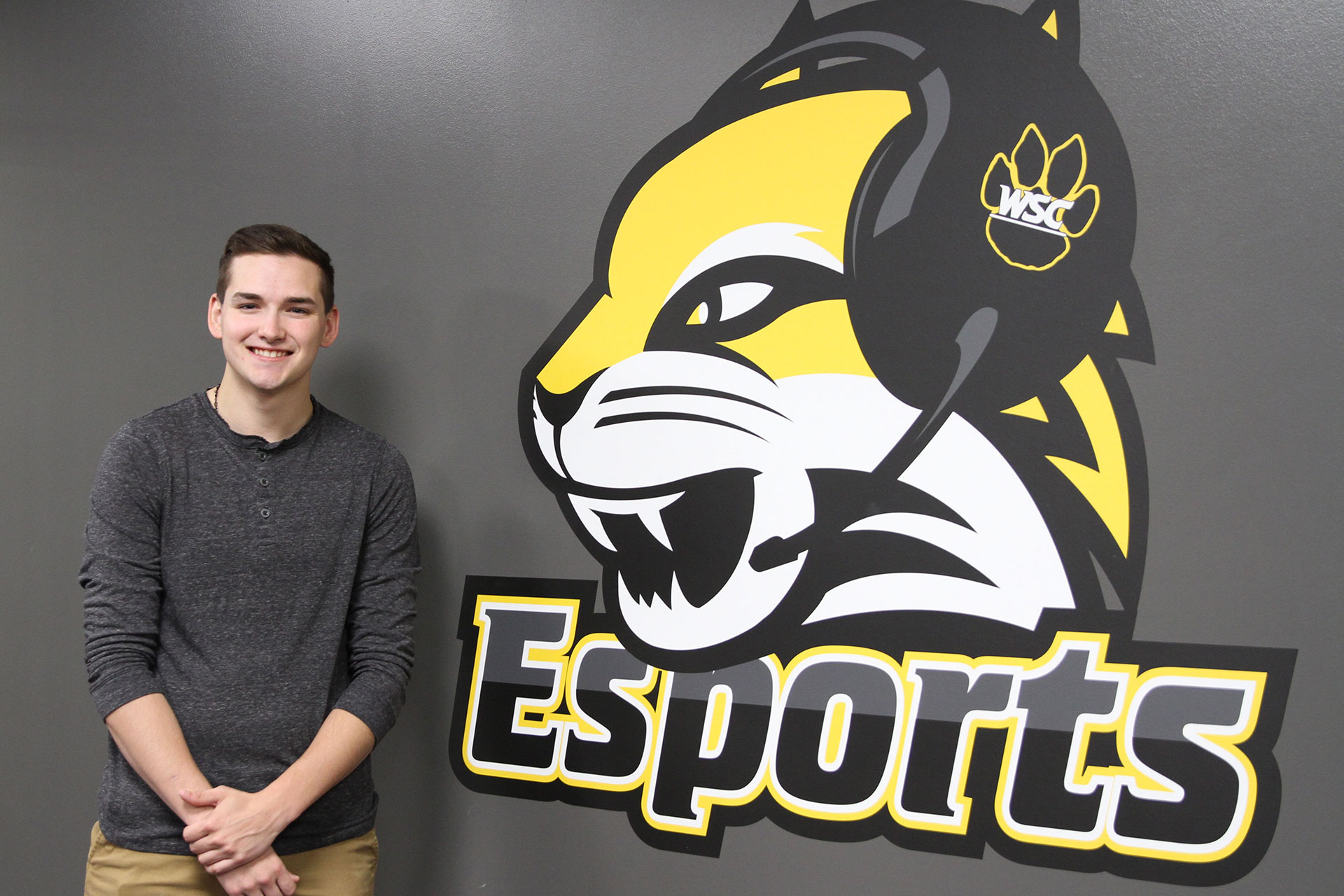 Wayne State's new Esports head coach commends the tradition of excellence that Wayne State has established in just a few years.
Wayne State College is proud to announce the hiring of Drew Kurtenbach as the college's new Esports head coach.
Wayne State competes in collegiate Esports through the National Esports Collegiate Conference (NECC). Esports is part of a robust collection of club sports and intramural activities that are strong components of the extracurricular experience at Wayne State.
Learn more about Esports at WSC.
Kurtenbach, a native of Omaha, comes to Wayne State from Chadron State College where he served as Esports coach last year. Kurtenbach graduated from Chadron State with a bachelor's degree in Business Administration. He served as president of Phi Beta Lambda and vice president of Eagle Esports (Chadron State's Esports Club).
As Chadron State's Esports coach, Kurtenbach's varsity Rocket League team went 9-3 last year during the regular season. The varsity Call of Duty team went undefeated until the division finals, and the Fortnite team had multiple duos qualify for national finals. Kurtenbach said his biggest accomplishment was growing the program as a whole by providing some small scholarships, establishing an Esports room for practice and competition, and giving students a chance to compete at the collegiate level.
"I'm extremely grateful to Wayne State College for the opportunity to lead its Esports program," said Kurtenbach. "Wayne State Esports has been in existence for just a few years, and it's already established itself as a top tier program with some of the most elite players in the region."
"Nick Sutton, the previous Wayne State Esports coach, was a mentor to me and he helped me turn my passion for Esports into my career," continued Kurtenbach. "Without him, I couldn't have accomplished my goals. I'm anxious build on the foundation he established, and solidify a tradition of excellence for Wayne State Esports."
John Schwarte, who oversees intramural sports, club sports, and Esports at Wayne State as campus recreation coordinator, said the college's Esports arena, The Den, has been a tremendous asset in recruiting Esports athletes to Wayne State. The arena features 12 high-end PCs and all the necessary accessories the team uses for practice and competition, along with flat-screen television displays for spectator viewing during competitions. Located on the lower level of the Kanter Student Center, this exclusive space is for Esports athletes only.
"I am excited to bring Drew onto campus to be our next head Esports coach," said Schwarte. "He is dedicated to the growth and success of our program, both in the competitive scene as well as academically."
About 75 students currently compete in Esports at Wayne State. Kurtenbach will lead Wayne State's Esports team in competition in games such as Call of Duty, Hearthstone, League of Legends, Overwatch, Rainbow Six Siege, Rocket League, Super Smash Bros (Ultimate), and Valorant in NECC events, and additional games offered competitively through other tournaments and leagues.
Intramurals and club sports are a strong part of the Wayne State experience. About 750 students participated in intramural programs in 2022-23, and 340 students competed in club sports.
"Since 2018, our intramural program participation is up 70 percent," said Schwarte. "Each year, we reach more students and engage them in programming that provides a unique experience outside of traditional sporting events. From card games to yard games, we included new activities to gather more than just your typical group of college students who love the traditional sports such as sand volleyball, basketball, and football."
Wayne State club sports include Esports as well as baseball, men's and women's bowling, men's and women's wrestling, men's and women's rugby, men's and women's volleyball, coed ultimate frisbee, coed disc golf, coed shotgun sports, coed fishing, and men's soccer.
"Our club sports continue to grow year after year," said Schwarte. "Since the emergence of the club sports department in 2019, Wayne State has seen an increase of 190 students participating in any of our 14 club sports programs. The beautiful thing about club sports is that you do not need experience to try out. Everyone is welcome to play on the team."
Last year, men's wrestling earned the Academic School of the Year Award, with eight wrestlers named Academic All-Americans. Women's rugby boasted three All-Americans, and men's rugby had two while finishing second at nationals. Women's rugby has won 13 national championships – many of them coming in back-to-back seasons.
Learn more about club sports and recreation at Wayne State.
Students interested in Esports should contact Drew Kurtenbach at 402-375-7314 or [email protected].