Published Thursday, May 4th, 2023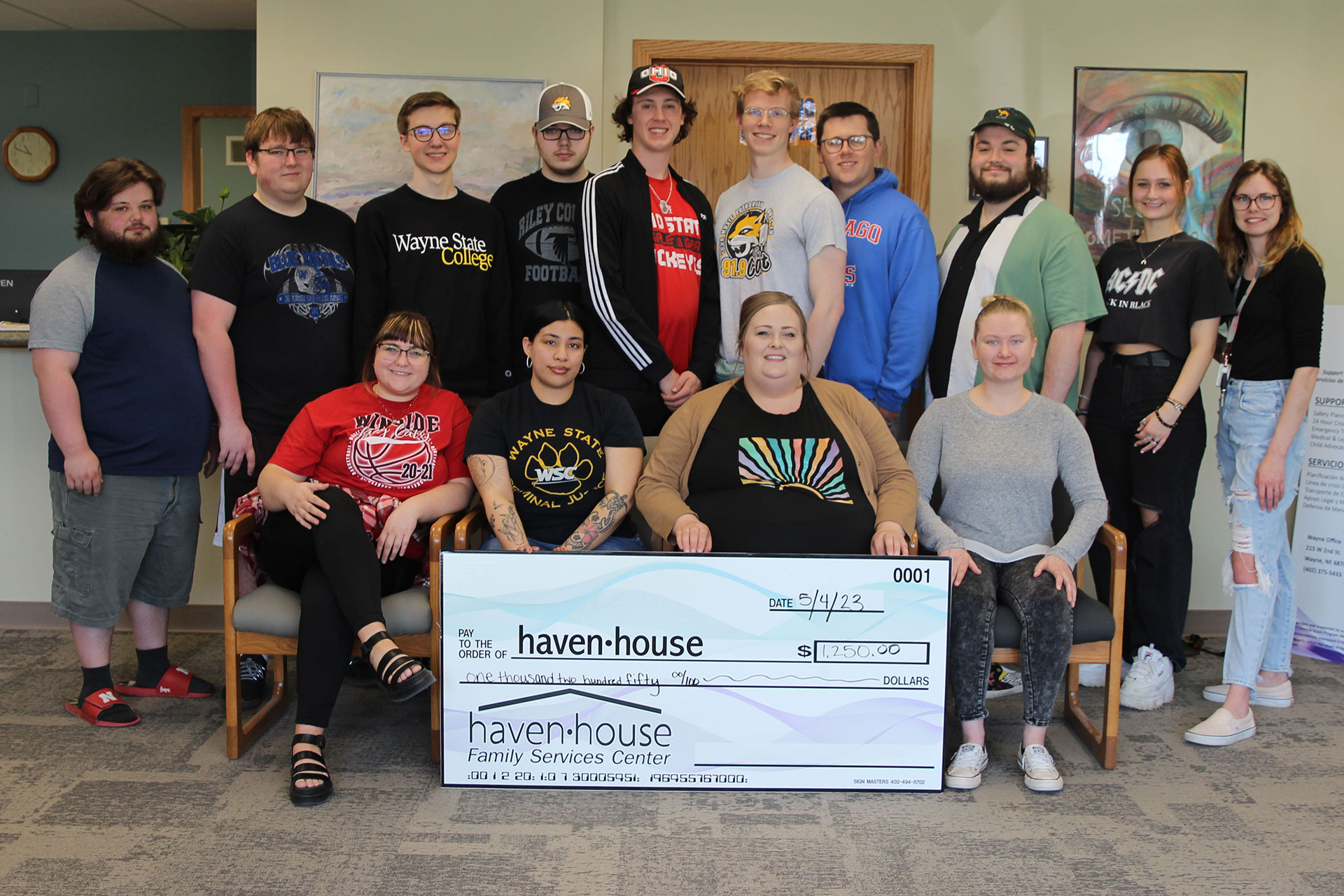 KWSC-FM students help the survivors of domestic violence with funds raised from a livestream broadcast.
A 24-hour livestream broadcast by students from Wayne State College's KWSC-FM radio station raised awareness for domestic violence survivors while raising $1,250 for Haven House in Wayne.
Nathan Reiland-Smith's senior Honors Program project used KWSC-FM staff to raise awareness for domestic violence survivors via the "KWSC 24-Hour Stream" on Twitch. Additionally, his "Nathan's Midnight Nighttime Nightmare Hours" program recently earned him a Golden Leaf Award from the Northern Plains Collegiate Media Association.
Reiland-Smith, a senior from Sioux Falls, S.D., said it was an honor to use his program as a vehicle to raise awareness for domestic violence survivors.
"The livestream broadcast was a huge success and I'm very pleased we were able to help Haven House in the process," said Reiland-Smith. "The department has raised funds for various causes in the past, and I hope they continue to do it in the future."
Dr. Sean X. Ahern, Assistant Professor of Communication Arts at Wayne State and advisor for KWSC-FM, commended his students for taking the initiative to help bring attention to domestic violence survivors.
"I'm extremely proud of these students for working together to bring awareness to this great cause," said Ahern. "This was an outstanding, collaborative effort by everyone involved."
In addition to being his senior Honors Program project, it was also a Service-Learning project for Reiland-Smith.
Each semester, hundreds of Wayne State students make a difference in the community by participating in Service-Learning projects, contributing nearly $250,000 each year to the region in community service.
"We're very grateful to these Wayne State broadcasting students for the impact they've had on Haven House," said Debbie Goettsch, executive director of Haven House. "Haven House will use the donations for only client related items. This could include birth certificates, ID's, food, application fees, employment items, gas, medication/prescriptions, school supplies, and many more expenses our clients face after fleeing violence. We are so grateful for support in our community because it takes our community to help our clients."
The Haven House Family Service Center was founded in 1978. The agency was the outcome of a seminar conducted jointly by the American Association of University Women and Wayne State College staff which determined a need for services for victims of domestic violence and their children.
In 1979, Haven House was incorporated as a non-profit agency. Haven House's main office is located in Wayne, with branch offices in Hartington, Pender, and South Sioux City.
Wayne State's electronic media workshops and modern broadcast facilities give students an abundant, firsthand experience in a wide range of multimedia content throughout their college careers. Wayne State's student-run media provide alternatives to community media. These long-standing, pioneering student media emphasize practical application through immediate and hands-on experience.
KWSC-FM is a fully equipped broadcast radio station, operating 24 hours a day during the school year. KWSC-FM is one of the oldest campus radio stations in Nebraska, serving the Wayne community since 1971.
For more information about Wayne State's Department of Communication Arts and the broadcasting program, visit the WSC Communication Arts and WSC Sports Media pages.