Published Tuesday, March 21st, 2023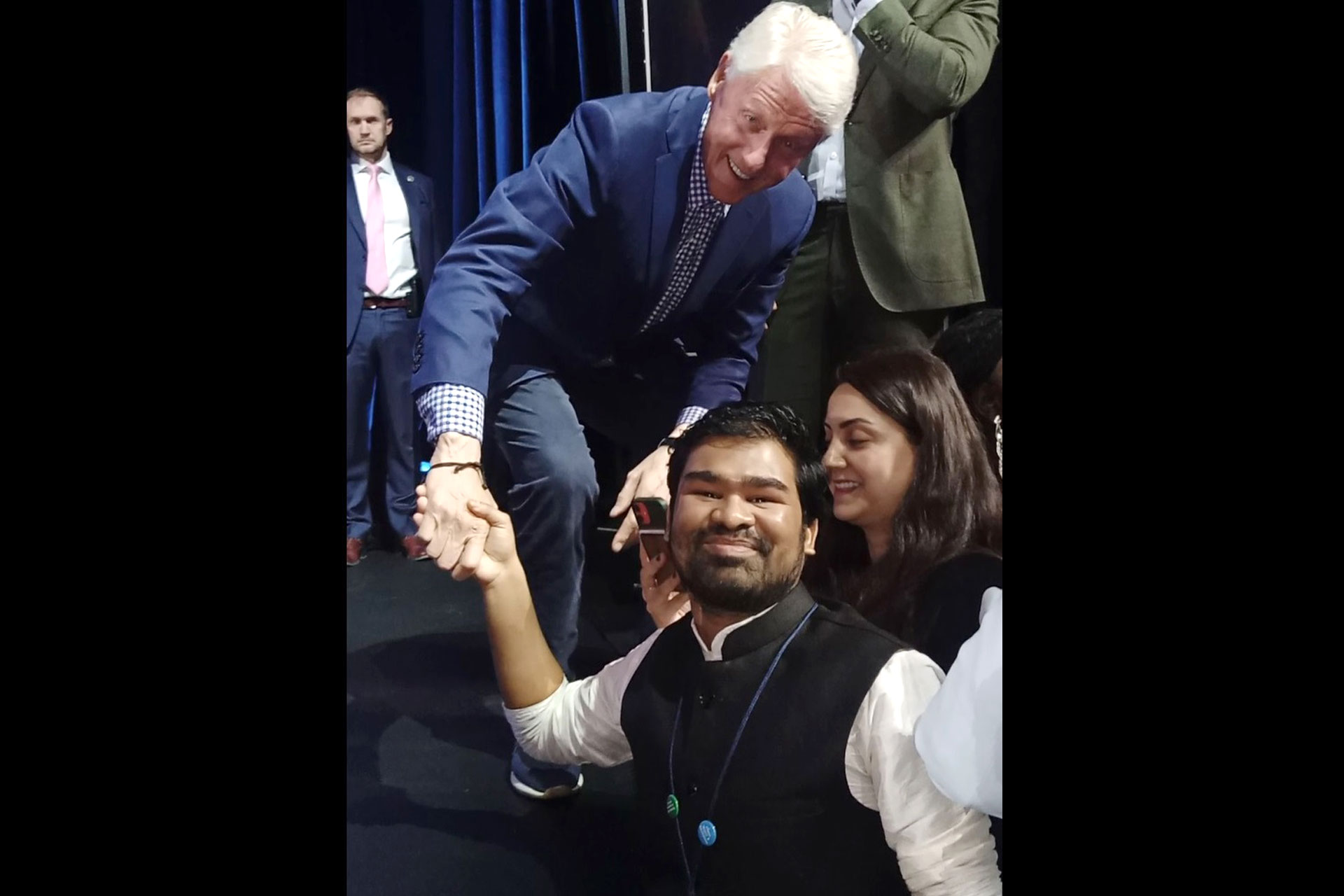 Through CGI U, international student Roshan Yadav and his three-person team are working to create social change in Southeast Asia.
Wayne State student Roshan Yadav came to the U.S. from India in 2022, intent on finishing his college degree at Wayne State College. Along the way, he found a pathway to realize his ambition to create social change through the Clinton Global Initiative University (CGI U). What began as an online application turned into a real-world meeting March 3-5 at Vanderbilt University as Yadav gathered with other selected rising leaders to kick off a year-long curriculum aimed at helping make his project a reality.
Originally from Nepal, Yadav came to Wayne State for the same reason as many of its students: affordability and excellent programs.
"Several things propelled me to attend WSC," Yadav said. "I came to Wayne State because of its affordable cost and reputable Computer Science program. I have friends who graduated from WSC, and I also met Dr. Barbara Engebretsen several years ago in Wisconsin."
Once he started his studies at WSC, he decided to apply for CGI U in the hope of gaining access to the resources needed to make a difference in his homeland.
"I applied online," Yadav said. "They evaluated my proposed project, and I was selected for the program."
Yadav was not a stranger to committing to big causes.
"In the ninth grade in my school in Nepal, I led a national campaign against climate change that involved the then President and Prime Minister of Nepal," Yadav said. "I had won an international Young Eco-Hero award from Action for Nature. I had also participated in a world affairs seminar three times in Wisconsin. It was there that I met Dr. Barbara Engebretsen, who was one of the speakers. Before coming to WSC, I had established an environment club at my previous university and did tree planting with the World Wildlife Fund in India."
The Clinton Global Initiative University platform was tailor-made for a student like Yadav.
According to CGI U, the program aims to inspire student and alumni leaders and global innovators to tackle pressing challenges in their communities. During the program, selected rising leaders participate in trainings, modules, and tailored events that help formulate their ideas and provide the necessary resources, feedback, and tools to transform their ideas into action.
"I had to form a team of three," Yadav said. "I am the leader of my team. One of my team members is a student at University of Nebraska-Omaha and the other is in India. My project, 'Revolutionizing Toilets: Stopping Open-Defecation in South Asia,' is about creating social change."
Students accepted into the CGI U program receive access to a range of resources: a 10-month, three-module curriculum focused on the development of early-stage social impact ideas into scalable projects; interactive training and personalized mentorship with successful social entrepreneurs; introductions to early-stage seed funding and accelerators; events that convene hundreds of student commitment-makers, alumni, university representatives, topic experts, and high-profile individuals and is hosted by former President Bill Clinton and Chelsea Clinton; and peer collaboration through the global exchange of ideas with diverse students from more than 80 countries, and across all types of higher education institutions.
Yadav said the conference in Nashville, Tenn., at Vanderbilt University was "inspiring, encouraging, and probably a life-changing experience."
"I am glad to have represented Wayne State College in the program," Yadav continued. "I learned leadership skills, networking skills, and fundraising ideas. I had the opportunity to meet with President Clinton, his daughter, Dr. Chelsea Clinton, and several other important dignitaries and young leaders from around the world."
Back in Wayne, Yadav shared that his Wayne State experience has been quite positive.
"I like the professors," he said. "They are extremely helpful. I also like my classes and the course materials. After graduation, I hope to work for a few years and then do my master's degree. I hope to return home after that but let's see what happens in the future. I will definitely be continuing my work on social change and leadership."
Students interested in the CGI U program can learn more about it, including the application process, at https://www.clintonfoundation.org/programs/leadership-public-service/clinton-global-initiative-university/.