Published Friday, November 11th, 2022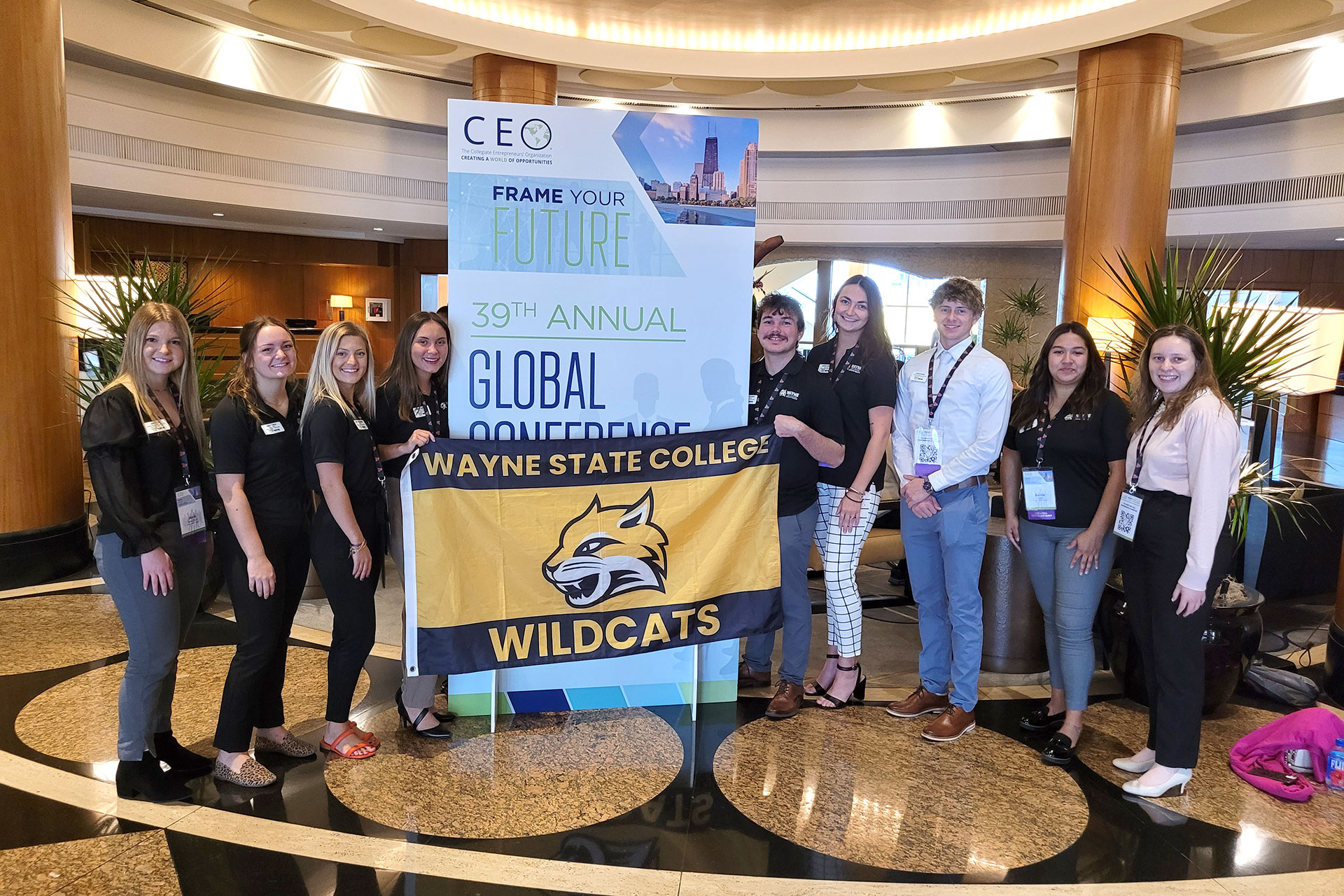 The Wayne State Collegiate Entrepreneurs' Organization chapter was recently recognized as one of the top five CEO Global Chapters of the Year at the annual CEO conference.
Wayne State College's Collegiate Entrepreneurs' Organization (CEO) chapter was awarded the "Best Cross Campus Innovation and Networking" second place award and was recognized as one of the top five CEO Global Chapters of the Year at the 39th Annual Collegiate Entrepreneurs' Organization (CEO) Conference held Oct. 28-30 in Chicago. The conference features outstanding entrepreneurs and business leaders who share their expertise to infuse entrepreneurship into the fabric of colleges and universities.
Nine WSC students (freshmen - juniors) traveled to the conference to represent the Wayne State CEO chapter. CEO supports more than 16,500 emerging collegiate entrepreneurs annually across the globe. Through their global network of more than 250 college and university chapters, the organization's mission is to support and inspire the growth and development of students that seek to be entrepreneurs.
Wayne State students who attended the conference included Aubrey Berg, a sophomore majoring in marketing and management from Bancroft, Neb.; Abbie Gardner, a junior accounting major from Chadron, Neb.; Caden S. Hansen, a freshman finance major from Bancroft; Ella Hostetler, a freshman majoring in management from Pleasant Dale, Neb., Aubree Howell, a junior marketing major from Omaha; Zoey Kreikemeier, a junior marketing major from West Point, Neb.; Jaegher Ogden, a junior management major from Atkinson, Neb.; Josie Zach, a freshman human resources major from Humphrey, Neb.; and Bailee Zavala, a sophomore majoring in marketing from Hickman, Neb.
Dr. Trish Kolterman, CEO faculty advisor, and Dr. Michael Keibler, Executive Director of Cooperative Education, attended the conference to engage in networking and walked away with best practices from other CEO chapters, presenters, and CEO leadership.
At the Chicago global conference, students networked with like-minded entrepreneurs, met and received mentorship from seasoned experts, and learned from watching global business competitions. On the WSC campus, the CEO chapter exposes Wayne State students to a viable path of "learning by doing" and encourages opportunities and pathways to become an entrepreneur.
"The CEO chapter has doubled its enrollment in the past year and created a real sense of belonging with students in the Growing Together Career Scholars program," Keibler said. "It is truly creating a more meaningful college experience for our students."
Several of the WSC students who attended the conference shared their thoughts on the CEO chapter's success:
"The Collegiate Entrepreneurs' Organization (CEO) has provided my peers and me with endless opportunities. We have each grown in areas that are crucial for our future. CEO has been eye-opening because of the opportunities it has given me. I truly feel like I have accomplished and learned so much," said Aubrey Berg.
"Winning these awards brought a lot of morale to our group. It was encouraging as a new chapter to already be recognized for our achievements. It makes the Wayne State CEO Chapter more determined to win first place next year!" said Abbie Gardner.
"I am honored to be a part of such an amazing program here at Wayne State College. It was truly an incredible experience to attend the CEO Global Conference in Chicago and I am already looking forward to next year's event. I feel like we really bonded as a team and gathered a lot of valuable information that we can bring back to campus to improve our CEO chapter," said Caden S. Hansen.
"By joining CEO, I have been able to connect with upperclassmen who have the same passion for entrepreneurship as me. I am so grateful that I had the opportunity to attend the CEO Global Conference in Chicago. This conference gave me some of the tools I need to someday start my own business. The connections, the people, and the place made this one of the best trips!" said Ella Hostetler.
"CEO has impacted me a lot. I wouldn't have been able to network with other students and businesses from all over the country if it wasn't for this opportunity. I've made so many new friendships because of this program and have got to travel with them which is just an astonishing opportunity to have as a young professional," said Aubree Howell.
"CEO has impacted me significantly! I personally have a new look at becoming an entrepreneur. I am ecstatic to see the team receive 2nd in Cross Campus Innovation Award and make it to the Top 5 Global Chapters of the Year. We all worked hard to receive this award. We're excited about all of the new partnerships and can't wait for next year!" said Zoey Kreikemeier.
"The CEO Conference was a great opportunity for our chapter. We learned many things not only for our future but to grow our chapter as a whole. Being awarded 2nd place for the Cross Campus Innovation Award and being in the top 5 for the Global Chapter of the Year Award out of 250 plus organizations across the nation and other countries really shows that our hard work has paid off. We put Wayne on the map, and I am excited to see the progression of our chapter in years to come," said Jaegher Ogden.
"When I decided to join CEO this year, I wasn't entirely sure what I was getting myself into, but once I learned, I was so glad I became a member. Attending the Global Conference in Chicago was very beneficial to me in many ways. I became closer to the other members and made some lifelong friends while there. My mind was also opened to a new idea that I have been wanting to explore for a while now … starting my own business. Getting to listen to the young entrepreneurs speak about how they had started their own businesses when they were my age, or even younger, really inspired me. On the trip, I made some memories that will last me a lifetime, while also exploring ideas with likeminded people. I am excited to see where CEO will take me in the next three years," said Josie Zach.