Published Thursday, April 29th, 2021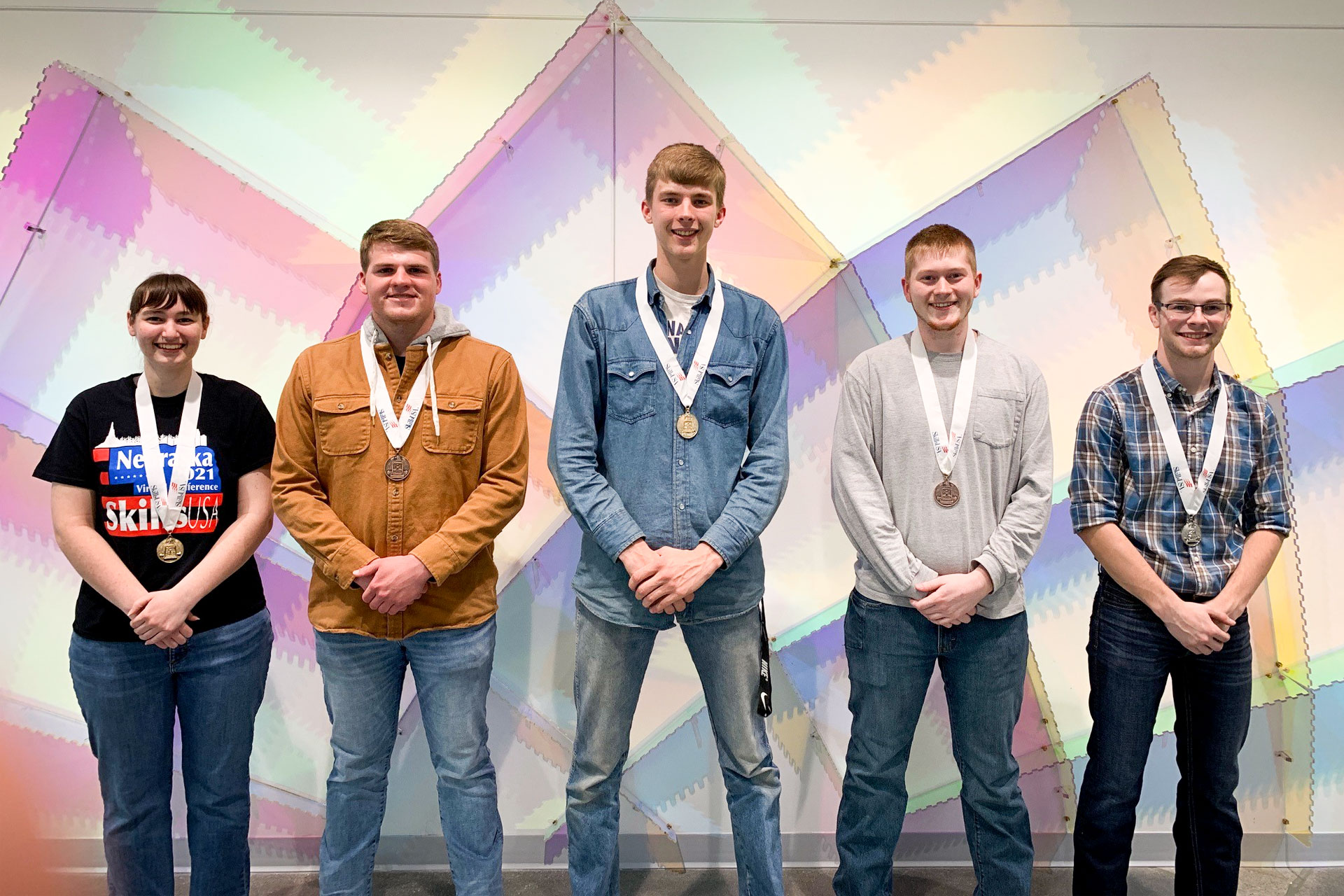 Wayne State College students Krystin Aschoff, Chris Todd, Ryan Zoucha, Tyler Sitzmann, and Landin Pribnow earned awards at the recent Nebraska SkillsUSA Leadership Conference.
Wayne State College students Krystin Aschoff of Hastings, Neb.; and Chris Todd of Holstein, Iowa qualified for nationals while Ryan Zoucha, Malcolm, Neb.; Tyler Sitzmann, Kingsley, Iowa; and Landin Pribnow, Albion, Neb. also earned awards at Nebraska SkillsUSA State Leadership Conference (SLC), held April 8 to 16. The state competition is usually held at the state fairgrounds in Grand Island, Neb. Due to COVID, the competitions were held virtually this year. All competitions were hosted on the Wayne campus via Zoom, pictures, drop boxes, and proctors.
"We do attend this competition every year. Last year was cancelled and this year was virtual due to the pandemic. We are looking forward to attending the competitions in person next year in Grand Island,'' said Aschoff. "We learn a lot about the skills needed in the competitions we are enrolled in. We also learn how to practice good dispositions such as leadership, organization, responsibility, work ethic, and discipline. It also provides a great opportunity to learn about the different careers we are competing in."
Aschoff said many employers love to see what extracurricular activities students are involved in during school. Skills also provides an excellent opportunity to practice skills that will be used directly in the workplace. Many employers choose a student who was involved in Skills over a student who wasn't.
"There are many celebrity endorsements, including (American television show host) Mike Rowe, that tell us how SkillsUSA is so important,'' Aschoff said.
Awards included:
Architectural Drafting: Krystin Aschoff - Gold (national qualifier)
Cabinetmaking: Chris Todd - Gold (national qualifier)
Technical Drafting: Ryan Zoucha - Silver; Tyler Sitzmann - Bronze
Welding (Post-Secondary): Landin Pribnow - Bronze
Pribnow said the greatest challenge for him was finding the proper practice time. "Welding is a very useful skill, it can get you many jobs throughout the state and even country, and placing shows employers that you have skill within that trade,'' Pribnow said. "It is a great group of people in this program and I encourage anyone who likes to work with hands or has an interest with robotics, CAD (computer-aided design and drafting), nursing, and various other fields to join. I learned that even if though it is a competition you can still have fun while competing. It connected with my school work because I've always been in some kind of manufacturing class and it only furthers my abilities."
Aschoff said the knowledge needed for competitions comes directly from our classrooms. In class, students are able to learn a specific skill set whether it be drafting, cabinetmaking, or welding. As students, Aschoff said we also tend to be more engaged in class and ask extra questions. Aschoff said we want to learn more from our instructors, so we can do well in our competitions and the future.
"The greatest challenge was definitely COVID. Our meetings did not get started until later in the school year, so we were unable to do as many activities as we had hoped. The virtual competition was definitely a struggle. It was difficult to keep track of all the links and instructions on the computer. We also had to set up some of our judges and make sure we had all the necessary equipment," Aschoff said.
SkillsUSA is committed to all technical trade skills, to assist local members in their growth and development, to create enthusiasm and a sincere interest in and esteem for trade, industrial, technical, and health occupations. The SkillsUSA programs include local, regional, state, and national competitions. During the annual national-level SkillsUSA Championships, students compete in hands-on skill and leadership contests.
Students who are involved in SkillsUSA help fulfill the mission of the organization "to empower members to become world-class workers, leaders and responsible American citizens.''
The SkillsUSA organization helps students develop personal skills such as integrity, work ethic, professionalism, responsibility, adaptability, flexibility, self-motivation. Students involved also gain communication, decision making, teamwork, multicultural sensitivity and awareness, planning, organizing and management and leadership skills.
The organization helps students with technical skills grounded in academics such as computer and technology, literacy, job-specific skills, safety and health, service orientation and professional development.
Wayne State College, a leading, public four-year college in northeast Nebraska, is a proud member of the Nebraska State College System.