Published Wednesday, August 29th, 2018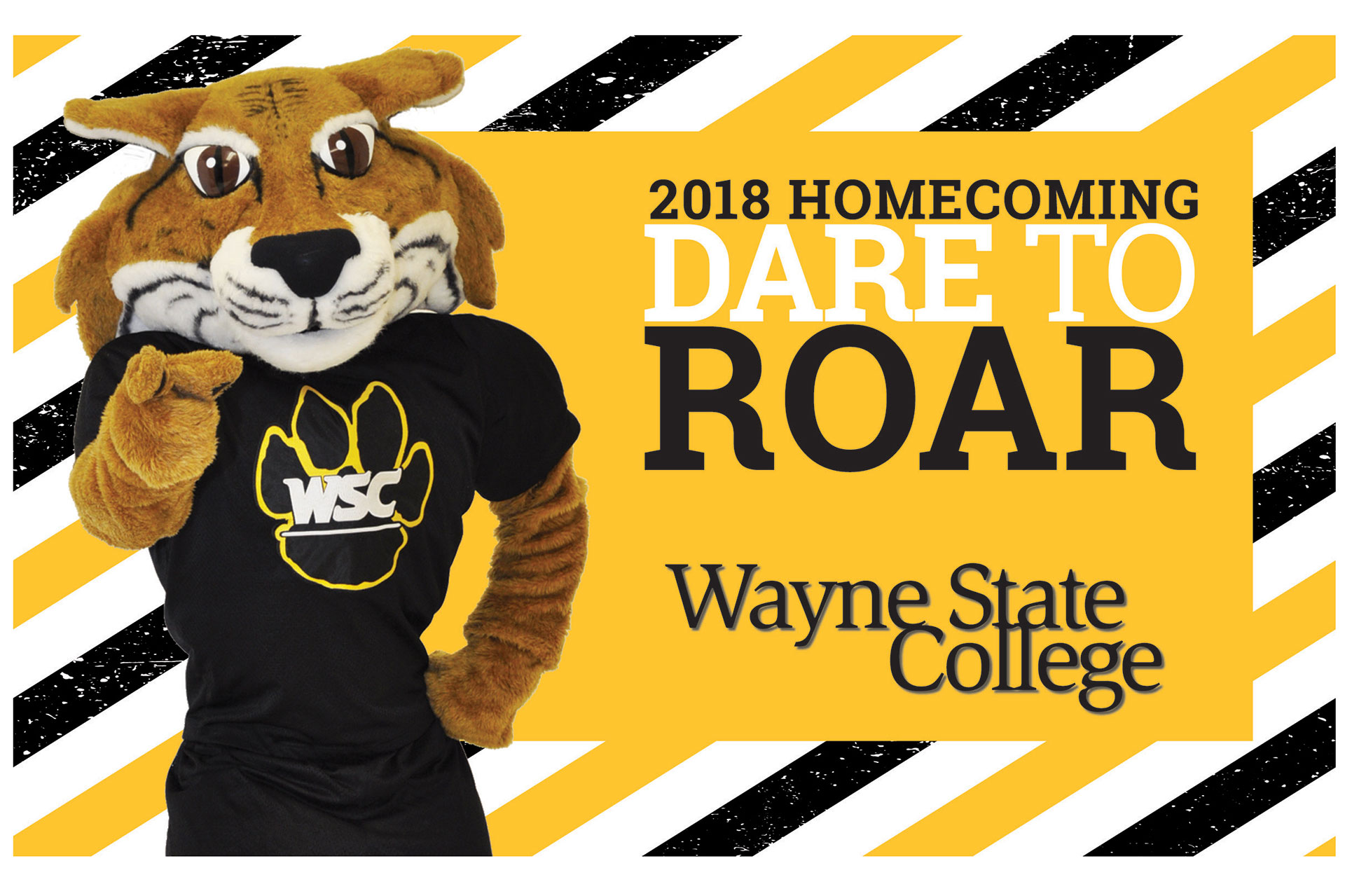 Including alumni banquets, reunions, athletic events, the Homecoming parade, and much more.
Homecoming 2018 festivities will be held on campus Sept. 24-30.
Wayne State College alumni will be recognized during two awards banquets. The Outstanding Alumni Awards Banquet will take place on Friday, Sept. 28, honoring an alumnus from each of the four schools at WSC. Recipients include Odell Santos '99, MSE '02, MSE '05, athletic director at South Sioux City High School in South Sioux City, Neb. (School of Arts and Humanities); Shawn D. Strong '96, MBA '97, president of the State Technical College of Missouri in Linn, Mo. (School of Business and Technology); Jay Bellar '83, executive director of the Nebraska Schools Activities Association (NSAA) in Lincoln, Neb., and former superintendent for Battle Creek Public Schools in Battle Creek, Neb. (School of Education and Counseling); and Miles D. Brey '85, retired from the United States Secret Service and a current member of the Lionheart International Services Group consulting team and a Secret Service law enforcement training instructor in New Windsor, Md. (School of Natural and Social Sciences).
The Homecoming and Hall of Fame Banquet will take place on Saturday, Sept. 29. Brenda Carhart '93, MBA '96 will be honored with the 2018 Alumni Service Award. Carhart resides in Norfolk, Neb., and is the vice president of Carhart Lumber Co. She is an officer on the Wayne State Foundation Executive Committee, and she and her husband, Scott, are Wayne State Foundation Trustees. Three athletes, one administrator, and one team will also be inducted into the Wayne State College Athletic Hall of Fame during the banquet. Inductees include Nicole Brungardt '12 of Omaha, Neb. (volleyball and track and field), Silas Fluellen '11 of South Sioux City, Neb. (football), the late Kaiti Williams '15 (softball-posthumously), Keith Goetz of Littleton, Colo. (administrator-trainer), and the 2011-12 Women's Basketball Team.
Several affinity reunions will be held during Homecoming, including a Carhart Math and Science Alumni Reunion from 3-5 p.m. Friday, a GOLD Club Tailgate at noon Saturday, and a Navigator Reunion from 3:30 to 6 p.m. Saturday. Honored classes this year include the Classes of '58, '68 and '78 for their 60-, 50-, and 40-year reunions.
An open house for the new Criminal Justice CSI Facility will take place from 3-5 p.m. Friday. An open house for Anderson Hall will be held from 10 a.m. to noon Saturday. The WSC Faculty Art Show will also take place from 3:30-5 p.m. at the Nordstrand Visual Arts Gallery in the Conn Library. Scholarship donors and recipients will be invited to a scholarship luncheon Thursday, Sept. 27.
The Wildcats will take on Bemidji State on Saturday during the annual Homecoming football game at 1 p.m. Women's soccer will play on Friday vs. St. Cloud State at 3 p.m. at the soccer field, and also on Sunday, Sept. 30, at 1 p.m. against the University of Minnesota-Duluth. A WSC cross country meet will begin at 9:30 a.m. Saturday, in which WSC alumni are welcome to compete.
The Homecoming parade and Band Day Saturday morning will begin at 9:30 a.m. Visitors can also enjoy WSC students displaying expressions of music, art, language, and literature during the annual Artswalk on Wednesday and Thursday. Planetarium shows will be featured Friday and Saturday.
Student events will feature a Community Spirit Fair on Monday, Sept. 24, inflatables, yard games, and sand volleyball on Tuesday, Sept. 25, the Nearly Naked Mile, a pep rally, and hypnotist Freddie Justice on Wednesday, Sept. 26, Mr. WSC with emcee Daniel Franzese on Thursday, and Homecoming coronation Friday, among other activities throughout the week.
For more information about Homecoming 2018, to see the detailed schedule of events, and to RSVP to attend, please visit www.wsc.edu/homecoming or contact the Alumni Office at 402-375-7370.