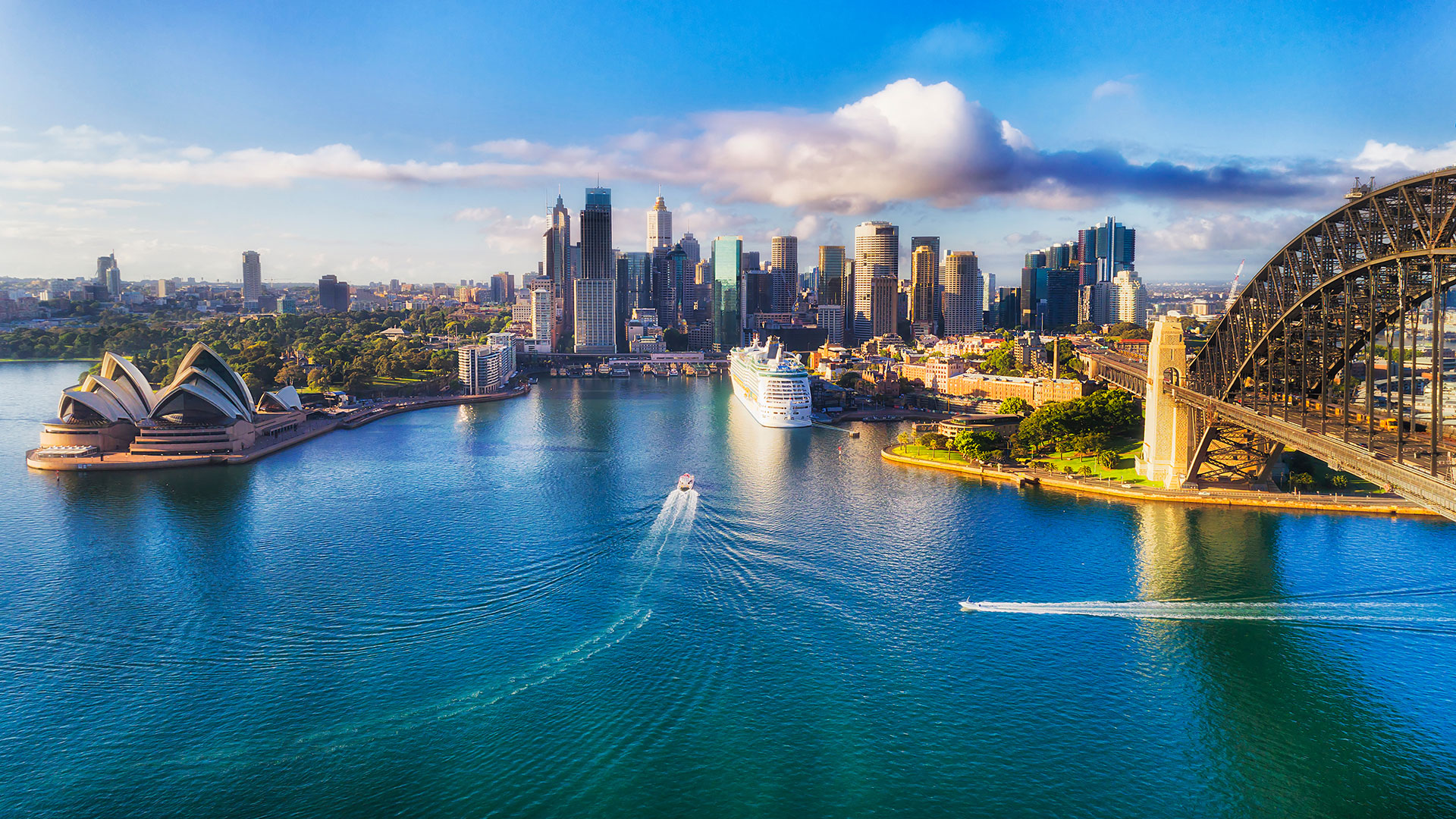 Travel abroad and see the world with Wayne State alumni and friends!
Each year, the Wayne State College Alumni Office arranges trips abroad for large groups of Wayne State alumni and friends to enjoy time together while also experiencing places outside of the United States.
Past trips have included Italy, France, Croatia, Prague and Budapest, and more. Trips are typically about two weeks of travel.
Group rates typically include hotel accommodations, meals, transportation (airfare is separate), attraction entrance fees, luggage handling, and some taxes and tips. Travel insurance is available separately. Participants must book their own airline reservations.
Please note: Trip dates, rates and cost details, and more vary from trip to trip. When a trip is announced, the Alumni Office will distribute a brochure including all trip details, including registration and cost information.
Next trip: Australia and New Zealand, March 18 - April 4, 2023
Next trip is tentatively planned for March 18 - April 4, 2023, to Australia and New Zealand. For additional details or a PDF brochure of the trip, contact the Alumni and Foundation Office at 402-375-7510.
New Zealand Itinerary

Day 1: Saturday, March 18, 2023 - Arrival
On arrival at Auckland airport, you will be met by your Auckland guide and driver and transferred to your accommodations. Known as the "City of Sails," Auckland extends over a narrow isthmus between the Waitemata Harbour on the Pacific Ocean, and the Manukau Harbour on the Tasman Sea. Auckland has spectacular natural features, including 49 dormant volcanoes. This cosmopolitan city has a population of around 1.4 million, and the city's subtropical climate, lush vegetation, and easy access to the coast and outdoor activities consistently earns it a place in the top five rankings in international lifestyle surveys. A melting pot of 190 different ethnicities, Auckland is the world's biggest Polynesian city. This diversity is reflected in the lively arts and culture scene, a wide range of food and craft markets, vineyards, a hip café culture, and outstanding restaurants. The dozens of islands of the Hauraki Gulf form a distinctive aspect of the Auckland landscape and provide a magnet for boaties, fishing enthusiasts, and hikers.

Accommodations: Stamford Plaza Hotel
One of the finest accommodations Auckland has to offer, this hotel is located in the heart of Auckland, just an eight minute walk from shopping on Queen Street. From the moment you enter one of the 286 rooms, you are surrounded by a sense of charm and sophistication. After a long day exploring Auckland's city life, wake up to a stunning view of the Auckland cityscape or the Waitemata Harbour. The hotel offers a superb choice of four restaurants.
Includes a superior room for two nights and two full breakfasts.
Day 2: Sunday, March 19, 2023 - Waiheke Island & Wine
This morning you will be met by your local guide and walked down to the ferry terminal.
Ferry Service (Auckland to Waiheke Island, and back) - by Fullers360 Experiences and Cruises

Board your ferry at the Downtown Auckland Ferry Terminal and enjoy the scenic 40-minute cruise to Waiheke Island through the beautiful Hauraki Gulf. This stunning island just off the Auckland coast boasts 92 square kilometres of beautiful beaches, vineyards, olive groves, native bush, and laid back seaside villages. Some sailings will travel via the Devonport Ferry Terminal.
Duration: 40 minutes each way (45 minutes for sailings via Devonport). Departs approx every 30 minutes (early morning and evening sailings may vary)
Waiheke Island Tour & Wine - by Ananada Tours
Arrive at Matiatia Wharh where you will be greeted by Ananda Tours and commence your privately guided tour of Waiheke Island. On the way, stunning scenery is around every corner, and you will be entertained by your guide's commentary on the history, geography, culture, people, and produce of Waiheke. Travel down the eastern end of Waiheke to Te Matuku for wine tasting at Passage Rock Wines. Their award-winning wines include Pinot Gris, Sauvignon Blanc, Viognier, Rosé, Merlot Cabernet, and a particularly delicious Syrah, which is considered the most awarded wine on Waiheke.

Visit Batch Vineyard, the highest vineyard on Waiheke Island with north facing sun-soaked hillsides of vines including terraces of traditional and elegant Alsace-style vines close to the winery. There are spectacular 360 degree views over the island and beyond to the gulf islands. Taste a range of their wine, including Cabernet Sauvignon, Pinot Gris, and Flora, plus Batch Winery's sparkling wine Blanc de Blancs.
Wine tasting at Goldie Winery. The winery is the home of Waiheke's pioneering vineyard originally established by Kim & Jeanette Goldwater in 1978. Using traditional winemaking techniques together with modern technology and fine French oak, Goldie Wines produces individually hand-crafted wines with vibrant fruit characters, harmonious balance, elegant structure, and exceptional concentration. Here you will taste a selection of their range, including Chardonnay, Syrah, and Merlot Blend.

Day 3: Monday, March 20, 2023 - Waitomo Caves
Travel by coach to Rotorua via Waitomo Caves.
Waitomo Glowworm Caves and Homestead Premium Steak Buffet - by Waitomo Glow Worm Caves

The Waitomo glowworm, Arachnocampa luminosa, is unique to New Zealand. Thousands of these tiny creatures radiate their unmistakable luminescent light as our expert guides provide informative commentary on the Caves' historical and geological significance. Over the 45-minute guided tour, take in the spectacular Glowworm Cave with its majestic and ornate cave decorations, the deep limestone shaft known as the Tomo, and the equally magnificent Cathedral cavern where New Zealand's own opera diva, Kiri Te Kanawa, once performed. The guide will deliver an informative and entertaining commentary, sharing stories, cultural legends, and the natural wonders of this living masterpiece. Conclude the visit with a brief, yet remarkable boat trip through the Glowworm Grotto. Lunch is included at the Waitomo Homestead before heading up to Rotorua.
Accommodations: Millennium Rotorua Hotel
Centrally located in the city beside mystical Lake Rotorua, this property is one of the most conveniently located and best appointed. You will find 227 elegant, air-conditioned rooms offering you a wide choice of accommodation styles, including the Club floor rooms with complimentary use of the exclusive Club Lounge. Many rooms offer excellent views of Lake Rotorua or the native garden.
Includes a superior lake-facing room for two nights and two full breakfasts.
Day 4: Tuesday, March 21, 2023 - Sightseeing in Rotorua
Meet your guide for a full day of sightseeing in Rotorua.
Te Puia
At Te Puia you will be greeted by your Maori guide for a guided walk through the Whakarewarewa geothermal valley. There will be stops on the way where points of interest such as bubbling mud pools, mineral springs, silica formations, and shooting geysers will be shown to you. You will have the opportunity to visit the Kiwi Conservation Centre where you may see the nocturnal Kiwi, New Zealand's national bird. On returning to the model village, it's various features will be explained to you before taking a look through NZMACI, the New Zealand Maori Arts and Crafts Institute, which gives an insight into Maori carving, weaving, customs, and history. Also included is a hands-on educational experience about the haka. After Te Puia, we head to matamata for your Hobbiton tour.
Hobbiton Movie Set Tours
Experience the real Middle-Earth with a visit to the Hobbiton movie set, the bucolic setting for The Shire as featured in the The Lord of the Rings and The Hobbit trilogies. Your tour starts with a drive through the picturesque 1,250-acre sheep farm with spectacular views across the Kaimai Ranges. Your guide will escort you through the ten-acre site, recounting fascinating details of how the Hobbiton set was created. The hobbit holes, Green Dragon Inn, the mill, and other structures created for The Lord of the Rings and The Hobbit films can be viewed, and you will see how this beautiful piece of Waikato farmland was transformed into The Shire from Middle-Earth. Lunch will also be provided. After Hobbiton, you'll head back to Rotorua where the evening is at your leisure. Everyone will have a pass to Polynesian Spa.
Polynesian Spa
Relax and unwind on the tranquil shores of Lake Rotorua at the Polynesian Spa. Channelling geothermal marvels in its backyard, the 27 mineral pools at Polynesian Spa are fed from two natural springs for a combination that nourishes the skin and relieves tired muscles, aches, and pains. The two types of mineral waters that feed the pools are an called alkaline pool called "Whangapipiro" (later re-named Rachel Spring), and an acidic pool called "Te Pupunitanga" (later called the Priest Spring), and have been used by the Maori for generations. Enjoy tranquil bathing and lake views in four shallow alkaline rock pools, each with different temperatures (36˚C to 42˚C), and an acidic pool which allows you to enjoy the benefits of the two types of hot mineral water. The alkaline pools are filled with soothing alkaline mineral water that leave your skin soft and supple.You will also be surrounded by revitalized native New Zealand flora, natural rocks, the sound of two waterfalls, and a grotto.
Day 5: Wednesday, March 22, 2023 - Fly to Queenstown
You will be transferred to the airport to fly from Rotorua to Queenstown (flight not included in package price - quoted separately).
Accommodations: Novotel Queenstown Lakeside
Nestled on the shores of Lake Wakatipu, this Queenstown hotel is centrally located just one minute from many shops, restaurants, nightlife, and activities. Step outside your door and into the heart of Queenstown with easy access to all that this premiere lake and alpine resort has to offer. The contemporary rooms offer a selection of spectacular alpine, garden, and lake views. Each air-conditioned room features a private balcony.
Includes a standard double room for four nights and four full breakfasts.
Buffet Dinner and Gondola Ride - by Skyline Queenstown

In the evening, you will be met by your local guide and walked to the Skyline Gondola Base Station. The Skyline Gondola will whisk you smoothly up 450 metres to Bob's Peak, as Queenstown drops away below you. From the top, enjoy a buffet dinner whilst taking in the breathtaking views, which extend nearly 360 degrees from Coronet Peak around to The Remarkables, and on to Cecil and Walter Peaks on the other side of Lake Wakatipu.

Daily dining times are 4.30 p.m., 4.45 p.m., 5.00 p.m., 6.30 p.m., 6.45 p.m., 7.00 p.m., 8.30 p.m. and 8.45 p.m. Strict 90-minute time limits on all tables, with no time limit exceptions at 8.30 p.m. and 8.45 p.m.
Day 6: Thursday, March 23, 2023 - Queenstown
You will be collected from your hotel for a a day of sightseeing in Queenstown. Travel to Arrowtown "born of gold."' Stroll through this picturesque town and village that has retained its old world charm, and shop at leisure.

Shotover Jet
Board your jet boat at Shotover Beach on the banks of the Shotover River, known as the world's richest gold bearing river. The Shotover's rugged canyons have been carved over thousands of years by billions of tonnes of glacial water sluicing from the heart of the Southern Alps. Once at the river, you'll board the Shotover Jet for the ride of your life. Skim past rocky outcrops at close range as you twist and turn through the narrow canyons at breathtaking speeds and hold on tight for the world famous Shotover Jet full 360-degree spin!

Cave Tour and Tasting - Gibbston Valley Wines Ltd.
Gibbston Valley Winery produces award-winning wines of New Zealand in the beautiful Central Otago region. Today, enjoy an informative, fascinating, and legendary cave tour. Starting in the historic original Gibbston Valley Vineyard, the tour treks gently down to the prominent wooden cave doors. Behind them lies mystery! Blasted 80 meters into solid Central Otago schist, the cave's walls are flanked by some 400 Pinot Noir barrels, creating a unique ambience, perfect for tasting current releases and talking about the region, people, and its wines. Enjoy three wine tasting varieties during your tour. Enjoy a platter lunch at Kinross with some wine tasting as well.

Later continue to the Kawarau Bridge Bungy (bungee) - home to the original 43-metre Bungy jump. If you've heard of Bungy, you've heard of the Kawarau. It's where Bungy founders AJ Hackett and Henry Van Ash started it all. The world's first and most infamous of leaps is still going strong, with tens of thousands bungy jumping each year. Time there to watch a jump only.
Day 7: Friday, March 24, 2023 - Milford / Cruise
Your local driver and guide will collect you from your hotel for your full-day Milford trip.
Depart Queenstown and skirt Lake Wakatipu in the shadow of the rugged Remarkables. Drive to Te Anau, gateway of the Fiordland National Park, then follow Lake Te Anau to the valley of the Eglinton River. Pass through magnificent beech forests before a gradual descent into the precipitous Hollyford Valley. Climb steadily to the gigantic Cirque and the Homer Tunnel. Pass through the tunnel and down to the Cleddau Canyon, where you'll catch your first glimpse of Mitre Peak before finally emerging into the open at Milford Sound.
Southern Discoveries – Discover More Cruise
The best value, all-inclusive cruise package in Milford Sound. Cruise the full length of the fiord on board any cruise, all with excellent wildlife viewing. Following the cruise and included picnic lunch, and visit the Milford Sound Underwater Observatory. The observatory offers a journey through the natural history, geology, and conservation efforts of this unique marine reserve. Then descend 10 metres down 64 steps beneath the water into a spacious viewing chamber with uninterrupted 360-degree views of the undersea world to see rare black coral and colourful sea creatures. Board a vessel for the return cruise to Milford wharf.
What to bring: Warm clothing, waterproof jacket, comfortable shoes, insect repellent.
After Milford Sound, you will be transferred back to Queenstown.
Day 8: Saturday, March 25, 2023 - Explore Queenstown
Today is at your leisure to explore Queenstown (optional activities are available). In the evening, we'll head to Queenstown wharf and check in for our cruise.
Walter Peak Evening Gourmet Barbecue Dinner (shared tour) at 6.00 p.m. - by Real Journeys

Departure point: Real Journeys Office, Steamer Wharf, Queenstown.

Step aboard the TSS Earnslaw and enjoy a 40-minute cruise across Lake Wakatipu to Walter Peak Station. Onboard, the captain provides an interesting commentary as you take in the spectacular views of Cecil and Walter Peaks and the western shores of Lake Wakatipu. The original steam engines can be seen in operation from the open viewing area and you are welcome to visit the Fo'c'cle Gallery to view the historic displays. Disembark the TSS Earnslaw at Walter Peak, where you'll be escorted through the lakeside gardens to the recently refurbished Colonel's Homestead and seated for dinner. Relax in the unique ambience in front of a roaring open fire and soak in the views from this stunning lakeside setting while the chefs prepare a gourmet BBQ on the grill. There's a selection of succulent New Zealand meat and seafood accompanied by delectable seasonal salads, tasty dessert treats, and local cheeses. All meat and seafood is cooked on the BBQ and rotisserie in front of guests. A locally influenced wine list and other beverages are available to purchase at the bar. After the meal, join an entertaining farm experience which gives an insight into life in the New Zealand high country, including a sheep shearing demonstration. The nighttime cruise home is magical. Join in the camaraderie of a sing-a-long with the ship's pianist.

What to bring: comfortable shoes, waterproof jacket, warm clothing, and a camera.
Day 9: Saturday, March 26, 2023 - Depart Queenstown
You'll be transferred to Queenstown Airport in time for your flight to Australia.

Australia Itinerary

Day 10: Sunday, March 26, 2023 - Cairns City Meet and Greet
Lying at the center of a tropical paradise on the shores of Trinity Bay, Cairns is the gateway to some of Australia's greatest natural attractions. Sitting offshore and shaping the city's character is the World Heritage listed Great Barrier Reef, one of the world's most popular diving sites. To the north of the city lies another World Heritage treasure, the ancient tropical rainforests of the Daintree National Park. The city itself offers a large range of accommodation options suiting all budgets. Visitors to Cairns will also be treated to a variety of international standard cafes and restaurants.
Meet and Greet - Guide Service
Includes a maximum of 3 hours guide assistance.

Coach Charter (international airport to Cairns City) - by Down Under Tours

Accommodations: Crystalbrook Bailey
This property is located in the heart of the Cairns city center and is actively involved in the local arts community, displaying various pieces in and around the hotel. Modern and innovative, this property celebrates originality and individuality. Take time to get lost in the detail. The spacious rooms are filled with design details that will appeal to your inner artist and will be sure to leave you enchanted and enriched.
Includes an urban room for four nights, full breakfast daily, and porterage.
Day 11: Monday, March 27, 2023 - Free exploration
Today is free to relax and explore on your own.
Dinner assistance and guide service
Includes a maximum of 3 hours guide assistance.
Dinner - by Dundees on the Waterfont

One of the best Cairns waterfront dining spots, Dundee's serves the finest steaks from the grill, seafood, pastas, and Australian specialist foods. Located beneath the Cairns Harbour Lights Hotel and adjacent to Cairns Esplanade, relax and enjoy a delicious meal while you watch the boats go to and from the Great Barrier Reef. There's no better place to dine than at a venue with million dollar waterfront views and al fresco dining on the boardwalk.
Day 12: Tuesday, March 28, 2023 - Port Douglas
Coach Charter (Cairns City to Port Douglas, and return) - by Down Under Tours
Full-Day Outer Reef Mackay Coral Cay (from Marina) - by Sailaway

Includes: morning and afternoon tea, buffet lunch, snorkelling equipment, optical mask, seasonal lycra snorkelling suites, wet suites and floating devices, instruction and in-water assistance, guided snorkel tour, glass bottom boat viewing and reef interpretation, and Environmental Management Charge (EMC).

The adventure starts with an early departure from Port Douglas Marina. You can sit back and relax on the beautiful yacht and set sail to the Coral Cays of Mackay or Undine Reefs. You will enjoy an authentic sailing experience, following the coastline and views of the Daintree mountains. Once at the protected sites at the Coral Cays, nature activities will include snorkelling over the pristine coral reef with a qualified marine biologist offering reef interpretation on a guided snorkel tour. A glass bottom boat coral viewing tour is also on offer. Premium reef sites showcase abundant marine life, including encounters with turtles and an amazing display of giant clam gardens, beautiful corals, and a wide variety of fish. Exploring the white sands of the Coral Cays will relax the mind. Soak up the sun, peace, tranquility, and swim in turquoise clear waters. Small numbers of guests ensure personal interactive communication with our experience guides. A tropical buffet lunch, and morning and afternoon teas and coffees supplied by local plantations will compliment a day of adventure and relaxation. Expert guiding and first class services are all included from helpful, friendly crew.

What to bring: swimwear, towel, sunshirt, hat, sunglasses, sunscreen, camera, and cash/credit card for additional purchases.
Day 13: Wednesday, March 29, 2023 - Cairns City/Kuranda Tour
Full-Day Assistance - Guide Service
Includes a maximum of 8 hours guide assistance.
Coach Charter (Kuranda Touring/Cairns City, 8-hour) - by Down Under Tours
Package A - Rainforestation Nature Park
Includes a Pamagirri Aboriginal Experience, Army Duck Tour, Koala & Wildlife Park, and Aussie BBQ lunch.

Situated in the midst of World Heritage Rainforest in Kuranda with 3 unique experiences. Board a World War II Army Duck for a tour on land and water through the rainforest. Watch the Pamagirri Aboriginal Experience with traditional dance performances and Dreamtime Walk including boomerang throwing, spear throwing, and didgeridoo playing. Visit our iconic Australian animals in the Koala & Wildlife Park, home to the endangered Tasmanian Devil.
One-way Skyrail Experience - by Skyrail Rainforest Cableway
Includes a one-way ride.
The Skyrail experience, spanning 7.5 km over pristine rainforest, allows you to explore the wonders of an ancient tropical rainforest and learn about one of the most botanically fascinating and diverse areas on earth. Gliding just metres above the rainforest canopy in comfortable six-person gondola cabins, the Skyrail journey immerses you in an intimate rainforest experience where you'll see, hear, smell, and become part of the tropical rainforest environment. A one-way Skyrail experience will take approximately 90 minutes to complete.
Day 14: Thursday, March 30, 2023 - Ayers Rock
Departure assistance and guide service
Includes a maximum of 3 hours guide assistance.
Coach Charter (Cairns City to airport) - by Down Under Tours
Depart Cairns and arrive to Ayers Rock. Flight is not included in the Southern World arrangements.
Ayers Rock/Uluru
Uluru, the true Aboriginal name for what many people know as Ayers Rock, rises from the broad desert plain in the deep centre of Australia and is one of the country's most recognizable natural icons. The famous "Rock" stands 348 metres high and is located 440 kilometres southwest of Alice Springs in the Uluru-Kata Tjuta National Park. Forty kilometres to the west of Uluru is Kata Tjuta, also known as The Olgas. This massive pile of rock domes dates back 500 million years. Both Uluru and Kata Tjuta have great Aboriginal cultural significance for the Anangu traditional landowners. Learn about the local flora and fauna, bush foods, and the Aboriginal Dreamtime stories of the area.
Coach Charter (Ayers Rock Combination, 1-3 days) - by ATG Downunder
Includes national park fees, standard sunset drinks and canapés, drivers expenses, airport transfers, morning Uluru Base with Sunrise Tour, and afternoon Kata Tjuta with Sunset Tour.

Sounds of Silence Dinner - by Voyages Indigenous Tourism
Please check with hotel reception for pick-up time. Includes return hotel seat in coach transfers, sparkling Australian wine and outback canapés at sunset, three-course gourmet bush tucker buffet dinner with Australian wine and beer, non-alcoholic drinks, tea, coffee, and port, and an engaging Star talk.

Your journey begins on a lone sand dune. A path takes you to an uninterrupted, 360-degree view of this vast landscape. In front of you is the fabled Uluru; behind you are the domes of Kata Tjuta and possibly the most spectacular sunset you have ever seen. Here you enjoy sparkling wine and a selection of delectable canapés. As the sun sets, feast on a gourmet bush tucker inspired buffet deep in the desert landscape. After dinner, turn your attention to the night sky and enjoy some of the world's best stargazing, as the local startalker takes you on a tour of the spectacular southern night sky. As you wind down after dinner, you are offered a choice of tea, coffee, or port before returning to your accommodations.
Accommodations: Sails in the Desert Hotel
Named after the soaring white sails that crown its roof, this is Ayers Rock Resort's premium hotel. The hotel's interior decor focuses on Aboriginal heritage and culture, with a gallery in the lobby and significant artworks featured throughout the public areas and private rooms. The property also features an expansive gumtree-lined swimming pool and a range of dining options.
Includes a superior room for two nights, full breakfast daily, and porterage.
Day 15: Friday, March 31, 2023 - Uluru Sightseeing
Uluru Sightseeing - Morning Sunrise and Base
The coach will depart your hotel just prior to sunrise and travel to the sunrise viewing area to see the Red Centre come alight by the first rays of the morning sun. Watch the gradual rising sun change the colours of Uluru (Ayers Rock). Return to the hotel for breakfast (or a boxed breakfast can be organized) before your base tour of Uluru. Nothing can give a sense of its size except standing beneath the towering 348-metre wall of rock. As you tour the rock's base, you will fully appreciate not only its size but also the way it appears to continually change. Join your driver/guide for an informative guided walk into Mutitjulu waterhole, view Aboriginal rock paintings and learn about flora, fauna, and Aboriginal history. Visit the Cultural Centre where there is time to read the Tjukurpa (Aboriginal law) or purchase some locally made Aboriginal art.
Uluru Sightseeing - Afternoon Kata Tjuta and Sunset
Travel to the mystical 36 domes of Kata Tjuta. On the way, stop for panoramic views of the southern side of Kata Tjuta. Continue on before arriving at the base of Walpa Gorge. Spend some time exploring the gorge and the unusual conglomerate rock formations. The walking trail through Walpa Gorge follows the natural creek between two of the tallest domes of Kata Tjuta. In the late afternoon travel to the Uluru sunset viewing area. Witness and photograph the striking colour changes of Uluru at sunset whilst enjoying nibbles and a glass of wine.
Day 16: Saturday, April 1, 2023 - Arrive in Sydney
Coach Charter (hotel to airport) - by ATG Downunder
Depart Ayers Rock (Uluru) and arrive in Sydney. Your flight is not included in your Southern World arrangements.
Sydney
Soak up Sydney's gorgeous harbour, seductive outdoor lifestyle, and great natural beauty. Cruise under the Sydney Harbour Bridge or wave at the Opera House as you ride a ferry across the harbour to Manly. Learn to surf at Bondi Beach or swim in the calm waters of Coogee. Lose yourself in the cobblestone cul-de-sacs of The Rocks or in the markets, boutiques, cafes and pubs of Paddington. As well as a world-famous harbour and more than 70 sparkling beaches, Sydney offers fabulous food, festivals and 24/7 fun.
Meet & Greet - Guide Service
Includes a maximum of 3 hours guide assistance.

Coach Charter (airport to hotel) - by Murrays Australia

Accommodations: The Grace Hotel
This property is located in the city centre and fronts three of Sydney's most prominent streets - York, King and Clarence Streets. It is 600 metres from Darling Harbour and 1.2 kilometres from Circular Quay. The elegantly restored 11 storey heritage listed art deco hotel was built in the 1920's by the Grace Brothers, as a showpiece of their successful retail business. This art deco style can be enjoyed particularly in the hotel's lobby. The guest rooms are spacious and comfortable with a classic decor, dark wood furniture, and beige walls. The bathrooms are sleek and modern with marble and glass rainfall showers.
Includes a a signature superior king room for three nights, full breakfast daily, and porterage.
Day 17: Sunday, April 2, 2023 - Sydney (Cruise & Opera House)
Half-Day Assistance - Guide Service
Includes a maximum of 6 hours guide assistance.
Coach Charter (4-hour city charter) - by Murrays Australia
Top Deck Lunch Cruise - 2 Course (King Street Wharf) - by Captain Cook Cruises Sydney

Includes 2 course á la carte dining.

Cruise aboard Sydney's flagship MV Sydney 2000* for your 1.5-hour or 3-hour lunch cruise. A lunch cruise is the best way to combine million-dollar harbour views with spectacular dining. There is no commentary to disrupt the flow of conversation and the menu is two-course contemporary Australian a la carte. Depending on your afternoon schedule, there is a choice of early or late disembarkations. Note: The vessel may be substituted due to operational reasons.
Sydney Opera House Tour - by Sydney Opera House
Includes a one-hour guided tour (English language).

More than 60 years ago, Jorn Utzon designed what is now considered one of the greatest buildings of all time. But for Utzon, the Sydney Opera House story was no fairytale. The 1-hour tour brings to life the saga behind the making of the world's most famous house. Your guide will take you on an emotional journey inside this modern masterpiece, putting Jorn Utzon on center stage and is a tribute to his creative genius. You will discover why Utzon was more than an architect: he was an architect of change. And how, against a landslide of political and public criticism, he created the youngest building ever to be World Heritage listed. You will be taken inside one of the working venues to experience the magic behind the world's most extraordinary opera, ballet, symphony, and dramatic performances.

Note: The Sydney Opera House tour includes up to 200 steps. Flat, enclosed rubber soled shoes must be worn. While on a tour, all bags larger than an A4 size will need to be cloaked. A complimentary, secure cloaking facility is available near the tour desk.
Dinner Assistance - Guide Service
Includes a maximum of 3 hours guide assistance.
Coach Charter Inner City Transfer and Return - Operated by Murrays Australia

Inbound All Day 3 Course Deluxe - provided by 6Head Steak Restaurant
Includes a 3-course meal.

This restaurant is for discerning guests who want the best steak and dining experience in Sydney. It's also for people who appreciate quality, seasonal, and uncomplicated food, prepared using cutting-edge culinary techniques. The award-winning Executive Chef has painstakingly selected menu with fresh, un-complex dishes designed to allow the produce to speak for itself. In keeping with the signature '6Head' theme, our chef-curated menu focuses on six cuts of steak: rump, rib-eye, T-bone, eye fillet, scotch fillet, and sirloin. Working hand-in-hand with respected local meat purveyors ensures the utmost quality in every cut – from grass-fed beef to top-grade succulent Wagyu with an unparalleled flavour profile. The core focus is on providing an exceptional dining experience for each and every guest. With that in mind, the team of chefs, wait staffm and sommeliers are dedicated to making every detail of your visit outstanding.
Day 18: Monday, April 3, 2023 - Discover Sydney
Full-Day Assistance - Guide Service
Includes a maximum of 10 hours guide assistance.

Coach Charter (full-day Blue Mountains Tour, 10 Hours) - operated by Murrays Australia
Featherdale Wildlife Park
Open from 9.00 a.m.- 4.00 p.m.
Featherdale provides a home to over 1,700 Australian native animals from more than 250 different species and serves as Australia's largest native collection. Focusing solely on native animals, Featherdale holds the largest collection of koalas in New South Wales and features three open-space enclosures with kangaroos and wallabies, as well as loads of other iconic Australian animals, such as dingos, echidnas, wombats, bilbies, Tasmanian devils, reptiles, and a stunning collection of birds from Australia and around the world.
Ultimate Discovery Pass - Scenic World Blue Mountains
Open from 9:00 a.m. - 5:00 p.m. Last ride at 4:50 p.m.
Includes unlimited use of Railway, Skyway, and Cableway attractions during Scenic World operating hours on day of admittance.
Scenic Skyway: Suspended 270 meters above ancient ravines, the Skyway provides a unique thrill as breathtaking views are revealed beneath your feet through the electro-glass cabin floor. For the less adventurous, seating and solid flooring is also available!
Scenic Cableway: The 545-meter journey gently descends into the Jamison Valley and also returns visitors to the top of the escarpment. The Cableway's fully enclosed cabin provides a unique vantage point for viewing the Three Sisters, Orphan Rock, Mt Solitary and Katoomba Falls.
Scenic Railway: The Railway experience descends 310 meters through a cliffside tunnel, emerging into ancient rainforest at the Jamison Valley floor. Operating since 1945, the Scenic Railway has thrilled 25 million passengers. This is the fifth generation train to ride the tracks since the Hammon family opened the attraction.
Please Note: Order of rides will be determined by Scenic World staff members on the day of arrival. Ride availability is subject to change without notice and one ride may be substituted with another.

Lunch - provided by Leura Garage

Dinner Assistance - Guide Service
Includes a maximum of 3 hours guide assistance.

Farewell Dinner - (3 course menu) - by Nick's Seafood Restaurant

Nick's Seafood Restaurant has become somewhat of a Sydney institution over the last decade since opening its doors in 1998. With Nick's years of experience in the seafood wholesale business, it's no surprise that Nick's is Sydney's leader in fresh, quality seafood. Produce is carefully sourced daily by their group of expert buyers at the Sydney Fish Markets. The menu contains an array of fresh fish, oysters, crustaceans, and lobsters. Nick's chefs pride themselves on enhancing the fresh food by showcasing its natural flavours and simplicity. Overlooking the shores of Cockle Bay and Darling Harbour, the restaurant has all that a delicious seafood dining experience should - fresh seafood, professional service and breathtaking water views.
Day 19: Tuesday, April 4, 2023 - Departure
Departure Assistance - Guide Service
Includes a maxiumum of 3 hours guide assistance.
Coach Charter (hotel to airport) - by Murrays Australia