Published Friday, August 11th, 2023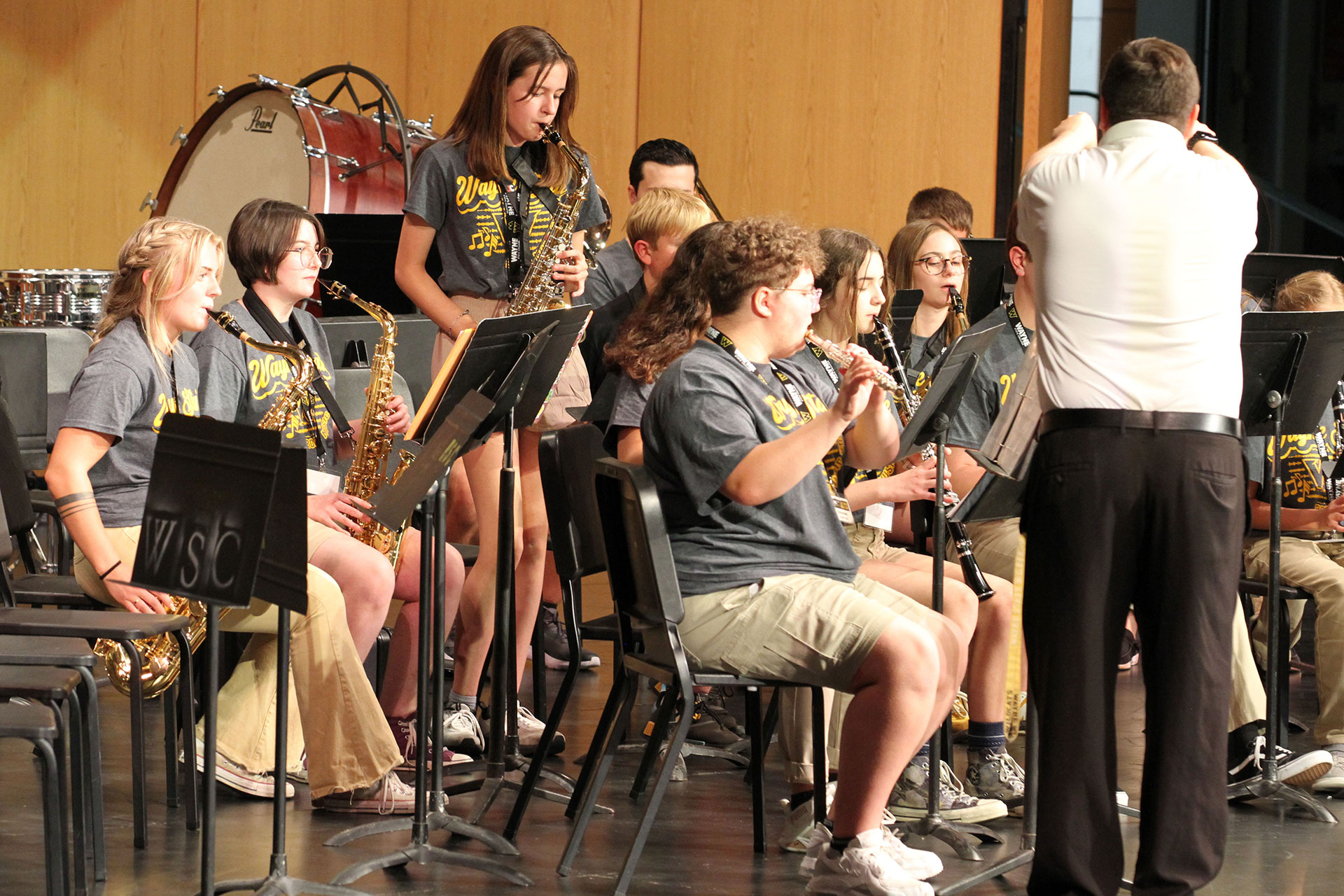 Music campers were some of the first musicians to perform in the new band and choir rehearsal rooms, as well as the newly remodeled Ramsey Theatre.
Middle and high school students from Nebraska, Iowa, South Dakota, and Colorado immersed themselves in music during Wayne State College's annual Summer Music Camp held July 31 through Aug. 3 on campus.
It is the first Summer Music Camp that Wayne State has held in its newly renovated Peterson Fine Arts Building. Music campers were some of the first musicians to perform in the new band and choir rehearsal rooms, as well as the newly remodeled Ramsey Theatre.
"The advantages to having superior facilities for rehearsing and performing music cannot be overstated," said Dr. David Bohnert, Dean of Wayne State's School of Arts and Humanities. "Not only do they keep participants safe by conforming to national standards for hearing health, but they also play a significant role in recruiting and retaining quality students and elevating the performance level of our student musicians. As one of the most active facilities on campus, the Peterson Fine Arts Building regularly brings students, faculty, staff, and the community together in exploring the arts at Wayne State."
Wayne State faculty and students provided learning opportunities in band, choir, conducting, film music, jazz, mariachi, musical theatre, piano, sight singing, ukulele, and world drumming. Campers also participated in individual instrument or voice lessons.
The week culminated with a concert finale featuring the choir, concert band, jazz band, ukulele ensemble, and world drumming. The four-day camp offered a campus living experience and social activities such as a talent show, games, lip sync battle, and scavenger hunt.
Participants praised their experience with comments such as: "It is the perfect place to take your music to the next level," "Awesome with amazing teachers," "Fun and engaging," "It really prepared me for music in school," Unforgettable fun," and "It is very fun and strengthens your musical ability."
Summer Music Camp participants from outside Nebraska were Addie Roldan, Denver, Colo.; Ira James Liermann, Englewood, Colo.; Hayden Armstead and Jenna Rosener, Mapleton, Iowa; Clint Heger and Daniel Wilford, Sioux City, Iowa; and Mia Barnes, Tripp, S.D.
Participants from Nebraska were:
Bennington – Waylon Brown
Brainard – Addison Kriz
Clarks – Lylla Sabata, PJ Sabata
Elkhorn – Chase Caughlin, Jessica Lenaghan, Laney Pendergraft
Foster – Cameron Wessendorf
Genoa – Mckenzie King
Hartington – Jayden Lordemann
Hebron – Nora Peithmann
Hildreth – Georgia Ramsey
Lincoln – Z (Zara) Anderson
Norfolk – Jenna Probasco, Jonah Thone, Sophia Thone
Omaha – Emmie Ashby, Kaitlyn Cooper, Haleema Hajyasin, Tallulah Hoeft, Mary Koske, Nastasia Orr, Luke Thomas
Papillion – Ella Brashaw, Ember Dixon, Kate Koske, Riley McCreedy
Pender – Marcus Dregalla
Pilger – Chayton Wemhoff
Plainview – Landon Hergert
Raymond – Robert Ortiz
St. Edward – Jocelin Gallardo-Bernal, Arlette Irineo
Silver Creek – Ava Martinez
Valparaiso – Hannah Strizek
Wayne – Marie Allemann, Aidan Bohnert, Madison Kolbeck, Sarah Kuchta, Penelope Zavada-Cupp
Wynot – Donnie Schulte
Wayne State music students assisting with the camp were Daniel Oldenkamp, Sioux City, Iowa; Kelsie Hupp, Cedar Rapids; Libby Aschoff, David City; Lexie Jackson, Gering; Kaitlyn Michaelson, Lincoln; and Wynter Fulsaas, Oakdale.
The Wayne State Department of Music provides programs in music education, music industry, music performance, general music, and a minor in music. The department boasts 100 students engaged in its majors and minors and is open to all participants. Approximately 200 students across 60 programs of study participate in the music ensembles, which represents more than 50% growth in the number of students pursuing majors and minors and ensemble participants during the past 15 years. Wayne State College continues to have the second largest collegiate marching band in the state.
Peterson Fine Arts Building Renovation and New Addition
The improvements that make up the $13.1-million renovation, which included an addition to provide new band and choir rehearsal spaces, aim to attract high-quality student and professional artists. The renovation also makes it possible for Wayne State's performing arts programs to meet current industry standards for acoustics and accessibility, enhancing cultural arts opportunities for the campus and surrounding communities.
The renovation included a 12,000 square-foot addition of new rehearsal spaces for the bands and choirs with professional acoustics, as well as improved acoustics in the practice rooms and teaching studios. The project also included upgrades to the college's 600-seat Ramsey Theatre, home of the Wayne State Black & Gold Performing Arts Series, to support larger acts and productions. Improvements in overall accessibility include an expanded atrium for receptions with a new central elevator, a ramp to the Ramsey Theatre stage, family restroom, and additional seating for spectators with mobility limitations.
For more information, visit the Wayne State Music Department page.