Published Thursday, December 15th, 2022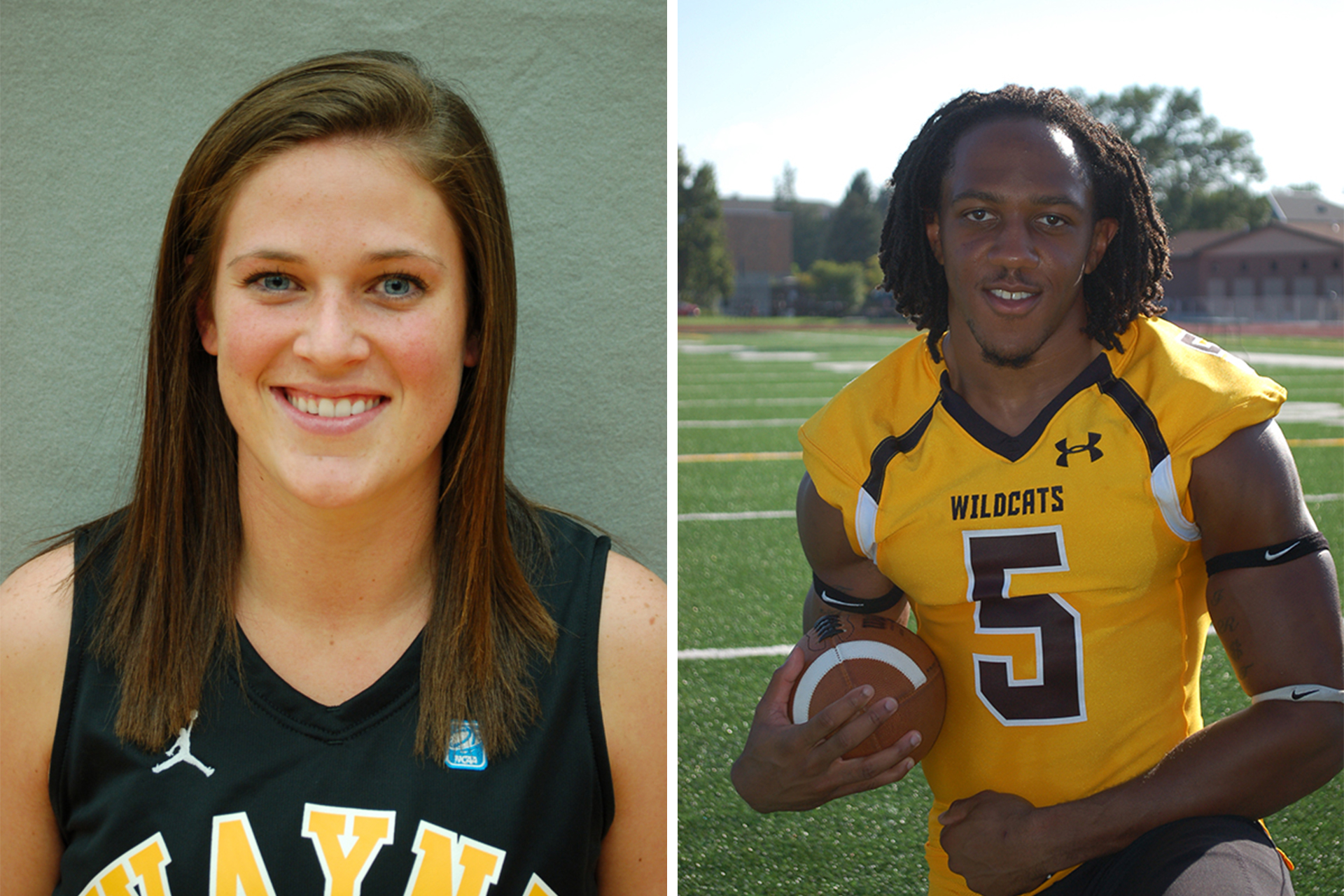 Clare Duwelius '12 was promoted to general manager of the Minnesota Lynx, while J'Ron Erby '16 was named a Forbes 30 Under 30 in sports.
As a new class of Wayne State graduates makes its mark on the workforce, the College is proud to share career news about two alumni who just a few years ago walked across the stage for their Wayne State diploma.
Clare Duwelius, who graduated from Wayne State in 2012 with a B.A. in Sport Management and a minor in Spanish, was just named the general manager for the WNBA's Minnesota Lynx. J'Ron Erby, who graduated in 2016 with a B.S. in Mass Communication/Journalism and a minor in Business Administration, was recently named a Forbes 30 Under 30 in sports.
Minnesota Lynx head coach and president of basketball operations Cheryl Reeve announced on Dec. 13 that the Lynx have promoted Duwelius to general manager. Duwelius will be the fourth GM in franchise history.
"I have long felt that Clare Duwelius was one of our top free agent signings. Since 2014, she has proven to be an invaluable resource in every aspect of the Lynx franchise," Reeve said in a press release. "Clare epitomizes all that the Lynx stand for in her passion, drive, work ethic, commitment, loyalty, and attention to detail. I look forward to partnering with Clare in her work as general manager for the Lynx as she continues to make her mark on our franchise."
Duwelius started with the Lynx in 2014 as the basketball operations coordinator prior to being elevated to basketball operations manager in 2016 and later assistant general manager in 2018.
You can learn more about Duwelius' new position at https://lynx.wnba.com/news/minnesota-lynx-name-clare-duwelius-as-general-manager/
Duwelius, a 5' 10" guard from Des Moines, Iowa, played basketball for Wayne State from 2008 to 2012. She ranks 1st in career 3-pointers with 252, seventh in steals (169), and 20th in career scoring with 1,170 points. During her senior season (2011-12), she tied the single-season mark for 3-pointers in a season with 83. Duwelius played on three NCAA Tournament Teams, won two Northern Sun Intercollegiate Conference (NSIC) regular season titles and two NSIC Tournament titles. She made the game-winning 3-pointer as time expired in the 2012 NSIC Tournament championship game vs. Augustana for a 62-59 victory in Rochester, Minn.
Duwelius was named First-Team All-NSIC as a senior, averaging 10.3 points per game and led the NSIC that season in 3-point field goal percentage (.456). As a freshman, she was named NSIC Freshman of the Year in the 2008-09 season, averaging 11.8 points a game.
The Forbes 30-Under-30 list is an annual publication celebrating young professionals in a variety of career fields. The sports group in which Erby was included was noted by Forbes for "expanding access to their industry and finding success in emerging spaces."
Candidates for the list were reviewed by a panel of judges "featuring some of the sports world's biggest players: Malcolm Jenkins, an entrepreneur and former NFL star; Ted Leonsis, the owner of sports teams including Washington's Capitals and Wizards; Tyler Tumminia, former commissioner of the Premier Hockey Federation; and Chiney Ogwumike, a WNBA player and basketball analyst for ESPN, as well as an alum of the 2021 30 Under 30 list.," according to Forbes.
Erby joins Philadelphia 76ers center Joel Embiid, Dallas Wings guard Arike Ogunbowale of the WNBA, ESPN director Ashley Ward, Sports Illustrated host Ashley Nicole Moss, Edmonton Oilers center and captain Connor McDavid of the NHL, San Francisco 49ers tight end George Kittle, Los Angeles Rams cornerback Jalen Ramsey, and others on this year's list.
According to Forbes, Erby joined ESPN in 2019 as its first-ever social media marketing specialist and was recently promoted to social media manager. Forbes noted that Erby has helped strategize and execute campaigns including #BlackHistoryAlways and 'There's No Place Like Sports,' which drew 4.25 million likes on Instagram in less than a year. He will lead social media and marketing efforts for ESPN Bet.
Erby's profile by Forbes is available at https://www.forbes.com/profile/jron-erby/
Originally from Ygnacio Valley High School in Hercules, Calif., Erby played defensive back from 2011 to 2014 for Wayne State football. As a junior, Erby had 39 tackles with three forced fumbles and one interception. As a senior, he was named to the All-NSIC South Division Second Team, was sixth on Wildcat defense with 44 tackles, and tied for sixth in NSIC that season with 15 passes defended.