Published Friday, September 8th, 2017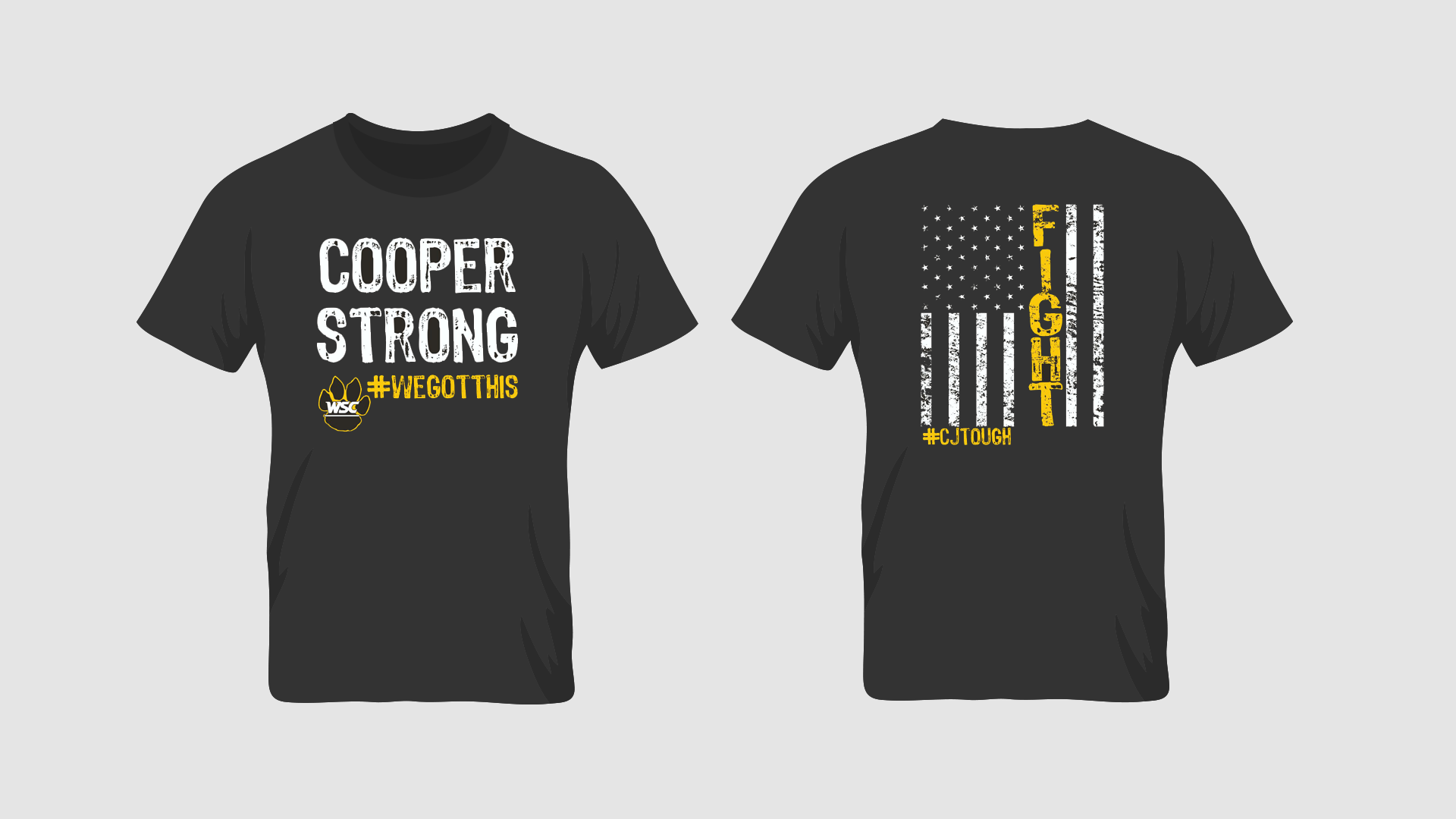 All proceeds from the sale of the T-shirts will go directly to Cooper, who is going through treatment for cancer.
Dr. Andria Cooper, Wayne State College Criminal Justice faculty member, was recently diagnosed with cancer. She is currently going through treatment at this time and is unable to work. The WSC Criminal Justice Association is collaborating with Alpha Phi Sigma and Delta Upsilon (Criminal Justice Honor Societies) for a T-shirt fundraiser to help Cooper and her family during this difficult time. All proceeds from the sale of the T-shirts will go directly to Cooper.
There will be two options for ordering t-shirts. For those on campus, shirts can be ordered at the Connell Main Office (Connell 101) during regular office hours. T-shirts ordered in-person through the main office will cost $10 per shirt. For those not on campus, you may use the Paypal option. T-shirts ordered through Paypal (credit or debit card) will be $15 per shirt, which includes shipping and handling. Depending on availability, some shirts may not be immediately available and may still be in production from the manufacturer.
Update (as of Tuesday, Oct. 10): $1,000 has been collected to date for Dr. Cooper and her family. Oct. 31 is the last day you may order a shirt. Several sizes are still in stock. Orders not able to be filled immediately will be placed Oct. 31, and shirts will be available prior to Thanksgiving. Thank you for your support!
Order a T-shirt through Paypal
About Dr. Andria Cooper
Before teaching at Wayne State, Cooper sat as a New Mexico state level district court judge after serving as an attorney, primarily in the area of criminal law. She has served as a prosecutor and a criminal defense attorney, and also has experience in the areas of civil rights, constitutional law, victim advocacy, and general areas of legal practice. She has trained law enforcement and other criminal justice professionals in the areas of arrest, search and seizure, report writing, warrant preparation, juvenile justice, fraud investigation and prevention, domestic violence investigation, and victim advocacy. She also sat on a governor's domestic violence fatality review board.
Cooper is the advisor of Delta Upsilon, a chapter of the national American Criminal Justice Association, which participates in regional and national competitions on criminal justice knowledge, agility, firearms, and crime scene competitions. She also creates mock crime scenes and mock trials for classes, which allows students to present cases at trial, testify as witnesses, listen to the case as jurors, or assume other criminal justice roles in the courtroom. She is a member of the American Criminal Justice Association, Justice Clearinghouse, and Pi Gamma Mu (a social sciences honor society). She is also a consultant on Faculty Row, and is involved in several committees on campus and the Wayne community as well.
Cooper has been honored as an Outstanding Professor (2005) and Outstanding Advisor (2005), as well as received a Faculty Appreciation Award from Sigma Chi (2007). She has received service awards from the Kansas Coalition Against Sexual and Domestic Violence (2004) and the Northwest Kansas Family Shelter (2003).
She earned her Juris Doctorate in 2000 from University of Kansas School of Law and her bachelor's degree from Fort Hays State University. Her teaching interests include criminal law and procedure, criminal evidence, report writing and trial techniques for criminal justice professionals, civil liability in criminal justice, comparative justice systems, and all legal aspects of other criminal justice disciplines. Her research interests include civil rights, especially privacy advocacy, search and seizure, and the 2nd Amendment. She also enjoys scholarly work in constitutional issues involving federalism and separation of powers.