Published Thursday, October 19th, 2023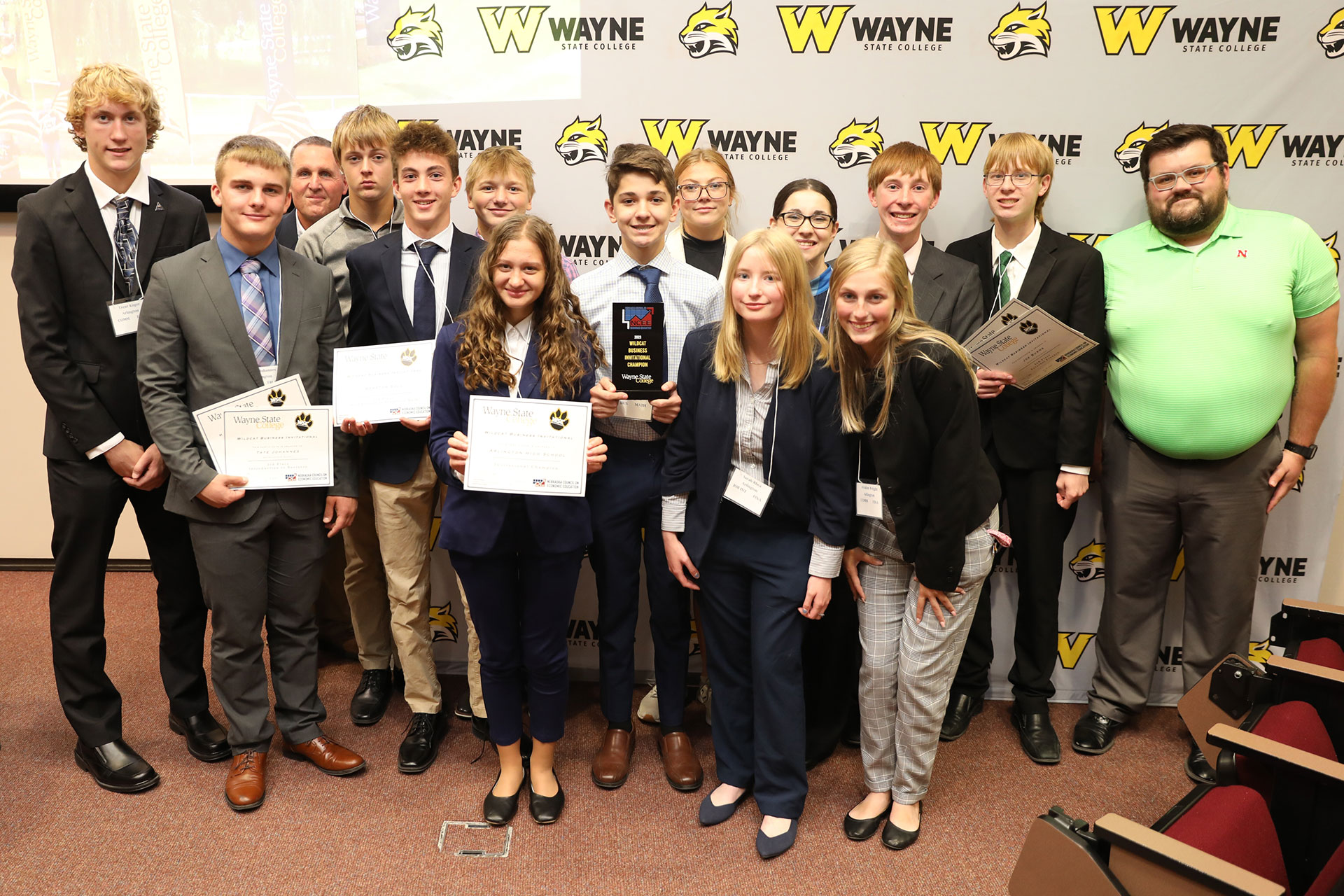 About 200 students from 14 Nebraska high schools competed in the business event.
Arlington High School claimed first place, while Gretna and Osmond took home second and third, respectively, in Wayne State College's annual Wildcat Business Invitational held Oct. 18 on campus.
Approximately 200 students from 14 Nebraska high schools competed in several events in different areas of business. They were accounting, business calculations, business communication, economics, introduction to business, introduction to financial math, introduction to Future Business Leaders of America (FBLA), job interview, and personal finance.
"We're extremely happy that so many area high schools choose to participate in the Wildcat Business Invitational each year," said Dr. Charles Parker, professor of business and economics at Wayne State and event coordinator. "It shows that students are committed to learning about the many aspects of business, which will help them in their college careers and later in life."
Schools competing were Arlington, Boyd County, Broken Bow, Elkhorn Valley, Emerson-Hubbard, Gibbon, Giltner, Gretna, Louisville, Neligh-Oakdale, Osmond, Summerland, Tekamah-Herman, and Weeping Water.
Top Schools (Champion Cup)
Arlington (54 points)
Gretna (50 points)
Osmond (44 points)
The top students in each event were:
Accounting
Allison Couron – Louisville
Keelyn Shea – Broken Bow
Eliza Ricker – Arlington
Ethan Connolly – Gretna
Austin Fox – Broken Bow
Business Calculations
Matthew Alderson – Osmond
Austin Fox – Broken Bow
Zoe Kaczor – Boyd County
Allison Couron – Louisville
Ethan Connolly – Gretna
Business Communication
Keelyn Shea – Broken Bow
Gus Burns – Arlington
Joe Burns – Arlington
McKenzie Snyder – Boyd County
Erin Wagner – Osmond
Economics
Brady Donahue– Gretna
Evan Pierce – Louisville
AJ Votta – Louisville
Alex Runge – Gretna
Eliza Ricker – Arlington
Introduction to Business
Emma Couron – Louisville
Caleb Larsen – Gretna
Tate Johannes – Arlington
Sydney Malone – Gretna
Meagan Wagner – Osmond
Introduction to Financial Math
Caleb Larsen – Gretna
Jack Berg – Osmond
Braxton Soll – Arlington
Caleb Haecker – Gretna
Ethan Kester – Summerland
Introduction to Future Business Leaders of America (FBLA)
Madilynn Nolan – Boyd County
Cheyenne Boettcher – Boyd County
Tate Johannes – Arlington
Addilyn Janousek – Boyd County
Lainey Johnson – Gretna
Job Interview
Alexandria Morris – Broken Bow
Erica Heiman – Osmond
Sarah Rhea – Arlington
Personal Finance
Matthew Alderson – Osmond
Joe Burns – Arlington
Zoe Kaczor – Boyd County
Erica Heiman – Osmond
Joe Stolinski – Gretna