Published Monday, September 11th, 2023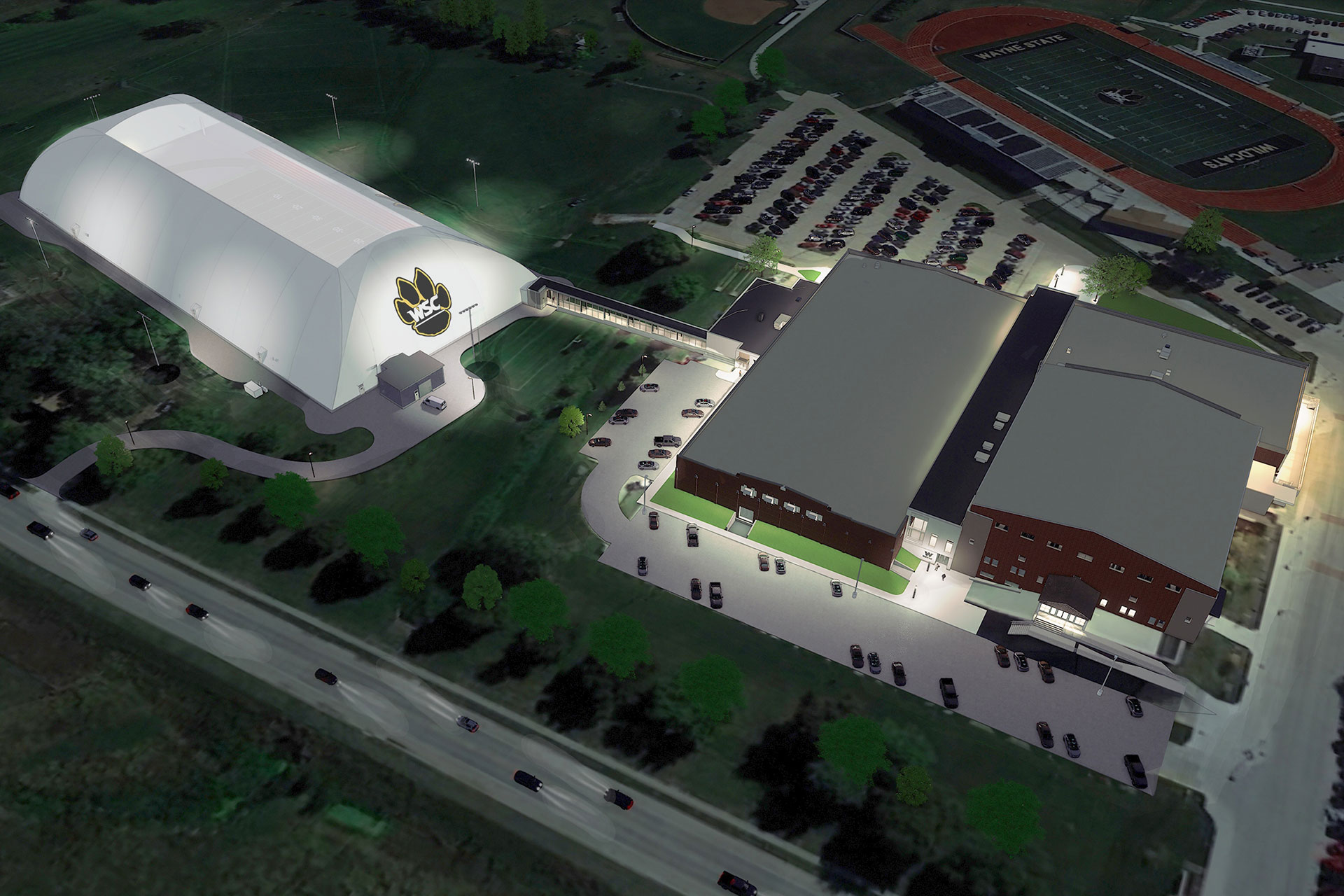 The groundbreaking ceremony for the Athletic and Recreation Complex Renovation and Addition project will be held on the north side of the Recreation Center.
To celebrate the beginning of a transformational project for Wayne State College and the region, Wayne State will host a groundbreaking ceremony at 4 p.m. Friday, Sept. 15, for its Athletic and Recreation Complex Renovation and Addition project.
The public is invited to attend the event on the north side of the Recreation Center. Following the ceremony, guests are encouraged to attend the No. 3 Wildcat volleyball team's home opener against No. 2 Concordia-St. Paul in Rice Auditorium at 6 p.m.
The $30-million project is a multi-phased construction project designed to have a significant impact on Wayne State and the region it serves. The project will include a new air-supported structure with an indoor track and turf field and renovations to Rice Auditorium and the Recreation Center.
Additionally, the athletic project's facility upgrades will be beneficial for all Wayne State students for years to come. The Wayne State Foundation has begun raising funds toward the $5.5 million of fundraised dollars needed to complete the project.
"This transformational, facility construction and renovation project will be incredibly impactful on Wayne State College's intercollegiate athletics, recreation, and student-wide wellness programs," said Mike Powicki, athletic director at Wayne State. "These are historic improvements which are vital in our ability to continue to recruit and retain phenomenal students by providing an exceptional overall student engagement experience."
Here is an overview of the project:
Air-Supported Structure and Auxiliary Link (addition) – A new 97,000-square-foot air-supported structure with a 300-meter synthetic track, two pole vault boxes, two jumping pits, and two throw circles with safety cages. The infield of the track will have a multi-functional artificial turf with a perimeter protective netting system and four baseball/softball/golf hitting cages. An auxiliary link and structure will provide the primary means for access to the air-supported structure, and its connection to the Recreation Center will house two newly constructed locker rooms for the men's and women's cross country and track and field programs.
Wildcat Alley (addition) – A new 17,000-square-foot addition filling in unoccupied, open-air alley space between the Recreation Center and Rice Auditorium. This will lead into an expanded lobby space for pre-event waiting, social gathering, and studying space for students on the second level with a new student weight room on the lower level along with additional office and storage space. A new hydraulic elevator will be installed to provide ADA accessibility and access to Wildcat Alley and Rice Auditorium seating.
Recreation Center (renovation) – The current 58,000-square-foot Recreation Center was constructed in 1987, houses a 160-meter indoor track and multi-surface courts along with racquetball courts, cardio equipment, student weight room, and offices. The planned renovations will include a new synthetic flooring system, which will increase the number of courts from three to four; the 160-meter track will be converted into a two- or three-lane walking/jogging track adding cardio space, group exercise rooms with equipment, and a netting system. The racquetball courses will be converted into general student locker rooms with lockers, showers, and restrooms. The second level will be converted into additional offices and/or classroom space.
Rice Auditorium (renovation) – Rice Auditorium is a 58,000-square-foot facility constructed in 1958 that houses the gymnasium/auditorium, wood basketball/volleyball court, classrooms, offices, and various physical education support areas. Renovations to this area will include building new men's and women's restrooms, creating a larger concessions area, and expanding ticketing areas to enhance the fan experience.