Published Tuesday, April 4th, 2023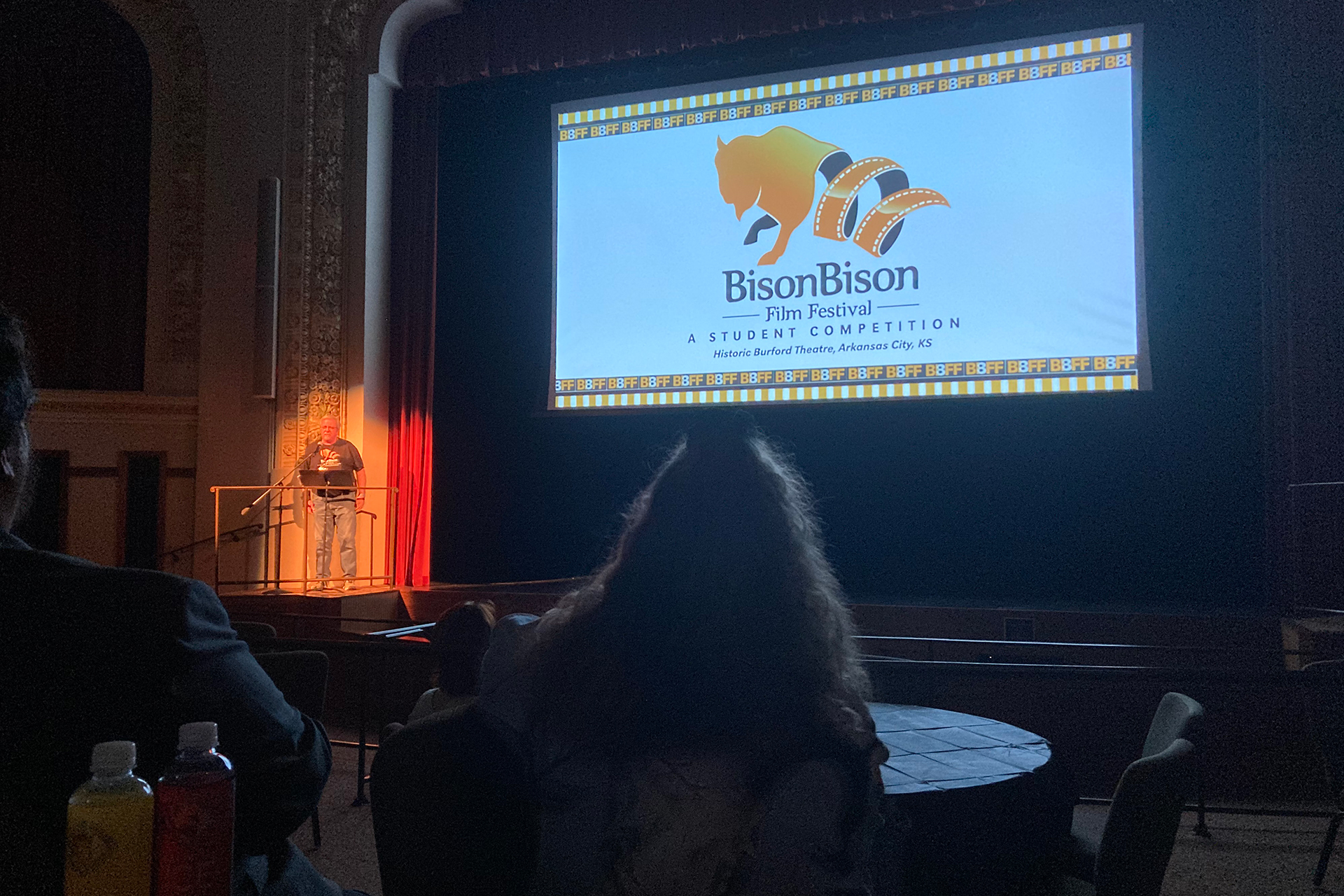 WSC students won Best of Show and the People's Choice Award at the Bison Bison Film Festival.
Wayne State continues to make its mark on the film festival circuit this spring with two major awards at the Bison Bison Film Festival held March 31-April 1 in Arkansas City, Kan. Writer/director Griffin Presnell of Lincoln and producer Ally Boyd of Papillion won Best of Show for their film "Gills." The award was presented by line producer Lazara Gonzalez of "The Big Bang Theory," "Grimm," "Modern Family," and "Ender's Game."
Wayne State also earned the People's Choice Award for writer/producer/director Nathan Gusman of Wahoo and his co-director, Gage Dawson of Neligh, for their film "The King of Berry." The producers of the winning films will receive a $1,000 cash prize.
"We have been working for the past five years to get to this level of production," said Dr. Mike White, associate professor in the WSC Communication Arts Department. "Winning a competition that encompasses the entire central United States, especially against substantially larger schools with greater resources is very humbling. I really feel this is a testament to the quality and drive of the film students to compete so successfully at this level. Our students surprise me every day as they push themselves to improve. It's such an honor to be their instructor."
The festival awarded second place to "Sacrament" by Josh Elliot of Oklahoma City University. Third place was awarded to Kylee Faulk and Taegan Denmon of the University of Missouri at Kansas City.
"It was amazing to win this festival, but more than that it was an honor to even get to go," Presnell said. "Thank you to Wayne State College for allowing us this huge opportunity! This may have been an exciting first win, but more than that I'm excited to see what wins I may have in the future!"
"Thank you to everyone who loved the film and felt connected to the story," Boyd said. "Director Griffin Presnell and director of photography Blake Bodlak brought this film to life, and I loved getting to work with them on this project. We couldn't have made this film without our wonderful leads Matthew Kischer and Katie Otten. Their performances were fantastic, and I would love to work with them again someday. I'd also like to thank Professor Mike White for being the best executive producer ever. He offered great advice and always made himself available to help us achieve our goals. His support means so much to me."
The Bison Bison Film Festival is open to filmmakers enrolled in accredited colleges, universities, and technical schools in the Mid-America Arts Region: Nebraska, Kansas, Oklahoma, Missouri, Arkansas, and Texas. The festival only accepted 15 films, of which Wayne State had five accepted submissions. The WSC films chosen for the Bison Bison Film Festival were "Gills" by Presnell, "Girl" by Emma Franco, "Exodus" by Nathan Blizzard, "The King of Berry" by Gusman, and "It's the Journey" by Joe Merkel.
"It's always humbling to have your work acknowledged and to see people loving Gage Dawson's performance and our film is something I'm very grateful for," Gusman added.
Learn more about Wayne State's Digital Film Production program at www.wsc.edu/film-production.