Published Monday, February 20th, 2023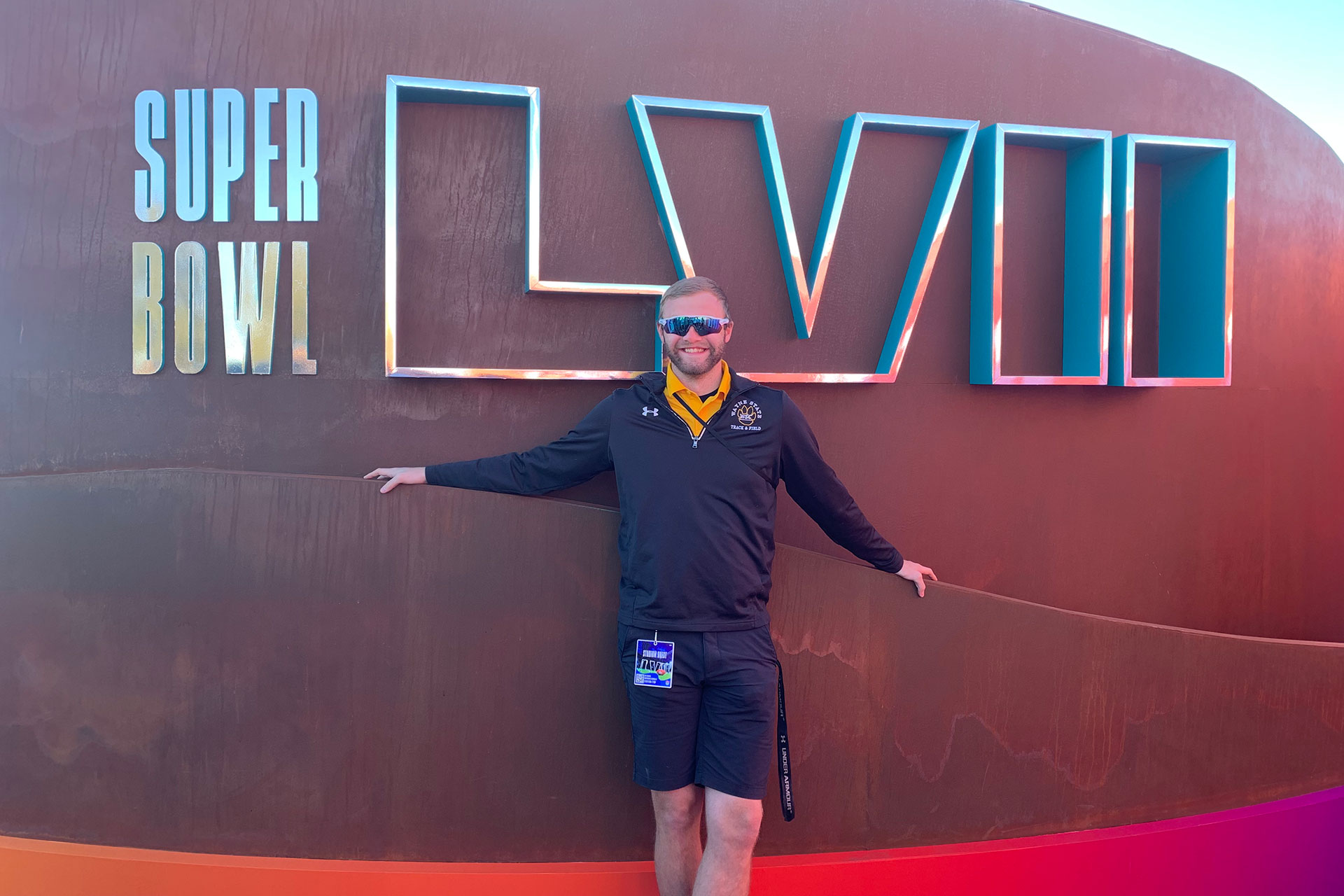 Graduate student Preston Davis shares his experience volunteering as a Hall of Fame talent escort, crediting the skills he learned at WSC for being prepared for the event.
While most NFL fans were huddled around their televisions during Super Bowl LVII, Wayne State graduate student Preston Davis '21 was hard at work at the game. Davis was part of a small army of nearly 6,000 volunteers at the Feb. 12 game in Arizona.
"My role at the game was as a Hall of Fame talent escort," Davis said. "I was assigned Buffalo Bills Hall of Fame legend Andre Reed, who played 15 of 16 seasons as a wide receiver for the Bills. Basically, I was his personal escort and security taking him from tailgate to tailgate and to his seats!"
Davis is in his first year as a graduate assistant coach with the Wildcat track and field program. The former Wayne State track and field standout works with sprinters/hurdlers/javelin throwers and multi-event athletes. A graduate of West Harrison High School in Iowa, Davis earned a bachelor's degree from Wayne State in Sport Management/Exercise Science in May 2021. He is pursuing a master's degree from WSC in Sport and Recreation Management.
"This experience contributed to my education by allowing me to get hands on experience in the sports industry as well as provided me with an opportunity to connect and network with individuals in the professional sports industry," Davis said.
Wayne State's undergraduate and graduate Sport Management programs place a premium on preparing students in a multidisciplinary environment well-suited to building professionals who can provide leadership, planning, and organizational expertise to any business whose primary product or service is related to sports and/or physical activity. Davis pointed to his academic work at WSC as key to his preparation for the Super Bowl.
"WSC prepared me with the skills from all aspects of the Sport Management program from the business side to facilities and operations," he said. "Everything from the classroom allowed me to use these skills to provide a better experience for the fans, as well as the talent I was taking care of!"
Davis wasn't shy about the chances of other Wayne State students landing work at such a high-profile event.
"These is nothing stopping any WSC student from going to work an event like this," Davis said. "Kids looking for an opportunity like this, it can be done. You just have to know where to look. And if you can't find where to apply, then you're not looking hard enough! But take advantage and really get to learn from the opportunities that are presented to you any chance you get."
Davis had one final thought about his work at Super Bowl LVII.
"It sounds like all fun and games being at the Super Bowl," Davis said. "While this was fun, it was a lot of work. So, for anyone that thinks this industry is easy, it's a highly stressful industry that takes a lot of time and commitment to make the needs of others a priority before your own to make an event run successfully and memorably for the fans and celebrities."
Learn more about Wayne State's undergraduate Sport Management program at www.wsc.edu/sport-management and the graduate program at www.wsc.edu/sport-management-masters.