Published Monday, September 12th, 2022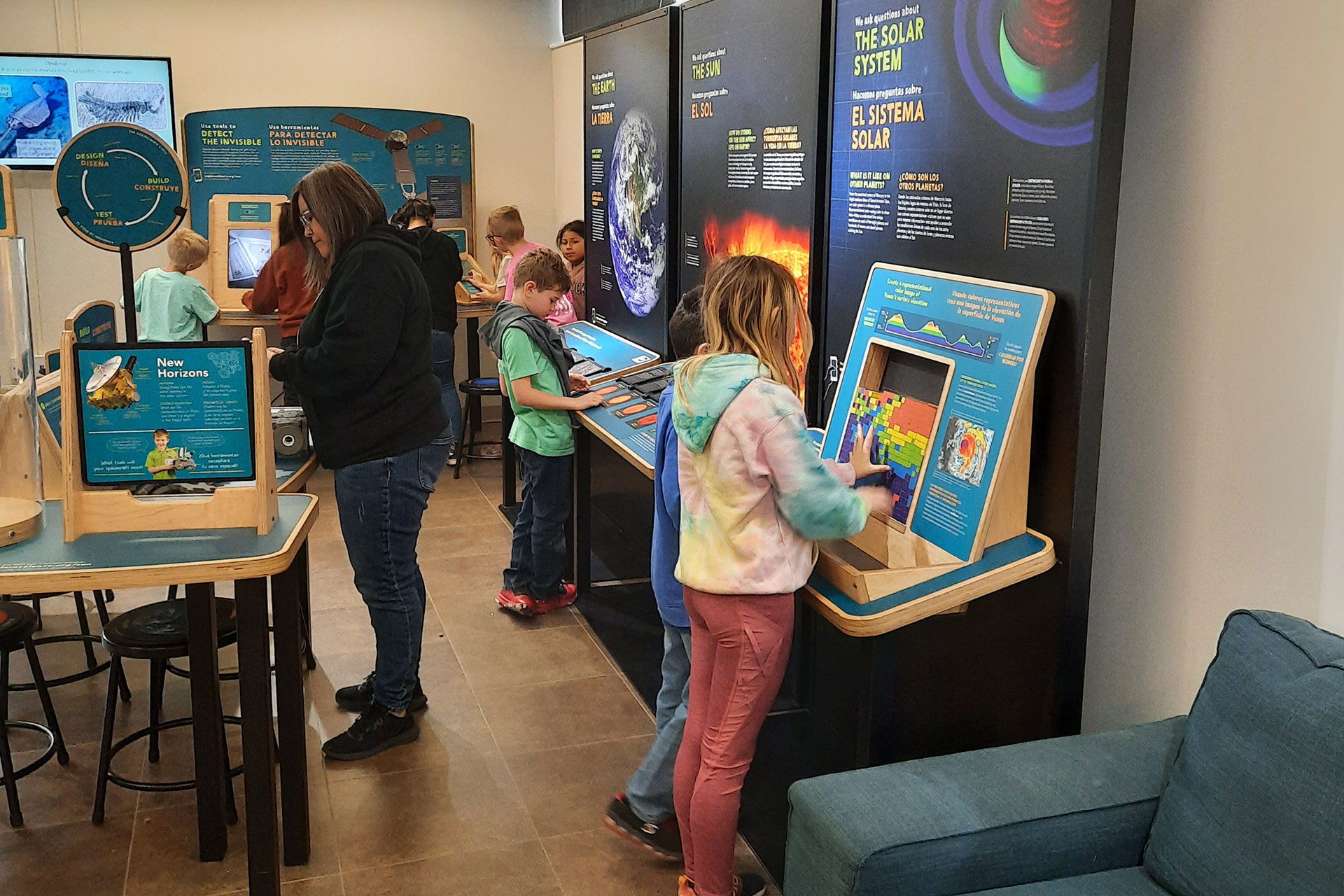 The exhibit, located in the Natural History Museum at WSC, will be open the second and fourth Sundays, and Saturday, Sept. 24 (Family Day). A special open house will be Oct. 7 during Homecoming.
The Sun, Earth, Universe exhibition, which has been on display at the A. Jewell Schock Natural History Museum at Wayne State College since May, is open for viewing during normal museum hours for the Fall 2022 semester, as well as select weekends. Normal museum hours are 8 a.m. to 5 p.m. Monday through Friday.
Additionally, the museum will be open 1 to 4 p.m. the second and fourth Sundays in September, October, and November, with a final Sunday opening Dec. 11. The museum will be open Saturday, Sept. 24, for WSC Family Day. There will also be a special museum open house and reception from 2 to 5 p.m. Friday, Oct. 7, during Homecoming Week.
There is no charge to view the museum exhibits. The museum is located on the first floor of the Carhart Science Building, Room 113, on the Wayne State campus.
Sun, Earth, Universe is an exhibition about our planet, the solar system, and the universe, and questions NASA is trying to answer about each. Packed with engaging, hands-on interactive exhibits, and dazzling imagery, the 600-square-foot exhibition connects visitors with current NASA science research and launches them on a journey to explore the universe.
The exhibition is part of a nationwide effort designed to engage audiences in the fields of Earth and space science. Additionally, the permanent displays in the natural history museum that showcase the history of life are available for viewing.
The Sun, Earth, Universe exhibition was created in collaboration with the National Aeronautics and Space Administration (NASA). The Sun, Earth, Universe exhibition was developed by a team led by the Science Museum of Minnesota, and 52 copies were fabricated and distributed nationwide by the National Informal STEM Education Network (NISE Network).
For more information about the Sun, Earth, Universe exhibition or the A. Jewell Schock Museum of Natural History at Wayne State College, please contact Dr. Mark Hammer at [email protected] or the Carhart Science office at 402-375-7329. More information about the exhibition can also be found at www.nisenet.org/sunearthuniverse.