Published Friday, January 8th, 2021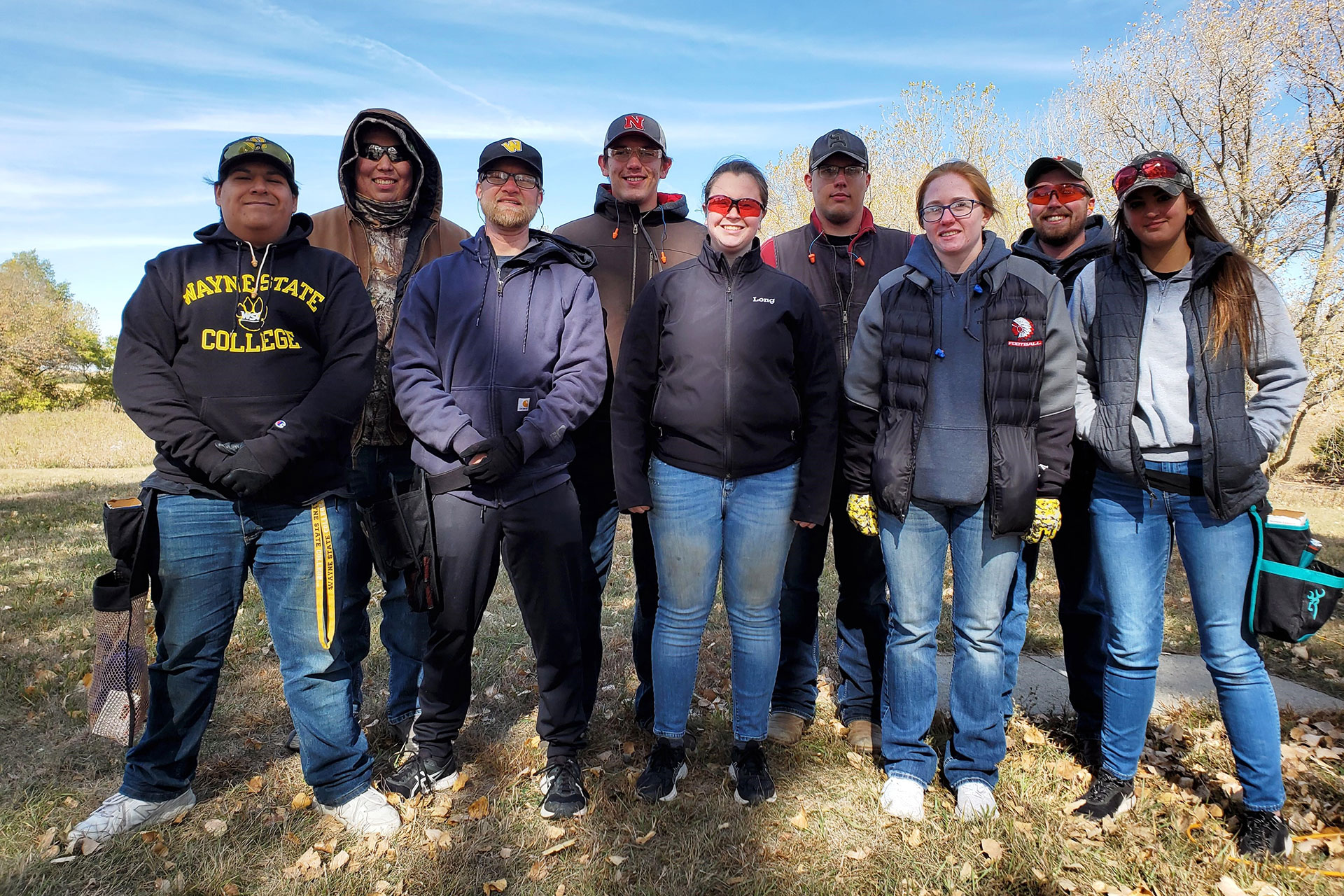 The new shooting team is a part of the Prairie Circuit Conference and will compete in trap, skeet, and sporting clays events.
Wayne State College is excited to announce the creation of a new Shotgun Sports Team. This new club sport was started by Hayley Long, a first-year student majoring in criminal justice, and a group of her friends that are interested in the shooting sports. The club currently boasts 17 members that joined to hone their competitive skills or pick up a new hobby. Club members will be competing in trap, skeet, and sporting clays events.
The WSC Shotgun Sports Team is a part of the Prairie Circuit Conference, which consists of schools from Nebraska, Oklahoma, Minnesota, Colorado, North and South Dakota, Wyoming, Iowa, and Kansas. The new team anticipates competing in those states, as well as locally here in Nebraska against college teams such as Midland, Doane, and Concordia. While this year team members are only practicing due to COVID-19 travel restrictions, beginning in the fall of 2021, they anticipate being able to attend at least five competitions a semester. Their dream goal is to make it to Collegiate Clay Target Championships in San Antonio, Texas, someday.
The majority of club members come from across the state of Nebraska with the only exception being a student from Forest City, Mo. They also came to Wayne State to study a variety of disciplines including criminal justice, science education, pre-chiropractic, conservation biology, manufacturing management, pre-med, and agricultural communications.
Each member of the team is required to have a Hunters Education Certification (or the equivalent certification from their home state if they are not a native Nebraskan) to join the Wayne State College Shotgun Sports Team. All members must also attend one "Shotgun Safety and Range Etiquette" class each semester before being allowed to participate.
Many of the inaugural members are students that previously competed in high school trap shooting, so they are excited to see a sport like this offered at Wayne State College. As a shotgun sports team, they will practice collegiate competition disciplines including trap, skeet, skeet doubles, and sporting clays. They also will educate members on sporting device safety, team etiquette, and the fun and thrill of the sport. This year, they are fine-tuning their skills to be ready for competition next year.
The team's primary practice location will be the Northeast Nebraska Shooting Association (NESA) range, a private facility near Pierce, Neb. The NESA range features a single trap and skeet range, and sporting clays field. This is the only location with all three college disciplines in Northeast Nebraska.
For information about volunteering as a coach or fundraising opportunities to offset the cost of specialized equipment and ammunition, please contact club president Hayley Long at [email protected] or visit the club's Facebook page.