Published Monday, November 9th, 2020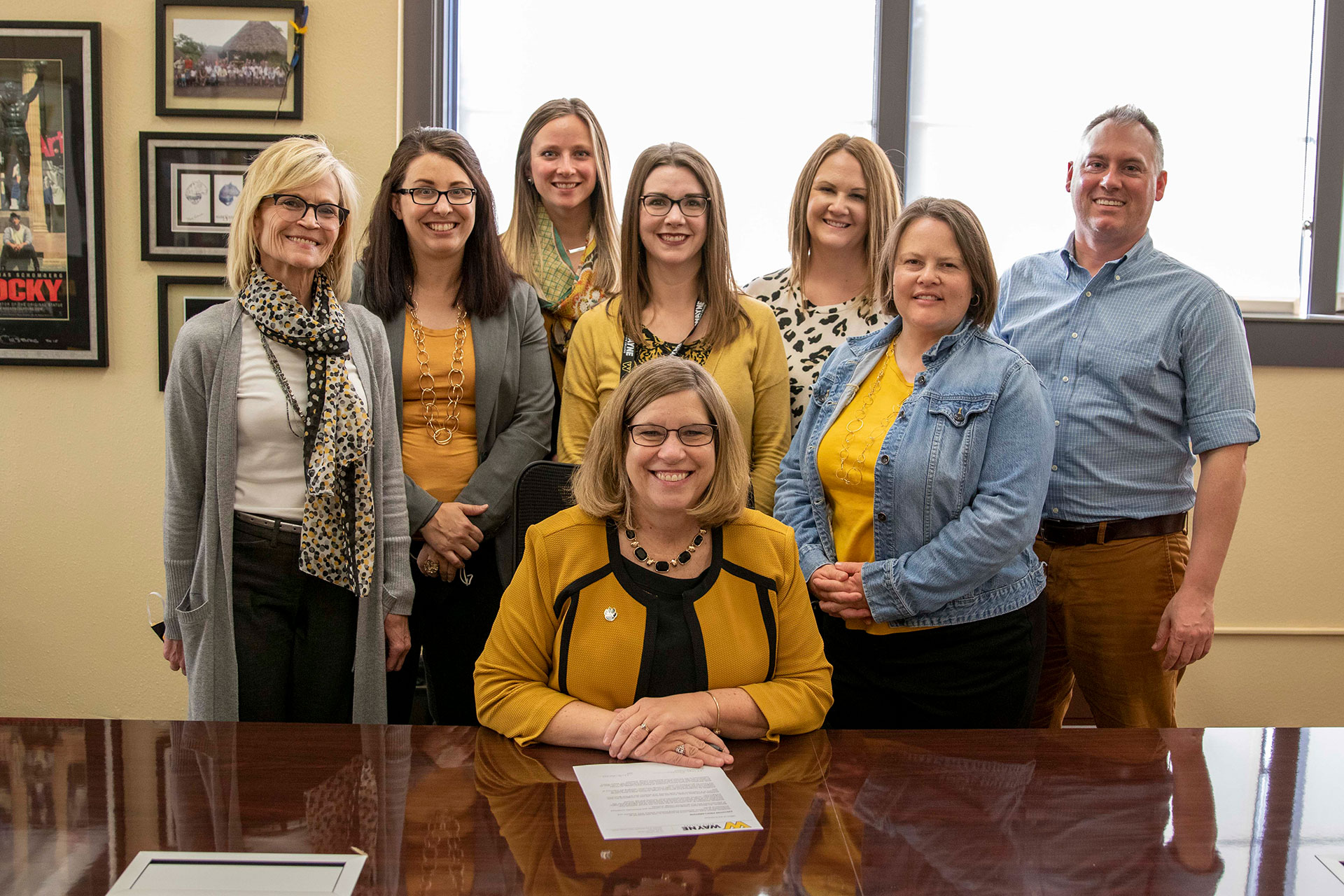 Five current students and President Marysz Rames, who was also the first in her family to go to college, share their stories.
This week Wayne State College is celebrating first-generation students! First-generation students are typically defined as students who are the first in their family to attend a four-year college or university to attain a bachelor's degree. About half of Wayne State's students are classified as first-generation students in any given year. The first-generation celebration culminates Nov. 8, the 55th anniversary of the signing of the 1965 Higher Education Act, which has helped millions of first-generation, low-income students persist to degree completion.
Our first-generation students benefit from TRIO Student Support Services, a student success program for first-generation college students, students from limited income families, and students with disabilities. TRIO provides a combination of academic and personal support services that matches the individual needs of each student to increase learning, retention, and graduation rates.
This week you'll hear from first-generation students who share their experiences and advice on being the first in their family to go to college.
Megan Kaiser
Megan Kaiser of Hinton, Iowa, is a first-generation student majoring in elementary education with endorsements in reading and writing and English as a Second Language.
"Since neither of my parents attended college to obtain a bachelor's degree, this whole college experience and journey was new to all of us. Some of the main challenges I have faced is getting used to the new environment of being in college and not really having anyone to help guide me. In opposite of that, these challenges have also helped me in many ways. TRIO has helped me adapt to my new surroundings and has helped guide me with new information that I needed to know. My advisor and the staff were always open for me to come and ask questions. There have been many opportunities for me to grow and learn from new experiences that the TRIO program has to offer. If you are a first-generation student, my first piece of advice would be to just be yourself and do not hesitate to ask questions about anything. TRIO has been there for me, and they will be there for you."
Kaylee Fitzke
Kaylee Fitzke of Hastings, Neb., is a first-generation student majoring in family consumer science education with an endorsement in special education.
"Being a first-generation college student, the new experience can be overwhelming, especially when your family doesn't know how to help you. One of the greatest rewards with being a first-generation college student is getting a higher education and being able to have a stable career. Just because college may be new, you should not let that stop you from pursuing an educated future. TRIO has always allowed to me to have someone to talk to about fears, and there is someone to push and challenge you."
Gavin Copple
Gavin Copple of Omaha, Neb., is a first-generation student majoring in criminal justice with a political science minor.
"Do your best from the beginning. Don't get yourself in a hole you can't get out of. Ask questions when you need to – you always have support. I am able to share and tell my parents about how college is, and they get to see how it is along with me, which is one of the greatest rewards being the first in my family to work towards a bachelor's degree. TRIO has helped me learn a lot of different skills and meet a lot of great people."
Katie Schroeder
Katie Schroeder of Wilber, Neb., is a first-generation student majoring in psychology with a Spanish minor.
"My greatest challenge when I first came to college is that I had no idea what I was doing and some days I still feel that way being a first-generation student. But I know that I am setting an example for my little cousin and little stepbrother. Showing them that more schooling is possible for us and higher education can help you achieve more in life. Embrace all the opportunities that the school provides for you, whether it is the tutoring program, clubs/organizations, and even making connections that will help you in the long run. Also, don't be afraid to explore new possibilities. TRIO has helped me with almost everything that I can think of! They have provided me with services such as tutoring, guidance, introducing me to campus, and my best friends."
Kiana Lewis
Kiana Lewis of Winnebago, Neb., is a first-generation student majoring in early childhood and family studies.
"It's not easy being a first-generation college student, but it's not impossible! TRIO has been a big help. Tutoring at the Holland Center helped me my first few weeks too. I have now adjusted well to being in college."
Marysz Rames
Did you know that president of Wayne State College is also a first-generation student? Check out her story!
"I was raised in a loving household with parents who were passionate about education. Even though my mother nor father had any education beyond a high school diploma, they believed higher education was the gateway of opportunity. While I appreciated their passion and support, they had limited knowledge on how to navigate higher education. It was my high school teachers and guidance counselor who helped me apply to college and supported me in my quest to acquire scholarships. Once I arrived at my now alma mater, University of Northern Colorado, the faculty and staff were my advocates and mentors as I progressed through my educational journey. My parents' commitment to education along with the support of passionate educators is the reason I completed my bachelor's degree and eventually my master's and doctoral programs. As a first generation college student, this network of "cheerleaders" made college a reality. As a college president, I have never forgotten the support and guidance I received, which is why I remain committed to serving as a champion for first-generation college students in their quest to earn a degree."