Published Thursday, June 18th, 2020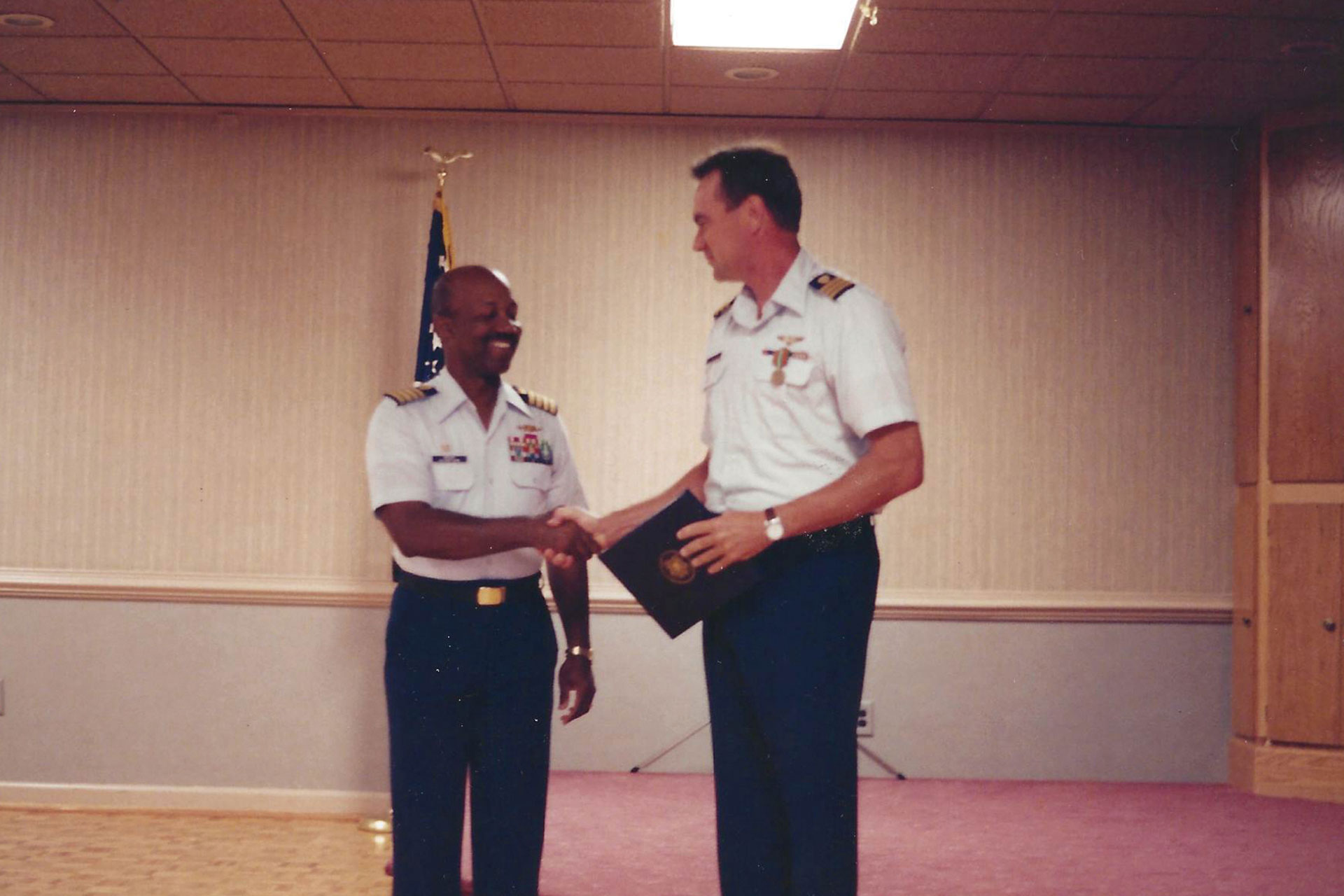 Curt Ott reflects back on his career with the Coast Guard and how he drew from what he learned while at WSC.
Curt Ott often thinks of Wayne State College as his "prep school," because he can't imagine an institution of higher learning preparing him any better for the career field he chose and the life adventures he's experienced.
Ott met his wife, Ruth Bruner, at Wayne State. He was raised in Oakland and Ruth is from Wausa. They both graduated from Wayne State: Curt in 1977 with a degree in business management and an economics minor, and Ruth in 1978 with a degree in elementary education.
"Both of us paid for college ourselves, so attending WSC was a great choice," Ott said. "Wayne State was, and continues to be, a good value in higher education."
Ott then applied to the Coast Guard. The selection process for Coast Guard officer candidate school was long and involved. He was one of 73 selected from more than 1,000 applicants. Ott finally arrived at, graduated from, and departed Navy Flight School in Pensacola, Fla., as a Coast Guard helicopter pilot.
Ott received orders to Coast Guard Air Station Elizabeth City, N.C., his first aviation assignment. While it was true he was a designated naval aviator, it was also true that he had no experience or expertise in Coast Guard Search and Rescue.
"I began flying training missions to gain the skills necessary to actually find and rescue people without killing myself in the process," Ott said. "We generally flew the HH-3F helicopter with a crew of four, later in my career adding a rescue swimmer as the fifth crewmember. Teamwork was absolutely essential if the crew was to succeed and survive. Hoisting a person from a sailboat pitching and rolling 300 miles offshore at night is scary enough on its own even when everyone is focused and on their game."
After three and a half years, Ott received orders to Kodiak, Alaska. Not long after they arrived in 1984, Ott was one of the duty pilots when they launched at 3 a.m. to search for a sinking commercial fishing boat near Seward, Alaska. The 60-knot winds drove the heavy snow sideways and caused severe turbulence. During the two-hour flight to the boat, the crew radioed they were abandoning ship. Instead of delivering a dewatering pump to save the boat, they were now looking for the crew in the whitecaps of the 30-foot seas. They hoisted the four surviving boat crew members and delivered them to a waiting ambulance in Seward. That night, they succeeded and survived, receiving Air Medals for their work.
After Alaska, the Otts moved to Mobile, Ala., where Ott served as an instructor pilot for the Coast Guard Aviation Training Command, the training and evaluation center for Coast Guard aviation. It was in Mobile where their two sons began to develop as baseball players, leading their older son, Mike, to become a high school coach, and their younger son, Thom, to ultimately play at the University of Nebraska-Lincoln during their first College World Series appearance.
Five years in Mobile was followed by orders back to Elizabeth City, N.C., for a second tour. Ott completed a transition into the newly acquired HH-60J, the Coast Guard's version of the Blackhawk. He was assigned to be the administration officer when he checked in to the air station and changed to the helicopter operations officer about halfway through his tour. During Ott's last year in Elizabeth City, he was selected for Commander (Lieutenant Colonel). When a new command was established in Portsmouth, Va., Ott received orders to the new Integrated Support Command. He was in charge of the administration department, Coast Guard Reserve assignments, the barracks, family housing, the gym, and base security. Since it was a new command, all the operating procedures had to be written.
"We drafted, updated, and rewrote hundreds of documents from how to account for basketballs at the gym to detailed evacuation procedures as part of the hurricane plan," Ott said. "Who could have guessed that laboring over term papers in Bowen Hall would be such a great training ground for this job?"
As Ott's final tour in his Coast Guard career, he was assigned to be the director of Operations Bahamas and Turks and Caicos (OPBAT). OPBAT is a multi-service, multi-national, multi-agency counter-narcotics operation centered in Nassau, Bahamas. The Coast Guard's role is primarily to provide aviation resources and expertise in support of this mission. Ott was also included in coordinating law enforcement efforts with the British High Commission in Nassau.
Ott retired from the Coast Guard in 2000 with almost 23 years of service. He was subsequently hired by the Maryland State Police as a medevac helicopter pilot. He flew for them for 17 years.
"I was the first person in my family to graduate from college. My parents were unable to pay for my school, so I paid my own way," Ott said. "I attended Wayne State because I could afford it. I didn't realize at the time how my experiences at Wayne State would prepare me so well to pursue and realize my dreams. I was able to get the job I wanted, live a life of adventure, and, as a side bonus, marry my wonderful wife. Wayne State is amazing!"