Published Thursday, June 18th, 2020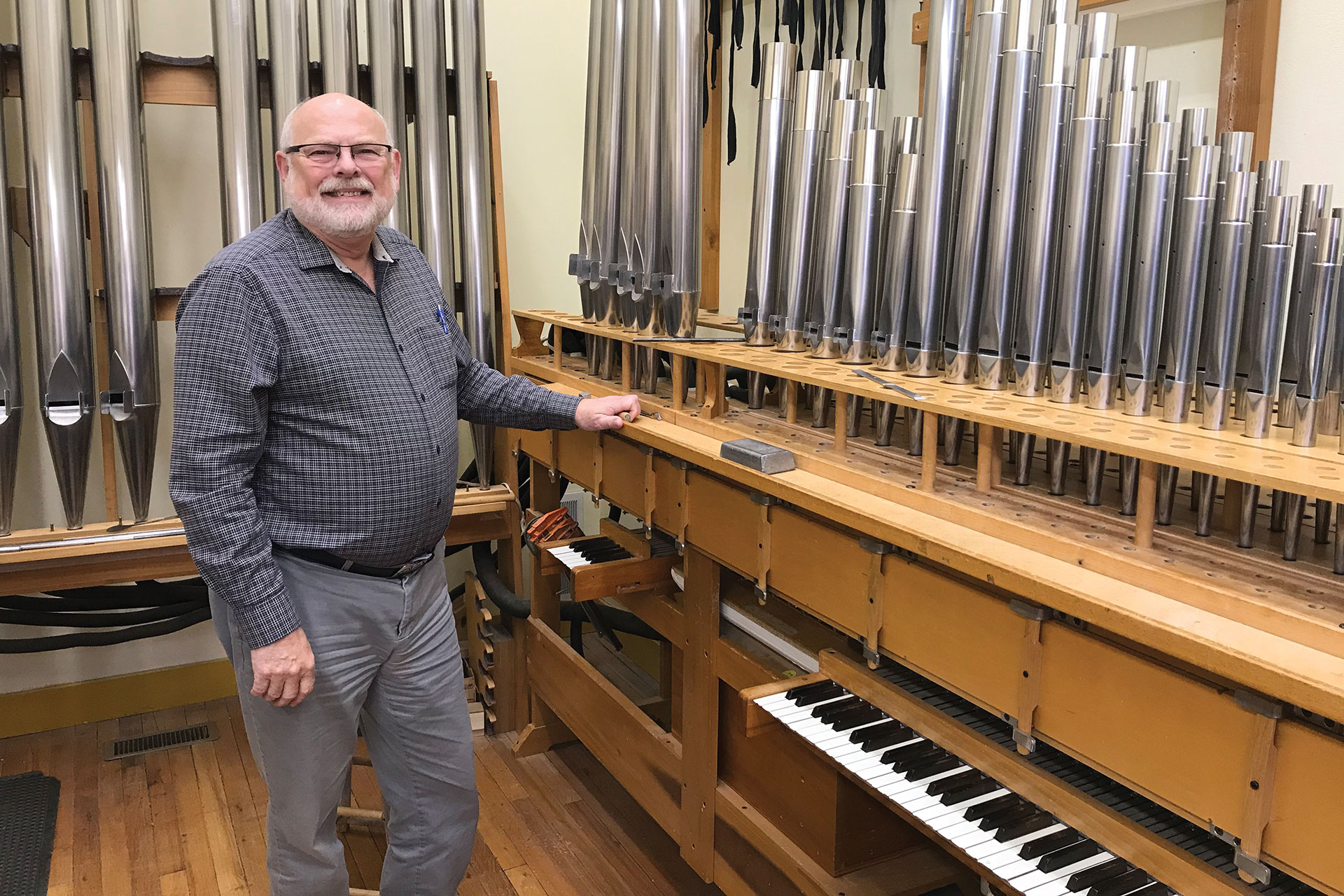 WSC grad Lynn Dobson is president and artistic drector of Dobson Pipe Organ Builders in Lake City, Iowa.
Lynn Dobson graduated from Wayne State College in 1971 with a degree in art and industrial education. While at Wayne State, Dobson took the greatest interest in 3D design classes and specialized in sculpture. He also studied drafting, woodworking, metal technology, blacksmithing, electricity, shop drawing, and management skills, all of which would prove to serve him well as he ventured a career as an organ builder.
As president and artistic director of Dobson Pipe Organ Builders in Lake City, Iowa, Dobson and his firm have acquired an impressive reputation by completing 97 new organs and 45 restorations and rebuilds of older instruments since the company's founding in 1974. Though firmly rooted in the traditions of fine organ building, Dobson's artistic approach to elements of organ design has never been bound by the practices of those who have gone before him. He attempts to conceive each instrument as a unique work of art.
Dobson's interests in architecture, gardening, the visual arts, and the study of nature may seem peripheral to organ building, but they in fact are so intertwined as a single discipline that these interests become inseparable and define who he is, how he lives, and what he does. Dobson experienced the ways of craftsmen at an early age. When the barn on the family farm burned in the winter of 1954, a new, traditionally framed barn was built the following summer. At the age of 5, Dobson was given his first tool box and tools by the carpenters so he could "help" them with their work. Over the next dozen years, the same carpenters returned each summer, eventually building an entirely new set of buildings on the farm.
Exposure to the organ and its music first came through Dobson's sister, a church organist, and continued through personal reading, study, and working for an organ service company during his college years. By the time he graduated from college, Dobson had designed an organ that he then built during the year following his graduation. This instrument served Our Savior's Lutheran Church in Sioux City, Iowa, from 1974 until the church closed in 2009. It was subsequently given by Our Savior's to Holy Cross Lutheran Church in Dakota Dunes, S.D., where it continues to serve as part of a vibrant worship community.
Dobson Pipe Organ Builders' first contract came from one of Dobson's former teachers, Antony Garlick, a music professor and composer at Wayne State College. When Garlick moved in 1986, he sold the organ to Mary Brooks of Doylestown, Pa. In 1998, she in turn sold it to The Church of the Holy Spirit in Harleysville, Pa. Dobson was once again called upon to move the organ and made several additions to suit its new, larger home.
Dobson Pipe Organ Builders currently employs 23 people, and their recent work includes a large organ for the Cathedral of our Lady of the Angels in Los Angeles, the largest new cathedral built in modern times. Dobson's team worked with the Pritzker Prize-winning architect Rafael Moneo from Spain on the design of this project. Dobson also designed an organ for The Kimmel Center for the Arts in Philadelphia, home to the Philadelphia Orchestra, one of the top five orchestras in the world. This organ is the largest mechanical action concert hall organ in North America. Dobson was also commissioned to build an organ for St. Thomas Church in New York City. St. Thomas Church is home to the famous choir of men and boys. The organ project was dedicated during the 100th anniversary year of the founding of the choir school, only one of two residential boarding choir schools for boys in the world and the only one in the United States. This organ became Dobson's largest organ, having 126 ranks of pipes, or 9,741 pipes, the most complex design project of his career.
International projects include an organ for Merton College at Oxford University in England, the first American organ to be installed in any of the renowned British Universities, and an organ for St. James King Street in Sydney, Australia, to be installed in 2022 as the first new organ built in the United States and exported to Australia.
Dobson has steadily continued to undertake sculptures and other art projects, completing many commissions for churches, residences, and schools. The sculptures are made entirely from fragments of wood left from building organs, an expression of the symbiotic relationship between the sculptures and organ building.
Dobson remains thoroughly involved in the daily activities of Dobson Pipe Organ Builders. His work includes extensive travel to meet with clients, architects, and contractors in developing new projects. At the shop, Dobson generates the initial mechanical and visual designs of all new organs and continues to work closely with members of the firm as more detailed design decisions are made and construction takes place. His work on site includes installation of the instrument, collaborating on the tonal finishing process, and final examination of the completed instrument. Attending the dedicatory event of a completed project provides Dobson with the satisfaction of seeing and hearing the finished instrument in the environment for which it was created.