Published Tuesday, February 18th, 2020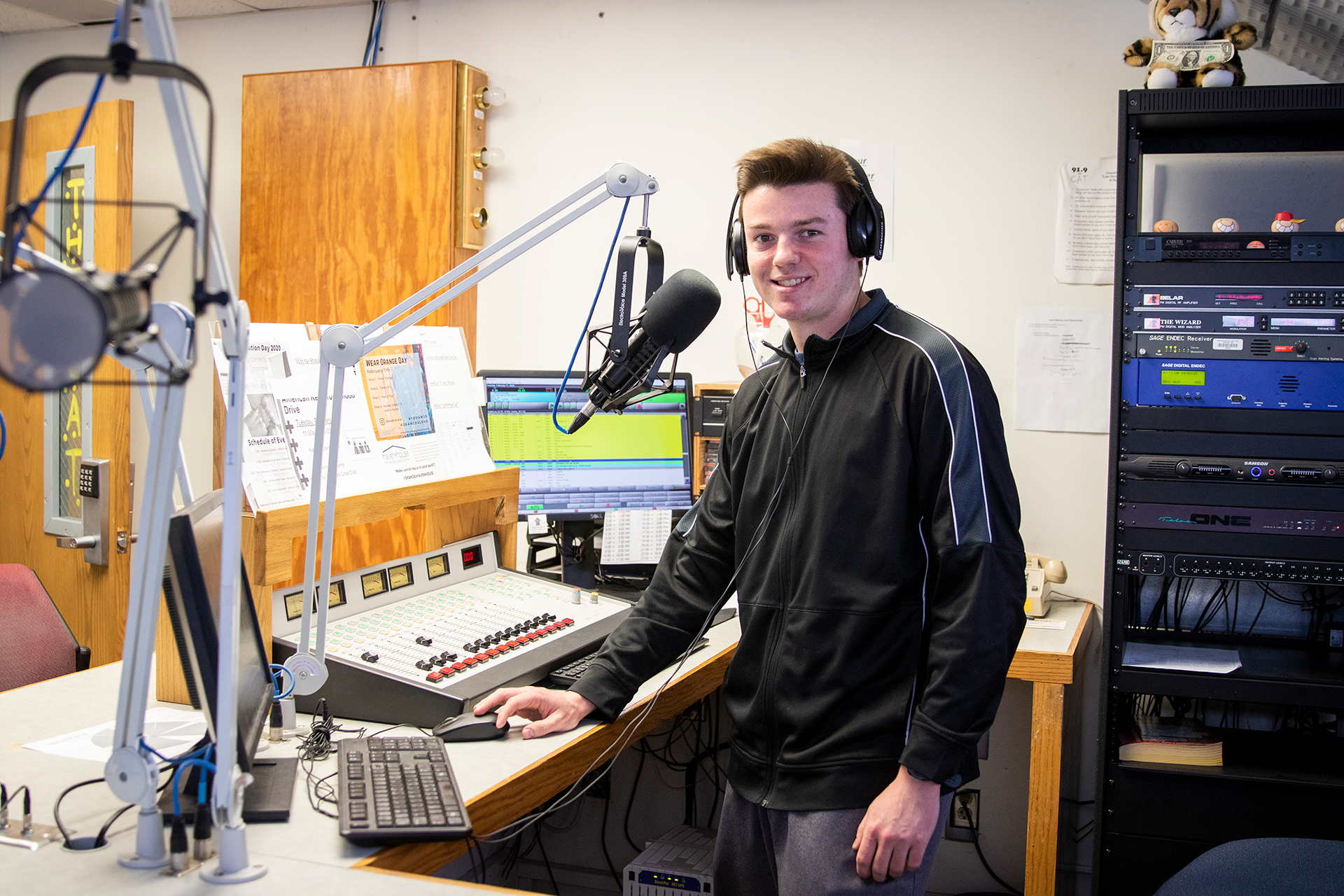 Students share why they are in the electronic media degree program at Wayne State College.
By Sarah Kreber, College Relations intern
Senior Sean Dunn works in WSC's Hot Attic Studios.
Wayne State College offers an electronic media degree program for students who are looking for a way to utilize multimedia communication tools. Students have the ability to learn inside and outside the classroom taking different classes that enhance student learning and participating in club activities that provide practical application.
Video Production, Radio Workshop, and Media Ethics are just some of the classes in electronic media degree program students have the opportunity to take.
Senior Sean Dunn, from Coleridge, Neb., found his minor in electronic media to be an excellent complement to his English writing major.
"It's a great mix of theory and hands-on work," Dunn said. "One day, we'll be learning about interpersonal interaction for interviews, and the next we'll be practicing our interviewing skills in a contained setting. It helps you see how it works in real life, and how you can improve."
WSC provides electronic-media-related organizations that help students gain confidence and live out their passion. Austin Svehla, a junior in the electronic media degree program, is a part of the campus newspaper, The Wayne Stater, and 91.9 The Cat, the college radio station.
"I have learned how to produce, distribute, and promote news in both," Svehla said. The Columbus, Neb., native said being a member of these clubs has given him the opportunity to help promote on-campus events and activities.
The electronic media degree program can open the doors to career opportunities in video production, news reporting, and social/digital media. Dunn aspires to work in the electronic media industry using the skills he acquired from Wayne State.
"I'd love to go into some sort of promotion or marketing, even a social media representative," Dunn said. "I also want to be a writer/producer for film and TV, or even other media."
Svehla dreams of using his electronic media degree to work in the journalism field.
"I plan to help produce news, whether it be reporting local news, helping design physical newspapers, or covering sports through writing or broadcasting," he said.
The classes, clubs, and careers are just a few reasons to join the electronic media degree program at Wayne State. Whatever draws them in, WSC is ready for students to take the leap and embark on their educational journey.
"Truly, the time I've spent here will be the memories I'll remember far into the future," Dunn said.