Published Tuesday, February 4th, 2020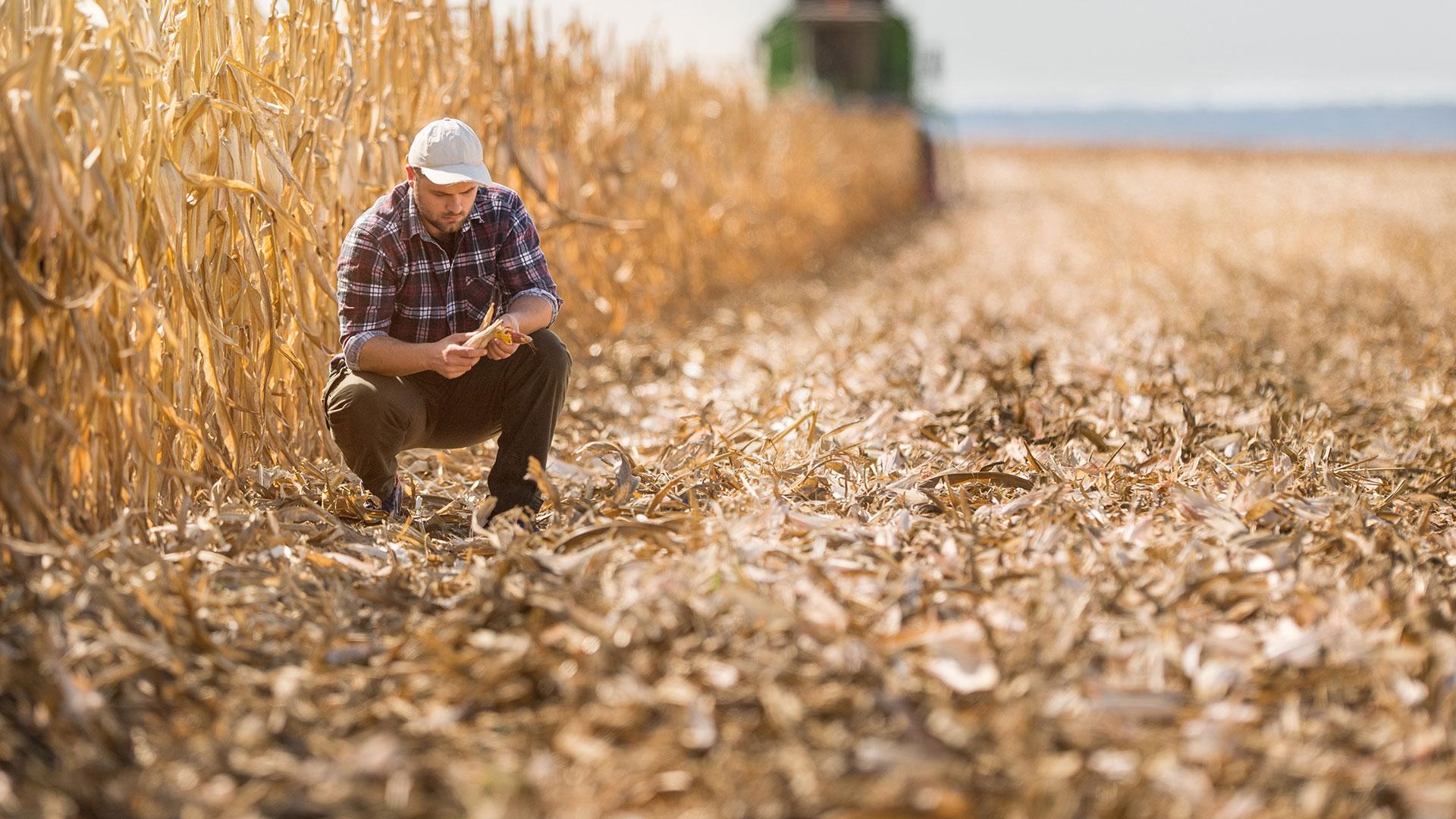 Holding fast to its rural ties, WSC is proud to consistently produce graduates who make their home in The Good Life and are dedicated to supporting the state's economy and serving its citizens.
Located in the heart of Northeast Nebraska, Wayne State College has long had strong ties to the state's rural life. Rural communities make up a majority of Nebraska; they are the lifeblood of the state. With its own location in a small town, Wayne State is a college of choice for many Nebraska students from rural areas. Many students also choose to live and work in these rural areas after graduation. WSC offers specific rural-focused programs in agriculture, health, and law fields, as covered in this article, but rural students are represented in all of our areas of study. Whatever their future career might be, many of these students return to their roots and use their degrees – education, criminal justice, medicine, business, biology, chemistry, industrial technology, communication, and more – to serve rural and local organizations – schools, law enforcement, hospitals and clinics, law firms, construction, media, and a variety of businesses, just to name a few. Holding fast to its rural ties, WSC is proud to consistently produce graduates who make their home in The Good Life and are dedicated to supporting the state's economy and serving its citizens.
Agriculture Degree Programs
A variety of undergraduate degrees are beneficial to careers in agriculture, such as biology, chemistry, business, and even communication, like the agricultural communication degree program created in 2018. Wayne State has recently added new programs and begun partnerships that involve students even more closely in the field of agriculture.
Wayne State has partnered with the University of Nebraska-Lincoln to offer students an innovative pathway to an agriculture degree through our new applied science dual degree program. Students who complete the new program will receive two bachelor's degrees: an applied science degree (concentration in agriculture and natural resources) from UNL and a life sciences degree (concentration in biology) from WSC. Students will begin their education with coursework at WSC, then finish the degree with UNL while remaining, if they desire, in Northeast Nebraska to complete the fnal year online or in a laboratory setting.
A second partnership with the University of Nebraska-Lincoln College of Engineering includes the agricultural engineering degree. In this field, engineers study machine components and equipment, test agricultural machinery to ensure safety and performance, and provide leadership on water and environmental concerns.
With these partnerships, students will get to take advantage of the nearby Haskell Ag Lab, UNL's extension offce just 13 miles up the road from Wayne.
There are biology-based paths to careers in agriculture, but there's also the business side. Cade Kalkowski of Niobrara is in the agribusiness degree program and is the fourth generation to work on the Kalkowski family farm. He plans to graduate in May 2021.
"I chose Wayne State because I felt it had similar values as compared to where I came from, and I went with agribusiness because I come from a farming and ranching background," said Kalkowski.
The Kalkowskis raise corn, soybeans, prairie hay, and alfalfa hay, and also have 200 head of cow-calf pairs. "I think my degree will drastically help with the financial side of farming – helping know exactly what everything is and how to maximize my profts. One thing I have acquired is an ability to precisely plan my day step to step, helping work at maximum effciency."
Kalkowski says his options are open for his future but that someday he would love to go back and take over the farm from his dad.
Combining a business degree with agriculture careers has already proven to be a perfect match for WSC alumni.
Tim Benes '11 of Weston grew up on a farm near Valparaiso and was operating farm machinery well before he had a driver's license. He currently works on the family-owned-and-operated farm with his dad, uncles, and cousins, growing corn and soybeans, selling farm chemicals and equipment, and raising chickens for Costco.
"While my plan all along was to continue to work on the family farm after college, the combination of hands-on experience and my education from WSC helped provide and shape the skills I needed for the current role I have in the farming operation," says Benes, who holds a business management degree. "The small class size and rural environment at Wayne made it the perfect location for offering agrelated courses. Students have the ability to continue their education in areas that provide for career opportunities tied to their home, family, and communities."
Though not quite in Nebraska, Alan Movall '00 is another good example of how a WSC degree complements a career in agriculture, tying his education to his farming career in western Iowa.
"Coming from a rural community, I always knew I wanted to be involved in agriculture," says Movall of Schaller, Iowa. "I attended Wayne State and majored in accounting. After graduation, I worked for 10 years in the grain merchandising business, using my business degree and adding the knowledge I needed from the ag sector. Now I operate my own farming operation. The tools I gained at Wayne State add value to my operation today. From budgets to cost analysis, I use my degree every day to operate my own farming business."
In addition to providing career pathways, Wayne State joined six schools in October in signing the Northeast Nebraska Agriculture and Natural Resources Education Compact to support agriculture and natural resources management in the state. The schools included WSC, University of Nebraska-Lincoln College of Agricultural Sciences and Natural Resources, Little Priest Tribal College, Nebraska Indian Community College, Northeast Community College, Nebraska College of Technical Agriculture, and Wayne Community Schools. The purpose of the compact is to collectively serve the education needs of youth and lifelong learners in Northeast Nebraska and contribute to workforce and talent development to support economic growth strategies in agriculture and natural resources, according to the framework established by the participants. The compact's stated goals are to improve college and career readiness, educational attainment, and community and economic vitality and growth.
Rural Health Opportunities Program (RHOP)
Established and successful for more than 30 years, the Rural Health Opportunities Program (RHOP) at Wayne State College is a special cooperative program between WSC and the University of Nebraska Medical Center (UNMC).
Students in RHOP are students from rural Nebraska, dedicated to their home state and passionate about its rural health care needs. With an education steeped in biology and chemistry, and further medical training at UNMC, RHOP prepares students to return to rural Nebraska and care for its citizens.
Participants in the program receive guaranteed admission to UNMC, full tuition at Wayne State College, early registration privileges, and special opportunities to visit UNMC during their time at WSC.
Natalie Gasseling of Hemingford is a junior in RHOP, studying biology in the pre-physician assistant program. She feels strongly about her future in rural health care.
"Upon completion of PA school at UNMC, I hope to return and practice in rural Nebraska," said Gasseling. "This dream was one of the major reasons I applied for RHOP. I grew up in a rural community, and I want to give back to rural Nebraska. People who live in rural areas may have to drive an hour for a single appointment. Working in a rural area means I could give people health care in their own hometown. Family practice is appealing to me because you get to see something different every day, yet you get to build strong relationships with your patients and the community. I believe building that relationship foundation is a critical step in health care, because a patient will then feel comfortable with you and trust you will give them the best care they deserve."
Gasseling said the professors and classwork, involvement in clubs such as the Wildcat Academy of Leadership and Knowledge (WALK) and the Red Cross Club, and job shadowing opportunities have helped her immensely toward her future career as a physician assistant.
"The professors know the rigor of professional school, and I trust that Wayne State and the faculty have prepared me for the diffculties PA school entails," she said. "The small classes and one-on-one opportunities in lab and lecture are one-of-a-kind.
"Attending Wayne State has allowed me to obtain over 50 hours of shadowing Gary West, PA-C, here in Wayne. Gary has taught me so many skills that I hope to utilize when I work as a physician assistant. I know coming to Wayne was one of the best choices I have ever made to be successful in undergraduate studies, which will transition into professional school, and then working as a health care professional in the future."
Maria Michaelis '98, M.D., FASA, is an anesthesiologist and an associate professor with the Department of Anesthesiology at UNMC. A Wakefeld native, Michaelis entered RHOP for the pre-med program and now reflects on the benefts she gained through the program.
"RHOP streamlined for me the process of getting the right classes and gearing me up for going to medical school," she says. "The fact that my GPA was monitored closely during undergraduate as part of the requirements for the program helped keep me accountable. I liked that the RHOP program also allowed students from small towns the chance to visit UNMC while in the undergraduate programs. RHOP allowed me to also make many friends from other small communities who were doing the program in medicine, pharmacy, and nursing. In fact, some of my very best friendships to this day came about through the RHOP program.
"I think the RHOP program continues to impact students from rural Nebraska because it allows them the chance to get in the door to a career in medicine, pharmacy, physical therapy, or nursing. For many specialties, it is helping to fulfll the needs of medical care in rural Nebraska."
Rural Law Opportunities Program (RLOP)
The need for attorneys in rural Nebraska is greater than ever. The current shortage requires those who need legal services to drive hundreds of miles for matters such as real estate transactions, wills, business needs, and criminal matters.
The Rural Law Opportunities Program began in 2017 and is a special cooperative program between Wayne State College and the University of Nebraska-Lincoln designed to fill the shortage. Similar to RHOP, RLOP recruits and educates students from rural Nebraska to become lawyers who will return to rural communities and practice law. Law students can choose any major for their undergraduate studies.
Students selected for RLOP also receive a generous pre-law scholarship covering full tuition at WSC. RLOP students with a 3.5 cumulative GPA and an LSAT score of at least 154 will be automatically accepted to the University of Nebraska College of Law unless there are concerns about the applicant's character and ftness. RLOP students will then be considered for law school scholarships upon admission to the College of Law. After completing law school, students can apply for the loan forgiveness program currently available in Nebraska if they return to a rural Nebraska location and practice law.
Senior John Paul Svec of David City entered RLOP in 2017 and will be among the frst graduating class of RLOP students in May. He said his interest in law began in high school, taking a civil law class and joining the mock trial team. He did research beyond what was required for class and did an internship with the Butler County Attorney's offce. Svec, who is pursuing his criminal justice degree, then began his college education at Wayne State. He said Drs. Randa Garden and Andria Cooper heavily encouraged him to apply for the new program.
"The main reason I want to be a lawyer is because I truly want to help people," said Svec. "Whether it is a child that is in need of an advocate, a defendant that needs legal representation, or a person needing help drafting a will, I want to help people with their legal issues."
He says after completing law school and passing the bar exam, he would like to practice in Western Nebraska since there is a great need for lawyers in that area. He would like to be a prosecuting or defense attorney with the possibility of having his own private clients on the side dealing with civil law matters.
"I believe that my education from Wayne State has prepared me for law school," Svec said. "All of my classes have greatly increased my critical thinking and problem-solving skills. One of the reasons I chose Wayne was because it is the only college in Nebraska with a set pre-law minor. With this minor, I have taken classes that I believe will give me a head start in some of my classes in law school. RLOP has allowed me to take special programs to prepare for the LSAT. It has provided me with the best advisors to guide me through the phases of preparing for law school. It has opened up internship opportunities. Most importantly, I have been able to establish a good relationship with the UNL College of Law before even attending."
Lyle Koenig '66 of West Point, an attorney at Koenig Law Firm in Beatrice, has had a successful 47-year law career after graduating from WSC and UNL College of Law and knows from being in the feld that the program is an excellent set-up to support rural Nebraska.
"If country life is going to survive, young people must return to the country to live and work after graduating from college," he says. "RLOP promotes that objective by awarding scholarships to students, from the country, who promise to return to rural Nebraska after law school to practice law. Everyone, the student, the college, and the state, benefts from this program. The student gets a quality education, the college gets outstanding students to its campus, and the state gets a continuation of rural life in Nebraska. I know all this is possible because I substantially did it."
About Our Students
85% of our students from Nebraska are from rural areas (based on Fall 2019) (2,233 out of 2,620 are rural Nebraska students)
71% of our total student body are from rural Nebraska (based on Fall 2019). (2,233 rural out of 3,148 total undergraduates)
Top 3 cities our rural Nebraska students are coming from (based on Fall 2019): Wayne (217), Norfolk (159), South Sioux City (106)
Top 3 majors our rural Nebraska students are studying (based on Fall 2019): Business (279), Elementary Education (230), Criminal Justice (158)
Of the surveyed rural Nebraska students that graduated by 2017-18, 88% remained in Nebraska (167 out of 190 surveyed) and 51% remained in rural Nebraska (96 of 190 surveyed)
*"Rural Nebraska students" is defined in the same way as RHOP and RLOP. Nebraska students are considered from rural areas (versus metro areas) unless they are residents of Bellevue, Boys Town, Chalco, Elkhorn, LaVista, Lincoln, Offutt Air Force Base, Omaha, Papillion, or Ralston.