Published Thursday, January 30th, 2020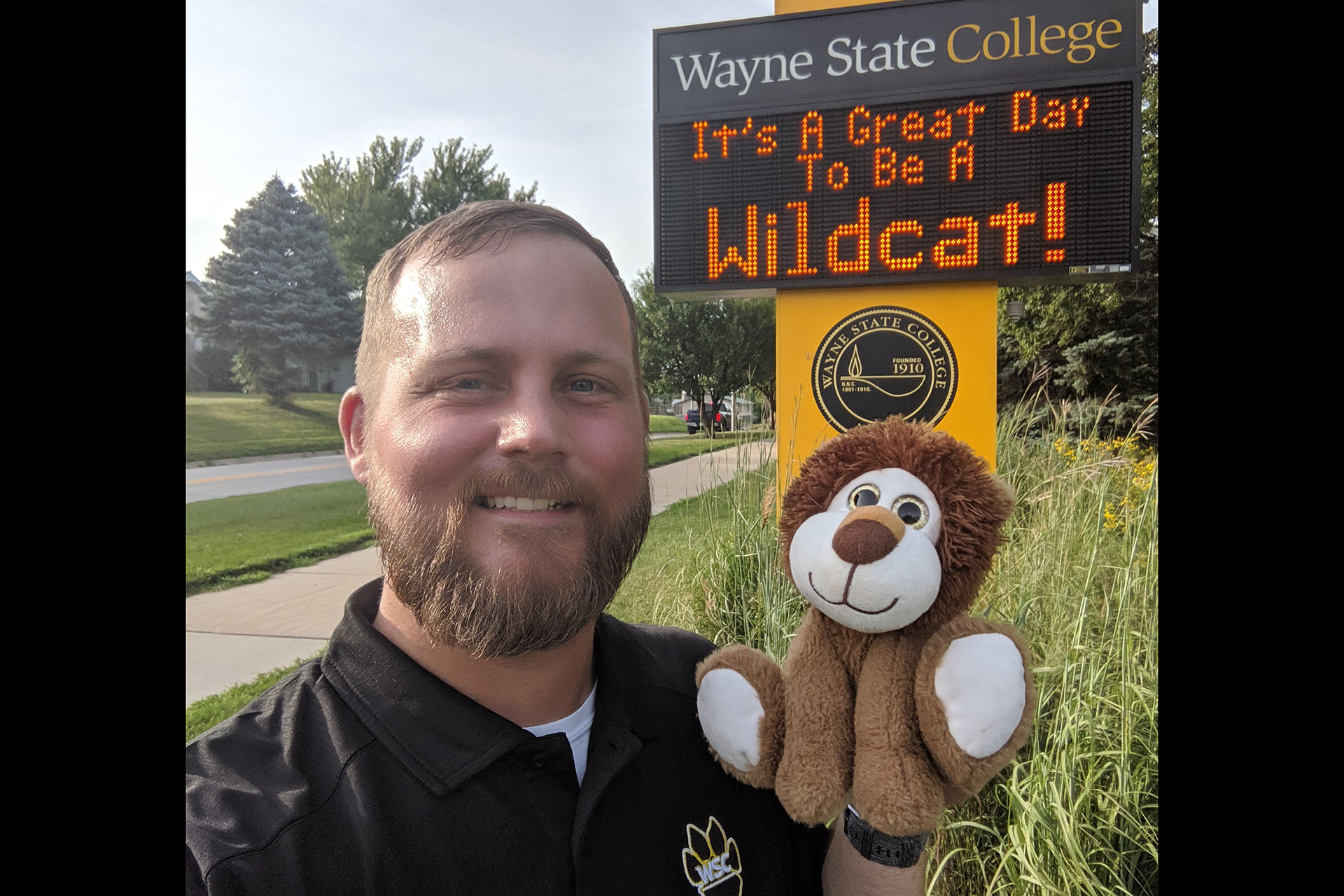 Tony Miller, a WSC football alum, visited Wayne in August to share his story with the football team. He works to encourage people to become donors or support the organization Be the Match.
Tony Miller graduated from Wayne State College in 2008 with a bachelor's degree in communication and leadership. He met his wife, Michelle (Hendricks), while in Wayne. Tony and Michelle live in Atlantic, Iowa, with two children, Josephine (8) and Dean (6), where he works as a Midwest operational manager for Industrial Fluid Management.
Miller was very involved at Wayne State. He played football under Coach Dan McLaughlin and then became the sports director and station manager for 91.9 The Cat. He also announced the WSC football games for KWSC and KTCH after he was done playing. Miller was a member of the Blue Key Honor Society and the Lambda Pi Eta.
On Sept. 22, 2018, Miller was diagnosed with both types of acute leukemia, acute lymphoblastic leukemia (ALL) and acute myeloid leukemia (AML). Only 2 percent of people who are diagnosed with leukemia have both. After his diagnosis, he underwent four rounds of intense, weeklong in-patient chemotherapy. He also had a few unscheduled visits to the emergency room and a minor stay in the ICU. After his cancer was put into remission, phase two began.
Miller's next step was a bone marrow transplant, also called a stem cell transplant, which included three more days of intense chemotherapy and three days of full body irradiation, twice a day, to wipe out his current bone marrow. After the chemo and the radiation were done, Miller was given the gift of second life when he received a bone marrow transplant from a donor. After the transplant, he lived at Hope Lodge in Omaha to allow recovery.
"These were the hardest days of my treatment, being away from my family and the physical toll it took on my body," Miller said. "However, as I sit here today, 280 days post-transplant, I am alive, healthy, working, being a dad and husband, and it was all worth it."
Miller is very thankful to the many different people who helped him during his journey. However, the one person that Miller does not know yet and wants to thank for the rest of his life is his donor.
"I have to wait one year, and my donor has to agree to meet me or give me his contact information," Miller said. "If he chooses not to, I will never know his identity. However, that doesn't mean I will not continually work to thank him and the organization that saved my life."
The organization, Be the Match, is the national database for bone marrow donors, and for people needing a donor. In a way to give back, Miller works to encourage as many people as possible to register by speaking to different groups, telling about his experience and giving them information about the organization. In August, Miller returned to the WSC campus to share his story with the Wildcat football team and how they can become donors.
"If you are between 18 and 30 years old, please consider joining the registry and saving a life or visit www.bethematch.org for more information," Miller said. "If you are past that age range and want to help others in my situation, fnd your nearest American Cancer Society chapter and help out. Serve a meal at Hope Lodge, participate in Relay for Life, and donate what you can. It's a great day to be a Wildcat!"
For more information about Miller's story and journey, visit www.caringbridge.org/visit/tonymillerstrong2018. If you would like to contact Miller about speaking to your group or organization, contact him at NoWeakSauceTony@gmail.com.