Published Friday, July 26th, 2019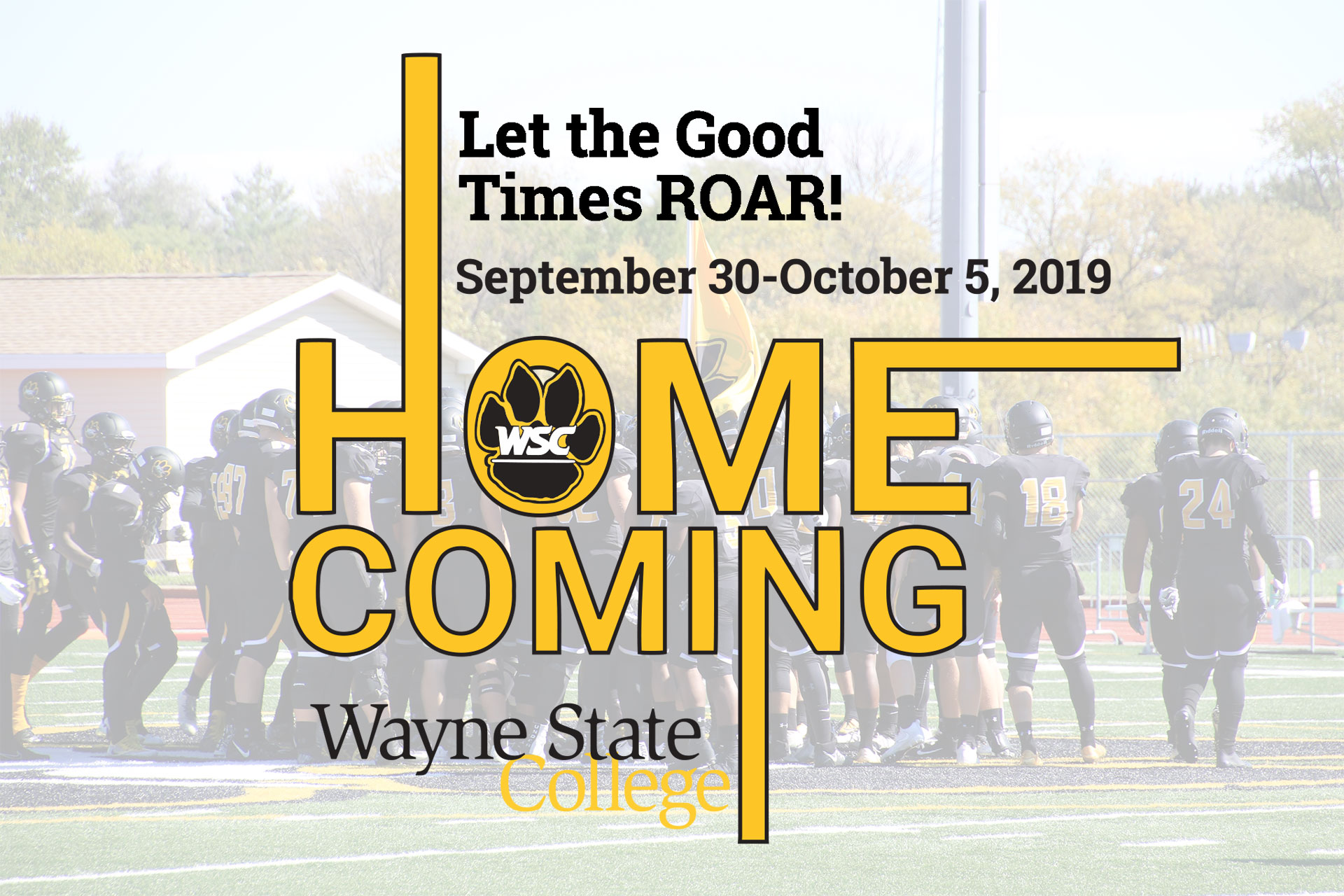 Homecoming 2019 will be Sept. 30 through Oct. 5 at Wayne State College.
Wayne State College will host its 2019 Homecoming "Let the Good Times ROAR!" festivities Sept. 30 through Oct. 5, 2019, on the WSC campus.
Wayne State College alumni will be recognized during two awards banquets. The Outstanding Alumni Awards Banquet will take place Friday, Oct. 4, honoring an alumnus from each of the four schools at WSC. Recipients include Corinne E. Morris '84, MAE '93, Dean of Agriculture, Math, and Science at Northeast Community College in Norfolk, Neb., and owner of Corinne's Costumes and Custom Sewing (School of Arts and Humanities); JR Rother '06, Director of Information Systems at Bosselman Enterprises in Grand Island, Neb. (School of Business and Technology); Lisa Allen Fricke '73, long-time teacher in Nebraska Public Schools and District 2 Representative for the State Board of Education in Omaha, Neb. (School of Education and Counseling); and Dr. Ron Holt '89, board-certified psychiatrist, author, international speaker, and student health physician at San Francisco State University in San Francisco, Calif. (School of Natural and Social Sciences).
The Homecoming and Hall of Fame Banquet will take place Saturday, Oct. 5. Terry J. McClain '70 will be honored with the 2019 Alumni Service Award. McClain and his wife, Linda, reside in Fremont, Neb. McClain retired from Valmont Industries after a 41-year career with the company, where he served as Senior Vice President and Chief Financial Officer for 20 years. He is a member of the Wayne State Foundation Executive Committee and is a trustee for the Wayne State Foundation. Three athletes, one coach, one team, and one contributor will also be inducted into the Wayne State College Athletics Hall of Fame during the banquet. Inductees include Scott Bidroski '07 of Gordon, Neb. (baseball); Carly Fehringer '14 of Wayne, Neb. (track and field); Matt Schneider '10 of West Point, Neb. (track and field/cross country); Krista Wood of Brookings, S.D. (softball coach); and the 2010 Women's Softball Team. The Ley Family (David and Kaki Ley, Roy Ley, and Matt Ley and Sandy Brown with children Mason and Josie) and their family-owned State Nebraska Bank & Trust of Wayne, Neb., will be inducted as a contributor into the Hall of Fame.
Affinity reunions will be held during Homecoming, including a Carhart Math and Science Alumni Reunion from 3 to 5 p.m. Friday, a WSC Rugby Reunion from 2 to 6 p.m. Saturday, a Zeta Tau Omega 20th Anniversary Reunion from 5:30 to 10 p.m. Saturday, and a 60s, 70s, and 80s Greek Reunion Brunch from 10:30 a.m. to 12:30 p.m. Saturday. Honored classes this year include the Classes of '59, '69 and '79 for their 60-, 50-, and 40-year reunions.
The WSC Faculty Art Show will also take place Friday from 3:30 to 5 p.m. at the Nordstrand Visual Arts Gallery in Conn Library. Scholarship donors and recipients will be invited to the Scholarship Luncheon on Thursday, Oct. 3.
The Wildcats will take on Minnesota Crookston at 1 p.m. Saturday during the annual Homecoming football game. The Wildcat volleyball team will play Minnesota State-Mankato at 6 p.m. Friday and Concordia-St. Paul at 4 p.m. Saturday, both in Rice Auditorium.
The Homecoming Parade and Band Day will begin at 9:30 a.m. Saturday. Visitors can also enjoy WSC students displaying expressions of music, art, language, and literature during the annual Artswalk on Wednesday and Thursday, Oct. 2-3. Planetarium shows will be featured Friday and Saturday.
Student events throughout the week will feature a Scavenger Hunt on Monday, Sept. 30; Magician Mike Super on Tuesday, Oct. 1; the Nearly Naked Mile and Beach Volleyball Tournament on Wednesday; Willy Olympics and "So You Think You're a Wildcat?" pageant on Thursday, Greek Olympics and Lizzy the Hypnotist on Friday, and Homecoming Coronation during halftime of the football game on Saturday.
For more information about Homecoming 2019, to see the detailed schedule of events, and to RSVP to attend, visit www.wsc.edu/homecoming or contact the Alumni Office at 402-375-7370.